Player Stock Ticker
NFL Week 15 Player Prop Bets to Hammer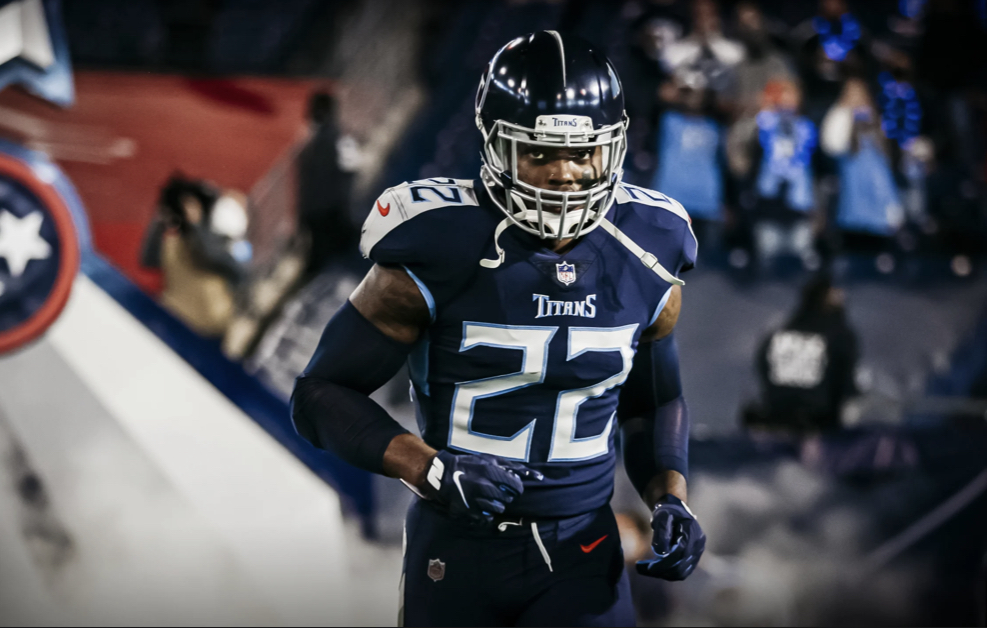 (Donald Page/ Tennessee Titans)
It's safe to say that I'm going to stay away from betting on Tom Brady for the rest of the season. If the Vikings didn't double the Buccaneers' time of possession, we're probably looking at a 2-1 record in Week 14 instead of 1-2.
With that being said, I'm still sitting at a decent record of 9-8 (+10.83 units) after six weeks so… it is what it is. Sadly, Week 15 is underway so we have less than three full weeks of regular season football left. Let's make the most of it while we still can and find some winners!
1. Derrick Henry to score 2 TDs (+125)
For my first pick of Week 15, I've got my heart set on Derrick Henry to score 2 touchdowns (+125) as the Tennessee Titans host the god-awful Detroit Lions. The Wolf has Henry as his RB1 in his Week 15 rankings as he takes on a Detroit defense that has given up a staggering 21 rushing touchdowns this season which is second most behind only the Raiders (23). On top of that, the Lions have actually allowed an opposing running back to score two touchdowns in seven of their 13 games this season—that's more than half!
Prior to this week, I have steered clear of giving out two-touchdown scorers as it is quite often a very big long shot. However, I'm ready to roll the dice on the league's leading rusher as he is taking on his most favorable matchup of the year by far. Henry has rushed for at least two touchdowns in five games this season and I suspect he'll be joining that long list of backs to do so against the Lions. If you're facing off against Henry in fantasy this week, be sure to hammer this prop because I don't think you're making it to your league's championship game this year.
2. Alvin Kamara over 56.5 rushing yards (-130)
With only three games to choose from in the afternoon slate, I will be taking Alvin Kamara to rush for over 56.5 yards (-130) as he takes on a Chiefs defense that allows a whopping 128.4 rushing yards per game. It's actually quite a testament to just how amazing Patrick Mahomes and the Chiefs offense has been this year considering they are 11-1 with a defense that gives up the seventh most rushing yards per game this season. The only teams to give up more rushing yards per game are the Broncos, Bengals, Lions, Jaguars, Texans, and Cowboys. Seeing the Chiefs listed next to those teams in any category is one of the more jarring things I've seen in all of 2020. I will absolutely be hammering this prop given the fact that the Chiefs have allowed opposing backs to surpass the 56.5 rushing yard total in eight of their thirteen games this season, including two games where multiple backs eclipsed the number. Get excited Latavius Murray owners!
With the return of Drew Brees and the announcement that Michael Thomas will miss Sunday's game, the Wolf has Kamara as his RB3 in his Week 15 rankings. It's definitely a bit of a risky play considering Kamara is such a versatile back who can get a lot of attention in the passing game as well, but he is still averaging 11.84 carries a game. Kamara has actually surpassed the 56.5 rushing yards total in six of his thirteen games this season. Interestingly enough, five of those games came when Drew Brees was under center. Look for Kamara to get anywhere from 10-15 carries tomorrow as the Saints try to keep Drew Brees out of harm's way.
 3.Nick Chubb to score a TD (-121)
With my third and final pick of the day, I am going to ride with Nick Chubb to score a TD (-121). The Wolf has Chubb as his RB2 this week as he takes on a stout Giants defense. This may not be the sexiest pick ever considering that the New York Football Giants have only allowed nine rushing touchdowns to opposing backs all year. However, it should be noted that six of those nine rushing touchdowns have come while the Giants were the home team. As the Giants host the Browns on Sunday Night Football, I will be looking for this trend to continue. I will also be looking for Chubb to continue the tear he has been on since returning from injury. Chubb has found the end zone in four of his five games since returning from injury in Week 10, including a two-touchdown game last Monday against the Baltimore Ravens. Sometimes you just have to go with your gut! My gut is telling me to hammer Chubb as an anytime touchdown scorer.
Tail at your own risk. You can find all these odds at DraftKings Sportsbook. Good luck everybody! Let's win some money! And, as always, bet responsibly!