Player Stock Ticker
Matthew Stafford, Lions' Offense are Fantasy Risers Under Darrell Bevell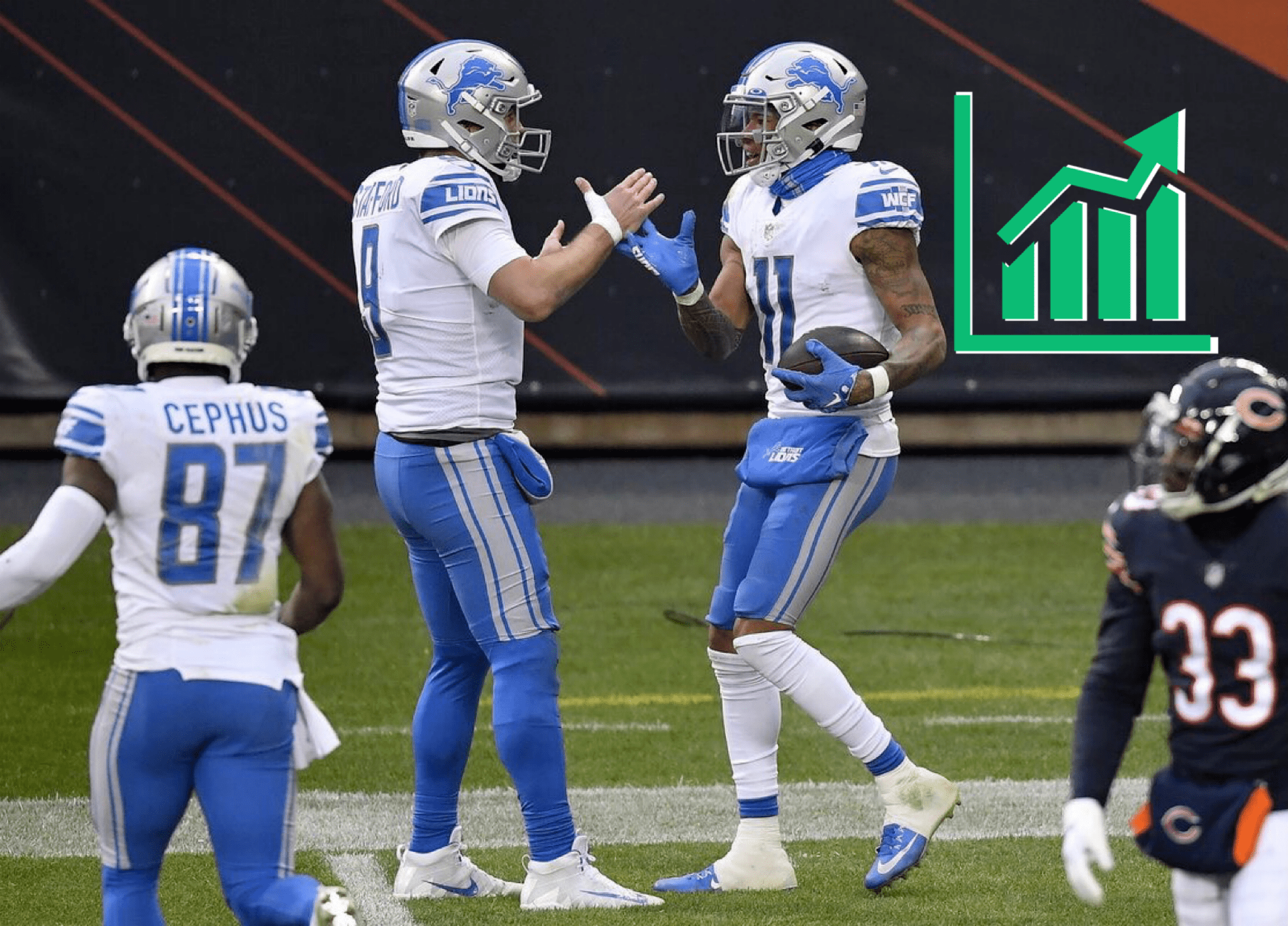 It's a storyline that isn't new to the football world. A franchise struggles, and struggles, and eventually, it becomes clear that the team's zest for the game is getting stale. The winds of change can be felt coming, a spark in the form of a personnel change at a critical position.
Sometimes, that means a QB change. For the Lions, that meant ousting coach Matt Patricia, along with GM Bob Quinn. OC Darrell Bevell became head coach in the interim, could he create the spark needed to energize a team stuck in mediocrity?
An Example From A Different Franchise, Similar Struggles
Because of their consistent losing ways, The Lions often get thought of in a similar way as the Cleveland Browns. They are the only two franchises to go 0-16 in a season, after all.
For the Browns in 2018, tides in the win-loss took a sharp turn after not only the change to rookie Baker Mayfield as starting quarterback, but the firing of Hue Jackson and OC Todd Haley, as the team started 2-5-1. They would win five of their last eight under interim coach Gregg Williams, with Freddie Kitchens as OC.
The momentum was enough to push Kitchens from running backs coach to OC to head coach in less than a year, with his coaching stint happening last season. In an all-too-typical "Browns being Browns" fashion, Freddie looked in over his head as Cleveland stumbled to finish 6-10.
So how do we know that the end of the Patricia era in Detroit can begin to put an end to the "Lions being Lions"?
Forget Russ, #LetStaffCook
If you want to make a solid case for why the Lions are on an upward trajectory now, look no further than Matthew Stafford. Against a respectable Bears defense, Stafford threw his first 400-yard passing game of the year, with his highest yards-per-attempt at 9.57. He earned his third-highest passer rating for the year, leading Detroit to score 34 points for the game, which tied for their highest point total as they did the same versus the Jacksonville Jaguars.
Stafford did this without not just his full complement of weapons, but players such as top wideout Kenny Golladay and exciting rookie back D'Andre Swift. The backfield got two scores out of 35-year old Adrian Peterson, albeit on just 3.56 yards-per-rush.
All things considered, Stafford's numbers are really the only thing that stands out in the stat sheets, I mean the defense did still give up a 30-burger to a Mitchell Trubisky-led offense. So, what was the big difference this time?
An Undeniable Spark
As NFL.com's Kevin Patra points out, Darrell Bevell brought an energy that Stafford described as "infectious":
"I think his energy is infectious and guys feed off it and I really appreciate him as a person and just happy that he helped us get the win today," the QB said. "Guys went out there and played fast and free and it wasn't perfect, you know, there's plays we want back, but never quit, never really looked at the scoreboard. Just keep playing and let it all kind of figure itself out and it did."
The Detroit Free Press highlights how the Lions were hardly different against Chicago in terms of their weaknesses leftover from the Patricia era, yet there wasn't a game where the players were more emotionally invested than this one.
The Million Dollar Question
Can the good times continue?
Even with the Cleveland Browns sitting at 9-3, notching a real quality win for 2020 after their defeat of the Titans, it can't be understated what multiple things had to go right for them to get to this point. The coaching and OC switch to Gregg Williams and Freddie Kitchens in 2018 may have gotten the ball rolling, but Freddie's wave peaked and came down hard enough where he's now only coaching tight ends with the Giants, while Gregg might be done coaching anyone after getting fired by the Jets this past week.
The Browns also had to get it right with their General Manager hire, and it appears so far that John Dorsey's decisions (in hiring players anyway, not coaches) during his tenure will be deemed a success. Time will tell concerning who the Lions will go with.
Time will also tell if the Lions need to be concerned with their next franchise QB. For the Browns, who needed to address coaches, GM, and quarterback the past few seasons, it would be nice for Detroit if they were able to hold on to Stafford and at least not have to worry about that particular critical position.
Detroit didn't take an "L" for an answer, giving it their all for 60 minutes, and were rewarded. For now, the Lions are riding a wave that warrants the entire offense being considered as slight risers. Will that be reflected in The Wolf's Rest Of Season Big Board And Rankings? Find out throughout the week on Facebook, Youtube, or Periscope.