Player Stock Ticker
JK Dobbins' Fantasy Outlook Skyrockets Following Week 11 Backfield Takeover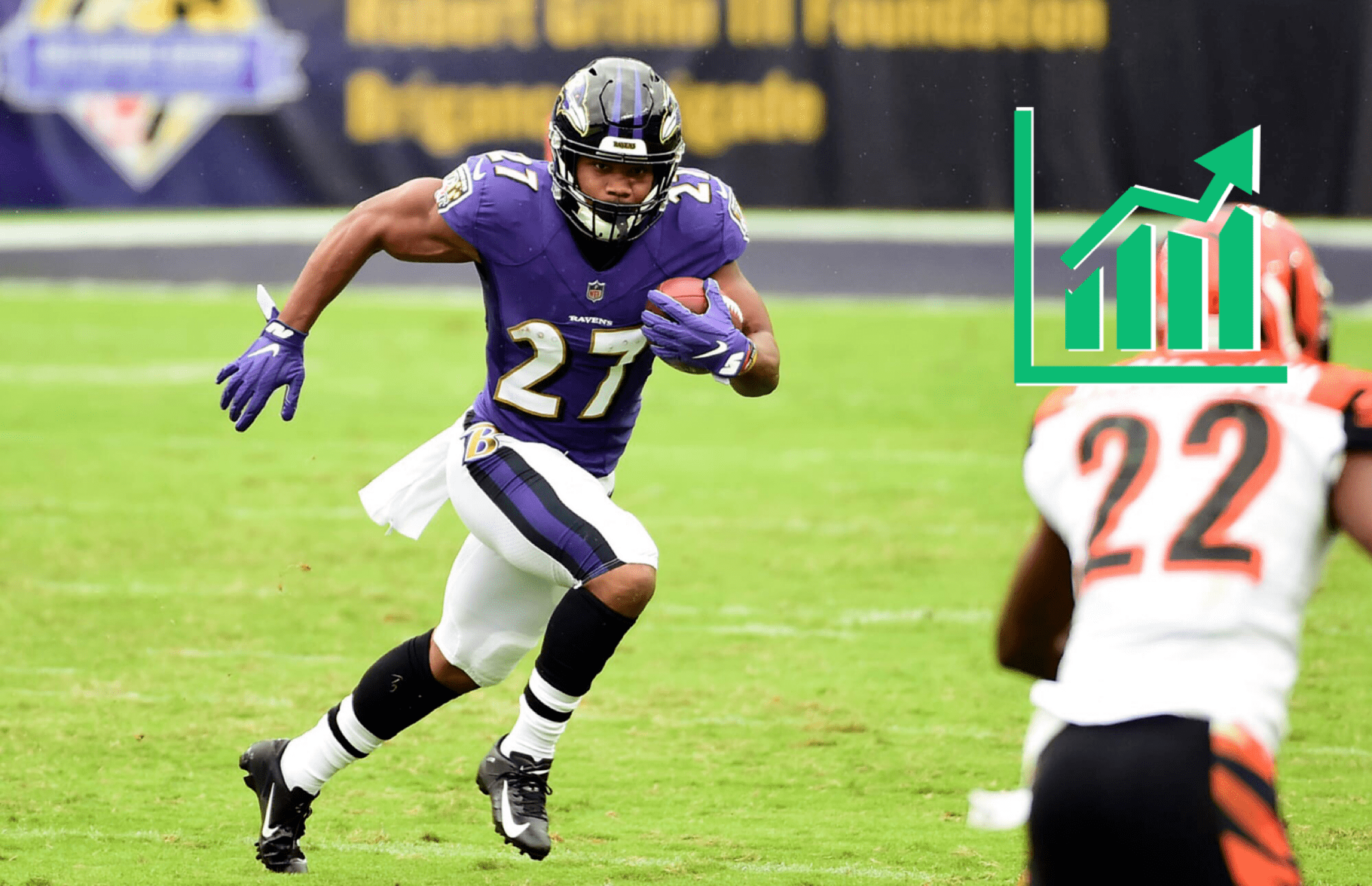 12/4 update: The Ravens lifted JK Dobbins off of the COVID-19 list and he's in line to play Week 13 against the Cowboys.
12/2 update: Although JK Dobbins and Mark Ingram were both eligible to play Week 12, both are OUT for Wednesday's game vs the Steelers (COVID-19). However, the premise of the article remains the same.
Has John Harbaugh finally grown a brain and put his eggs in the JK Dobbins basket? We'll find out for sure Wednesday when the Ravens face off with the undefeated Steelers in an inter-division showdown, overshadowed by two postponements due to COVID-19. 
Dobbins was originally one of the 16 Ravens affected by the team's outbreak, but the multiple postponements have allowed for the rookie back to be eligible to return.  Dobbins' fantasy output this season has been volatile, and much to the chagrin of managers hoping that Baltimore's run-heavy offense would center around their second-round pick.  
Week 11 was arguably his best performance of the year and one that should turn some fantasy heads.  Dobbins had 15 carries for 70 yards and a score, and also caught both of his targets for 15 more yards.  This effort was worth 18.5 fantasy points in PPR formats, but the better numbers may be the snap totals from this tilt with the Titans.  Dobbins was on the field for 41 of the Ravens' 65 total snaps, drastically more than Gus Edwards (13) and Mark Ingram II (6).  Another interesting point is that Dobbins was the only Baltimore back to catch a pass in this game, boding well moving forward.  
It should be noted that Lamar Jackson was another member of the 16 Ravens on the reserve/COVID-19 list, and will not play Wednesday.  That means Robert Griffin III will be at the helm, and with only two passing attempts on the 2020 season, the Ravens most likely will be keeping the ball on the ground tomorrow.  We've seen other backup QBs enter games and stick to running the ball this year, such as Taysom Hill in New Orleans and Kendall Hilton in Denver.  RGIII is no scrub, but with his athletic ability and Baltimore's propensity for running the ball, Wednesday should see a healthy dose of Dobbins. 
If you held out and kept Dobbins in your lineup, needing some production from the RB spot to grab a late-season win, look for him to command the brunt of carries for the Ravens against a top defense in Pittsburgh. 
Looking forward to the fantasy playoffs, Dobbins is up to The Wolf's RB19 on his Rest of Season Big Board, meaning you can likely lock him into either the RB2 or Flex spot the rest of the way.