Player Stock Ticker
2020 Fantasy Football Week 13 Waiver Wire: Devontae Booker, Ryan Fitzpatrick Lead the Waiver Wire Priorities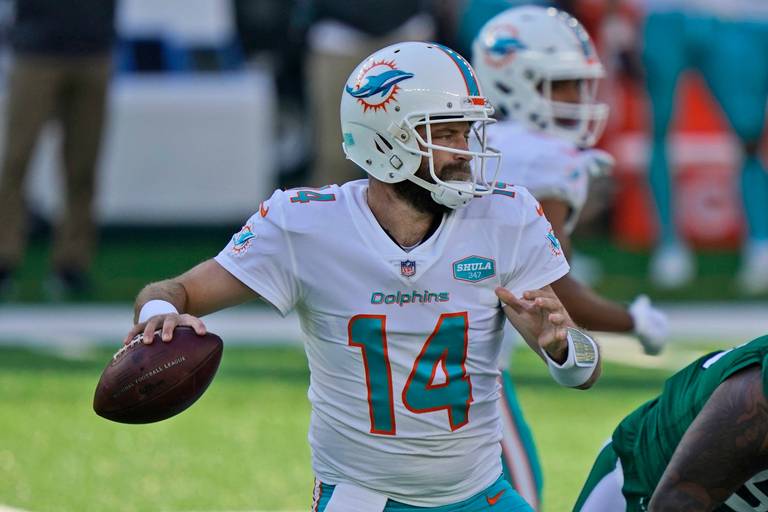 Welcome to the Fantasy Football Week 13 Waiver Wire: Start, Stash, Stream, where we breakdown the fantasy free agent landscape and give you the best picks for the short and long haul.
We have our three groups of 'starts' 'stashes', and 'streams.' The starts can be inserted into your lineup immediately, the stash guys add depth to the end of your bench and can provide longer-term benefits, and the streamers are generally D/ST's and QBs that are matchup dependent.
Let's look back at Week 12 and see our future prospects for the Fantasy Football Week 13 Waiver Wire.
Note: Ownership % based on Yahoo and must be under 50% owned
START
Devontae Booker, RB Las Vegas Raiders (9% owned)
Ryan Fitzpatrick, QB Miami Dolphins
He's a borderline start, and really only here in the event that Josh Jacobs cannot suit up for Week 13. Devontae Booker has been Jacobs' back up this year and gets his share of series to work in the offense each game. Once Jacobs went down with his ankle injury, Booker took all backfield snaps but didn't really do much with it considering the team was already so far behind. Initial reports of Jacobs' ankle are promising that it's just a sprain, but if he struggles to practice or has to miss Week 13, then Booker becomes an immediate plug and play against the Jets.
Ryan Fitzpatrick is back and it's glorious. With Tua potentially out a couple of weeks, Fitz woke up the Dolphins' passing game and put up his typical 20 fantasy points in his return. He gets the Bengals, Chiefs, Patriots, and Raiders to wrap up the season if the rookie can't recover in time. Of course, there are a handful of serviceable quarterbacks out there, but hitching your wagon to Fitz Magic for a playoff run
STASH
Allen Lazard, WR Green Bay Packers (39% owned)
Nelson Agholor, WR Las Vegas Raiders (43% owned)
Breshad Perriman, WR New York Jets (12% owned)
Benny Snell, RB Pittsburgh Steelers (35% owned)
Denzel Mims, WR New York Jets (7% owned)
Cam Akers, RB Los Angeles Rams (29% owned)
Keke Coutee, WR Houston Texans (1% owned)
Sammy Watkins, WR Kansas City Chiefs (44% owned)
Trey Burton, TE Indianapolis Colts (19% owned)
Ito Smith, RB Atlanta Falcons (1% owned)
TY Hilton, WR Indianapolis Colts (38% owned)
Logan Thomas, TE Washington Football Team (41% owned)
Frank Gore, RB New York Jets (25% owned)
Royce Freeman, RB Denver Broncos (6% owned)
Hunter Renfrow, WR Las Vegas Raiders (17% owned)
Gabriel Davis, WR Buffalo Bills (3% owned)
The WR2 in Green Bay's offense, Allen Lazard went for 4-23-1 on 6 targets on MNF when Green Bay dismantled Chicago. Lazard continues to carve out his role in Green Bay and warrants a good size of the team's target share.
Despite not scoring a touchdown, Nelson Agholor turned in a decent day with 5-54 on 6 targets against the Falcons. He's now operating at a pace of scoring every other game, and with the Jets up next, his odds are pretty high considering the large target share he has in Las Vegas' passing game.
I know the Jets stink, but their receivers are producing fantasy-relevant numbers. Both Breshad Perriman and Denzel Mims are acting as quality WR3s despite the Jets being winless on the year. They never play with a lead which is great from a game script point of view. Perriman just had 4-79 on 8 targets while Mims had 4-67 on another 8 targets. Perriman has the big play touchdown upside which leaves him higher on the list.
James Conner is missing Week 12 due to COVID-19 and should be back for the stretch run, but with his prior medical conditions, you never know if this could be more than a one-week absence. Either way, Benny Snell will be in line for starting duties against Baltimore on Wednesday and would be the Steelers bell-cow if Conner stays on the COVID list or gets hurt before the season ends. He's one of the most valuable handcuffs for a team that rides its horse.
One of these days Sean McVay will come to his sense and unleash Cam Akers as the RB1, but I don't trust him at all. The Rams backfield has been a bunch of plodders seeing Henderson and Brown fail to rush for more than 2.0 ypc this week. Akers broke off many nice runs and punched one in at the goal line. He's the superior talent and is worth a bench stash just in case McVay makes him a bell cow.
With Will Fuller's fantasy season coming to an end and Kenny Stills getting released, Keke Coutee is the next man up in the Texans' offense. Although Coutee has only caught two balls this season, he and Deshaun Watson have had some success in the past. With only Brandin Cooks to compete with targets on the perimeter, Coutee has a chance to flourish down the stretch.
Patrick Mahomes is playing at a godly level right now, and Sammy Watkins returned this week to operate at the Chiefs WR2. Sure he's far behind Tyreek Hill and Travis Kelce in the pecking order, but just being in Kansas City's offense itself is worth something. Watkins finished with 4-38 with 7 targets on the day.
Another game, another touchdown for Trey Burton who continues to be a red zone weapon in the Colts offense. The team has many different ways to get him involved at the goal line, and with a generous Texans defense up next Burton has a great chance of finding the end zone three games in a row now.
While Brian Hill started the game and out-snapped him, Ito Smith was far more productive in his Week 12 action. Smith finished with 12-65-1 on the ground and 4-10 on 5 targets through the air. Should Gurley miss any more time, Smith would have value against the Saints next week.
Who would have thought we'd see TY Hilton end up in one of these articles? Hilton's had a season to forget but finally totaled his first double-digit scoring week of the season in Week 12. He finished with 4-81-1 on 5 targets, and with Houston on deck, it's as good a chance as he'll have for another productive day.
The epitome of consistency at the tight end spot. Logan Thomas is a lock for at least four targets every game despite not going over four receptions in a single contest. He's touchdown dependent but offers a higher floor compared to most streamable tight ends on the waiver wire.
With Lamical Perine on IR, Frank Gore was given lead back duties, resulting in 18-74 on the ground. He also caught three balls for 12 yards this week and could technically have been called a bell cow, in the least intimidating form maybe ever. The usage speaks for itself though as many teams are losing players to COVID lists or injury.
The Denver offense was pathetic having to run makeshift QB Kendall Hinton out there thanks to their entire QB group being forced to miss the game in Week 12. If Denver were to face a similar issue this week, Royce Freeman would be a desperation play as having him run out of the wildcat would be way more successful than letting Hinton try and throw the ball for a second straight week. Maybe Freeman stumbles in for a touchdown and it all pays off.
Hunter Renfrow paced the Las Vegas offense, leading the way in receptions, yards, and targets in Week 12. Renfrow went for 7-73 on 9 targets as the Raiders tried to overcome a massive deficit at the hands of the Falcons.
With John Brown on IR for at least two more weeks, Gabriel Davis snagged 3 of 4 targets for 79 yards and a touchdown. Most importantly, Davis played 97 percent of the Bills snaps and has some major streamer upside in deeper leagues.
STREAM
Kirk Cousins, QB Minnesota Vikings (40% owned)
Philip Rivers, QB Indianapolis Colts (33% owned)
Las Vegas Raiders D/ST (9% owned)
After a 307 yard and three touchdown outing, Kirk Cousins gets an even juicier matchup at home against the Jaguars in Week 13. Should Thielen return off the COVID list, the ceiling is sky-high for Cousins against such a beatable defense.
Philip Rivers has played well for the Colts over the last few weeks hovering around the 300-yard mark and throwing for multiple scores each game. Houston is up next for Rivers who shouldn't pose much of a threat, and also present a high-scoring offense that opponents need to try and keep up with.
Their defense is atrocious, evidenced by 43-6 loss at the hands of the Falcons. But the Las Vegas Raiders play the Jets this week so why not.