Player Stock Ticker
2020 Daily Fantasy Football: DraftKings NFL Week 11 Stacks & Value Picks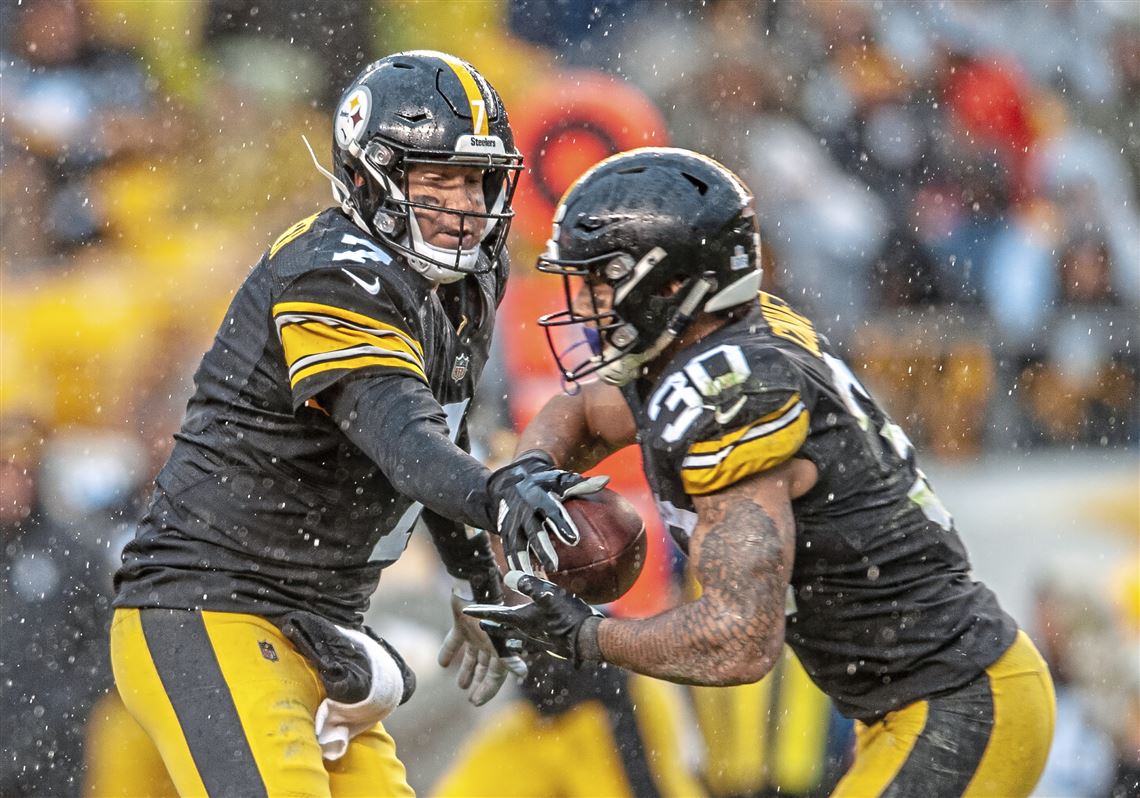 DraftKings NFL Week 11 Stacks & Value Picks
| | | |
| --- | --- | --- |
| | Kendall's Lineup | Tino's Lineup |
| QB | Ben Roethlisberger, $6,700 | Deshaun Watson, $6,500 |
| RB | James Conner, $6,600 | Alvin Kamara, $9,200 |
| RB | Antonio Gibson, $5,800 | Salvon Ahmed, $4,800 |
| WR | Justin Jefferson, $6,000 | Justin Jefferson, $6,000 |
| WR | Terry McLaurin, $6,900 | Tee Higgins, $5,900 |
| WR | Mike Williams, $5,100 | Brandin Cooks, $5,200 |
| TE | Eric Ebron, $4,000 | Logan Thomas, $3,300 |
| Flex | Kalen Ballage, $5,600 | Diontae Johnson, $5,900 |
| DST | Browns DST, $3,000 | Browns DST, $3,000 |
Stacks of the Week
KB: This week my stack of the week feels… disgusting. I never thought I'd see the day that I endorse plugging not one, but TWO Jets into your lineups. I want to preface this by just saying that this is a real call your shot moment. There is no safety to either of these players but given the upside that they showed last week, I think we can go to them this week. 
Joe Flacco & Breshad Perriman. Look at it, let it soak in. I know it's gross but the Chargers have shown that they can generate explosive plays on offense, which means the Jets will likely be playing from behind. This should equate to more passing attempts for Joe Flacco and potentially, more targets for Breshad Perriman. 
The Chargers are allowing the 7th most DK points scored per week to the opposing Quarterback so this is a plus matchup for Flacco. Unfortunately, the same cannot be said about Breshad Perriman as the Chargers are only allowing 33 DK points per week to opposing Wide Receivers (7th fewest). But this doesn't necessarily scare me off Perriman, as he mustered an explosive 30 point fantasy game against the New England Patriots in Week 9 (who allow the 8th fewest DK points per game to opposing WRs). 
Aside from the fact that these are two J-E-T-S, JETS JETS JETS, the matchup for opposing Wide Receivers should keep their projected ownership low. Both Flacco and Perriman impressed against the Patriots and while this could have just been a strike of luck, it could just be that Flacco and Perriman have some chemistry that Darnold does not. At only $8,300 combined on DK, you're hoping for Flacco and Perriman to connect on a couple of deep balls in garbage time. If you have the cojones to take your shot on Flacco and Perriman, you'll have the cap space to squeeze in a couple more high priced, stud options. 
JT: I'm actually stacking on the other side of the ball in the same matchup that Kendall likes.  My stack of the week is Justin Herbert and his top target Keenan Allen.  Herbert has exceeded all expectations as a rookie and is going into New York to match up with one of the league's worst defenses.  The Jets allow the 4th most passing yards per game to opposing fantasy QB's, sitting currently at an average of 288.6 per game. Herbert has proven competent against good defenses thus far, with the ability to thrash poor defenses when given the opportunity. He showed this when he played the Jaguars in week 7 and put up over 41 fantasy points.  
I expect Herbert to pick apart the under-talented Jets secondary all game, utilizing one of the best route runners on this planet in Keenan Allen.  He is averaging just under 11 target per game over these past 4 weeks, and I expect him to find open space all day against whoever the Jets assign to him.  
This play gives you the high floor of guaranteed usage and points scored against a bad defense, with the potential for huge upside if Joe Flacco is able to score some points against the Chargers defense.  Flacco looked shockingly good against the Patriots when we last saw him, and if he is even half as good against the Chargers he should be able to muster up a couple of TDs.  If he can do this, it will keep the ball out of Kalen Ballage's mediocre hands and force Herbert to move the chains using his elite possession receiver.  
Triple Stack of the Week
KB: This week I am going with Ben Roethlisberger and any two other Steeler weapons of your choice. 
I'm going to dive deep into the weeds on how bad Jacksonville's defense has been this season. 
Just for some context: 
Against QB: 25.5 DK Points Per Game (3rd Most)
Against RB: 28.2 DK Points Per Game (5th Most)
Against WR: 40.7 DK Points Per Game (10th Most)
Against TE: 14.6 DK Points Per Game (8th Most) 
It's obvious that the Jaguars defense is bad, but unlike some of the other bad defenses in the league, the Jaguars can be beaten at literally any position. But I don't want to dwell on the Jaguars defense, let's talk about this Steelers offense. 
Every option on the Steelers is in play. Ben Roethlisberger is coming off of his best game this season. Against Cincinnati (another bad defense) Big Ben posted over 300 yards passing and 4 touchdowns. He spread the ball around to all of his receiving options. Big Ben dropped back to throw the ball 44 times in Week 10 and JuJu Smith-Schuster (13), Diontae Johnson (11), and Chase Claypool (10) combined for 34 of those targets. All 3 had at least 50 yards and a touchdown. Without ownership projections, it's tough to take my pick on one of these 3 great wide receivers, but in this juicy matchup it might not matter. If we throw Eric Ebron (6) into the mix, you're looking at 40 targets to a core 4 players. 
Now onto the Pittsburgh running game. Although I wouldn't describe the Bengals run defense as stout, the Jaguars are a SIGNIFICANT downgrade. The Jaguars have allowed 12 rushing touchdowns this season while allowing 8 rushes of 20+ yards. James Conner saw his largest snap percentage (88%) in Week 10 so I think he can be trusted in Week 11. 
I love this matchup for all options on the Steelers and all options are in play. I also like taking your shot on DJ Chark ($5,700). Despite the reputation of an elite defense, the Steelers DST does have the tendency to allow big plays to WRs. The Steelers are allowing 12.4 YPC (2nd in the NFL) and have allowed 31 catches of 20+ yards down field. Chark is the clear number one receiver in Jacksonville in a good matchup for WRs. If you want to run it back with anyone on the other side, Chark is your man. 
JT: This week I am going with Deshaun Watson, Will Fuller, and Brandin Cooks as my triple stack of the week.
 If you take out last week's monsoon impacted game vs Cleveland, the Houston Texans' offense has been clicking on all cylinders since ridding themselves of Bill O'Brien.  Watson has been able to utilize his legs much more frequently, and is clicking with his 1A and 1B receiving options in Brandin Cooks and Will Fuller. 
All-pro corner Stefon Gilmore typically scares fantasy players away from whoever he matches up against.  In this case, however, he will not be at 100% if he is even able to suit up for the game.  He has missed his last three games due to a knee injury, and I think there is a very realistic shot that the Patriots do not even dress him on Sunday.  Either way, the lockdown corner that Gilmore typically is should not be an issue this week.  New England also has other complementary defensive players either banged up or out of the lineup.  
I expect Watson to have success through the air this Sunday, and to take some deep shots to his two most lethal weapons. If one of these deep shots connects, you will be happy to have stacked Watson with Cooks and Fuller.
Values of the Week
Tino's Value of the Week: Diontae Johnson ($5,900)
This week, I think there is tons of value scattered across the slate.  To name some of these values: 
Justin Jefferson: $6,000

Salvon Ahmed: $4,800

Jacobi Meyers: $4,900

Brandin Cooks: $5,200

Joe Burrow: $5,500
While I like all of these players at their price point, I would have to say that my favorite of the week would have to be Diontae Johnson at $5,900.  The emergence of Chase Claypool seems to have kept his DFS price down, but Johnson has done nothing but ball out when healthy.  Just take a look at Scott Barrett lay it out below:
Diontae Johnson

W1: 10 targets, 11.7 PPR
W2: 13 targets, 23.2 PPR

W3: Hurt in Q1
W4: BYE
W5: Hurt in Q1
W6: OUT

W7: 15 targets, 29.0 PPR

W8: Hurt in Q1

W9: 10 targets, 13.7 PPR
W10 (1st Half): 10 targets, 23.6 PPR

— Scott Barrett (@ScottBarrettDFB) November 15, 2020
I mean just look at the focus, awareness, and burst in this connection between Ben and Johnson last week against Cincinnati:
Diontae Johnson is one of the most defined technicians in the game. Cornerback tries to get physical, Johnson shrugs that off with ease. Johnson sells the comeback with his eyes and gets the CB to stop his feet and then accelerates to create separation. Fantastic stuff. pic.twitter.com/xPGKb4zzQs

— Nick Farabaugh (@FarabaughFB) November 16, 2020
Johnson is uber talented, and the passing game pie in Pittsburgh is big enough for all 3 notable receivers to eat.  His ability to create separation and his chemistry with Big Ben make him well worth the $5,900 price tag this week.
KB's Value of the Week: Damien Harris/Rex Burkhead
Tino has so generously listed a handful of great values this week, but I am going a different route with Damien Harris ($5,700) or Rex Burkhead ($4,600). The matchup here is great for Harris against the second worst defense against opposing RBs. While he has been very involved in the offense, he's ceiling is a bit capped by Rex Burkhead and Cam Newton who are the Patriots go to goal line backs. He's run for 70+ yards in each of his last 3 games but has only scored one touchdown over that time span. 
Harris has been a limited participant in practice this week so there's a chance he misses out on this ELITE matchup. If that's the case, Burkhead immediately becomes the value of the week at only $4,600. There's an argument to be made that Burkhead is a value even with Harris in the lineup. While he doesn't play a ton of snaps (51% or less in 8 of 9 games) he's been very efficient and is less likely to be game scripted out than Harris is. 
Bill Belichick is the master of creating a game plan designed to attack his opponent's weaknesses and if the Patriots can win this game by only running the ball, that's what they're going to do. If Harris is in, I'm starting him with full confidence with the hope that he can put together a ceiling game. If Harris has to miss, Burkhead becomes a smash play.