Yeah, so… about last week. Jared Goff did everything one could ask against the Seahawks' awful defense. Goff completed 27/37 passes for 302 yards. However, every time they got into prime scoring position the ball was thrust into the belly of Darrell Henderson and Malcolm Brown. Three short-yardage rushing touchdowns doomed what should have been a much anticipated big fantasy day from Goff. Does anyone have Sean McVay's telephone number? I'd like to file a complaint.
Duke Johnson was in a prime position to smash last week, especially given the Lake Erie-influenced winds. Johnson saw absolutely nothing in the safe, reliable screen game. One target wasn't going to be enough to salvage a 14 rush attempt for 54 yards (3.8 YPC) day.
Christian Kirk, I have your new room keys. Where, you ask? Why my fantasy football dog house, of course. Kirk had been on fire and was in line to be the beneficiary of heavy DeAndre Hopkins coverage. Six targets, four receptions, and only 27 receiving yards later, I'm the one with egg on my face.
Wolfpack, I apologize. After some soul searching I apologize and vow to be better than the sorry showing week 10.
As Timon said in the greatest movie ever made, The Lion King, "You've gotta put your past behind you.".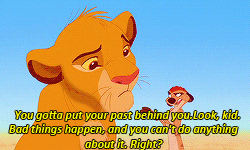 So let's all say "Hakuna Matata" and move on to week 11!
Quarterbacks
Start 'Em
Matt Ryan vs New Orleans Saints
Does anyone, besides me, think that an over/under of only 50.5 is too low for this game? Jameis Winston is back slinging the rock as Drew Brees is expected out at least two weeks with multiple rib fractures and a collapsed lung. The only things Winston loves more than eating W's are throwing deep bombs across the yard to both teams.
So why am I so locked in on Ryan? Simple. Sean Payton is a much smarter coach than anyone Winston played for in Tampa Bay. Payton will try to limit turnovers, but one should expect a pass-heavy game script against this secondary. A few of them have got to find their intended targets, right? Actually more than a few, I would figure. Maybe Michael Thomas finally realizes he's actually back on the football field and remembers how to play the position he's paid to play.
With all of that being said, Ryan is likely going to have to keep pace with Winston. In his last five games, Ryan is averaging over 22 fantasy points per game. Julio Jones is the straw that stirs this team's drink. Not taking anything away from Calvin Ridley, but without Julio, this game has no chance of becoming the shootout fantasy owners need it to be. Don't take my word for it, see for yourself.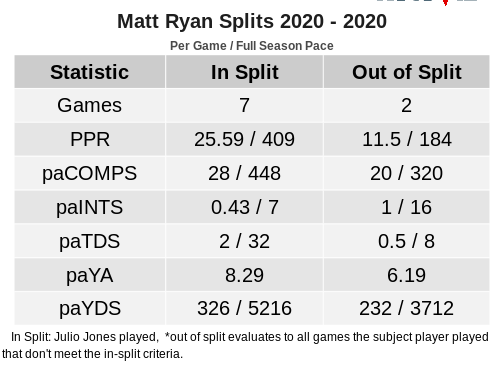 Honorable Mention: Jameis Winston, Alex Smith
Sit 'Em
Ryan Tannehill vs Baltimore Ravens
Tannehill's schedule the past month has been absolutely brutal. Pittsburgh, Cincinnati, Chicago, and Indianapolis. Cincinnati aside, that is a murderer's row. Tannehill, accordingly, has struggled to answer the bell and the Titans are 1-3 in the last four. In fact, in the last two games, he has averaged only 14.5 FPPG and he's going against a stout Ravens secondary (8th vs opposing QBs).
Damien Harris ran all over the Ravens last week and, as we all know, winter is coming. So Derrick Henry is just starting to round into form and bowl through a suddenly susceptible Ravens defensive front. This game projects to be a heavy Henry, ground and pound game. The last time Tannehill faced the Ravens, last season in the playoffs, he single-handedly carried them out of the stadium. Tannehill only had 88 yards passing to go along with two TDs.
Play action passes to AJ Brown and Corey Davis could prove to be Tannehill's fantasy saving grace, but the odds are not in his favor.
Honorable Mention: Carson Wentz, Tom Brady
Running Backs
Start 'Em
Damien Harris vs Houston Texans
Speaking of Harris. This guy has been a huge value for fantasy players this season. Aside from one stinker against Denver early this season, Harris has rushed for at least 58 yards in every game he's played. In fact, in three of his six games, he has eclipsed the century mark.
Houston's sorry rush defense has allowed the most rushing yards in the NFL. Last week, against the Browns, both Nick Chubb and Kareem Hunt rushed for over 100 yards. Six RBs in total have eclipsed the century mark against the Texans. While Harris doesn't offer much in the passing game (2 rec. for 26 yards on the season) he offers high volume and a safe floor against a horrible rush defense.
Honorable Mention: Mike Davis, Salvon Ahmed
Sit 'Em
Todd Gurley vs Saints
An arthritic knee has rendered one of the most dynamic, unstoppable forces in the NFL to being a touchdown-dependent running back that offers little to no upside elsewhere. Coming off of a bye, it is entirely possible Gurley has one week of having a little cha-cha in his slide. His last four games suggest that his workload was really starting to take its toll on his body.
Over the last four weeks, Gurley is averaging just north of 50 ruYPG. His saving grace has been the four touchdowns he's also scored in those four weeks. The Saints rank second against opposing running backs and have only allowed three rushing scores all season.
Gurley might be able to rip off some decent runs and salvage a serviceable yardage total to not destroy your fantasy team. However, given how far off he's fallen the last two years and the difficulty of his matchup, Gurley might be best served as a bench warmer/flex option.
Honorable Mention: JK Dobbins, Melvin Gordon
Wide Receivers
Start 'Em
Chase Claypool vs Jacksonville Jaguars
Mr. Big Play! Or, as friend of the show, Mike Wright aka the Fantasy Hitman of the Fantasy Footballers calls him, Mapletron. Claypool has been amazing this season. So far Claypool offers a whopping nine touchdowns on just 57 targets. In fact, all three wide receivers for the Steelers have been on fire the last couple of weeks.
Over that span, Claypool leads JuJu Smith-Schuster and Diontae Johnson in targets (23, 20, and 21 respectively) and is tied with JuJu with two touchdowns. The Jaguars have been a bottom 10 defense against wide receivers in fantasy this season. Barring some crazy unforeseen circumstances, Claypool needs to be rostered as a WR2/flex option this week.
Honorable Mention: Tee Higgins, Brandin Cooks
Sit 'Em
Jerry Jeudy vs Miami Dolphins
To borrow from Blue Oyster Cult's "Don't Fear the Reaper" the days of singing "Don't Fear the Dolphins" are long over on the defense. Miami has assembled a stout secondary that just took a little time to gel. Even with Byron Jones not playing his best ball, he and Xavien Howard have formed quite the dynamic duo.
This qualm isn't so much to do with Jeudy, who is in the middle of his big breakout campaign in his rookie season. It has more to do with Drew Lock, who might play but is FAR from 100% with a rib injury. If he cannot go then Brett Rypien will get the start and he is on his best day a lateral move from Lock.
So, despite seeing 32 targets over his last two games, Jeudy will be held back by a very good, young defense and some stinky quarterback play. Jeudy is a desperation flex at best in most leagues, given his impeccable route running and high target volume without Courtland Sutton.
Honorable Mention: Mike Evans, Jarvis Landry
Tight End Streamers
Hayden Hurst vs New Orleans Saints
Logan Thomas vs Cincinnati Bengals