Player Stock Ticker
NFL Week 10 Player Prop Bets to Hammer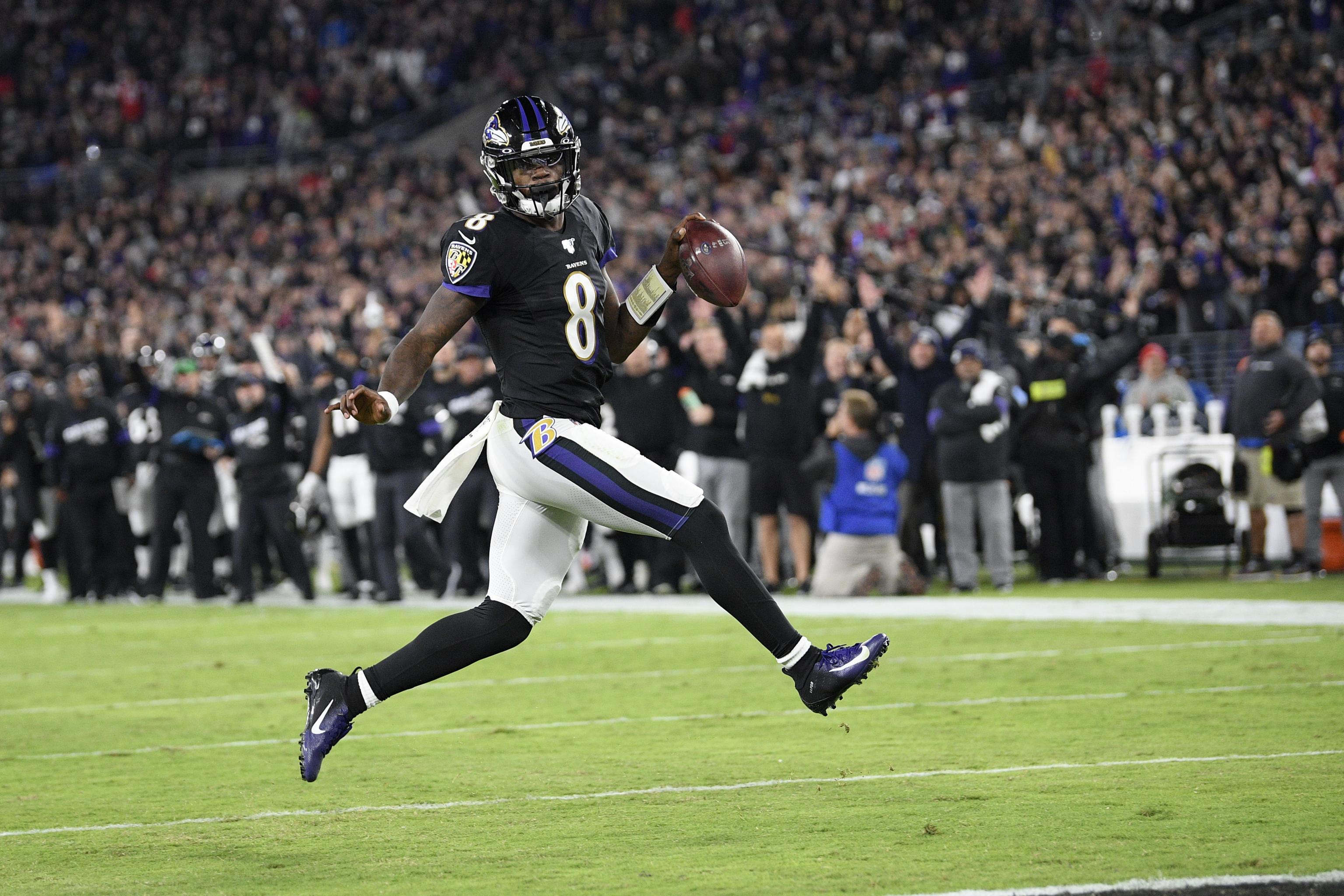 Alright, I'll say it. I fucked up! Hand up— I picked Tom Brady to throw for over 2.5 TDs on Sunday Night Football last week and he threw a whopping ZERO. In a 38-3 loss to the Saints, Brady actually ended up throwing for three interceptions as he was swept by a divisional opponent for the first time in his career. So kudos to anyone who decided to fade me and take the over on Brady interceptions.
I've been thinking about how bad this pick was all week, but I'm going to take a page out of Bill Belichick's book. We're on to Week 10. It's nothing about the past, nothing about the future. Right now we're preparing for Week 10. So here are my picks for Week 10.
1. Davante Adams Over 89.5 Receiving Yards
Hello friends. As a result of the Masters being moved to this weekend, there are only five games in the early time slot on Sunday. And while the Jaguars traveling to Lambeau to take on the Packers is not the sexiest game of the day, I will be completely dialed in as I am taking Davante Adams over 89.5 receiving yards (-106).  We're getting tremendous value here as Adams is coming off a smoking hot Thursday Night Football appearance in which he hauled in 10 of his 12 targets for 173 yards and 1 TD. In six games this year, Adams leads the NFL in targets per game as he is averaging 11.5. There's no doubt that the chances will be there on Sunday for Adams to torch a Jacksonville secondary that has given up 280 passing yards per game, the fifth-most in the NFL this year.
89.5 yards may seem like a high total when you look around the league, but don't be scared off. Adams has made the most of his matchups against some of the league's worst defenses this year. In Week 1, Adams caught 14 of his 17 targets for 156 yards and 2 TDs against a young Minnesota defense. While in Week 7, Adams caught 13 of his 16 targets for 196 yards and 2 TDs against Houston. As of Week 10, Houston's defense has given up the third-most yards per game while Minnesota has given up the fourth-most. Any guesses as to who has given up the second-most yards per game? That would be none other than the Jacksonville Jaguars. It's no surprise that the Wolf has Adams as WR1 this week.
2. Robert Woods Over 5.5 Receptions
Six games in the afternoon timeslot, a tradition unlike any other. There are a lot of interesting matchups amongst these six games, but my absolute best bet is Robert Woods over 5.5 receptions (-104).  This may be the most square pick of all time, but sometimes you just have to stick with what works— and that's betting against Seattle's secondary. I told you last week that Seattle had given up a league-worst, 358.7 passing yards per game. Well, they didn't do anything against Buffalo to help bring that number down as they now are allowing 362.1 passing yards per game through eight games.
While Woods has been somewhat of a disappointment to fantasy owners this year with only 37 receptions, the Wolf has him as WR10 in his Week 10 rankings making him a must-start. Since Sean McVay took over as head coach of the Rams in 2017, Robert Woods has hauled in 32 of his 45 targets against the Seahawks. Despite only averaging 6.8 targets per game this year, Woods is going to get plenty of looks Sunday against a practically non-existent Seattle secondary. I wouldn't be surprised to see him pull in 10-plus catches. Last week, the Seahawks allowed nine receptions to Stefon Diggs and eight receptions to John Brown. Robert Woods and Cooper Kupp are going to have themselves a field day.  The only reason I lean Woods over Kupp is that Kupp seems to be dealing with a wrist injury that limited him at practice this week. Either way, the Rams are going to move the ball downfield with ease, so I am for sure hammering this prop.
3. Lamar Jackson Over 53.5 Rushing Yards
We're going to wrap up a unique Sunday slate with a battle of former MVPs as the Baltimore Ravens head north to Foxborough to take on the New England Patriots where I will be taking Lamar Jackson to rush for over 53.5 yards (-112). Earlier this week, Lamar Jackson went on to The Rich Eisen Show and said that opposing defenses seemed to know the Ravens' plays and what they were doing. While this may serve as a red flag to any Lamar Jackson owners because they are squaring off against "Spygate" engineer Bill Belichick, I will not be deterred.
Although Lamar isn't playing as well as he did last year during his MVP campaign, he is still one of the best dual-threat quarterbacks in all of football as Jackson is averaging 58.63 rushing yards per game this year. On top of that, Jackson has surpassed 53.5 rushing yards in five of his eight games this year. So far in his career, Jackson has squared off against Belichick and the Patriots just once— Week 9 of 2019. In that game, Jackson had 16 rushing attempts for 61 yards and 2 TDs against a highly touted Patriots defense. If that was against a great defense, just imagine what he can do against a Patriots defense who allowed 7.3 yards per play to the 0-9 Jets on Monday night. The Wolf has Lamar Jackson as QB7 this week and I am very excited to see what he'll do under the bright lights on Sunday Night Football.
In case anyone wanted to throw all three picks on a parlay, it would come out to (+630). Again, you can find all these odds at DraftKings Sportsbook. Good luck everybody! Let's win some money! And, as always, bet responsibly!