Player Stock Ticker
2020 Fantasy Football Workload Report: Week 7 Snaps, Targets, Touches, Air Yards, Advanced Usage Analytics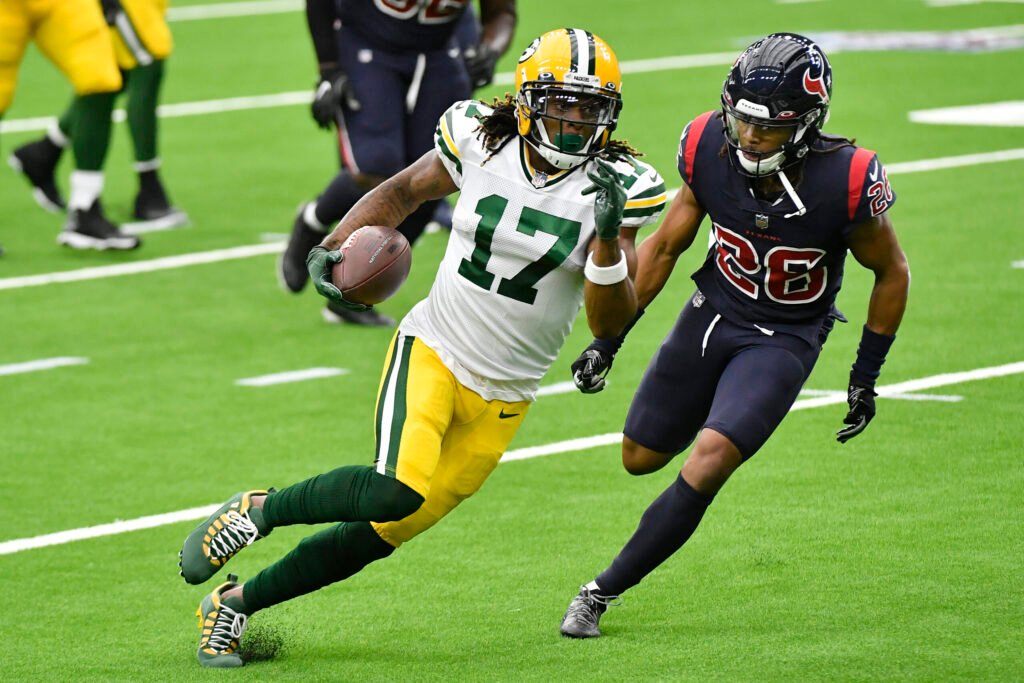 Volume is the lifeblood of fantasy football success. The Fantasy Football Workload Report was created to help visualize the crucial snaps, targets, touches, air yards, and other advanced usage metrics in an easily digestible PDF.
The Workload Report is broken into three distinct sections: opportunity, production, and results. The ultimate goal is to dive in and find out where these coveted fantasy points are coming from every week for every team. I envision that these categories will stay the same throughout the season, but some of the specific stats may change as I continue to fine-tune this.
Make sure you read the Week 1 Workload Report for an introduction to some of the categories included.
This week I decided to shorten up the PDF version of the report, as I only sorted per position in some of the main categories. Don't worry, for all of you data nerds I am still including an excel version of this so that you can dig into everything yourself.
In addition to the Weekly Tiers (scroll down to the bottom of the article), I have included a lot more analysis and screenshots from the report on different categories of players that stuck out to me. Hopefully, this will help you find actionable ways to read the report.
Any feedback you have, feel free to hit me up on Twitter and we can talk shop!
Housekeeping notes: I noticed some of the deltas for the dominator ratings are not calculating correctly due to there being a zero in the Weeks 3 through 6 column. I also completely forgot to put Le'Veon Bell on the Chiefs, so he still has a NYJ by his name. I will make the change next week.
Week 7 Fantasy All-Stars

Usually, we feature players who topped the 40-point mark at the beginning of this article. But in Week 7, we have a rare case of the 50 burger. Tyler Lockett went nuclear on Sunday night against the Cardinals seeing 20 targets and turning that into 15 catches for 200 yards and 3 touchdowns. Just to put this performance into historical perspective, the last 20 target game we saw was Julio Jones in Week 15 of last season, the last time someone put up a 15-200 line was back in 2015 when Antonio Brown did it in Week 9, and there has only been one other instance of a 20-15-200-3 stat line and that was Jimmy Smith back in 2000 for the Jacksonville Jaguars. Have yourself a day Tyler Lockett!
No one is more excited about getting his main weapon back than Aaron Rodgers who put Davante Adams to work in his first game back. Adams caught 13 passes for 196 yards and 2 touchdowns against the helpless Texans secondary and added to the long list of Packers players who have had offensive explosions this year. Adams is currently the PPR WR13 and has only played in 3.5 games this season.
Another player who shook off the injury bug and returned to his old form was Diontae Johnson of the Pittsburgh Steelers. Johnson rewarded fantasy managers who stuck with him and started him after a brutal four-week stretch including two games that he exited early with an injury, one game that got postponed due to COVID, and another game where he sat out due to injury. The only small damper on his 8-90-2 day was the fact that he once again left the game early, this time for an ankle bruise, but luckily he sounds confident that he will lace 'em up in Week 8.
Saved by the Endzone
For the second week in a row, Christian Kirk shows up on this list, having now scored 4 touchdowns over that same span. I would caution anyone trying to trade for Kirk because he has still yet to have a game this season with more than 5 catches and his last two week's big scores has been extremely TD dependent. On the other hand, current Kirk owners should continue to play him as a WR3 option due to the explosive nature of the Arizona Cardinals offense. These TD bursts can come at any time.
Just to tilt the DFS players who played Keenan Allen or Hunter Henry last week a little bit more, I left every Chargers player on the list who essentially only scored a touchdown in Week 7. While Joe Reed, Donald Parham, and Virgil Green are not worth picking up in any formats, it does speak to the opportunity that Justin Herbert has upon him in this offense. The rookie is proving to be a stud and has now thrown for more than 3 TD passes in three straight games.
A Touchdown away from Breaking the Slate

We just got done talking about Herbert and the Chargers, so I won't touch on Keenan Allen too much here, but he did have his 4th game of the season with more than 7 catches on Sunday. Allen only has two touchdowns to show for it so far, so we would expect to see that number rise here over the next couple of weeks.
Would it surprise you if I told you that Cole Beasley was the PPR WR20 so far this season? Projected to be the Bills WR3, Beasley has capitalized on injuries to John Brown & Zack Moss and has been the model of consistency so far in 2020. He has scored double-digit PPR points in six out of seven games this season (9.8 in week 1) and is currently seeing a healthy 19% target share from Josh Allen.
Biggest Week 7 Breakouts

While 10.2 PPR points may not seem like a lot, it was an astronomical shift for Jakobi Meyers on Sunday against San Francisco. Before Week 7, Meyers had only caught 1 pass for 7 yards (week 1) and it took an injury to N'Keal Harry for him to get out on the field more often. He looked like Cam and Stidham's favorite option (6 targets) out there and with not much else exciting coming out of New England he is worth picking up stashing on your bench and seeing what he can do.
James Robinson continues to be an absolute workhorse for the Jacksonville Jaguars. Through their first seven games, Robinson is seeing 71% of carries while also commanding an honorable 13% target share. Before Week 7, Robinson was already averaging 27% of the Jags PPR points over the last 4 weeks, so his 23% jump against the Chargers is really incredible. If you were able to pick up Robinson on the Week 1 waiver wires you lucked out and seem to have a weekly RB1 on your hands.
Biggest Week 7 Busts

Chase Claypool, the rookie phenom out of Notre Dame hit the first real speed bump of his NFL career on Sunday against the Titans. Just two weeks after exploding onto the scene with 4 touchdowns against the Eagles, Claypool was held in check by Tennessee and only saw 1 target. This doesn't bode well for Claypool owners as JuJu Smith-Schuster (15 targets) and Diontae Johnson (14 targets) were both healthy this game and received a lion's share of the receiving workload. You obviously can't drop him from your roster, but I think it's worth taking a wait-and-see approach before slotting him into your starting lineup.
After being called the 99% CMC by Adam Levitan over at Establish The Run, Mike Davis has now fizzled out over the last couple of weeks and saw his lowest fantasy output of the season against the Saints. In an interesting game script which saw the Panthers only run the ball 14 times, Davis shared carries with 4 other Panthers besides Teddy Bridgewater. Additionally, after going off for 30-206-2 through the air in the first four games without McCaffrey, Davis has caught just seven passes for 27 yards in his last two games. With CMC returning to the practice field this week, I think this recent cold streak by Davis can help put to bed any of the questions about a potential timeshare in the Panthers backfield moving forward. It was a good run, Mike!
Dominating the Dominator Rating

The Tennessee Titans have definitely found the wide receiver of their future in AJ Brown. The second-year standout has now scored a touchdown in three straight weeks and is arguably the Titans' biggest offensive weapon. In Week 7 against a tough Steelers defense, Brown saw 70% of the Titans receiving yards (153) and 36% of the air yards (90). He now faces a juicy matchup against the Bengals who have been getting torched through the air.
DJ Moore continues to make fantasy owners believe in him after a disappointing start to the season. Moore now has more air yards and touchdowns than his position-room mate Robby Anderson and seems to be closing the target share gap every week. Moore and Anderson are both fringe WR1 options on a weekly basis which raises the floor for Teddy Bridgewater considerably. All signs are pointing to Joe Brady being a one-and-done candidate for the Panthers thanks to the masterful job he is doing as their offensive coordinator.
Air Yards = Future Production
So far this season, we have talked in depth about Air Yards, so I think that most people now have a good grasp on how to utilize this. In Week 4, I introduced a new stat to the worksheet for receiver air conversion ratio (RACR).
For anyone who has watched any Bears games this season (two of them have been in primetime), you have likely gotten familiar with Darnell Mooney being consistently overthrown deep downfield. The rookie out of Tulane is in the Top 20 for Air Yards this season (541 AY) but is converting these to real yards at the second-lowest rate in the top 20, behind only Marquez Valdes-Scantling on the Packers. What's a bummer for Mooney is most of this poor RACR doesn't seem to be related to his performance as he is consistently trying to course-correct deep down the field and having to put a ton of effort into bailing out Nick Foles inaccurate deep balls. Monday night's game against the Bears was yet another showcase of this, where Mooney saw 155 AY and converted them into only 40 receiving yards. His breakout is coming, I'm just not sure it's going to come anytime soon with Foles behind center.
Receiving Alpha Dogs

The other metric I added to the report in week 4 was Weighted Opportunity Rating (WOPR) which combines target share and air yard share into a more actionable metric. We want to go after players who are seeing a lot of targets and a lot of potential yards. Terry McLaurin has cemented his status as an alpha receiver in this league through 7 weeks of the 2020 season. The second-year player out of Ohio State is currently leading the league in WOPR (0.77), tracking 6th in target share, and is 5th overall in Air Yards. He has proven to be matchup proof and is a bonafide WR1 for the rest of the season.
Brandon Aiyuk has come on strong recently as a legitimate receiving threat for the Niners, and he had his best game of the season on Sunday against the Patriots. Aiyuk had the first 100-yard receiving game of his career and also saw a 28% target share. The Niners face the Seahawks in Week 8, so it's wheels up for Aiyuk and the rest of the San Francisco pass-catching corps.
Rushing Yard Alpha Dogs

In Kareem Hunt's first full game as the stand-in for the injured Nick Chubb he saw a bell-cow role accounting for 93% of the Browns rushing yards and 82% of their carries. Fantasy owners may have been worried after Hunt exited the game early in Week 5 with cramps and was yanked early in Week 6 due to the blowout, but Week 7 proved to us all what Hunt is capable of and that's a clear-cut Top 5 RB in every game that Chubb is inactive.
Todd Gurley continues to churn along as Atlanta's workhorse running back this season, accounting for 95% of the Falcons rushing yards and 88% of the carries on Sunday against the Lions. While he hasn't been particularly efficient on the ground (2.7 YPC in Week 7), he does have the 2nd most rushing attempts this season and it's hard to deny that the opportunity isn't there. While real football fans were busy lamenting Gurley's last-minute TD scramble that ultimately led to the Falcons defeat, but fantasy owners were ecstatic to see him score his second TD of the day.
Budding Bell-Cows

With the Packers not sounding optimistic about having Aaron Jones out there for their Week 8 matchup against the Vikings, Jamaal Williams has another potential monster game ahead of him. Amid concerns about sharing the backfield with rookie AJ Dillon, Williams shredded those with his week 7 performance totaling 114 all-purpose yards and one touchdown on an 89% snap share and 70% rushing attempt share.
With Le'Veon Bell out backfield picture in New York, the Jets got a nice surprise from La'Mical Perine on Sunday against the Bills. Perine got a 50% rush attempt share and turned that into 39 yards and a touchdown. If you watched the game, it is hard to make an argument against him out-touching Frank Gore moving forward, but we all know how Adam Gase operates. Perine is a great waiver wire pickup this week for a deep bench stash.
Losing their Grip on RB1 status

Clyde Edwards-Helaire saw some pretty drastic opportunity changes in LeVeon Bell's first active game as a Kansas City Chief. Coming off his best performance of the season against the Bills, CEH was only on the field for 53% of the snaps Sunday against the Broncos and saw only 36% of the rushing attempts. It's hard to tell if this is a direct result of having Bell in town or if the weird game script that the Chiefs found themselves in played a part, but it does look like the ceiling for CEH is in the rearview mirror for now. This position battle definitely falls into the wait-and-see bucket.
Falling out of Favor in the Receiving Corps

It would appear that James Washington is a cut candidate now that the Steelers have three healthy receivers ahead of him on the depth chart. We have seen what he can do when called upon due to injury, but it doesn't make sense to waste a bench spot on him at this point of the season (unless you are in a deep league).
While Jeff Smith never ended up putting together any fantasy-relevant games for the Jets he did average 10 targets per game during weeks 4 and 5. With Jamison Crowder, Breshad Perriman, and Denzel Mims all being closer to healthy it looks like Smith will be purely a blip on the radar this season.
Honorable Work Ethic

It's tough to criticize these iron men who are stepping out on the field pretty much anytime their offense runs a play. A couple of these guys turned in disappointing weeks (Will Fuller, Stefon Diggs, and DK Metcalf), but the opportunity is clearly there.
Running Back Tiers
Runaway Bell-Cows
Alvin Kamara
Derrick Henry
Kareem Hunt
Todd Gurley
James Robinson
James Conner
Josh Jacobs
Mike Davis (assuming CMC is not back for Week 8)
Ezekiel Elliott
Myles Gaskin
David Montgomery
Jonathan Taylor
Jamaal Williams (assuming Aaron Jones is out for Week 8)
Chase Edmonds (assuming Drake is out for a couple of weeks)
Boston Scott (assuming Miles Sanders is out for Week 8)
Bell-cows Dealing with a 3rd Down/Goal-Line Vulture
Clyde Edwards-Helaire
Melvin Gordon
Joe Mixon (assuming he is limited this week)
Antonio Gibson
David Johnson
Devin Singletary
Ronald Jones
Running Back by Committee (RBBC) w/ Fantasy Potential
D'Andre Swift, Adrian Peterson
JK Dobbins, Gus Edwards (assuming Ingram sits this week)
Joshua Kelley, Justin Jackson
Untouchable backfield until further notice
Darrell Henderson, Malcolm Brown, Cam Akers
Frank Gore, Lamical Perine
Devonta Freeman, Wayne Gallman, Dion Lewis
Carlos Hyde, Deejay Dallas (assuming Chris Carson is out for Week 8)
Damien Harris, Rex Burkhead, James White
Jerrick Mckinnon, JaMycal Hasty
Wide Receiver Tiers
Alpha Target Hogs
DeAndre Hopkins
Davante Adams
Keenan Allen
Tyreek Hill
Stefon Diggs
Adam Thielen
Kenny Golladay
Allen Robinson
Terry McLaurin
Jamison Crowder (assuming he plays in Week 8)
Marquise Brown
AJ Brown
DJ Chark
Travis Fulgham
Receiving Room Busting with Talent
Tyler Lockett, DK Metcalf
Calvin Ridley, Julio Jones
Robby Anderson, DJ Moore
Diontae Johnson, JuJu Smith-Schuster, Chase Claypool
Cooper Kupp, Robert Woods, Josh Reynolds
Chris Godwin, Mike Evans, Antonio Brown
Will Fuller, Brandin Cooks, Randall Cobb
Tyler Boyd, AJ Green, Tee Higgins
Deebo Samuel, Brandon Aiyuk
Amari Cooper, CeeDee Lamb, Michael Gallup
Fantasy Breakout Waiting to Happen
Darius Slayton, Sterling Shepard, Golden Tate
Devante Parker, Preston Williams, Isaiah Ford
Jarvis Landry, Rashard Higgins
Jerry Jeudy, Tim Patrick, KJ Hamler
Tough to Count on as your WR3
Julian Edelman, N'Keal Harry, Damiere Byrd, Jakobi Meyers
Nelson Agholor, Hunter Renfrow, Henry Ruggs
TY Hilton, Zach Pascal
Marquez Callaway, Tre'Quan Smith
Tight End Tiers
Every Week Baller
Travis Kelce
George Kittle
Mark Andrews
Darren Waller
Hunter Henry
Jared Cook
TJ Hockenson
Jonnu Smith
Hayden Hurst
Rob Gronkowski
Fantasy Relevant
Noah Fant, Albert Okwuegbunam
Evan Engram
Eric Ebron
Mike Gesicki
Jimmy Graham
Tyler Higbee, Gerald Everett
David Njoku, Harrison Bryant
Fantasy Potential
Dalton Schultz
Robert Tonyan Jr.
Logan Thomas
Irv Smith Jr, Kyle Rudolph
Trey Burton
Darren Fells, Jordan Akins
Will Dissly, Greg Olsen
Richard Rodgers
Out there to Block
Dawson Knox, Tyler Kroft
Drew Sample
James O'Shaughnessey
Chris Herndon
Dan Aronold, Darrell Daniels
Ian Thomas
Ryan Izzo