2019: Betcha can't hit the Eagles as hard as I did!
2020: Hold my beer
The fantasy gods have sent plagues of injury locusts to Philadelphia's offense the past couple of years. The team clearly tried to prepare for that this season when they added depth through free agency and the draft.
No matter. Alshon Jeffrey and DeSean Jackson's injury struggles are picking up right where they left off last season. Miles Sanders out a game here, JJ Arcega-Whiteside out a game there. Add in a trip to IR for Dallas Goedert, and first-round pick Jalen Reagor. And don't forget to throw in a 2020 season opt-out for free agent signing Marquise Goodwin. Uugghhhhhhhhh.
Bring us to week 5, and the Pittsburgh Steelers defense looks like a prime top play against a struggling Carson Wentz and the Philadelphia Practice Squad. They did fine fantasy-wise, totaling five sacks and two INT's, but allowed the most yards (336) and points (29) in a game they have given up this season.
A big part of that is a breakout performance of Travis Fulgham. A fantasy football desperation play according to Rotowire, the second-year wideout out of Old Dominion played like he's been there before, racking up a 10-152-1 line on 13 targets.
And it's not like Wentz found his groove. He had a 77 percent completion rate to Fulgham and only 45 percent to everyone else.
The Detroit Lions' 2019 sixth-round pick has had "here and gone in a flash" written all over him in his short history up until the last couple of weeks…
Travis Fulgham's last two months:
* August 9th: waived by the Lions
* August 10th: claimed by Packers
* August 19th: waived by the Packers
* August 20th: claimed by the Eagles
* October 4th: catches game-winning TD
* October 11th: 10 catches, 152 yards, 1 TD and counting

— Field Yates (@FieldYates) October 11, 2020
So that begs the question…
Is This a Fluke?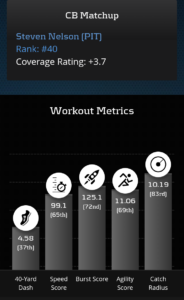 According to PlayerProfiler, you could actually make a solid case that the answer is "no." Except for the 40-yard dash, his metrics are above-average, with burst, agility, and a long catch radius, which is great for dealing with Wentz's current accuracy issues.
Travis Fulgham 😳 pic.twitter.com/V2JG6E1tC1

— DIE-HARD 🦅 Fans (@Eaglesfans9) October 11, 2020
PlayerProfiler's most comparable player to Fulgham is Michael Gallup, and the analytics-driven site considered his projected matchup with Steelers' CB Steven Nelson to be advantage-Fulgham. Nelson graded as a top-10 corner last season according to Pro Football Focus.
Worth a Pickup?
The amount of tape on the guy is absurdly small, uh well, for some of us anyway…
Breaking: Travis Fulgham has been inducted into the hall of fame after 2 games with the Eagles. pic.twitter.com/KMII3pl1Nh

— Gayle Saunders (@EagleSessions) October 11, 2020
…but in fantasy, wide receiver is arguably the most flexible position in terms of roster building. The position can be highly volatile, yet by season's end, the points-per-game gaps when you go down the rankings is almost always, if not always, smaller than the other offensive positions.
Chances are, there's a wide receiver candidate on your bench that you could stand to lose if you want to take a flyer on Fulgham on the Week 6 Waiver Wire. A formula does exist for continued fantasy relevance. It requires him to see a starting role even if all Philly's receivers are healthy, which doesn't seem likely, but who knows. The Eagles' coaching staff might be getting tired of waiting on Alshon and DJax, and Travis' breakout may be good enough reason to make a change.
Will The Wolf include Travis Fulgham in this week's updated Rest Of Season Rankings? Find out when he talks risers and fallers, every Monday evening, through Facebook, Youtube, and Periscope.