Player Stock Ticker
Dak Prescott Done for 2020: Fantasy Impact on All Cowboys Weapons, Andy Dalton Waiver Wire Value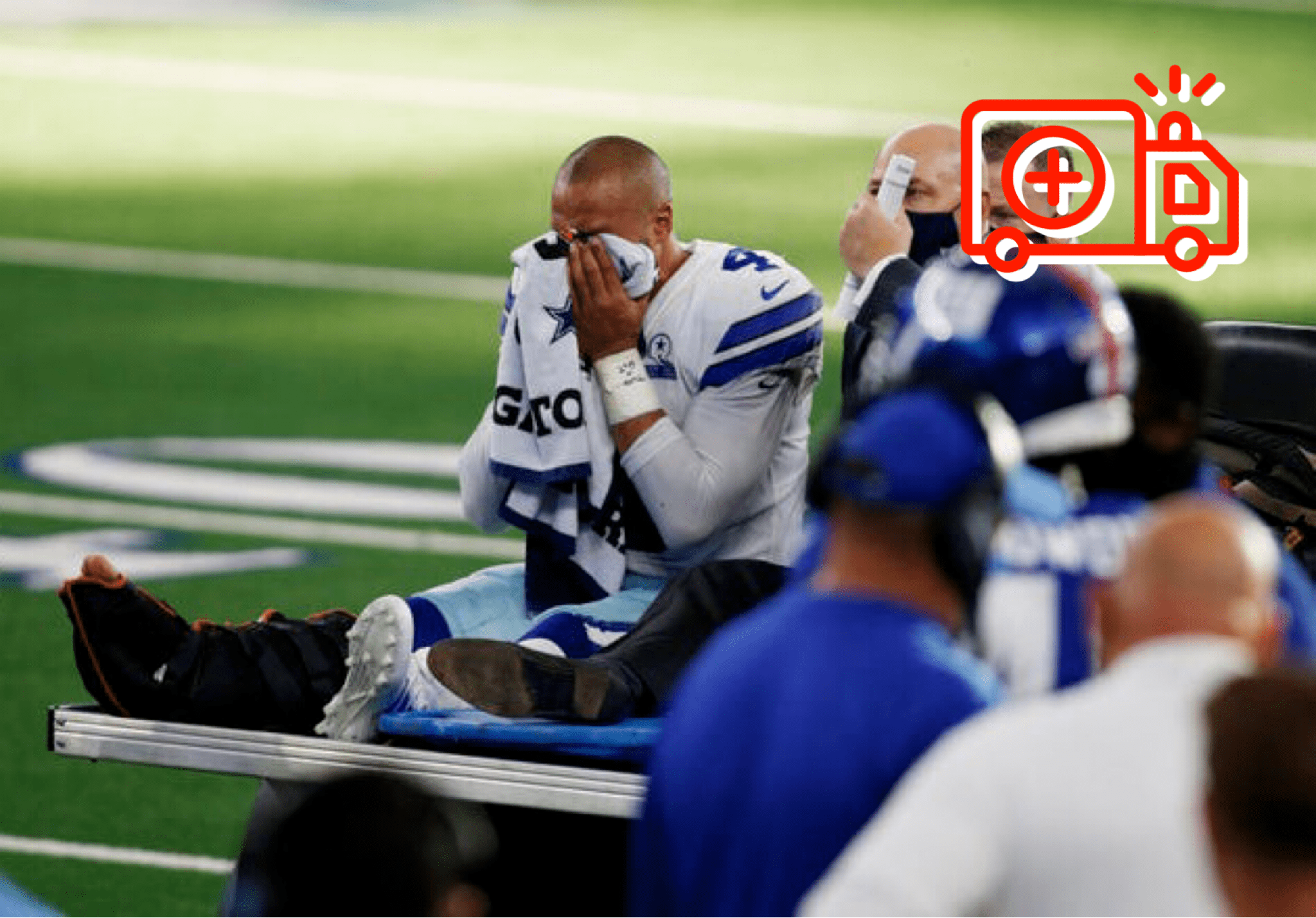 Through four weeks, Dak Prescott was on pace for NFL and fantasy football records. No QB had ever thrown for more yards (1,690, 422.5 per game) or fantasy points (125, 31.25) to open a season. Undoubtedly, Prescott was in the 2020 MVP conversation, both for real life and fantasy.
This scorching start came to a screeching, gut-wrenching halt versus the Giants. On a QB keeper, Prescott suffered a compound fracture and dislocation of his right angle. He underwent surgery Sunday night, which reportedly went "very well," but ends his 2020 and leaves his Cowboys future in doubt.
Obviously, Prescott's physical and mental well-being are far greater concerns than the fantasy implications. Especially after such a harrowing offseason, our thoughts and prayers go out to him during this challenging time.
Still, if you're reading this, you want to know the next steps and fantasy implications. Let's dive in.
Stay up to date on all the Fantasy Football Value Swings! Bookmark our Fantasy Stock Watch. Even better, consume them in our cleanest format by downloading the Roto Street App.
Most Cowboys Fantasy Ships Sink
Unfortunately, all of Amari Cooper, CeeDee Lamb, Michael Gallup, and Dalton Schultz take a long-term fantasy hit after losing the main man responsible for the Cowboys all-you-can-eat aerial buffet.
With Prescott, Dallas led the NFL in passing yards (1907) and attempts (236). Additionally, the Cowboys ranked first in pace (19.95 sec/play) by nearly 5 seconds, leading to the most plays per game (74.6) and third-most points (32.6 per game).
Undoubtedly, these impressive outputs are all due for a step backwards with Andy Dalton now taking over. The question becomes: just how far back?
Fortunately, Dalton might be the top backup in the NFL. Mike McCarthy will re-engineer the offense around Dalton, which likely means a slower pace and fewer deep shots.
Moreover, I expect Ezekiel Elliott and the ground game to become even greater focuses. Of all the Cowboys pieces, Elliott loses the least value given the expected volume uptick. This quantity increase should offset most, if not all, of the quality drop off.
Still, Dalton can sustain a competent-enough attack that sustains top-half levels given the weaponry. Plus, Dallas' defense won't allow the team to remain overly conservative. 
Here's how Dallas' weapons performed in Dalton's quarter and a half of action:
Andy Dalton (9/11, 111 yards)
Targets & Production:

Michael Gallup: 3 tgts, 3 rec, 65 yds
Amari Cooper: 3 tgts, 2 rec, 23 yds
CeeDee Lamb: 3 tgts, 2 rec, 21 yds
Tony Pollard: 2tgts, 2 rec, 2 yds

— Wolf of Roto Street (@RotoStreetWolf) October 12, 2020
I caution reading too much into this. The team was down, and thus threw 11 passes compared to only six rush attempts. I expect these to be far closer to 50/50 splits in close game scripts now.
Moreover, Gallup's high(er) production came on the final two throws of the game. The Cowboys found a matchup to exploit and went back to that well twice for Dalton's biggest throws. Perhaps Dalton had honed a stronger rapport with Gallup in camp, but my guess is this was less about chemistry and more about coverage.
Regardless, Dalton should possess enough arm talent to sustain these weapons at ~70-75% of their current fantasy capacities. Cooper drops to my WR13 (-7), as I expect Dalton to take fewer deep shots and toss into the tight windows Prescott would with Amari.
Lamb remains top-20 rest of season. He does so much damage after the catch, Lamb could even see his usage bump upwards to mask Dalton's deficiencies. Gallup, as mentioned, showed encouraging early chemistry with Dalton. Still, he's been such a distant third in McCarthy's play-calling, and I expect Gallup to remain difficult to trust on a weekly basis.
Dalton Schultz, meanwhile, seems due for a big step back. His value was mostly due to high-TD upside with Dak at the helm. We shouldn't expect the Red Rifle to generate nearly as many scoring opportunities – though he did sustain a 13 TD season from Tyler Eifert (2015).
In sum: Dalton is a definite downgrade. Still, the dropoff could be far more dramatic on other teams, and Dalton can keep this offense humming at a top-half level. Downgrade your Cowboys WRs, but not overly so.
What's Andy Dalton Fantasy Value? Waiver Wire Target?
Meanwhile, Dalton himself becomes of immediate fantasy interest. He will now have one of the NFL's top weapons cabinets at his disposal, all while playing behind the best line of his career (albeit their banged up).
Dalton doesn't sling the deep ball like Prescott. Still, he managed over 10 yards per pop Sunday. The defense remains atrocious, so Dalton should find himself in plenty of air-it-out scenarios.
Between the weapons and game scripts, Dalton should piece together 15-18 FPs most games, with the occasional 20+ blow up in the right matchups. Obviously, I'd look to Justin Herbert (50%), Teddy Bridgewater (55%), or even Ryan Fitzpatrick (21%) first.
But if you lost Dak and the waiver is barren, or you play Super Flex / 2 QB leagues, Dalton should be a viable Top-20 weekly option.  There's upside for even greater if McCarthy surprises and keeps the pedal to the medal on pace. Depending on my desperation, I'd burn 10-15% FAAB to secure him.
Stay up to date on all the Fantasy Football Value Swings! Bookmark our Fantasy Stock Watch. Even better, consume them in our cleanest format by downloading the Roto Street App.