Player Stock Ticker
2020 Fantasy Football Quarter Season Awards & Predictions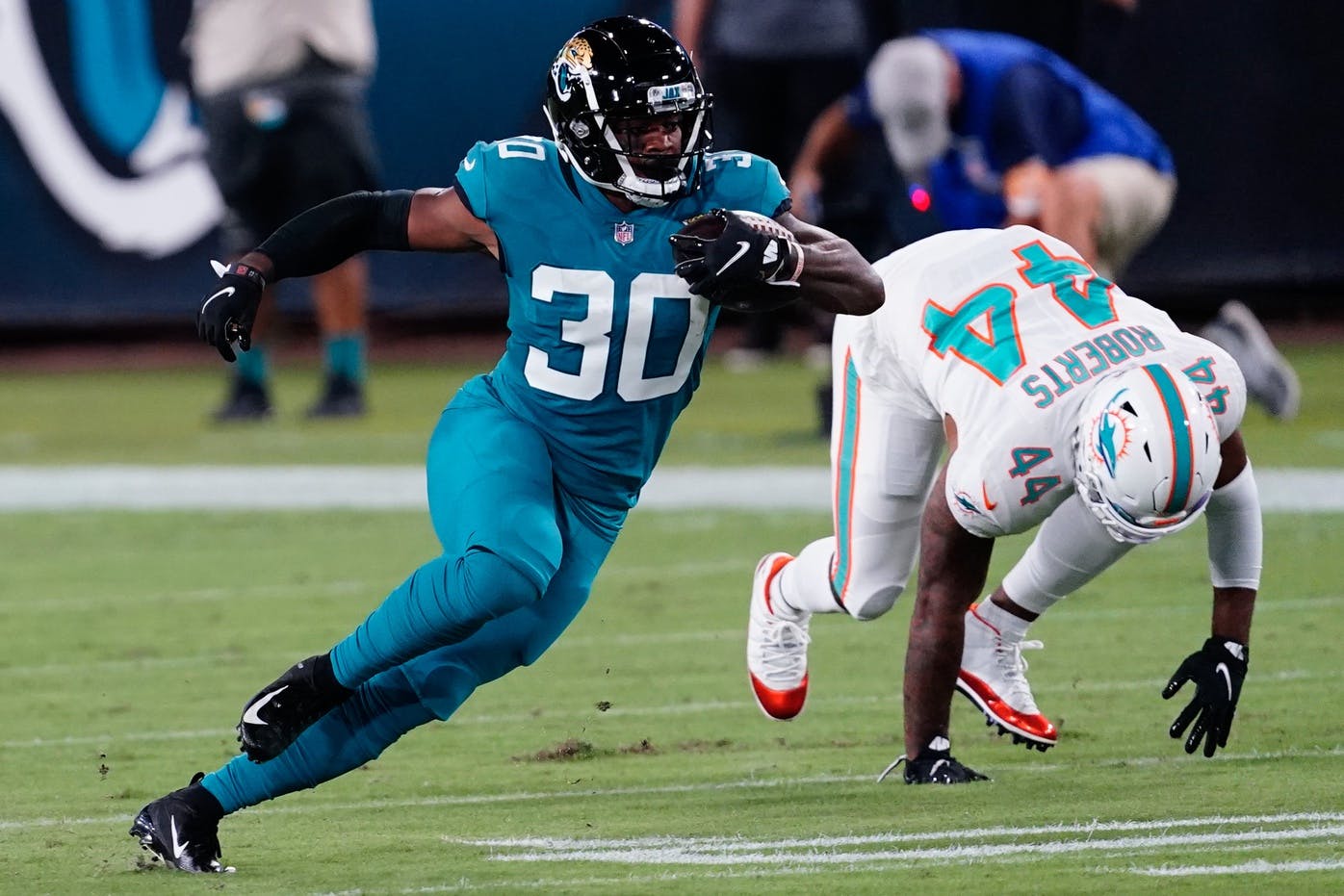 The first quarter whistle has blown on the 2020 fantasy football season. Insane. Seemingly faster than the Cowboys no-huddle offense down 20.
With 75% of the season left, no fantasy owner is fully safe or fully out of it.
Still, The Roto Street Journal staff wants to hand out some awards, while making some bold predictions for the final 75% of the season.
Below, find our picks for Q1 MVP, Bust, Value Pick, Future Rebound, and so much more:
1) Fantasy MVP
Who is the Most Valuable Player through four weeks?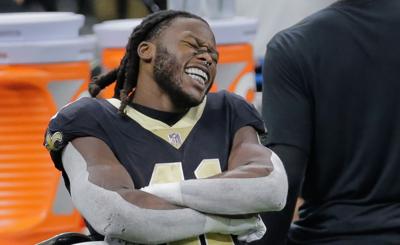 Jimbo – Alvin Kamara
Kamara has an insane workload in the Saints' offense and his receiving work pushes him into uncharted territory.
CJay – Alvin Kamara
Kamara is the most fun player to watch in the league and he's insanely dynamic.
Wolf –  Alvin Kamara 
Falling to Pick 5 and beyond, Kamara has flashed the highest floor and ceiling all of 2020 in MT's absence. Whether he maintains this when MT returns remains another question, but Kamara – the WR4 on just his receiving – will remain the focal point of Sean Payton's offense. No.1 among ALL positions – only Non-QB in top-five – just highlights his separation from the pack. 
Jon Jackson – Josh Allen
Sharply fell down the QB2 tier towards the end of the offseason and was often available in the 8th round or later. Outscoring Mahomes & Lamar so far and keeping pace with Dak and Russ who were drafted at the top of his tier.
Chase M-G – Josh Allen
Still hawking rushing TD's as much as he ever was, except now tack on a 70.9 percent completion percentage, not falling below 68.6 percent in any game. So much for thinking Stefon Diggs would diva out because of a QB that couldn't get the ball to him.
Duck – James Robinson
Easily has to be James Robinson. The man went from complete irrelevance in fantasy
to, in dynasty formats, being sold high for a '21 first round pick. He is a dependable,
start and forget anchor to some teams. The "zero RB" champion for some teams.
Truth – AK47
Hard not to pick Kamara–averaging 31.3 a game in PPR puts him a full 6 points above the RB2, and just his work in the passing game makes him the WR4. Any of the QBs listed make a solid runner up–Wilson is the best of the bunch, but the way the Cowboys are playing puts almost no ceiling on what Dak is able to do. The guy has almost 1700 yards in the air through 4 games so he's probably my runner up.
2) Biggest Threat to Fantasy MVP?
Who is most likely to steal the Fantasy MVP award by year's end?
Dalvin Cook leads NFL in rushing. The key stat: 21 broken tackles. – Twin Cities" width="402" height="269" />
Jimbo – Dalvin Cook
Cook's usage is crazy, he's a goal-line monster and the offense looks like it's slowly getting better
CJay – Dak Prescott
The Cowboys' offense is an all-time fantasy factory and I don't see their horrific defense improving.
Wolf – Dalvin Cook  
Kubiak pledged to feed him more, and the schedule looks beyond soft. A fantastic bet to lead the league in rushing should he finish all 16 games.
Jackson – Alvin Kamara
We will have to see if things change after Thomas gets back, but it doesn't appear that Brees has any need to throw the ball downfield. It's a telling sign when a 20 pt week 4 is viewed as a disappointment for Kamara.
Duck – Josh Allen
Josh Allen. Going in the 9th to 10th round in most re-draft leagues, Allen is absolutely
CRUSHING this year and looks like a completely different quarterback mechanically
and cerebrally. The connection to Stefon Diggs is deadly and his rushing floor is STILL there. The ceiling is QB1 overall… almost literally 2019 Lamar Jackson 2.0
Chase M-G – Run-CMC
McCaffrey has the potential to meet his ridiculous 29.5 points-per-game from 2019 once he's healthy, which can erase the stain of any losses your team might have had due to his absence. And if you can make the playoffs with McCaffrey, that means you'll likely be able to compete with anyone.
Truth – George Kittle
If you want a good laugh, check out the defenses Cook will be going against for the rest of the season. Based solely on that I'll say he's the guy. But seriously, I know George Kittle has only played 2 games (compared to 4 for the other TEs) but he is averaging 8 points more than your boy Travis Kelce–scoring a full 50% more per game than him. That's the equivalent of Kamara scoring around 40 a game. The bulk of my Kamara argument rests in how far above the next guy at his position he is–by that rubric Kittle is even more dominant. We'll see if it continues. Also, look out for a potential Kareem Hunt explosion.
3) 1st Quarter Fraud / Cool-Off Candidate
Who's lighting it up right now that you believe will cool off considerably over the final 12 weeks?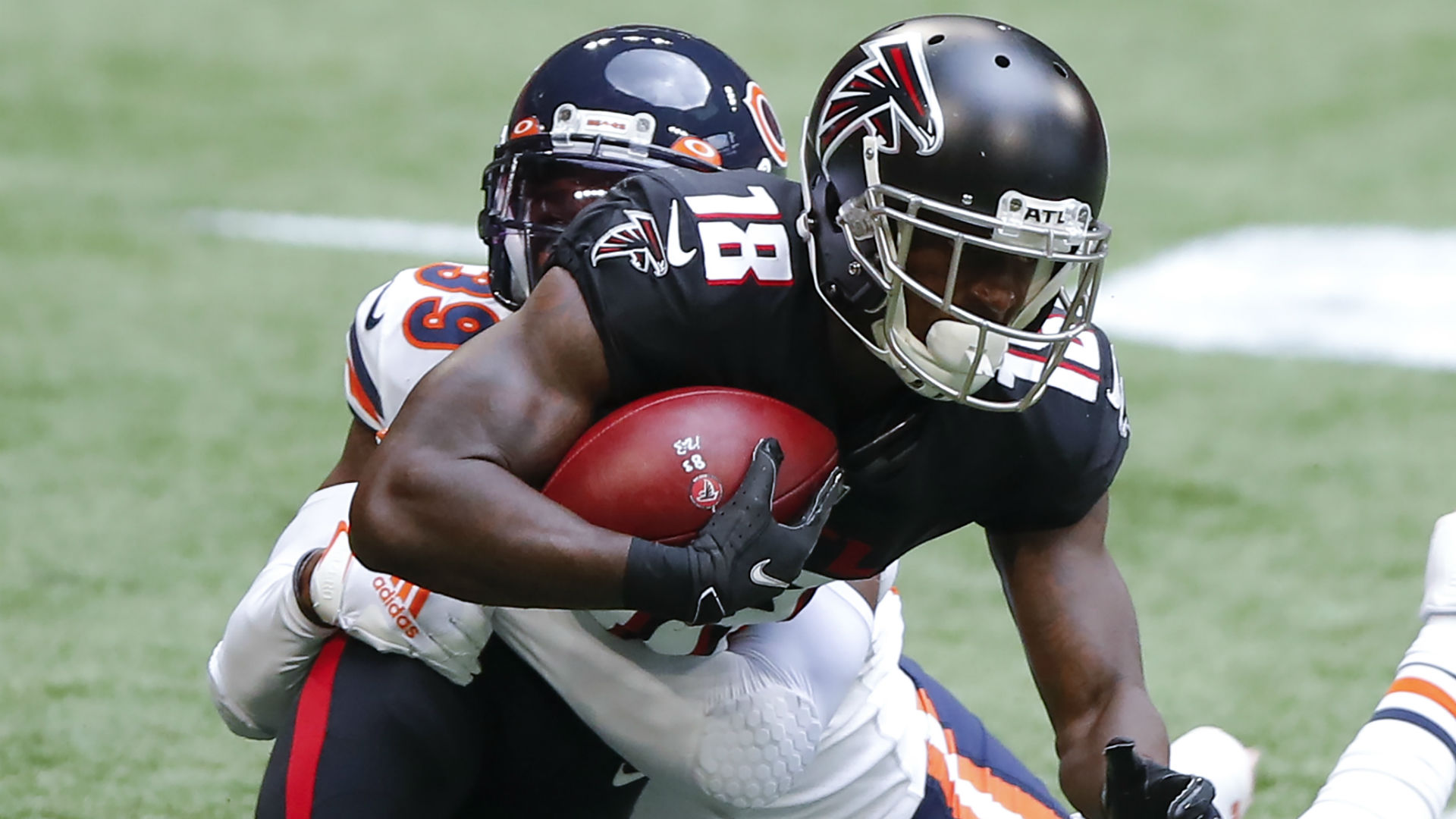 Jimbo – James Robinson
Currently RB6, I think he'll still be a serviceable fantasy back but just not an elite RB1
CJay – Mike Evans
WR1 at the time of publishing (due to Week 5 TNF), Evans is on pace for about 20 touchdowns this season. He's utilized as a "goal-line receiver," but once the Bucs' weapons get healthy, he should come back down to earth a bit. He's not getting enough targets to sustain weekly production without those touchdown numbers.
Wolf – Calvin Ridley
Pains me given my high stock in Ridley, but his Week 4 Goose Egg was an ominous sign of a world hampered by injury & No.1 Coverage (Julio's absence). Schedule gets ugly Post Week 10 Bye.
Jackson – Josh Jacobs
 He hasn't exactly lit the world on fire after his Week 1 three touchdown explosion. He now faces the Chiefs, Bucs, Browns, Chargers, and Broncos in his next 5 games.
Chase M-G – James Conner
 C'mon, players are dropping like flies, but Conner's going to make it through the year? Not buying it. Of course, there's always the theory that the world ended when the Mayan calendar ended in 2012, and what we're actually experiencing is an alternate universe where James balls out every week. Hmm, I don't know which is more believable.
Duck – Robby Anderson
Robby Anderson. Currently the WR12 in Half PPR Scoring. I fully expect the cream of
the crop, aka DJ Moore, to rise up to the top of the pecking order. Anderson ranks second in yards after the catch, trailing only McLaurin, and currently converting 122% of his air yards into receiving yards. With the return of CMC as well as the projected emergence of DJ Moore, Anderson will likely regress to the low end WR2 to mid WR3 range.
Truth – Calvin Ridley 
Ridley.  I've always thought it. (Very deep analysis)
4) Bust of the Year… That Will Bounceback
Who's been awful but will turn their season around and live up to their potential?
Jimbo – DJ Moore
I have faith in Moore's talent and high air yard numbers. Moore and Teddy will figure it out eventually
CJay – Miles Sanders
Currently sitting outside the top 25 running backs, Sanders is seeing the usage but he isn't doing much with the volume (one touchdown on 70 opportunities). I think he rights the ship soon.
 Wolf – Joe Mixon
Easy answer after Week 4's explosion. Still, Mixon has many owners 1-3 and likely doubting the validity. The fact he ran 25 routes to Gio's 2, and saw 6 targets to Gio's 0, is all I need to know. If that receiving role remains intact, especially in negative scripts (I think it will), Mixon will finish Top-5 among RBs despite the slow start.
Jackson – Deshaun Watson
Currently the QB14 after facing a murderers row of defenses to start the season (Chiefs, Ravens, Steelers). Bill O'Brien is gone and I have a feeling we will see some explosive games from the 4th year stud.
Chase M-G – DJ Moore
Teddy was already familiar with OC Joe Brady, Robby was already familiar with coach Matt Rhule, and with a very hyphenated offseason, Moore's slow start due to unfamiliarity would be understandable. It looks like Carolina's offense is gelling more and more, and I still think it can support Robby and DJ as top-24 fantasy receivers.
Duck – DJ Moore
DJ Moore. Moore is averaging eight targets per game and ranks 11th in the league in air yards. While CMC was healthy, Moore averaged 11 targets through his first two games. While I certainly don't expect 11 targets to continue, I see no reason Moore doesn't reassert himself as the 1a-1b receiving threat in an offense that will only continue to click and mesh well. 
Moore ranks 11th in the league in air yards and commands a 42.83% market share of the teams air yards. If his aDot returns more to the shorter/intermediate area of the field, Moore will positively erupt.
Truth – Chris Godwin
This is really hard to say because maybe this guy is just an injury prone dude now. But Chris Godwin could turn some heads if he can get (and stay) healthy.
5) Bust of the Year… That's Still Going to Suck
Who's been awful and will continue being so the rest of the year?
Jimbo – Kenyan Drake
Fuck him. No receiving work, and Kyler is a better rusher at the goal line
CJay – Kenyan Drake
I have zero hope that Drake's workload will suddenly increase with Chase Edmonds breathing down his neck.
Wolf – Kenyan Drake 
 Selected late first, early second in most leagues, Drake sits as the RB35… 0.2 points ahead of backfield mate Chase Edmonds, despite seeing double the snaps and touches. Drake's running far fewer routes, and being schemed up the gut rather than out in space, despite dominating when used the opposite way last year. He hasn't done it in the cakiest portion of his schedule, why would he now?
Jackson – Lamar Jackson
While he certainly doesn't fall into the "suck" category I don't think he will be able to bounce back from his QB8 start to the season in order to pay off his 2nd/3rd round ADP. We have seen so far that passing volume is king this season, and Lamar is in an offense that does not have the passing upside to keep up with the other gunslingers.
Chase M-G – Todd Gurley
Nobody expected him to regain his old form, but I think we all expected him to get more receiving looks on such a pass-happy team. Currently the RB24 in fantasy points-per-game, it's hard to imagine where an increase in production is going to come from.
Truth – Deshaun Watson
So many possible choices here.  Given the completely unrealistic (in my opinion) expectations for Lamar Jackson, it was hard for me to think he wouldn't disappoint at least a little.  He's the QB10 right now in terms of fantasy points per game which would have to be considered a major disappointment.  Deshaun Watson is the QB20, and although I pull for him–I really do–I feel like people have been trying to hype him up for things he has not earned in the NFL at all.  He was made to look a lot more dangerous when he had Deandre Hopkins to throw to.  Gardner Minshew looks better than him right now.
Duck – TY Hilton
The guy looks absolutely washed and doesn't appear to mesh well at all with Rivers. As Jonathan Taylor likely improves his in-game vision and decisiveness running the rock, he will take over as the focal point of this offense. If Parris Campbell returns healthy he will further push TY Hilton down the totem pole, possibly even behind Pittman if he returns and finishes the year strong. If you haven't pushed the panic button on Hilton yet then I want some of what you're having.
6) Who's Been Relatively Quiet But Will Emerge as a 2020 League-Winner?
Not quite a bust, but not living up to their hype — who will blow the doors off and emerge as a true league-winner?
Jimbo – Clyde Edwards-Helaire
Tons of hype pre drafts, not performing like the elite RB1 expected. Great schedule upcoming and huge numbers to follow
CJay – Jonathan Taylor
We're all waiting for the 30-pt blow-up game… don't worry, it's coming.
Wolf – Antonio Gibson
 I was torn between Gibson and JTaylor, but figure someone else hits the Colts clydesdale and that downy soft late schedule. Gibson keeps getting better with each and every touch. When Barber flounders at the stripe, Gibson thrives. It's only a matter of time before the receiving work is his and Gibson is a 65%+ snap player. When this happens… look out.
Jackson – Raheem Mostert/George Kittle 
Both have been hammered by early-season injuries, but are clearly the top 2 most reliable parts of the San Francisco offense. Either play has spike week potential to get you north of 25 points and they play Washington, Dallas, and Arizona during the fantasy playoffs.
Chase M-G – Mike Gesicki
Aside from a spectacular week 2 showing, Gesicki's been pretty silent. Still, he's running 30.3 routes-per-game, and lining up in the slot for 28.5 snaps-per-game, so the potential is there. The Dolphins want to get him open, and build off the 7.25 targets-per-game and 5 TD's he saw during the second half of last season.
Duck – Deshaun Watson
Deshaun Watson. I said this before the firing of Bill O'Brien (aka the butt chin wonder) but Watson has been getting no help from anywhere on his team. With matchups against Jacksonville, Tennessee, and Green Bay looming there are three potential shootouts looming to really get Watson into a rhythm. Now that the butt chin wonder is no longer in the picture, perhaps this team will properly use its weapons (Brandin Cooks!!!). 
Truth – Damien Harris
7) Current Waiver Wire Hail Mary Hero
Who was often found on the Waiver Wire to begin 2020 and will continue being a league-winner?
Jimbo – Jerick McKinnon
One of Wolf's favorites shows he has permanent value in the passing game and has held his own as a runner
CJay – Justin Jefferson
It took two weeks for the rookie to get acclimated to the NFL game, now he's looking like he did with Joe Burrow at LSU. Watch out.
Wolf – James Robinso
How did these two bozos think of anyone else? There's simply no other choice outside Robinson. The current RB6 despite going undrafted nearly everywhere, and none of it seems fluky. Second in RBs in receiving yaradage. Locked-in Top-10 RB rest of way that you got for free.
Truth – Jerick McKinnon
I think McKinnon has the most potential to be that guy, but I could very easily see him becoming injured himself and ceding his job to someone else, so I wouldn't bet the farm on it.  Also, Mostert could return and cut into his snaps a lot.  I just don't know about Robinson long term, although there's no doubt he has outperformed expectations this year even if he gets hit by a bus tomorrow.
Duck – James Robinson
James Robinson.  The Fantasy MVP!
8) Future Waiver Wire Hail Mary Hero
Who is still unowned in 25% of leagues but will be a beast by the end of 2020?
Jimbo – Andy Isabella
Kingsbury will finally realize the last piece to unlock the air raid is actually giving Isabella more snaps. Either him or Olamide Zaccheaus when old man Julio misses a bunch of time.
CJay – Antonio Brown
This lunatic is currently owned in 4 percent of leagues and will be free to play in Week 9. AB will likely sign with a contender and if he does sign, he will be the waiver wire hero and an eventual league-winner.
Wolf – Rookie QBs – Justin Herbert & Tua Tagovailoa
By the time this is published, Herbert will likely be past the 25% threshold (edit – he's now 42%). Still — 300+ yards or 3 TDs in every game, largely throwing to an injured corps, is no joke. The kid can ball and isn't afraid to sling it. I think we see the same from Tua whenever he takes over, with added Konami Benefits. Both log Top-12 numbers in points per start.
Jackson – Jamaal Williams
We already saw what he is capable of doing in a week where the Packers top 2 pass-catchers are on the shelf, just imagine him in the RB1 role if Aaron Jones were to ever miss time with an injury. Williams should be stashed on your roster and should consistently see plus fantasy spot starts throughout the season.
Chase M-G – Allen Lazard
I have to put Lazard in here, not so much because he is a hail mary, but because fantasy leagues are treating him as one, with 36% ownership in each of ESPN, Yahoo, and NFL.com leagues. The WR10 before injury, he's Aaron Rodgers ' trusted number two receiver in a year that Rodgers wants to show the Packers that Jordan Love was the most wasted pick in NFL history. Go get him.
Duck – Mo Alie-Cox
Eventually, Rivers will just lock on to him
Truth – Justin Herbert
This is tough, I'd say Herbert has the best chance to turn some heads and be pretty good or even great, but there are so many outstanding QBs that I doubt he'll have a huge impact. Still, the question was who'll be a beast, so I guess my money is on him. That doctor that punctured Tyrod Taylor's lung should get a part of the award. Tua would probably the most fun guy to have win the award, though
9) Positional No.1s:
Now that we've seen four games of action, who do you think finishes as fantasy's top:
QB:
Jimbo – Dak Prescott
CJay – Dak Prescott
Wolf – Mahomes
Jackson – Dak
Chase – Russ 
Duck – Russ
Truth – Russ 
RB:
Jimbo – Dalvin Cook
CJay – Alvin Kamara
 Wolf – AK47
Jackson – Kamara
Chase – aaaaaaand Kamara
Duck – Dalvin
Truth – Kamara
WR:
Jimbo – Davante Adams
CJay – Amari Cooper
Wolf –  Tyreek
Jackson – Cooper
Chase – DHop
Duck – Amari Cooper
Truth – DeAndre Hopkins 
TE:
Jimbo – Darren Waller
CJay – Mark Andrews
Wolf – Kittle 
Jackson – Kittle
Chase – aaaaaaaaaaand Kittle
Duck – Waller
Truth – Kittle 
10) Fantasy ROTY: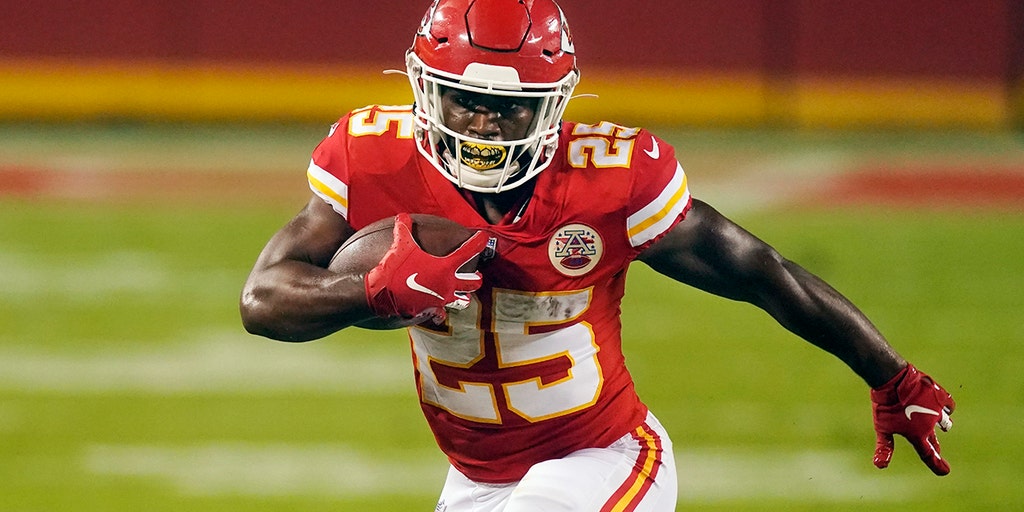 Who has been the top rookie in fantasy so far, and will they keep the hardware for all of 2020 (if not, who steals it?)
Jimbo – James Robinson
For now, until Clyde Edwards-Helaire wins it late.
CJay – James Robinson
Justin Jefferson or Jonathan Taylor pass Robinson as the year continues.
Wolf – Clyde Edwards-Helaire
Clyde's the only answer, even though I think Taylor pulverizes his creampuff late-season schedule and separates from the pack. But we've only seen Clydesdales floor so far in the hardest part of his schedule. With a cakewalk coming soon… he's about to not only threaten for ROTY, but also Fantasy MVP
Jackson – CEH
His fantasy point production has been stable to start the season and his usage has increased every week. He could be a real league-winner as we roll into the playoff stretch and if there is anybody out there willing to sell, you should be clamoring to buy.
Chase M-G – James Robinson
The Chiefs have weapons galore, whereas the Jaguars seemingly only have DJ Chark and Robinson as legitimate threats. This gives J-Rob an edge in guaranteed volume, enough to barely outproduce CEH as fantasy's top rookie performer.
Bonus: Super Bowl Prediction
Will we get to the Super Bowl? If so – what two teams and a final score?
Aaron Rodgers insane touchdown pass to Jimmy Graham" width="413" height="232" />
Jimbo – Chiefs 31 Packers 27
CJay – Steelers 27 Saints 24 (too early for these predictions, be better, Wolf)
Wolf – Patriots 31 Packers 28
Jackson – Chiefs 34 – Seahawks 31
Chase – Packers 34, Steelers 30 Aaron Rodgers mic drop
Duck – Kansas City 37 Tampa Bay 21
Truth – Kansas City v. Green Bay (good score prediction!!)
Thanks for checking out our Quarter Season Awards – do you agree? Disagree? Sound off with us @RotoStJournal!