Player Stock Ticker
4 Key Fantasy Football Takeaways From NFL Week 2 Action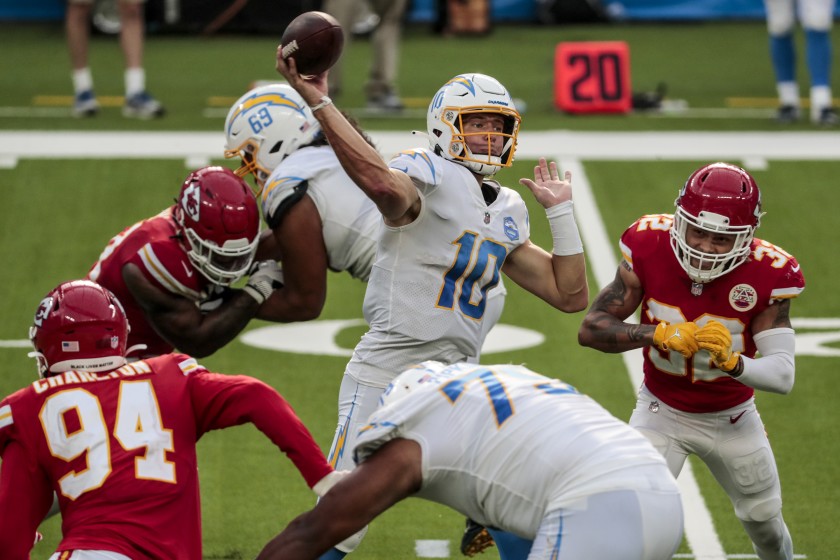 When analyzing fantasy football, final stat lines always need context. The beginning of the NFL season can have players putting up numbers that we shouldn't really expect to continue as the season progresses, especially this year.
Let's take a look at a few numbers from NFL Week 2 and apply context to keep in mind for the weeks ahead:
The Titans Offense Screamed Versatility
Without AJ Brown against the Jaguars, conditions seemed ripe for Derrick Henry to shoulder the load. While he did get 25 carries, he didn't reach 100 yards rushing or see the endzone.
Turns out, the Titans didn't need him to lead the charge. Ryan Tannehill spread the wealth, hitting five different receivers multiple times despite just 18 completions.
Corey Davis saw weaker coverage in Week 1 due to AJ Brown's presence, but still contributed a 3-36-1 line toward Tennessee's winning efforts.
Most notably, Jonnu Smith wasn't the only tight end to make solid contributions. Smith and Anthony Firkser combined for 8 catches and 129 yards, with Smith scoring twice.
The offense's success without Brown, and without relying on Henry to lead the charge, showed how well-rounded the Titans are, and how well they can handle having to make adjustments.
Potentially Gross Backfield Situations That Are Now Kinetically Gross Backfield Situations
Los Angeles Rams – It was already a tricky situation when trying to decipher the volume of the Rams' three-manned RB committee. The hope was that Cam Akers would at some point get a handle of the offense at some point and emerge as the lead back the rest of the year.
First, Malcolm Brown led in touches during Week 1. Then on Sunday, Darrell Henderson led the way, and Akers left the game with, as of right now, an unspecified injury.
Any setbacks or missed time will only further delay Akers' progression, and push back his assumed eventual takeover of the Rams' backfield.
After Brown and Henderson's flip-flop of lead duties, good luck getting a beat on who'll lead next.
Pittsburgh Steelers – Here we go again. If you were on the we're-gonna-start-Conner-but-he's-dealing-with-a-lingering-injury-and-owp-there-he-goes-back-to-the-sideline-again-maybe-we-should-use-another-back-but-nope-Mike-Tomlin-said-Conner-is-our-bellcow-and-owp-he-just-went-to-the-sideline-again train last season… (inhale)… then you probably got wise and avoided the headache for 2020.
Unfortunately, someone in every draft was bound to pick up James Conner eventually. Six rushes into the year, and he sprains his ankle. One week later, he runs for 106 and a TD as if nothing happened.
Steelers coach Mike Tomlin is committed to using Conner if he can give it a go. Injury roulette, next stop, Week 3. Hopefully, you bought the extra-large bottle of Tylenol when you drafted him.
Mike Davis' Handcuff Status More Legit Than His ADP Expressed
Mike Davis is set to fill in for Christian McCaffrey for the next four-to-six weeks. While Davis stepped up in the passing game, his eight receptions in garbage time gives off a vibe of being kind of fluky.
However, Davis clearly separated himself as Carolina's top backup and was called a "dual threat" by head coach Matt Rhule.
Meanwhile, last year's backup, Reggie Bonnafon, was sent to the practice squad.
It wouldn't be a surprise to see Davis have a workhorse role the next few weeks, and he's set drain many a FAAB budget, as he's arguably the most valuable handcuff that wasn't taken in drafts this year (1 percent rostered in Yahoo leagues).
Anthony Lynn Puts In His Application To Become The Next Buzz Killington
#Chargers coach Anthony Lynn on Tyrod Taylor: "If he's 100 percent ready to go, he's our starter."

— Ian Rapoport (@RapSheet) September 21, 2020
Tyrod Taylor was supposed to start on Sunday against the reigning Super Bowl champion, Kansas City Chiefs. However, Taylor was forced to go to the hospital just minutes before kickoff due to chest pains, which thrust rookie Justin Herbert into action at the last minute.
"He was in a little bit of a shock," Lynn said of Herbert after the game. "I think he thought I was joking. I had to tell him a couple times: 'No, seriously, you're the starting quarterback.'"
"It caught me by surprise a little bit," Herbert said.
While he was surprised, he certainly looked the part. In his NFL debut, the former Oregon Duck went 22-of-33 for 311 yards, one touchdown and one rookie interception. Even though Herbert sparked the Chargers offense, especially Keenan Allen and Austin Ekeler, Lynn said the team would go back to Tyrod when he's ready to play again. Booooooring.