Player Stock Ticker
How to Pick the Perfect 2020 Fantasy Football Team Name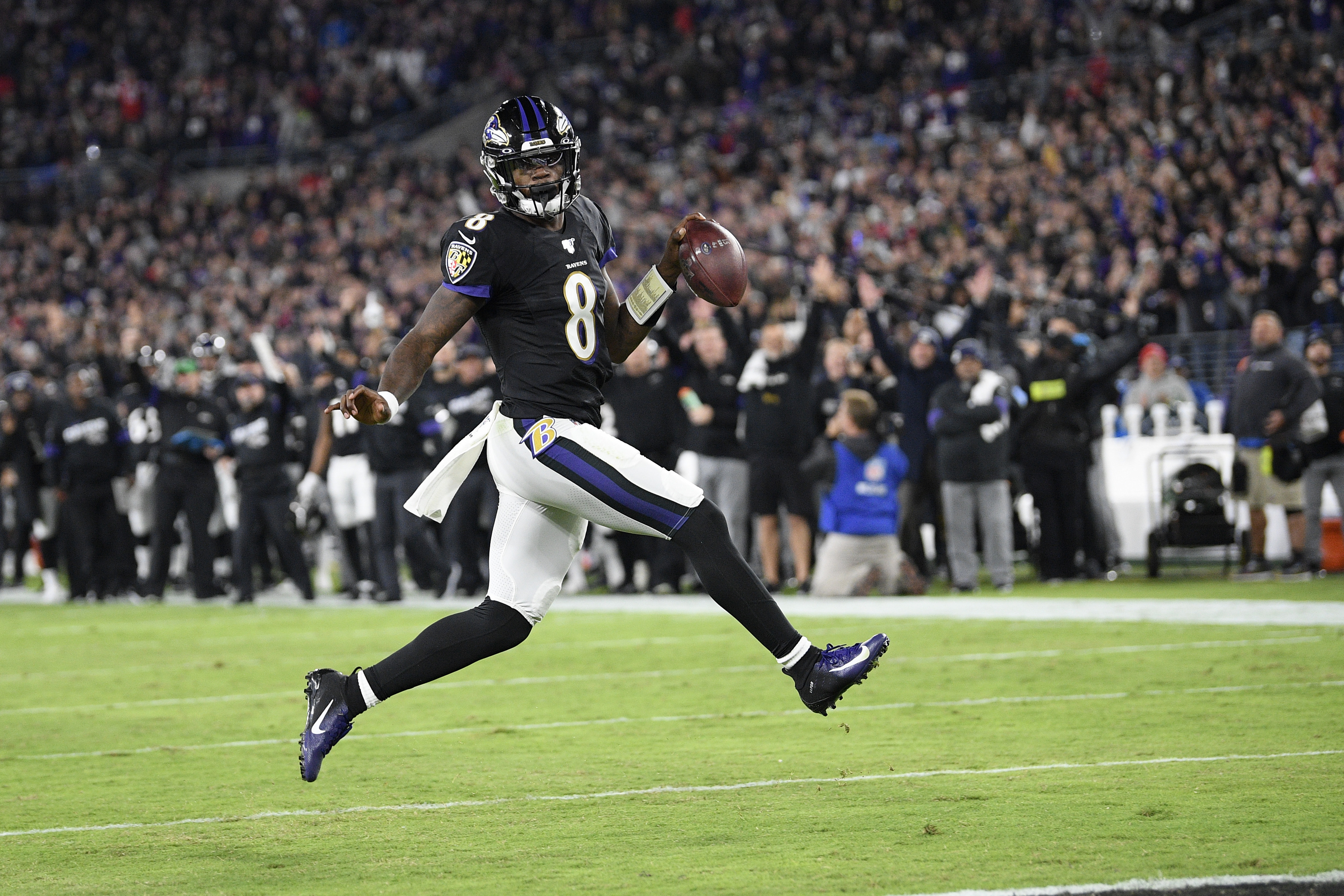 The team name. The first big decision of every fantasy season.
If you start the season undefeated, you can't change it for fear of bad karma. If you start 0-2, you better pick a new one to fire up the fantasy locker room.
Clearly, decisions don't get more important.  But how to pick the right name? We consider three buckets of team names, with my favorite examples:
Option 1: The Player Pun
The most common fantasy football naming option, and rightfully so. Naming your team around your centerpiece is a great strategy: motivates your squad / players, while gaining a cheap chuckle from league mates.
Rule 1: Do NOT make a name about a player you don't own. The Fantasy Gods will reign lightning and smite upon a team named undeservedly.
Rule 2: Everyone in the league SHOULD be able to put together the pop culture and player reference
Top 2020 Examples:
Yo Mahomes, to Helaire! (Or just Fresh Prince of Helaire if you only own CEH)
Schustervirus /JuJu-19
Cobra Kai Forbath
Will Fuller House
Suck My Chubb
Saved by the Le'Veon Bell
Catalina Wine Mixon
Country Road, Take Mahomes
Baby Got Dak
Dak to the Cooper
Biff Tannehill's Manure Hauling
Zeke and Destroy
The Butcher & Baker, the Cleveland-Steamer Maker
Sorry L. Jackson, You are for Real
Tyreek Hillova good dip
Michael Thomas Crown affair
Kyler the Creator
A Drew Lockwork Orange
Note – everyone Googles "Fantasy Football Team Name" and comes up with the same pun lists (Good lists include Sporting News, Athlon Sports, and Fanduel). Can you be clever and think of any of your own? DM @RotoStreetWolf with any of your current or former favorite player puns to be shouted out!
Option 2: Inside Joke/Dig at League-mate 
The team name is also a fantastic, every-week platform to insult your loser league-mates. Spicier owners like to rotate the name and insult by the opponent. Some like to keep a steady rib going all season. Here are some past wells of material and the context to get your sick minds working:
Significant Others:  Girlfriends or Boyfriends. Wives or Husbands. Especially exes. The deeper the relationship or wound you salt, the better the name. These can serve as great fodder and memory harbingers, and are sure to get the group chat going:
Examples:
School Girl Patty: Friend A ran into Friend B's girlfriend dressed up ready for a night of "school girl" role play.  A scenario that will live in infamy.  Friend A rang the bell, the girlfriend came to the door thinking it was Friend B, our other league-mate, coming home to be her punishing teacher….nope.
Mom's Name ____: Works best for league's with childhood friends, since those will be the ones who appreciate the pathetic middle-school level of humor it takes to resort to a mom name.
Examples:
The Wolf has won titles with Maureen's Giggle (oh, her laugh is so sweet) and Carmen's Spicy Taco (of course referring only to her cooking ;))
League-mates Brutal Habits and/or the Stories They Refer to: 
Nothing like reopening and salting an old wound from ribbing on your friends' bad habits and the tales they create.
Examples:
Mysterious Brown Stains: On a Montreal Bachelor Party, a "friend" emerged from a day of drinking with a rather prominent brown mark on his white shorts. His claim? He sat in a Hershey kiss. Now? We get to remind the dumbass of his pants-shitting.
PeePee Sheets Journal: The Wolf may have had a leak spring once or twice (lol) when a little too intoxicated. His friends enjoy never letting him forget.
(Insert name here's) Early Evacuation:  There may have been an instance where a friend got to kickoff with his girlfriend. but the endzone celebration happened before they took the field.  Gameday inactive for sure that day.
Option 3: Pop Culture References/Nostalgia
The Pop Culture Reference is a good way to pay tribute to your favorite TV/Movie Character, or fictional sports team.  These can even be older references that trigger nostalgia and get the league chat's synapses firing about the good ole' days.
Examples:
Evan Stone Bone Zone – The nostalgic reference team name.  If you were a kid in the 90s/early 2000s, you know who Evan Stone is.  Rhyming is an added bonus since it makes it more memorable.
Axe Capital – The current pop culture reference team name that uses a dominant character or reference.  That's what you're hoping for in your fantasy match-up each week.  You want to outscore your opponent so badly that it doesn't matter who he has going in the prime time game for a late comeback.
More Examples:
Heisenberg Blue (Breaking Bad)
The L.A. Gold (Entourage)
The Knights of Casterly Rock (GoT)
Bayside Tigers (Saved by the Bell)
Polk High Panthers (Married with Children)
Icebox & the Giants (Little Giants)
Average Joe's (Dodgeball)
Willie Beamen & the Sharks (Any Given Sunday)
Kilmer's Coyotes (Varsity Blues)
Springfield Isotopes (Simpsons)
Return to Melmac (ALF)
Summary
The moral of the story is, your team name defines who you are as a fantasy player. Are you in it for the fun to make a clever play on words that everyone will comprehend, or are you in it to humiliate your opponents while you laugh all the way to the bank because you had the stones to draft Lamar Jackson instead of settling for Philip old man Rivers (do not use this as your team name, please).
Pick a name and demolish the competition, or relive some great memories with your league-mates that are the same friends you'd find nudie mags buried in the woods with as a kid. Because as dads, cube monkeys, etc. fantasy football is as close as we get to the glory days, where nothing mattered except what flavors of slush the local convenience store had, and who had the traffic cones to mark the end zones for tackle football in the empty lot at the end of the street.
Godspeed, and good luck in Fantasy Football 2020.