Player Stock Ticker
Fishing Through the Dolphins Fantasy Backfield Between Jordan Howard and Matt Breida
One of the most exciting and polarizing teams this offseason, the Miami Dolphins, were expected to make a big splash in the NFL Draft. Miami made it known how much they were in love with JK Dobbins and If Jonathan Taylor fell to them in the second round, he was a lock to be drafted. Yet Miami went, possibly, the smart route.  Miami signed Jordan Howard in March to a reasonable two-year $9.75M contract with a zero dead cap cut hit after the 2020 season. Essentially, this boiled down to a one-year prove-it deal that only cost $4.75M.
The Dolphins took their valuable early draft capital and invested in who could be the quarterback of the future, Tua Tagovailoa. The remaining early round capital was spent investing in their depleted offensive line, secondary, and defensive line. In short, the Dolphins signed a quality back to a reasonable, short-term contract, and improved in the most important positions on the field.
Patrick Laird certainly didn't inspire any confidence and a garden snail was a vast improvement over Kalen Ballage. Laird flashed limited receiving chops and zero upside, while Ballage proved he belonged on the bus out of town.
Howard's limited pass-catching abilities certainly wouldn't be enough. So during the draft, the Dolphins traded a reasonable fifth round pick in return for Matt Breida. The fantasy football community initially shared in a collective groan.  Nothing frustrates fantasy players like a running back committee.
As with every committee approach, the question lingers: "Who is the 1A and who is the 1B?"
The Case for Jordan Howard
Let's play a game.  Pick one of the following two running backs:
Since 2016…
Player A – 875 rush attempts for 3,599 yards and 37 touchdowns.
Player B – 897 rush attempts for 3,888 yards and 30 touchdowns.
Which running back would you prefer to own?  Okay, yeah I know. It's close. That's the point. One is going as the RB19 and the 32nd overall player in standard scoring.  The other is going as the RB35 and as the 104th overall player.
Player A is Melvin Gordon and Player B is Jordan Howard. Yes, I know. Gordon is an excellent pass catching back while Howard has brick hands slathered in baby oil when it comes to pass catching. The underlying point behind this game was to prove how criminally undervalued Howard is as a running back. Since joining the league in 2016, Howard ranks third in rushing yards. All of this DESPITE playing on a routinely bad offense.
While nobody would mistake the Dolphins offense for a juggernaut. In fact their offensive line ranked 32nd last season, just above the London Silly Nannies.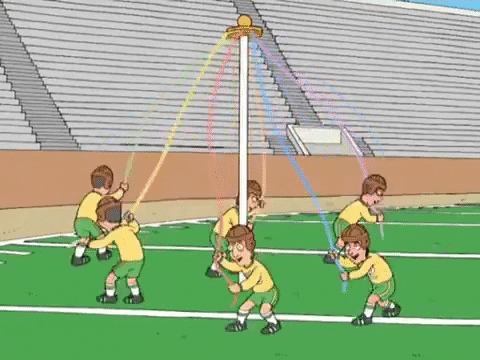 Offensive Line Investment
The Dolphins invested a first and a second round pick in their offensive line. Austin Jackson, an offensive tackle out of USC, went 18th in the draft to the Dolphins. Jackson has demonstrated good athleticism and moves exceptionally well in space. His ability to get good vertical push into the second level make him more than adequate at creating cut back lanes. This makes him an excellent fit in new offensive coordinator Chan Gailey's zone/gap blocking scheme.
Robert Hunt, who the Dolphins selected 39th in the draft, is an offensive guard who specializes in punishing those he's blocking. Hunt specializes in a physical, gap oriented blocking scheme that helps create massive lanes for running backs.
These two additions could help Howard, who moves exceptionally well for his size. While his 4.57 40-yard dash leaves much to be desired in terms of explosive runs, his size adjusted speed score ranks in the 81st percentile.
The Biggest Question Mark: Volume
Investing in the offensive line was vital to the future of the Dolphins. Due to horrendous running back play, the Dolphins ran the ball only 349 times as opposed to throwing the football 615 times in 2019.  A large part of that was due to the piss poor Dolphins defense and the even worse running game.
Drafting cornerback Noah Igbinoghene and signing free agent cornerback Byron Jones to pair with Xavien Howard gives the Dolphins a talented secondary. Factor in the drafting of Raekwon Davis from Alabama to help shore up the defensive line, the Dolphins are clearly trying to address these issues.
How does this tie in to Howard's volume? Glad you asked.
Playing from behind so often led to Ryan Fitzpatrick having to sling the rock around the yard most of the season. In fact, the defense was so bad they allowed 494 points and 6,364 yards total. With a much more competent secondary and improvements to the defensive line, the Dolphins should be able to put up more respectable showings. That will allow the offense to remain on the field with more friendly game scripts, setting up Howard to receive the volume a back of his caliber commands.
Speaking of volume, when given volume as opposed to when he isn't, the difference in Howard's production is night and day. Howard's ineptitude as a pass catcher severely limits his upside. Still, as long as the defense keeps the game script manageable, there's no reason Howard couldn't see 200+ touches, or about 12-13 touches per game. When given adequate volume, Howard absolutely produces.
Through the course of his career, Howard has certainly been a volume dependent back, much like Derrick Henry. In fact, in three of every four games Howard has played, he has received at least 12 carries and the results speak for themselves.
Factor in Howard's half PPR bargain price ADP of RB39 (98 overall) and Howard is an absolute steal that could easily win leagues as a RB3/Flex play each week.
The Case for Matt Breida
Breida couldn't be more of a polar opposite running back. Breida has elite, 92nd percentile speed, running a 4.42 40 yard dash. Pair that with a 99th percentile burst score of 138.4 and all Breida needs is an opening and he is off to the races.
While Breida profiles as a better pass catcher than Howard, he still has never averaged more than two receptions per game. How much of his sporadic usage in San Francisco can be blamed on former play caller, Kyle Shanahan? Either way, Breida has still proven he can be explosive with the ball in his hands.
Over his three seasons in the NFL, Breida has recorded:
645 total yards and three touchdowns on 121 touches in 2017.
1,075 total yards and five touchdowns on 180 touches in 2018.
743 total yards and two touchdowns on 145 touches in 2019.
2017 and 2019 saw Breida serve largely as a change-of-pace back getting sporadic volume. However, in 2018, Breida started 13 games and put together an impressive season as the lead horse in Shanahan's frustrating committee approach.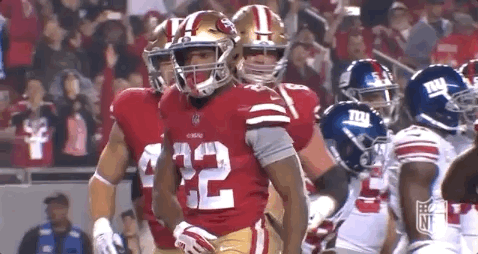 Just like Howard, when Breida is given volume, he takes full advantage.
Breida does a little more with his receiving work but clearly doesn't run quite as well between the tackles as Howard. Therein lies how I expect Gailey to use both of these talented backs in 2020. Breida is being valued similarly to Howard, going as the RB35 (94 overall) in half PPR settings.
So, Who is the 1A and Who is the 1B?
Gailey is well known and respected for his adaptability and innovative play calling. Gailey routinely puts his players in positions to succeed. Expect Howard to handle the early down work and Breida to be the featured third down beneficiary, with Laird stealing touches from time to time.
In fact, Gailey has an extensive history of elite running back utilization. In 2011, Fred Jackson  was on pace for 334 touches for over 2,200 total yards and 10 touchdowns.
Gailey even managed to scheme an amazing year out of the electric CJ Spiller. In 2012, Spiller recorded 1,703 total yards from scrimmage and eight TDs on just 250 touches.
Chris Ivory even managed to produce with Gailey at the helm in 2015. Ivory lead the AFC in rushing that season and finished with 1,287 total yards and eight TDs on 277 touches.
Long story short, Gailey knows how to get the most out of his offensive weapons. Oh and, for what it's worth, Ryan Fitzpatrick was the QB each of those seasons.
Given that Howard typically offers more overall fantasy production than Breida, Howard should easily be the running back to own for this offense.
Currently, The Wolf has Howard and Breida neck-to-neck on his 2020 Rankings and Big Board. Howard checks in at RB31 (+3 vs ECR), while Breida checks in at RB32 (+4 vs ECR).