Player Stock Ticker
Breshad Perriman: 2020 Fantasy Sleeper as Potential Jets WR1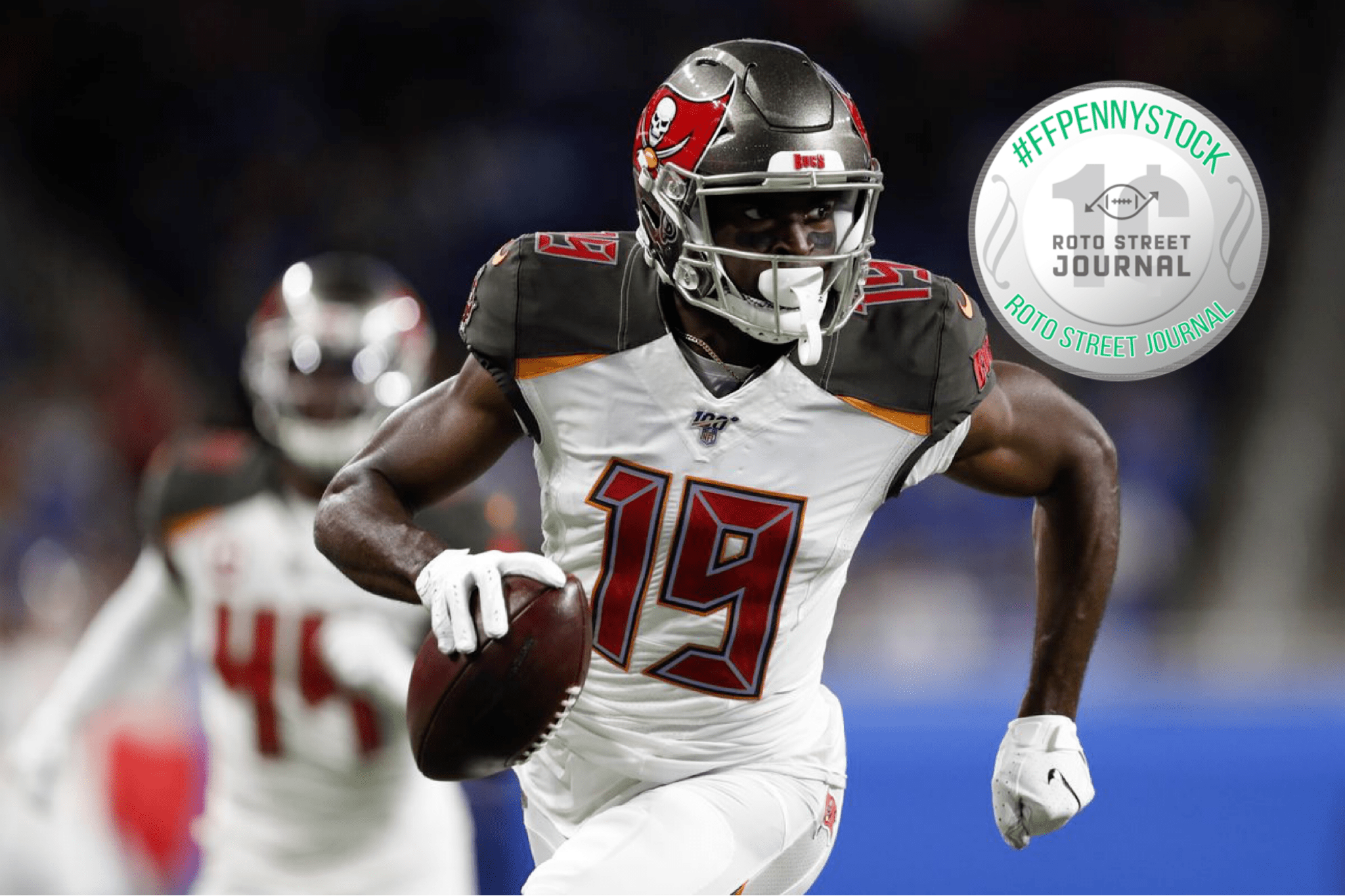 In 2019 ESPN Fantasy leagues, Breshad Perriman was the most-owned player on championship rosters (27.2%). Considering his current price tag (re: undrafted), Perriman, now on the Jets, could again help bring 2020 fantasy titles.
Indeed, an offense run by Adam "Eyeballs" Gase is usually one to avoid. True, Perriman has largely been an enormous bust throughout his four year career.
Still, Perriman now has an enormous opportunity to take over WR1 duties in New York.
Alpha WR1 Flashes
Though brief, Perriman flashed the ability to thrive as an Alpha No.1 during last year's stretch run. With both Mike Evans and Chris Godwin sidelined, Perriman exploded over the final five games: 37 targets, 25 catches, 506 yards, and five touchdowns. He outscored every WR outside of AJ Brown during this span, including Michael Thomas.
Just watch the highlights from these weeks, and you'd think Perriman was an All-Pro. Squaring off with top coverage, Perriman routinely made difficult, diving, body-contorting snares while contested, before then gaining insane separation with his blazing speed.
Perriman doesn't think this outburst was a fluke, either. In fact, he labels it as "Just a sneak peek of what's to come for this season — and many other seasons past this season."
"That was just a tiny glimpse… As a receiver, you just love once you're able to get into that rhythm and into that groove. You just feel, like, unstoppable. I'm looking forward to building from that little run."
Available Volume… Especially Deep
Volume is certainly available, as no team vacated more Air Yards than the Jets. With Robby Anderson now in Carolina, the Jets have a whopping 2,031 Air Yards — over 50% of their 2019 total — now up for grabs. No other team is within 300 yards of this share. Plus, only the Cardinals targeted WRs on a higher percentage of throws than the Jets (66.7%).
Considering Perriman blazes a 4.3 forty (99th percentile) with a 125.7 speed score (99th percentile), he's easily the most natural replacement for Anderson's field-stretching role.
He's also been highly effective when used this way.
Over his last 20 games as a pro, Perriman has 44 receptions — nothing eye-popping. Yet, 19 of those catches went for 20-plus yards( 43%), while 10 went for 30-plus (23%). Both rates were the best in that span for all WRs with at least 30 receptions. He also hauled in 15 of 36 passes of 20+ yards last year (41.7%), the best rate by a wideout since 2011.
Who is in Perriman's way to securing the Jets' highest Air Yardage share?
Despite having arguably the weakest WRs corps in the league, the Jets made no other Free Agent splashes, and passed on the elite first round rookies to bolster their line, before deciding on the raw Denzel Mims in round two.
Sure, Jamison Crowder will likely lead the team in total targets as a hog in the slot. Perhaps Chris Herndon finally gets healthy.
But both are in more specialized, short-yardage roles. If any receiver on this roster could develop into a bonafide alpha, it's Perriman. He still thinks he has plenty of juice:
"I bring a lot of speed, a lot of big-play-making ability to this team," he said. "I still have that same speed that I had coming from college. I don't think I really lost a step at all."
"I have no doubt in my mind that it will definitely be a season to remember for me [this year with the Jets], as far as production-wise. I'm just really excited for the opportunities that I will get, just being in a bigger role."
Darnold's Shaky Deep Ball
Sam Darnold wasn't overly effective in deep passing. According to PFF, among 24 QBs with at least 48 deep attempts (20+ yards), Darnold ranked 16th in Deep Passer Rating (75.9), 22nd in deep yards (498) and adjusted completion percentage (33.3%), with only five TDs and three interceptions. If Perriman is going to break out, these numbers will have to improve.
Summary
Indeed, there are plenty of question marks. Perriman's own career inconsistency. Darnold's sketchy deep ball. Gase.
Yet, Perriman enters the NFL's most vacant WR opportunity, fresh off an epic stretch run finish.
Should this dominant play carry over, and Perriman secures 100+ targets, he's going to go down as an absolute steal, as he is largely undrafted (158 overall, WR61). Given his boom-or-bust nature, Perriman is especially worth targeting in Best Ball, where you won't have to correctly project his blow ups.