Player Stock Ticker
Leonard Fournette is The Easy 2020 Fantasy Football Fade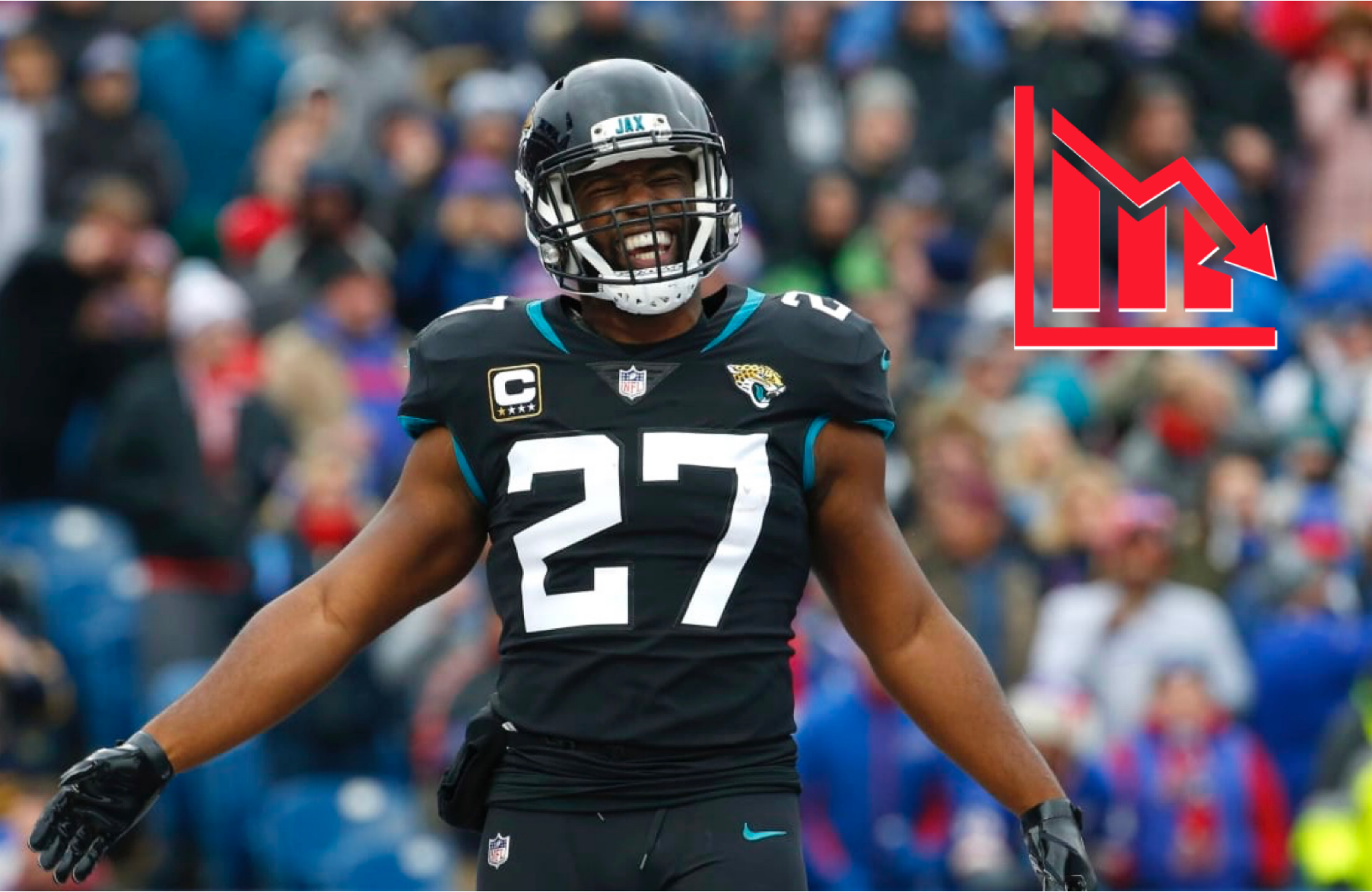 Leonard Fournette was historically inefficient in 2019. Sure, his PPR RB7 fantasy finish looks nice. Especially when, bah god, he scored only 3 total TDs — just 7% of his 259 PPR FPs. If anything, Fournette's TD total is due only to shoot upwards, no?
Perhaps, though I wouldn't hold my breath for a massive TD spike. No RB has ever topped 8 scores under new Jags OC Jay Gruden, who gets awfully pass happy in the Red Zone.
So sure, maybe Fournette gets a 30+ FP boost in the TD department. This won't be nearly enough to offset the massive usage drop he's about to experience, especially in the receiving department.
Stay up to date on all the 2020 NFL Draft Fantasy News and Analysis! Bookmark our Fantasy Stock Watch. Even better, consume them in our cleanest format by downloading the Roto Street App. 
Beyond sheer volume (76 rec), Fournette was utterly useless as a pass-catcher in 2019.
Consider this: over the last decade, 54 NFL running backs have drawn 75+ targets in a single season, including Fournette's 100 targets (2019). He ranks dead last in yards per target, and managed exactly 0 TDs on 76 receptions. Ultimately, he finished with 522 yards, rankings 37th among RBs in yards per catch, and 41st in yards/target (min. 25 targets).
Ultimately, Fournette saw the third most opportunities among RBs. His RB7 finish was entirely volume dependent, as Fournette finished 166th in RotoViz's "Fantasy Points Over Expectation." This stat essentially measures how well a player should have done with their volume, which emphasizes how pathetic Fournette truly was despite his "lofty" final stats. His 28th rank in YPC certainly didn't help.
"But Wolf, that Jaguars RB room is a disaster! The team didn't add a single rookie this year! Why wouldn't they just keep slapping Fournette's ass?!"
Great question, Greg. You're among the vast majority overlooking Chris Thompson's addition.
This line may produce sniggers, but hear me out.
Thompson is a Gruden carryover from their Redskins time. During 2017-18, Thompson's 16 game pace under Gruden was 64 rec (87 tgts), 996 YFS, and 9 TDs.
In fact, Thompson was the RB11 in 2017 FPPG. He then began 2018 with back-to-back 25+ FP, Top-5 RB performances before rib injuries had him in-and-out of the lineup the rest of the year.
Fournette will 10000% cede the majority of his looks to Thompson, assuming the third-down aficionado can maintain health. Thompson has missed 5+ games in three straight years, which may be the only hope for Fournette approaching even 50 targets in 2020.
Even if Thompson goes down, the Jaguars appear to be forcing Fournette out the door regardless. They desperately shopped him at the NFL Draft, and were unable to even fetch a seventh rounder. They declined his fifth year option. Perhaps this leads them to ride him into the ground, although more likely they'll explore what they currently have in Ryquel Armstead.
Plus, new rookie WR Laviska Shenault is a monster who'll undoubtedly eat into everyone's workload. In fact, the 6-foot-1, 227 pound Shenault is a monster at the stripe. He often lined up as the Wildcat QB and pounded in 7 TDs, and Shenault led the NCAA in yards after contact the past two seasons, per PFF.
Marrone and Gruden have already talked about using him "in the backfield. He can play Wildcat," Marrone said. "You can put him as the F tight end. You can do a lot of things with him."
Not great, Leonard.
Ultimately, Fournette redefined "volume-dependent" in 2019. On a 2020 team that is itching to get rid of him, and now features two significant threats to his receiving usage, Fournette's 365 opportunities (3rd most) are about to take a serious dip. So sure, even if his TDs rise slightly, Fournette is due for such enormous overall usage regression, he's bound for a major downfall. He's now my RB20, and a major fantasy fade in 2020.