Player Stock Ticker
Aaron Jones' Fantasy Value Takes Huge Hit, Falls to Third Rounder in 2020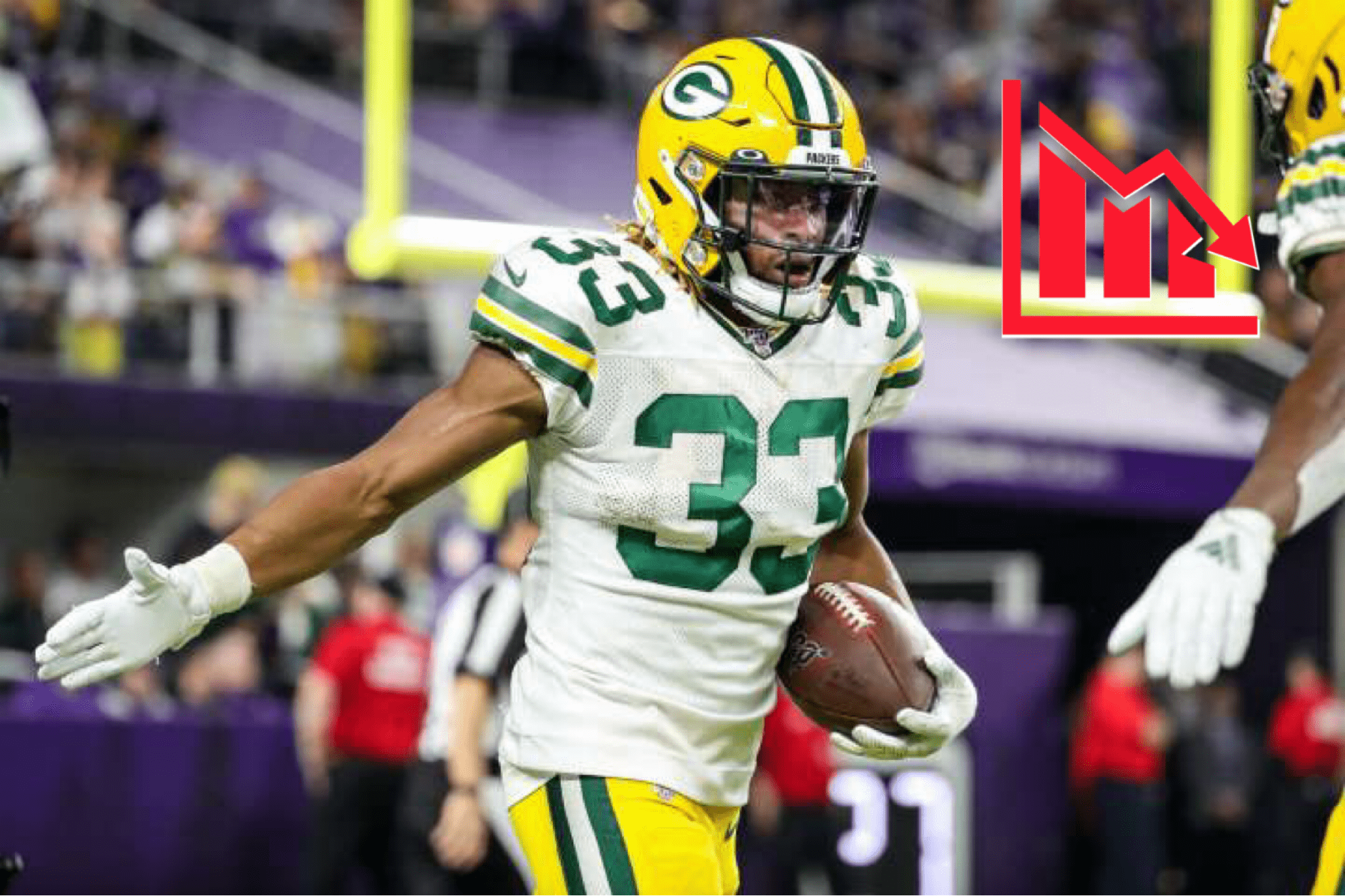 Entering the 2020 NFL Draft, Aaron Jones already had more question marks than any other consensus Top-10 Fantasy RB. Those concerns run even deeper now after the Packers selected BC bruiser AJ Dillon with their second pick, and Jones' 2020 fantasy upside is suddenly in serious danger.
But Wolf, you idiot! Jones was just the RB2 in fantasy, behind only Christian McCaffrey! Stop overreacting — this is the 2019 league-leader in rushing TDs (16), afterall! Right? RIGHT?!
TD Regression Could Hit Jones Hard
Actually, Jones' TD total is where my greatest concern now lies.
By now, fantasy fans should be well aware of how volatile TDs can be. Sure, a quick-six elevates any fantasy ceiling. Still, volume and yardage are what create a truly sturdy weekly and seasonal floor.
Last year, TDs accounted for 114 of Jones' 314 fantasy points — a whopping 36%, higher than any other. Jones' owners are well aware of how volatile this made his weekly value: he posted seven week-winning games over 25 FPs, including five Top-3 RB finishes (four above 30 FPs!)
Yet, Jones also had five week-ruining performances under 8 PPR FPs, including three under 5 FPs. He was a weekly RB1 or RB2 69% of the time, but also a week ruiner 31% — not what you desire from your first round stallion.
This volatility all came with the GL role essentially to himself. Now, the highs and lows could be even more wild in 2020.
Jones and the Packers were already due for some natural rushing TD regression. In fact, Green Bay only 58.8% of its offensive touchdowns through the air last season, the team's lowest mark of the past decade. With Rodgers at QB, this number seems due for a bump up to the mean.
However, a potential GL vulture could be a crushing blow, at least to Jones' RB1 status.
Now, do I feel Jones should lose the GL role? Of course not, he was highly effective and efficient here. We shouldn't even be discussing this, given RB was one of Green Bay's least-needy positions.
Even still, the Packers spent their second most valuable draft capital to secure Dillon. If the 6'3, 250 monster is going to serve an immediate purpose, it's as a short-yardage bruiser. He's heralded for his punishing ability to finish runs.
This would be brutal for Jones. He led the league for TDs within the 20 yard line (14), as well as inside the 10 (11). Jones also tied for third in TDs right at the stripe (8), locking down over 70% of these carries for Green Bay.
If Dillon steals some, or potentially all, of these goalline looks, the drop off in scoring would be massive. Let's project a 50% drop, down to 11 TDs. Jones plummets from the RB2 to RB12, and that's assuming 0 decline in rushing or receiving.
Which might not be safe to do, considering LaFleur's insistence on committee backfields.
A Two-Headed Mess Adds a Third (Puke)
Even with only the plodding Jamaal Williams on the roster last year, Jones only topped 60% of the snaps one time in games where both played the entire time.
In fact, Williams even out-touched Jones in three games. The gap between them was 5 or fewer touches in seven of their 12 full games together (58% of games):
Week 1: Jones 59% (Williams 41%); 14 v. 7 touches
Week 2: Jones 58% (Williams 47%); 27 v. 12
Week 3: Jones 39% (Williams 61%); 11 v. 14
Weeks 4-5 = Williams Injury
Week 6: Jones 49% (Williams 53%); 15 v. 18
Week 7: Jones 57% (Williams 40%); 16 v. 7
Week 8: Jones 64% (Williams 46%); 20 v. 10
Week 9: Jones 59% (Williams 44%); 9 v. 8
Week 10: Jones 50% (Williams 50%); 13 v. 13
Week 12: Jones 51% (Williams 49%); 13 v. 18
Week 13: Jones 58% (Williams 42%); 15 v. 14
Week 14: Jones 58% (Williams 42%); 22. v. 7
Week 15: Jones 59% (Williams 41%); 13 v. 9
Week 16: Jones 68% (Williams 27%* Injured)
Now, a third RB — the first acquired by this regimen, and with a premium pick — has been added, just as LaFleur had promised at the 2020 Combine:
"We're going to need a third guy to put into that mix…. I think anytime you look at the running back position, it's such a long season, and those guys take on a ton of punishment. I think that's one of the more tougher positions to play in terms of physicality, and I think you always need multiple guys to get to that finish line."
Summary: Jones Falls to Late Second, Early Third
Jones already had fantasy warts entering the 2020 NFL Draft:
RBBC trapped
Health (missed 8 games in 2017-18 prior to last year)
Week-to-week volatility
TD Regression
These are now extrapolated with the Packers making a hefty "luxury" investment into a position most considered a team strength.
Given Jones' heavy 2019 TD-dependency, he was already near-guaranteed for a solid 2020 step back. Now, this is a lock… and the regression could be far greater than most realize if Dillon becomes a goalline hammer — a role he's tailor-made for.
Consequently, Jones falls all the way to my RB17 and out of my first two rounds entirely. Steep? Yes. Overreaction? Perhaps. Still, Jones was already boom-or-busty, and now has far more barriers to the booms and more anchors towards the busts. I want no part of that as my fantasy RB centerpiece.