Player Stock Ticker
Calvin Ridley is Fantasy's Next Chris Godwin in 2020
Last year, Chris Godwin was the rare fantasy asset that not only lived up to, but even exceeded, an off-the-rails hype train. In 2020, Falcons WR Calvin Ridley will be "The Next Godwin."
The early offseason similarities are striking. In 2019, Godwin was set up for an all-you-can eat target buffet with Adam Humphries and DeSean Jackson leaving a pass-obsessed attack.
In 2020, no team has more "Vacated Volume" than the Atlanta Falcons, who lead the NFL with a whopping 261 targets available from 2019. That's 67 more than the next closest Jets, and 39.4% of last year's total. 
Stay up to date on all the Free Agency Fantasy Fallouts! Bookmark our Fantasy Stock Watch. Even better, consume them in our cleanest format by downloading the Roto Street App.
Just like the Bucs the year prior, the Falcons are as pass-happy as they come. In fact, they led the NFL in pass attempts per game with a whopping 45.9.
Austin Hooper, Devonta Freeman, and Mohammed Sanu's volume has to go somewhere, right?
Yes, the Falcons already brought in Todd Gurley and Hayden Hurst to make up for these losses.
Still, like Godwin last year, Ridley will absolutely vacuum up a heavy amount of this share.
In fact, we've already seen as much. Hooper missed three games last year, just check Ridley's splits: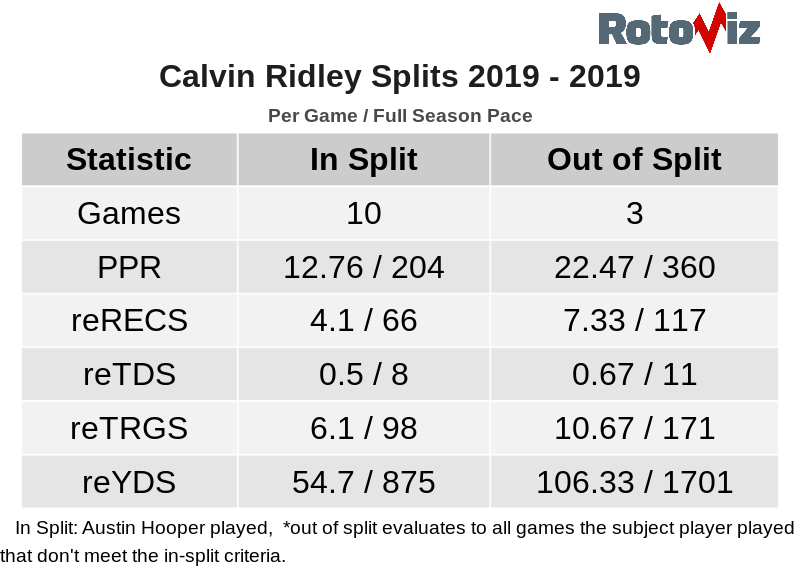 Yes, his 16-game pace leaps from:
66 rec. (98 targets), 875 yards, 8 TDs (201.5 FPs)
vs.
117 receptions (171 tgts), 1701 yards, 11 TDs (353 FPs)
Game log:
Week 11: 8 – 143 – 1 TD, 28.3 FPs (WR3)
Week 12: 6 – 85 – 1 TD, 22 FPs (WR8)
Week 13: 8 – 91 – 0, 17.1 FPs (WR17)
Only Michael Thomas would've topped his 353 FPs pace.
Yes, it's only a three-game sample. Still, Ridley has the talent to explode into the elite. His routes are gorgeous, he blazes a 4.43 forty, and he tracks the ball with elite anticipation.
Moreover, Julio Jones is now 31, and seems to always be dealing with some form of soft tissue injury.
Inconsistency has plagued Ridley so far. Yet, with a steadier stream of targets, expect Ridley's floor and ceiling to both leap considerably in 2020.
Just like Godwin, Ridley will be the mega-hyped Round 3-4 WR that everyone loves. Also like Godwin, he's going to be worth far more come season's end.