Player Stock Ticker
5 Potential Fantasy Landing Spots for Tom Brady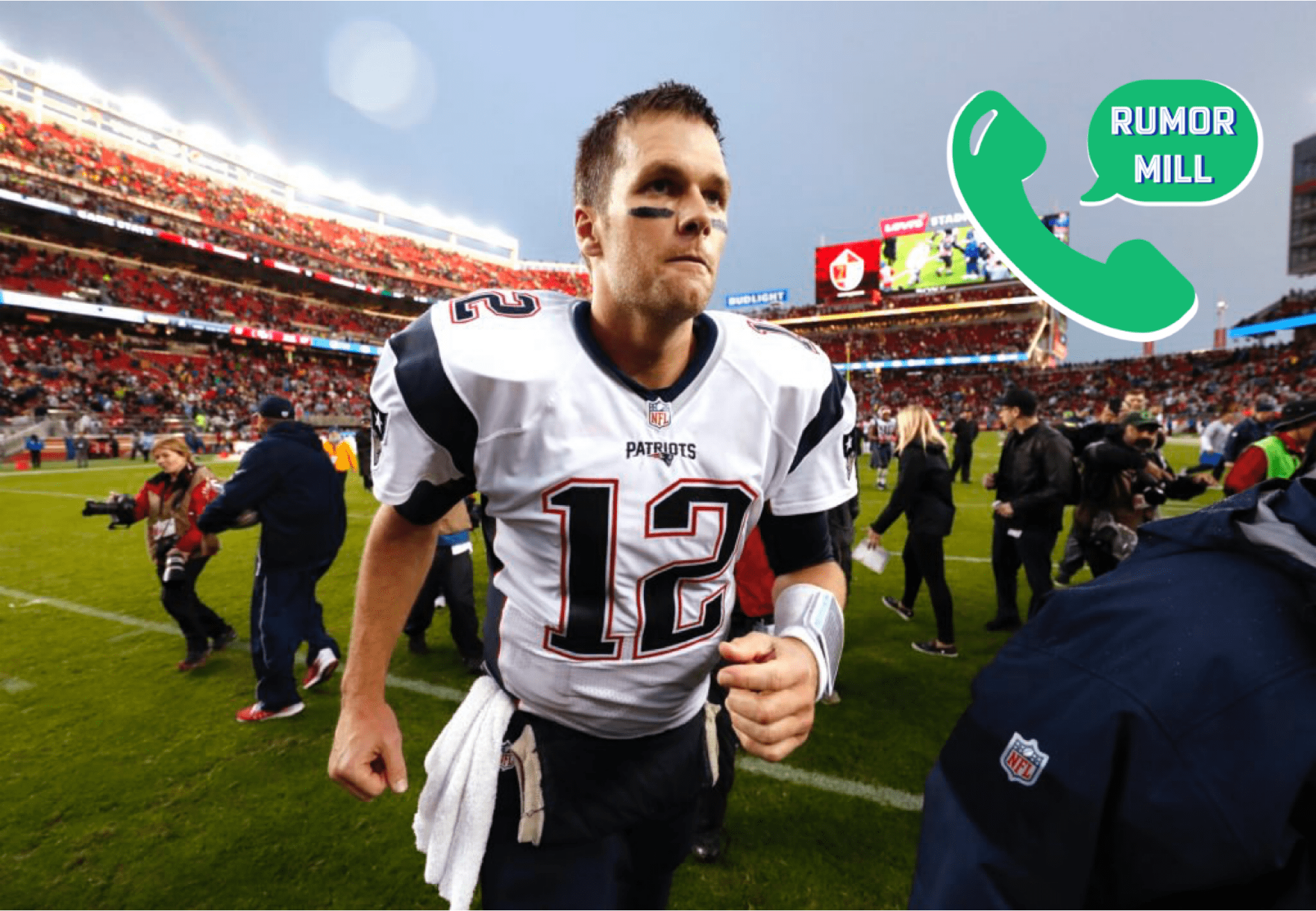 They say all good things must come to an end… but is Tom Brady's time really up in New England? Or is he using his first time as an unrestricted free agent to get wined and dined around the country by other teams? Patriots fans are hoping it's the latter, but this constant smoke makes it seem as though there might be a fire.
We're not quite with Max Kellerman that Brady has fallen off the imaginary cliff, but anyone with two eyeballs can see he's declined a bit. He completed only 60 percent of his passes (worst since 2013), threw 24 touchdowns (worst since 2006), and threw for 4,057 yards (his worst since 2010).
With an aging Julian Edelman, a clueless N'Keal Harry, a useless Mohamed Sanu, and a handful of nobodies as weapons, it's clear Brady has a few reasons to be pissed off.
Ideal spot: Tennessee Titans or Tampa Bay Buccaneers
Predicted spot: New England Patriots
Wildcard: San Francisco 49ers
Potential landing spots if he continues to be pissed off at Belichick & co.:
1. Titans – Brady and Mike Vrabel are besties and have been good friends since the two played together in the early 2000s. He would have an upgrade in weapons, highlighted by Derrick Henry (probably), AJ Brown, Jonnu Smith, and even Corey Davis. He would also have a solid defense to lean on and most of all, it would be a real kick in the dick to Belichick.
2. Buccaneers – According to Rick Stroud of the Tampa Bay Times, the Bucs are geared to go "all in" on Tom Brady once free agency opens. From a fantasy perspective, it wouldn't get much better than this. He would get offensive genius Bruce Arians calling the shots, along with Mike Evans and Chris Godwin on the perimeter. Brady would even make OJ Howard truthers rejoice in the streets. But could you really see TB12 dawning the disgusting Tampa Bay Bucs uniform, where they shoot cannonballs off a giant ship in the back of the end zone? Nope, couldn't be me. But on the more optimistic side, all the pieces are there and outside of the Saints, it's a pretty winnable division. Quite intriguing to say the least.
3. Chargers – Brady could head "home" to the west coast and be the face of the franchise as they open up a new stadium. They are the best "value hole" available and are a quarterback away from being legit Super Bowl contenders. But does he really want to potentially play in a half empty stadium in front of fans who don't give a shit about the team? Probably not.
4. Raiders – Brady and Mark Davis were cuddling up at a recent UFC fight in Las Vegas and the team is also unveiling a new stadium in Vegas this season. Imagine Brady and Gruden lighting up scoreboards in Sin City? Or how about Brady dawning the silver and black? That would be… wow. Unfortunately, they don't have the greatest set of weapons outside of Josh Jacobs and Darren Waller, and Brady would have to learn Gruden's obnoxious system, which he likely doesn't want to do at his age. Pass.
5. 49ers – NBC Boston's Tom Curran told the world to don't "dismiss" the prospect of the 49ers signing Tom Brady in free agency and that set the internet on fire. It continued to pick up steam by real members of the media, such as Patriots bobo Mike Lombardi and PFT's Mike Florio. For the Tom Brady it would make the most sense. He can play for his childhood team and he can be the missing piece to the 49ers Super Bowl dreams. But from a 49ers perspective, why would they move on from Jimmy Garoppolo for a 42-year old? Would they really want to go all-in for 1-2 more years with Brady and give up on their franchise quarterback? It doesn't add up to me.
However, Lombardi explained why it would make sense from a 49ers point of view:
"Garoppolo was never part of Shanahan's master plan," Lombardi said. "Even after making the trade with the Patriots in October of 2017, he thought he was still going to sign Cousins when he hit free agency in 2018. All Jimmy G provided at the time of the trade was an asset, a quality player who was in demand throughout the NFL. The 49ers believed after making the initial trade that they could convert Garoppolo into a higher pick than the second-rounder sent to the Patriots. This is one of the reasons they made the midseason deal — they had a chance to add more assets to their portfolio."
"After they completed the deal, the 49ers were not shy about admitting they could send Garoppolo to another team like the Browns for a future first," continued Lombardi. "Then something occurred that even Shanahan could not ignore: Garoppolo played well, extremely well, far beyond what Shanahan had expected."
Hmm… he's probably just going to return to New England.