Player Stock Ticker
Noah Fant is the Late-Round Fantasy Tight End to Target in 2020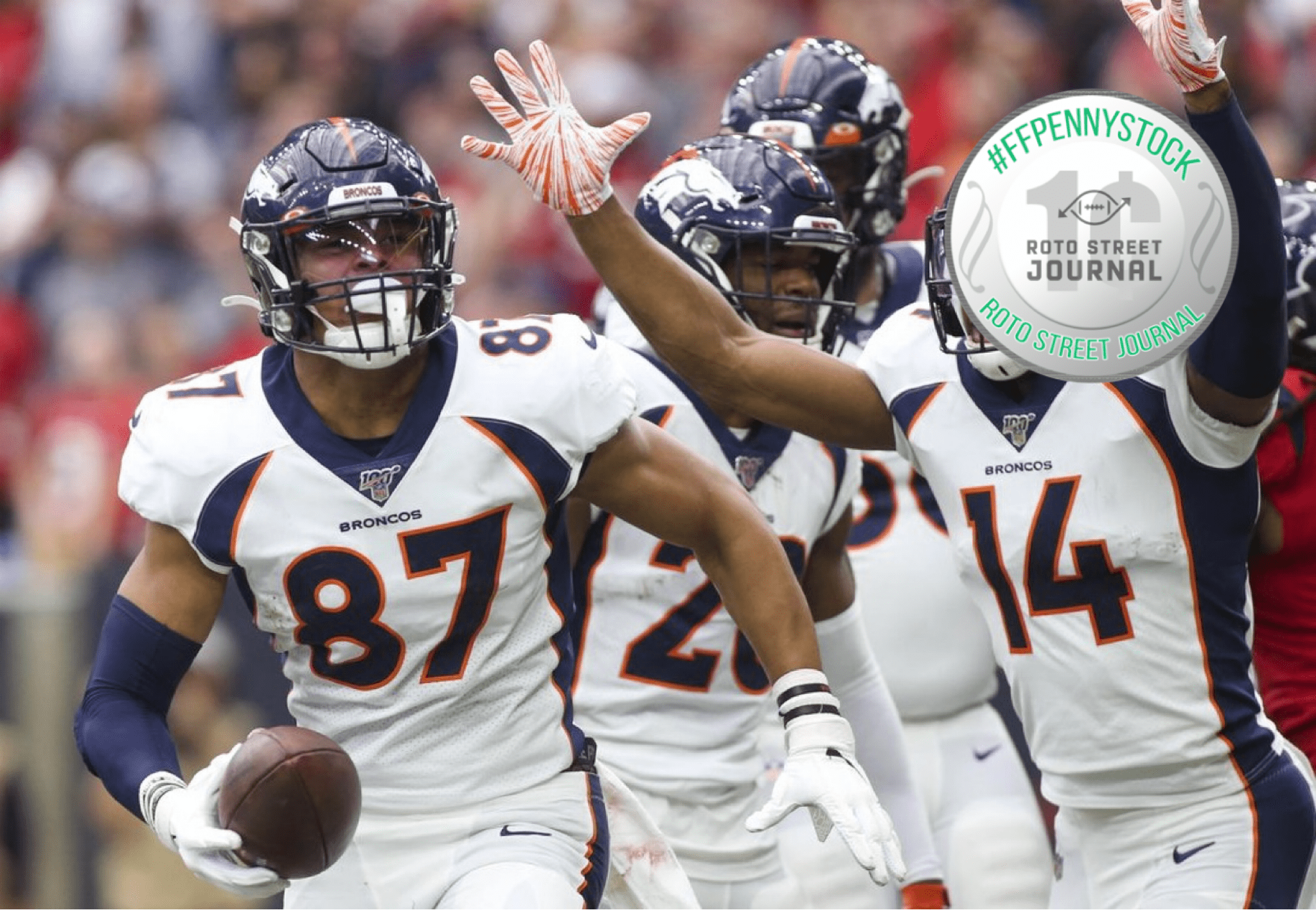 Rookie tight ends notoriously translate slowly to the NFL, especially from a fantasy point of view. So, Noah Fant's flashy, yet up-and-down season of 40 grabs, 562 yards, and three scores with musical chairs at quarterback really emphasizes his elite talent. The rookie only had three games with 10-plus fantasy points, but with Drew Lock locked in at quarterback and some offensive momentum occurring late in the season, Fant's target share and big-play ability should be on the rise in 2020.
"It is a difficult position because you're very much involved in the running game and obviously involved in the passing game both as a receiver and a blocker," explained Vic Fangio at the 2020 NFL Combine.
"I think he did a good job," Fangio continued. "He was resilient. He had his ups and downs. Some of those downs you didn't see on the field. We saw them in meeting rooms. We saw them on the practice field. They never manifested themselves during a game. He just kept going. He never ever got discouraged."
Although the key cogs of the Broncos offense will return, there will be a new play-caller up in the booth with Pat Shurmur.
Shurmur's track record with tight ends feels pretty consistent: when he's had talent, he's put them in position to succeed. Over his last six campaigns, a Shurmur-led offense has targeted the tight ends at least 80 times, including a career-high 132 targets to Kyle Rudolph in 2016 and 68 targets to Evan Engram in only eight games last season (Kaden Smith and Rhett Ellison combined for 70).
Shurmur loves play-action and sending his tight ends streaking down the seams, while also crafting up tight end screens.
"I think he's a good fit," said Fangio about Fant's fit in the new offense. "Noah's a good fit in anybody's offense. I think the biggest thing with Noah that we'll see is I think he'll make great improvements from year one to year two."
"He had a good season for us last year, but I expect him to even be better just from himself being more comfortable, more confident," Fantio continued. "He did get better as the season went on. I expect that to continue because he's got the right mindset. The guy's a worker, prideful. I think he would improve no matter what offense we have."
Already working on his short-to-intermediate route running to add "diversity to his route tree," expect Fant to flourish in year two.
The Wolf is currently a bit low on Fant, ranking him as his TE14 (-4 vs ECR), but expect that to rise throughout the offseason.