Player Stock Ticker
Marquise Brown Primed for "Big Jump" as "Huge Piece" in Year 2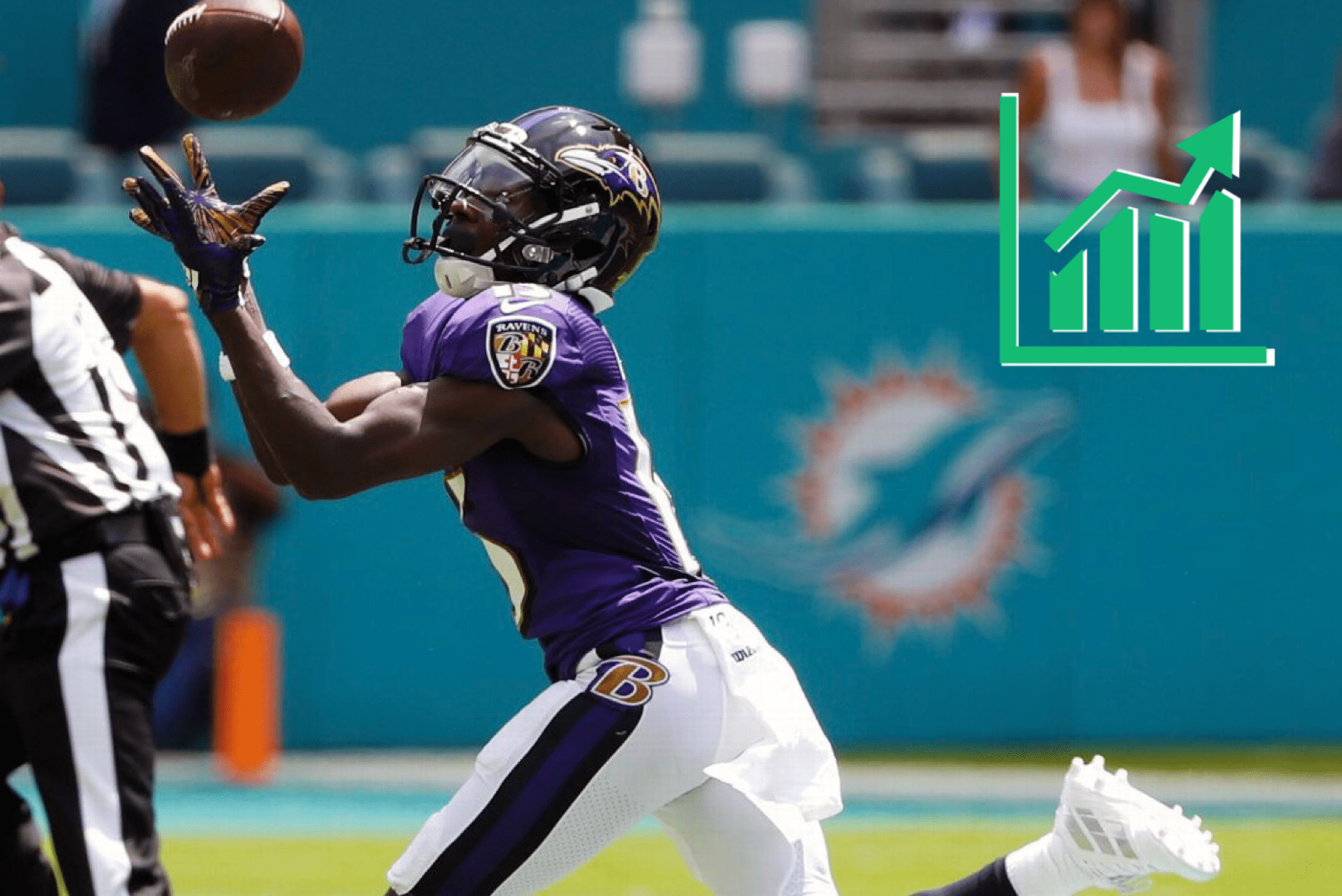 Ravens WR Marquise Brown flashed his explosive fantasy upside throughout 2019, but was tricky to trust on a weekly basis. After his 30.7 FP Week 1 explosion, Brown hit double-digit FPs just 5 times. Still, he was never fully healthy as a rookie, and the Ravens are expecting a major Year Two leap. Overshadowed in a monster WR class, Brown could end up being the top value of them all in 2020 fantasy drafts. 
When discussing Brown at the 2020 NFL Combine, GM Eric DeCosta gushed: "Receivers typically make a big jump from their first to second season. We think that's going to happen with Hollywood.
"We're really excited about him.  No. 1, he's got a great work ethic, he's explosive. I think we all saw his hands, his ability to catch the ball in traffic and make contested catches for a little guy. He's got a great attitude. We're excited to see what this offseason's going to be."
This leap is all the more plausible considering Brown was rarely at 100 percent as a rookie. According to team officials, Brown never fully healed from his foot surgery from a year ago. In fact, he just recently had a screw removed from his foot.
In 2020, the "expectation is Brown will become faster and more impactful in his second season."
QB Lamar Jackson has already raved, "This year, he's going to be dangerous."
The thought of a 100% healthy Brown is scary, considering he already tied a Ravens rookie record with seven TDs while serving as their top pass-game option. This, after recovering from a foot surgery that forced him to miss all the offseason spring workouts and majority of camp.
The one area Lamar Jackson struggled in his Cheat Code season was passing deep. He only completed 17 passes over 20 Air Yards (22nd in the league), with a 36.2% completion rate. A healthier, more explosive Brown can only help those totals.
"Marquise was really not 100 percent most of the year, and that was pretty obvious, right?," coach John Harbaugh said. "He's a huge piece of what we're doing and fits this offense so well."
Brown currently slides in as The Wolf's WR35, right below fellow sophomore Deebo Samuel. At 100% health, Brown should bring Tyreek Hill level speed to the table within one of the league's most explosive attacks. His value is even higher in best ball drafts where owners won't need to predict his explosions.