After a failed three-year run as the Bucs HC, Dirk Koetter is returning to the Falcons OC role he thrived in before Tampa. lndeed, Koetter fell prey to defensive and special team woes running the show, but his offenses remained as prolific as ever. Five of his last seven teams have ranked Top-10 in passing yards and attempts, and only one team has fallen below 11th in passing scores. Last year, the Bucs trailed only the Rams and Saints for total yardage, and led the league in passing.
Thus, Koetter brings familiarity, experience, and a track record to a Falcons offense brimming with talent. Even amidst Steve Sarkisian's questionable direction, the Falcons still ranked 6th in total yards and 10th in points last season — a testament to their roster.
Still, this felt underwhelming for a potential juggernaut. Featuring well-established veterans Julio Jones, Matt Ryan, Devonta Freeman, as well as promising up-and-comers like Calvin Ridley and even Austin Hooper, the Falcons should be a Top-Five unit with the right direction.
As the perfect fit, Koetter should achieve just that with minimal growing pains. Consequently, the fantasy implications here are massive:
Scheme – The Air Coryell / Air Raid Baby
Especially lately, Koetter has earned his reputation as a pass-happy mind. He hails from the more vertical-based "Air Coryell" system, which has evolved as Koetter worked closely with Air Raid guru Todd Monken during his Buccaneers tenure. The Bucs led the league with over 320 passing yards per game in 2018, largely in part to the merger of these two schemes.
In a nutshell, both the Air Coryell and Air Raid love to attack defenses deep. These systems often sacrifice efficiency for large-chunk plays that keep defenses on their toes. The Air Raid especifically specializes in "creating open grass" for pass-catchers. Through rub-routes and timing, and WR-heavy packages, all layers of the defense are under attack.
In recent seasons, the run-game has seemingly been forgotten under Koetter. Yet, he had minimal talent to work with. During his first play-calling gig in Jacksonville, the Jaguars ranked in the top-five in rushing attempts in three of four seasons. Koetter has typically favored a gap-based power run-scheme, though HC Dan Quinn aims to keep the Falcons' zone-heavy scheme in place for 2019.
Despite the pass-happy track record, Koetter claims he wants a "balanced" attack:
"Since balance is the hardest thing to defend, we will shoot to be as balanced as we can. Now, there's thing like time and score and injuries that can affect that, but we're going to definitely shoot for that."
Ultimately, I expect a pass-heavier attack that maximizes the depth of receivers, yet still utilizes Devonta Freeman and Austin Hooper as well.
Based on this scheme and history, here are the four biggest fantasy football takeaways of Koetter to Atlanta.
1) Matt Ryan Remains a No-Brainer Top-Five Signal Caller
Unlike most coordinator changes that require an adjustment period, Ryan and Koetter will benefit from three years of familiarity and past success. In their previous three years together (2012-2014), Ryan earned two Pro Bowl nods, topping 4500 yards in each of those three seasons, including 4719 yards and 32 TDs in their first season together. The team never ranked below 7th in passing yardage behind this pairing, even when ravaged by injuries.
This familiarity should not be understated. Ryan experienced significant statistical downturns in 2015 and 2017 while adjusting to new coordinators in Kyle Shanahan and Steve Sarkisian. He dipped from fantasy's QB7 to the QB19, and then the QB2 to the QB15 during these times of transience. Instead of Ryan's 5th coordinator, Koetter keeps the number at four.
The returning OC already knows what Ryan enjoys and is most successful running. Equally important, with this established comfort level, Ryan is unafraid to voice his own opinion. Koetter details:
"That familiarity is going to be really important…One of the things I like best about  what Matt can do – he did it when I was here the first time – he tells you what he doesn't like and why…if the quarterback doesn't like it, it's probably not going to go on Sunday. I think Matt will always have a huge impact on what our final game plan is when we get to that point in the season."
In this pairings second run together, expect even more success. Even better, Koetter has gained some invaluable "Air Raid" concepts from working with Monken. Ryan hinted at his excitement over these new wrinkles during OTAs, gushing:
"I'm excited to work with Dirk again… I learned so much from him the first time around and he's kind of picked up a few different things along the way, too, come up with some really good stuff."
Nevermind that Ryan will be behind an offensive line featuring five first round picks, the first time this has ever happened in NFL history.
Between these "Surrounding Talent" gains and the coaching improvements, Ryan should have no trouble remaining in the position's Top-Five. He was the QB2 in a lesser situation last year, afterall.
2) Julio Jones' Rare 2018 Red Zone Success to Carry Over
After scoring only three TDs and 2017 and then failing to score until Week 9 of 2018, Julio Jones appeared allergic to the End Zone. He then proceeded to rip off 8 scores over his next seven contests, as Jones finally capitalized upon his massive frame and insane body control. He was the No.1 Fantasy WR after his Week 8 Bye.
Expect the insane stats and high-scoring to continue under Koetter. The megastars 16-game paces under Koetter:
2012: 79 rec., 1198 yds, 10 TDs
2013: 131 rec, 1856 yds, 9.6 TDs (only 5 GP)
2014: 110 rec, 1696 yds, 7 TDs
Koetter uses his WRs masterfully in the Red Zone, particularly those with large frames like Jones.  The 6'5″ Mike Evans hauled in 12 TDs in two of his first three years under Koetter, and was consistently dialed up on one-on-one jump balls.
Thus, expect Jones to continue dominating in the Red Zone just like his 2018 finish.
3) Hope Not Lost for Devonta Freeman
Many are pointing to new OC Dirk Koetter and his pass-happy ways as a negative for Devonta Freeman's 2019 outlook. Indeed, outside of 2015 (when Koetter revived Doug Martin for a shocking 1673 yard, 7 TD campaign), Koetter's recent attacks with the Bucs and Falcons featured paltry run-games.
But with backfields featuring Steven Jackson's corpse and a Muscle-less Hamster in Doug Martin as the top options, what could be expected?
Contrastingly, Koetter's early track-record is sneakily run-heavy, as he was the Jaguars OC behind bowling-ball Maurice Jones-Drew's early career success. Three of these four teams ranked in the top-five in rushing attempts, and MJD strung together four-straight RB1 campaigns that featured heavy receiving and goalline usage (including a 1900 total yard, 11 TD masterpiece in Koetter's last season):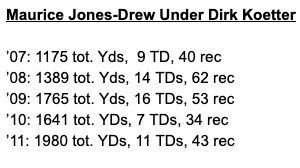 Though not as thick as MJD, Freeman is similarly versatile, with a low-center of gravity and bruising running style. He's just two seasons removed from back-to-back Top-Five Fantasy campaigns featuring 1500+ total yard, 13+ TDs. Despite the team drafting RBs Qadree Ollison (152 overall) and Marcus Green (203) and hyping Ito Smith, Freeman faces minimal carry-competition with Tevin Coleman departing to San Francisco.
Even better, Atlanta used two first round picks to bolster an already solid offensive line, selecting athletic BC guard Chris Lindstrom at 14 and trading back into Round 1 for mammoth OT Kaleb McGary. For the first time in NFL history, Atlanta is now poised to roll out a line featuring five first rounders, and Freeman will undoubtedly benefit.
He could see an MJD-style workload, behind a potential Top-Five Line, inside a Top-Five overall offense — all the ingredients for a RB1 campaign. Freeman is a steal anywhere in Round 3.
4) Austin Hooper Set for TD-Spike
When asked about the historic success of tight ends in his scheme, Koetter wasn't bashful:
"I'm the first to admit that I like tight ends."
The numbers don't lie. In Tampa, Cameron Brate and OJ Howard have combined for 11 and 12 TDs the past two seasons. Prior to Howard's arrival, Brate scored 8 TDs (2016), while Austin Seferian Jenkins was on pace for 90 targets and 9 scores in 2015.
In his last stint with Atlanta, Koetter dialed up Tony Gonzalez over 120 times in back-to-back seasons (2012-'13). Hell, even the no-name Mercedes Lewis hauled in over 700 yards and 10 TDs under Koetter's watch in Jacksonville.
Koetter often sends his TE on deep crosses, vertical seam routes, and corner fades for major chunk plays, especially within the 20. With minimal competition for volume within this friendly scheme, Hooper should set career highs across the board, just as he did last year during a Pro Bowl 2018 season. Here, Hopper was as reliable as any, leading TEs in catch percentage as he hauled in nearly 81% of Ryan's targets (71 of 88) for 660 yards and 4 TDs. Don't be surprised if those scores double under Koetter.
After finishing a respectable TE6 last season, Hooper could crack the Top-Five while costing you a meager 10th rounder. This is the type of "Unsexy Upside" that can win leagues.
Summary
With 11-years of play-calling experience, familiarity with the team, and a rich history of prolific passing-games, Koetter was the perfect hire for Atlanta. He should take an already high-achieving offense to new heights with a goldmine of weapons to work with.
First and foremost, Koetter's familiarity with Matt Ryan cannot be overstated. After finishing the QB2 twice in the last three years, Ryan's chances at a Top-Five finish under Koetter are high, especially with his added Air Raid staples.
Meanwhile, Julio Jones should remain a star, Austin Hooper should see a hefty volume and scoring spike, while Devonta Freeman could be MJD-lite. All-in-all, Koetter's hire may fly under the radar, but sneakily carries more fantasy weight than most. We only expect positives.