Player Stock Ticker
2018 Daily Fantasy: DraftKings NFL Week 15 Picks, Predictions and Sleepers
Still without a season long league team to fight in the playoffs with? Join us! Come play Week 15 in DraftKings in what is sure to be a challenging an interesting one for sure. With the Chargers, Chiefs, Rams and Eagles taken off the main slate, there's a lot of work to be done picking up from the scraps.
Quarterbacks:
Matt Ryan ($6,100)

While the Falcons have continued to disappoint this year, Ryan conitnues to put up about 20 points a game. The Cardinals are nothing to fear, and offer a plus matchup for a team desperate to get back to their winning ways.

Lamar Jackson ($5,900)

Having been named the starter, Jackson can thrive at home against a bad Bucs secondary. He finally has a chance to put up respectable passing numbers to add onto his already high rushing ceiling.

Derek Carr ($5,400)

Carr has posted back to back 20+ point games for Oakland and now gets a very plus matchup against an awful Bengals defense. Oakland has had the ability to score points, it's just been their defense struggling. This should be a high scoring game.
Running Backs:
Ezekiel Elliott ($9,000)

Zeke and the Cowboys offense has been humming since the acquisition of Amari Cooper. He's getting over 20 touches a game and is still utilized in the passing attack. Of the true elite workhorse backs, only him and Barkley are on the main slate and I like this matchup more for Elliott.

David Johnson ($7,100)

Opposing RBs have had plenty of success against the Falcons this year we all know that by now. He's had three straight subpar games and is a major candidate for positive regression as long as he's given the touches he deserves.

Joe Mixon ($6,100)

The price here for Mixon is pretty low despite the workhorse status in the Bengals offense. He's getting 20+ touches, and can easily work through a struggling Raiders defense.

Jaylen Samuels ($5,200)

He didn't have the rushing success like we intended he would, but Samuels made up for it in the receiving game. With Conner out once again, Samuels should continue to see plenty of touches, and hopefully won't be vultured by Steven Ridley once again.

Kenneth Dixon ($3,500)

Back from injury, Dixon has worked himself more and more into the offense. He started stealing some goal line work, and it's clear that Baltimore needs to get him the ball more in their offense. His role should expand this week, and a plus Bucs matchup should help with that.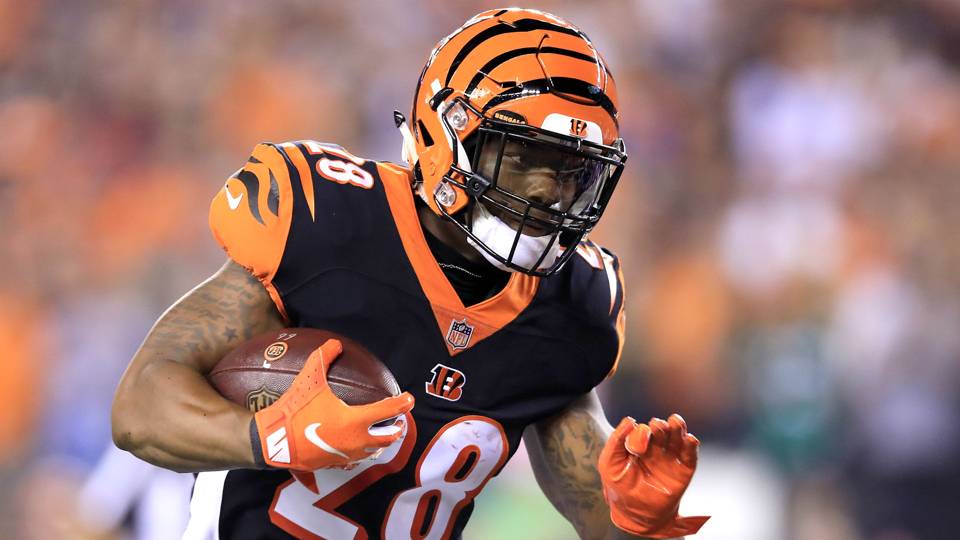 Wide Receivers:
Julian Edelman ($7,200)

Playing the Steelers is always tough for New England, and guys like Edelman are always the ones who come up big for the Patriots. Gronk clearly hasn't been himself this season, and Jules' target numbers and volume will be up there on Sunday.

TY Hilton ($6,800)

He absolutely took the top of the defense off last week with an explosion of yards, and Hilton generally puts up much bigger numbers at home. Most will be scared away by the matchup with the Cowboys, so value on Hilton will be great if he can explode once again at home.

Larry Fitzgerald ($4,700)

The Falcons are generally a great defense to target. Fitz is the target hog in Arizona's offense with the loss of Christian Kirk. Anytime Rosen is able to look like a competent QB, he's getting the ball into Larry's hands.

John Ross ($4,000)

The loss of AJ Green has really opened the door for Ross. Tyler Boyd has shown that he can't handle the duties of being a teams WR1 and works much better away from main coverage. With the Raiders being a bad secondary unit, and seeing JuJu go off from the WR2 role last week I like Ross to find the end zone and pay off his cheap salary.

Michael Gallup ($3,600)

All the attention on Amari Cooper right now, and Michael Gallup is quietly brewing up a storm. His target numbers are slightly increasing, and his ADOT (average depth of target) has been skyrocketing with Cooper lining up alongside him. Once Gallup converts and reels in one of these deep passes, he'll be a difference maker at near minimum price.
Tight Ends:
George Kittle ($6,300)

We saw what he did last week which was quite remarkable. The other elite tight ends are off the main slate, so Kittle is this week's top dog. Clearly the highest option in the 49ers offense.

Jared Cook ($5,600)

With Oakland's opportunity to put up some points this week, Cook has been the team's most consistent weapon with 100+ yards in back to back games. The trend should continue with another stat piling game against Cincinnati.

Vernon Davis ($3,200)

I'm not encouraged with the QBs under center, but with Jordan Reed doubtful, Davis is thrust into a starting role. The increased volume should be enough to cover a low tight end salary price and a touchdown would just be gravy for the ageless wonder.
Defense
Seattle Seahawks ($3,300)

The Seattle defense is clicking and now sees themselves lined up with Nick Mullens and the 49ers. Sounds like turnovers a plenty on deck here for Seattle to take.

Baltimore Ravens ($3,000)

The Ravens have one of the best defenses in the NFL and will be favorites over the Bucs. With Winston throwing the ball plenty and his reputation for turnovers, there's a good chance for extra points heading Baltimore's way.

Atlanta Falcons ($2,700)

Sure the Falcons defense has been pitiful, and I suggested DJ and Fitz in here earlier, but Josh Rosen has been a points factory for defenses. Look what Detroit did last week on the road as a mediocre defense. Ate him up. There's a chance.
Do you have any early leans? Questions about which guy you should go with this week? Want to yell at me for missing an obvious play? Sound off below or hit me up on Twitter where you can follow for daily news or advice on players.