Player Stock Ticker
2018 Daily Fantasy: DraftKings NFL Week 13 Picks, Predictions and Sleepers
Week 13 draws some very promising matchups for offensively gifted teams, while welcoming back some of our best offenses back onto the main slate. We don't get the Saints and Steelers, but Rams and Chiefs return after what seemed like many weeks off.
Quarterbacks:
Cam Newton ($6,600)

Cam has been a staple in these articles, and rightfully so with his high levels of production this season. He's getting a price bump because of the matchup with the Bucs, similar to their prior contest where the team scored 42 points. Carolina has the third highest implied team total, leaving plenty of chances for Newton to go off against this horrible secondary.

Jameis Winston ($6,000)

The QB on the other side of the matchup, Winston has taken the reigns once again under center for Tampa Bay. The team continues to throw the ball at a league high rate with little semblance of a run game. With a 54.5 game over/under, there are plenty of points to go around and for Winston to sling the rock.

Andrew Luck ($5,800)

Here's a price that's been adjusted down solely because of the name of the defense. Funny thing is, Jacksonville already gave up this year and their defense stinks and now Jalen Ramsay is unlikely to play due to injury. Andrew Luck is arguably the hottest QB in the NFL right now, and could be without their leading rusher in Marlon Mack. He's had 22+ points in 8 straight games.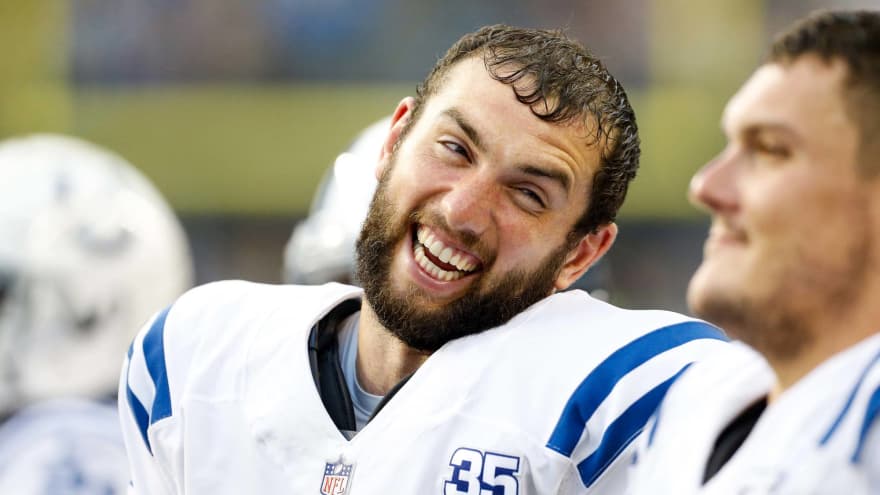 Running Backs:
Christian McCaffrey ($8,800)

You'll notice a trend of Panthers in here this week as the Bucs are a defense we tend to go after thanks to their awful defense. CMC had the kind of game we all envisioned in our sexual football fantasies going for over 100 yards in both rushing and passing and scoring a touchdown in each way. Now put CMC in a plus matchup, and watch him go to work as the work horse/bell cow/target hog/sweet prince

Nick Chubb ($7,000)

The trade of Carlos Hyde and removal of Hue Jackson/Todd Haley have done wonders for Chubb's value as he's become a true work horse for Cleveland. 20+ rushes in three straight games, and even is involved in the passing game to the point where Duke Johnson sometimes becomes irrelevant. A guy with this many touches should be in the mid to high 7k range, so take advantage of him while he's still at this price.

Aaron Jones ($6,700)

Mike McCarthy and the Packers finally woke up and decided to play Aaron Jones for majority of the team's snaps and boy is it paying off. He's super talented, and clearly their best option of moving the ball among the Packers RBs. As big favorites over the Cardinals, Jones should be able to run while seeing 20ish touches in a positive game script.

Gus Edwards ($4,800)

The Gus Bus continues to roll folks. Got 23 touches last week and went for over 100 yards. He performed very well for his price tag and continues to be a factor with Lamar Jackson at QB. Now Edwards faces the best possible matchup against the Falcons who have been torched by RBs all year long. The Gus Bus couldn't have a smoother road this week.

Carlos Hyde ($3,300)

With Leonard Fournette suspended this game for being an idiot, Hyde should see a big increase in volume for the Jags. Cody Kessler is starting at QB, so I don't envision them having Kessler drop back to throw 40+ times. Feature Hyde in the offense and he should see goal line chances as well. Assuming Kessler can get them down there.
Wide Receivers:
Adam Thielen ($8,000)

He's been as consistent as they come at the receiver position this year. And now Thielen draws a plus matchup against a struggling Patriots defense. He should avoid coverage from Stephon Gilmore, meaning he can take advantage of whatever defender is left to line up against him in the slot or wherever else he goes.

Julio Jones ($7,700)

Mt Saint Julio has scored 20+ in six straight games and now sees a price drop against a tough Ravens matchup. His ownership will probably drop as well because of the matchup, but nobody is really capable of slowing Julio down. Atlanta will throw a lot thanks to a stifling Ravens front seven, and Tevin Coleman's lack of work horse qualities.

TY Hilton ($6,000)

I love stacking Hilton with Luck this week against the fading Jaguars team. If Ramsay is indeed out, that only makes Hilton's matchup that much sweeter as he's got the speed to burn by any secondary member. The loss of Jack Doyle opens up some targets for Hilton to snag.

DJ Moore ($5,600)

Another position, another Panther. Moore had a very solid game last week, and with Devin Funchess likely on the shelf for yet another game it lines up nicely for Moore and his target share in Week 13.

Bruce Ellington ($3,500)

Filling into Marvin Jones' spot in the offense, Ellington has been productive the last two games. He's drawn seven and nine targets in those games, and now Detroit will be forced to throw the ball more than usual while likely playing catch up against the Rams.
Tight Ends:
Rob Gronkowski ($5,400)

You don't normally see Gronk priced this low, and that's because of his underwhelming season and injuries. But New England is playing in a big game against the Vikings this week, and Gronk generally shows up when needed most. With Rhodes on the outside likely trying to take away Gordon, Gronk should see heavy action along with Edelman.

Eric Ebron ($4,200)

The loss of Jack Doyle to the IR was HUGE for Ebron's stock going forward. He can dominate once again as the lone TE and Luck's preferred red zone option. He's likely going to be heavily owned in Week 13.

Cameron Brate ($3,700)

In games where OJ Howard is not present, Brate has been very productive for Tampa Bay. Winston loves throwing to his tight ends, and has a much higher QB rating when doing so. Mix in Carolina being one of the worst defenses against tight ends, and all signs point to another solid outing from Brate this week.
Defense
Seattle Seahawks ($3,400)

Seattle is turning it around after looking like a team destined to miss the playoffs. The 49ers are still starting Nick Mullens, who doesn't look like anything special unless you are the Oakland Raiders.

Los Angeles Rams ($2,600)

We all know just how scary the Rams front seven is, and Lions QB Matthew Stafford has been getting sacked at an alarmingly high rate. Detroit looked awful on Thanksgiving against the Bears, and with LA up big that means more drop backs for Stafford and a higher ceiling for Rams points.
Do you have any early leans? Questions about which guy you should go with this week? Want to yell at me for missing an obvious play? Sound off below or hit me up on Twitter where you can follow for daily news or advice on players.