The old saying goes: where there's enough smoke, there's probably fire. John "Smokey" Brown has lived up to his nickname and produced plenty of buzz since joining the Ravens.
He's been labeled the "standout" of Ravens camp, with "nobody making more plays than Brown."  Quarterback Joe Flacco credits Brown with his improved downfield success,  with the two connecting deep so often it's been labeled "routine."  Head coach John Harbaugh has said that Brown has "been better than expected," calling him "a complete receiver for us."
And now, following a beautiful 7-yard, toe-tapping score, the in-game action is matching the puff. This suggests there could indeed be some real fire here, and makes Brown the ideal "Penny Stock" WR target for your late rounds.
Indeed, Brown has been largely ineffective the last two seasons while dealing with complications from his sickle cell trait. Yet, he's made some changes in his diet and routines, and thus far hasn't missed any practice time. Thus far, this is allowing his talent flourish — especially his high-end speed (4.3 forty, labeled "the fastest player in the NFL" by Carson Palmer).
While this may be coach speak attempting to hype up morale surrounding the Ravens offense, Brown is a perfect fit with Flacco's talents.  Flacco has one of the strongest arms, and, reportedly fueled by his team drafting Lamar Jackson, he's having "far and away the best camp of his career." This praise has been backed thus far by Flacco's stellar 12-of-16, 143, 2 TD preseason statline in roughly one half of action.
Yet, with a lack of WR chemistry (or proper motivation from Flacco), this deep connection has been missing in the Ravens offense for quite some time. Over the past five seasons, Flacco is the worst-rated deep-ball quarterback. He completed only 24.6 percent of his throws that traveled at least 25 yards in the air, recording 12 touchdowns and 14 interceptions for a 62.3 rating.
If the Flacco-and-Brown connection continues to flourish, the veteran QB should have no problem returning to his deep-slinging ways. From 2010-12, only Drew Brees and Aaron Rodgers connected on more passes of 25+ yards. Plus, over his magical four-playoff game championship run in 2012, Flacco completed 19 of 40 passes (47.5 percent) that traveled at least 15 yards in the air, throwing five touchdowns and no interceptions. This blazing-fast WR and strong-armed QB combo could be deadly if the pair feed off one another, and marks a quality "Surrounding Talent" score.
Plus, Brown's potential Target Share is massive. No team has a higher amount of Vacated Volume than the Baltimore Ravens, who have 332 targets (59.1%) and 2.829 air yards (71.3%) available from last season. Though Michael Crabtree projects as the "Target Hog" here, Brown should easily slide into the No.2 role, while garnering plenty of deep looks and end zone upside. The "Usage" will be plentiful.
Thus, with a lovely combination of "Individual Talent," "Usage," and "Surrounding Talent," Brown is shaping up to be among the best "Penny Stock" investments that can be made. Only two seasons seasons ago, Brown racked up 1,003 yards and 7 TDs in a highly-promising sophomore campaign, and was pinned as the next big WR star by many. While he comes with some serious health risk after two injury-plagued seasons, the stars are aligning for a massive bounce back for the star. Plus, there's no risk and only reward here considering his bottom-barrel price tag (192, WR68 ADP and 165, WR65 ECR). By comparison, he's risen to 119 overall and WR50 on my latest Big Board, and offers explosive upside for his bare-bones price — Penny Stock Investing 101.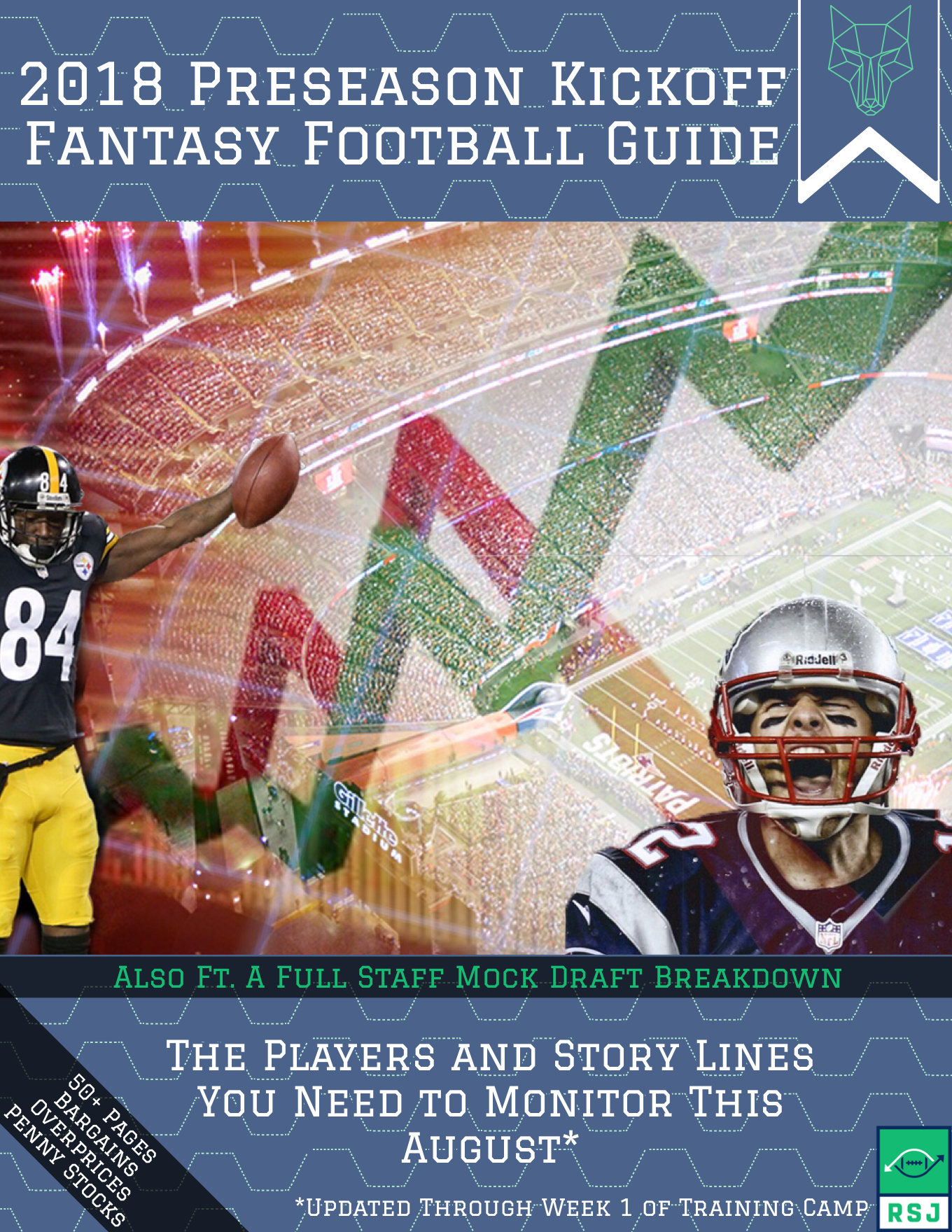 This is a preview of our Preseason Wrap Up Guide, which will be an update of our Preseason Kickoff Draft Guide launched last week. This will feature a fully updated and re-evaluated list of Must Buy Bargains, Penny Stocks (like above), and Overpriced Avoids. Be sure to reserve your copy for FREE by being one of the first 1,000 to join the Alpha Wolfpack.