Player Stock Ticker
Christian McCaffrey to be True Workhorse, Limitless Fantasy Ceiling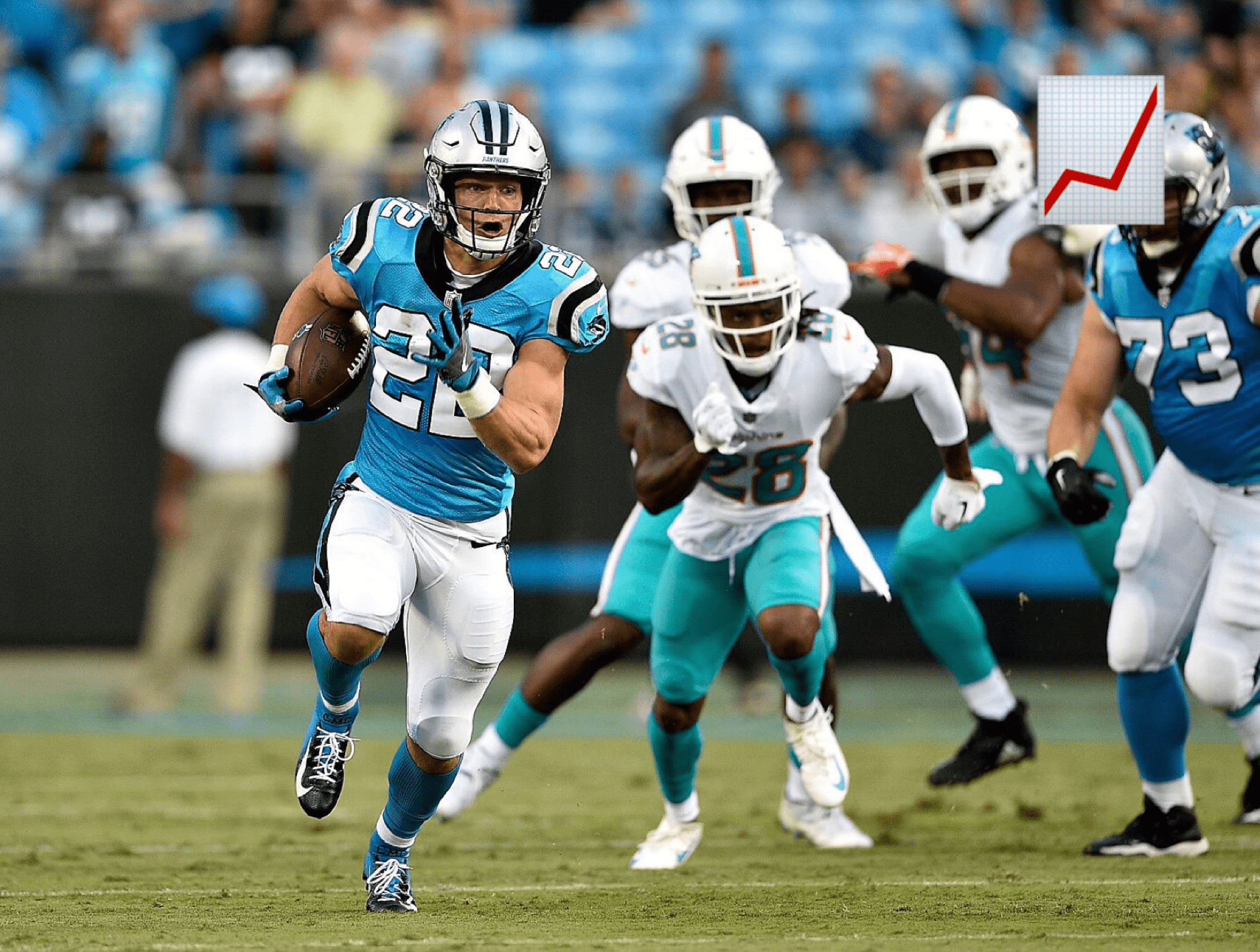 No one has seen their fantasy value rise more over two weeks of Preseason Action than Panthers RB Christian McCaffrey. A week after (surprisingly) receiving and executing a 2-yard TD plunge, McCaffrey turned a 2nd-and-1 blast up the gut into a 70 yard TD burst. This flashed a gear we rarely saw in 2017, with McCaffrey's longest regular season run (40 yards) and reception (37) far below. Between the added volume, power, and burst, McCaffrey enters 2018 as a potential "Fantasy Cheatcode." 
Not a bad turnaround for someone I was calling "Overpriced" in our Preseason Kickoff Guide just two weeks ago. While I try to stick to my guns, ignoring glaring evidence that I was wrong would be foolish. This is even easier to do when I've always loved McCaffrey's "Individual Talent." I simply didn't believe the "Volume" would be there to return his value.
If these 2 weeks are any indication, I'm dead wrong. Though the flashy run will catch headlines, the "Workhorse Usage" is even more important:
McCaffrey was the only RB to touch the field over the Panthers' first five drives, which spanned 16 plays. Of these, three plays didn't get off (2 Sacks + 1 Cam Newton fumble). On these 13 executed plays, McCaffrey touched or was targeted 10 times (77% of plays).
By comparison sake, he averaged only 12.3 touches per game in his rookie season.
Moreover, OC Norv Turner fed a similarly built 5'10, 220 lb LaDainian Tomlinson enormous workloads; McCaffrey reportedly added 8-10 lbs of muscle this offseason in anticipation of more volume. Turner has a long history of riding a bell-cow, and called it "realistic" for McCaffrey to receive 25-30 touches a game — something HC Ron Rivera called "ideal." Though this once seemed hyperbolic, Turner's past history and McCaffrey's early preseason workloads both suggest this heavy "Usage" isn't just coachspeak.
McCaffrey could threaten for Top-5 RB status if he receives this volume, and, more importantly, holds up. Even still, CJ Anderson (who didn't touch the field until midway through the 2nd Quarter) presents a solid 12th Round Insurance Policy — he'd likely operate in a true three-down fashion. McCaffrey's now a fringe first-rounder in my eyes.