Player Stock Ticker
Jimmy Graham and Aaron Rodgers Brewing Chemistry and Creating Monumental TD Upside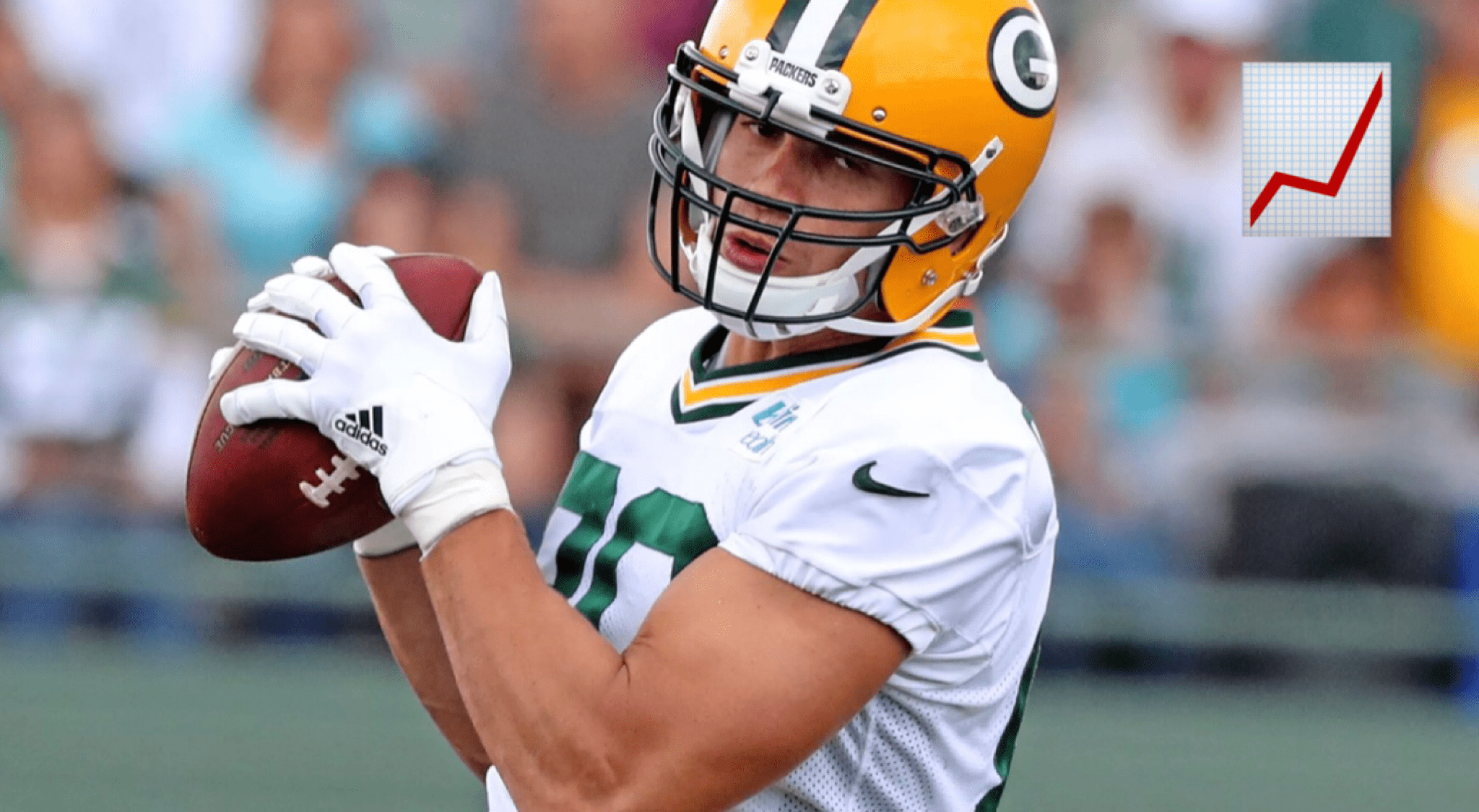 Though Aaron Rodgers and Jimmy Graham only logged one series together, they already flashed a Red Zone rapport worth noting. Graham scored on a beautiful 8 yard route where he faked an out route, before slanting quick to the inside where a Rodgers' dime awaited him. At a massive 6'7″ with proven Red Zone chops, Graham has humongous scoring upside in an offense that should visit inside the 20 quite often.
Originally, the historic lack of TE usage / production in Green Bay had me shying away from Graham. However, with Jordy Nelson gone and an unproven WR depth chart, this aerial pie is far more open than any in Green Bay's past. And Graham is an entirely different athlete than the team's had, possibly.
Rodgers is well-aware of Graham's mismatch potential, noting "He's a big target; he catches the ball with his hands…You know, we haven't had a guy like that around here in a while. Jimmy, he's got a great feel for coverages, getting open, he uses his body really well, runs good routes, and he's a matchup issue."
More importantly, however, is the chemistry brewing between the two. In fact, Rodgers likened it to the departed Jordy Nelson, stating, ""The guy understands the game as well as just about anybody we've had around here. The same category as a John Kuhn, Jordy Nelson… Those guys who really understand the game, who see it through the quarterback's eyes and want to be right all the time…they understand if they see it how I see it, they're probably going to get the ball.
"I'm really pleased with him, he's played great. It was nice to be on the same page," Rodgers said. Between Rodgers' ability to put the ball wherever he pleases, and Graham's ability to use his massive frame and athleticism in the Red Zone (led the league in RZ targets and scores last season), the TD upside here is mammoth. I'm changing my tune on Graham, and sending him flying up my Big Board and TE rankings.
For more news and analysis, visit and bookmark our Fantasy Stock Watch.