The Los Angeles Rams made a big commitment to newly acquired wide receiver, Brandin Cooks, as the talented speedster inked a five-year, $80 million extension with the team.  The long-term commitment to Cooks helps clarify what was previously a murky situation, while suggesting head coach Sean McVay has a lot of faith in Cooks.  Let's break down what this extension could mean for Cooks and the rest of the Rams' pass-catchers.
Does Cooks Fit With The Rams?
Cooks is an exciting, lightning quick burner capable of taking the top off of defenses and causing problems in the open field.  Last season the Rams were arguably the most exciting offense to watch in football.  Sean McVay showed just how much of an impact a change in coaching can create.  McVay's impact on the offense was literally a worst to first flip from the previous debacle that was Jeff Fisher.  In fact, quarterback Jared Goff made a herculean leap forward and we saw what running back Todd Gurley was capable of when used properly.  Remove Sammy Watkins and insert Cooks, and this looks like it could be a beautiful fantasy marriage.
However, looks can be deceiving.
Last season with the Patriots, there were a lot of question marks surrounding how Cooks fit in with Tom Brady and his quick-hitting pass attack.  Cooks still put up 1085 yards and 7 touchdowns on 65 receptions.  In fact, since 2015 Cooks has put up over 1,000 yards and at least 7 touchdowns.  He has been the model of consistency, and he's only 24 years old!
What To Expect In Fantasy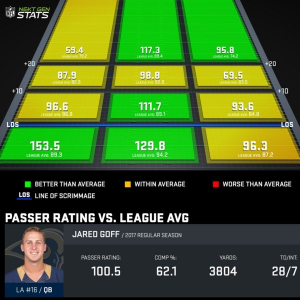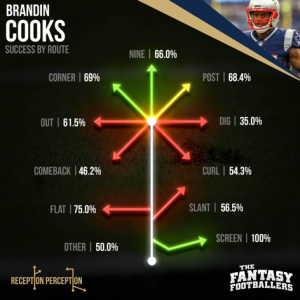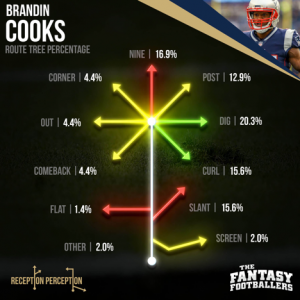 Looking at Jared Goff's pass chart compared with Cooks' route tree, success rates and the schematic fit, admittedly, raises a few eyebrows.  Goff thrived in the middle and the deep right side, but he also flashed competency throwing to the left.  Cooks ran the majority of his routes on the right side, but most of his success came in the middle and the left.  Cooks would need to improve his success rate on the right side and in the intermediate areas to improve the fit.
Projecting Brandin Cooks
Last season, Goff attempted 477 passes.  In fact, the Rams ranked 24th in total pass attempts, by comparison, the Patriots ranked 7th in pass attempts.  This could really inhibit his target share, especially given the breakout of Robert Woods, who will likely command a healthy target share.  Gurley isn't going anywhere either, and he will surely command his share of targets.
Overall, this shouldn't really change the Rams offense all that much.  Watkins, in a similar role, only received 49 targets last season.  Throughout the course of his career, Cooks has averaged 120 targets per 16 games.  As much as I love Cooks the player, I don't think there is enough volume available to sustain Cooks' average production.  Look for the speedster to command a similar target share to Watkins (19%), putting him around 90 targets on the season.  Taking into account Cooks' 13.3 average yards per reception for his career and his 70% target success rate, I am projecting Cooks to record 65 catches for 850 yards and 6 touchdowns.  
What About Value?
Looking at Brandin Cooks' ADP in standard PPR scoring he is coming in around 55 overall.  As far as wide receivers go that's right behind Marvin Jones Jr. and right ahead of Michael Crabtree, who has Joe Flacco throwing him the ball.  For a wide receiver that has consistently been a 1,000+ yd and 7 TD receiver throughout his young career, that's an absolute steal of an ADP.  Not to mention in this high powered offense under one of the most brilliant offensive minds in all of football, Cooks absolutely oozes league winning upside.  If I am in redraft and Cooks is sitting there halfway through the fourth round I wouldn't at all be afraid of selecting him.  As far as keeper and dynasty leagues, I think now might be a good sell high time due to the likely regression in production he will face.