I get it. New things are fun. Hell, I bought a new shirt last week and have already worn it on three separate occasions. It's easy to become encapsulated with our shiny new toys. Sometimes, however, we fall into the trap of choosing the trendy new option over old-reliable and it gets us into trouble.
Over the past ten years, only 43% of wide receivers coming off their first 1,000 yard campaign were able to reach the 1,000 yard mark again the following season. That means the odds are against a breakout receiver from 2017 being able to sustain his level of production in 2018. This can help us better calculate the risk level with each player when drafting.
Let's turn to last year as an example. In 2016, Michael Thomas, Tyrell Williams, Terrelle Pryor and Kenny Britt recorded their first career 1,000 yard receiving season. Based on the past ten years of data, we could predict that only one or two of those four players would hit 1,000 yards again in 2017. Thomas was the only player to do so, leaving fantasy owners of the other three receivers with looking like they just smelled something foul.
Back to the present. Adam Thielen, Tyreek Hill and Marvin Jones are the only players coming off their first career 1,000 yard season. History tells us the most likely outcome is that only one of those three will join the 1,000 yard club again in 2018. If you're one to err on the side of caution, you might be best off avoiding the trio all together. If you prefer to risk it for the biscuit, continue this article as I dive into each pass-catcher from least to most likely to accumulate 1,000 yards this season.
I recently did a similar exercise with running backs. Check it out.
Least Likely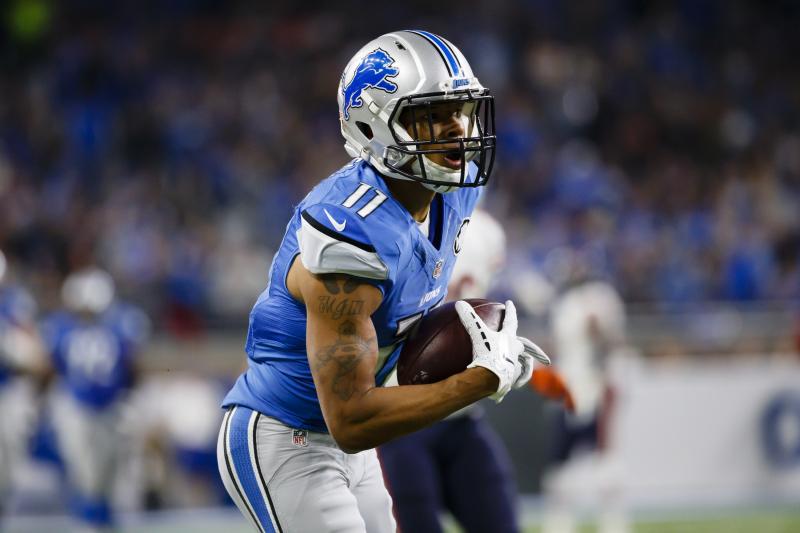 Marvin Jones Jr.
In his second season with the Lions, Jones Jr. broke out with 61 catches for 1,101 yards and nine touchdowns, making him the eleventh-highest scoring receiver in fantasy (PPR). Several factors suggest such production is unrepeatable in 2018. Jones Jr. led the league with 18 yards per catch (YPC) last year, four yards above his previous career average. No wide-out has led the NFL in YPC in back to back years since Ashley Lelie in 2004/2005, which implies Jones Jr.'s YPC has nowhere to go but down. Additionally, second-year receiver, Kenny Golladay, has turned heads in OTA's after seeing his hype-filled rookie season derailed by injury. Jones Jr.'s yards per game (YPG) average jumped from 61.2 in eleven games with Golladay, to 85.4 in the five games without. A healthy Golladay will steal some of Jones Jr.'s opportunities. Finally, first-year head coach Matt Patricia brings a new philosophy to Detroit. After finishing 31st in rush attempts last year, the Lions placed added emphasis on the run game by spending their first two draft picks on a center and running back, and signing power rusher LeGarrette Blount. In six seasons as New England's defensive coordinator, Patricia's squad has ranked top ten in fewest points allowed every year, surrendering just 19.2 points per game (PPG) over that time. Detroit allowed 23.5 PPG last year (twelfth-most) and posted the tenth-most pass attempts (570). Between a more balanced offense and an improved defense, it's unlikely the Lions will be as pass-heavy in 2018.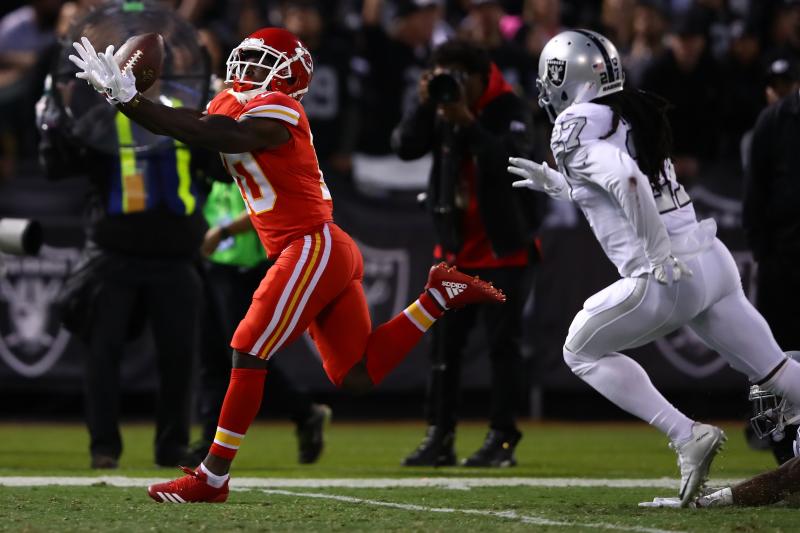 Tyreek Hill
Tyreek the freak was a spectacle in 2017. After being used largely as a gadget player his rookie season, Hill grew into more of a traditional receiver role last year. The former fifth-round pick tallied 75 receptions for 1,183 yards and seven receiving touchdowns on his way to finishing as fantasy's eighth-highest scoring receiver (PPR). Hill's unrivaled speed led to unprecedented efficiency. Of the fifteen players to reach 1,000 receiving yards a season ago, no one saw fewer targets than Hill (105), who was the 23rd most-target wide receiver in the NFL. Even his own teammate Travis Kelce saw more passes thrown his way (123), which brings me to my main concern. It appears unlikely that Hill will see enough opportunities to hit the 1,000 yard mark again in 2018. Kelce's usage will remain consistent, as the All-Pro tight end has led the Chiefs in targets each of the past two seasons. The team signed Sammy Watkins to a three-year $48 million dollar contract this offseason, making him the fourth-highest paid receiver in the league. The former fourth-overall pick is still just 25 years old, and is coming off his first season in which he didn't miss time due to injury since 2014. Watkins has drawn 6.6 targets per game over his career, which equates to 105.6 over a full 16 games. That's 43 more targets than Kansas City's second leading receiver, Albert Wilson, saw last year, which implies Watkins will significantly eat into Hill's targets.
Most Likely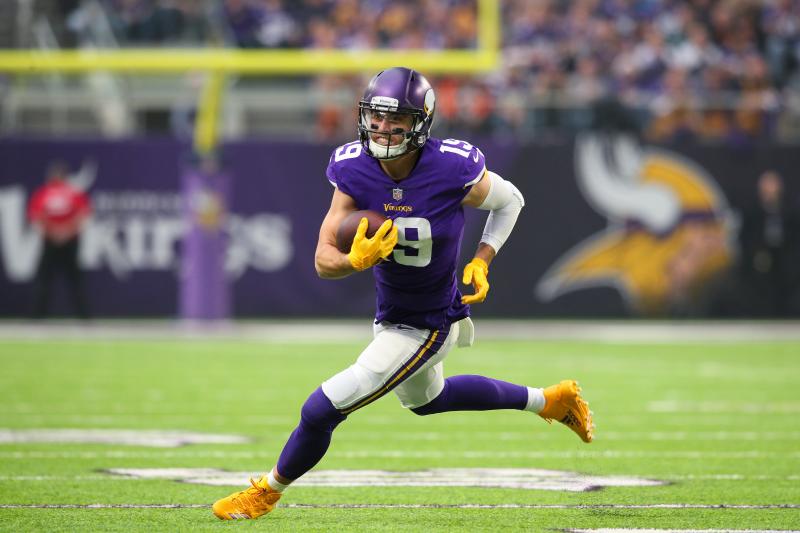 Adam Thielen
Undrafted out of Minnesota State, Thielen has spent the past five years developing into one of the better receivers in the league. After falling just 33 yards short of 1,000 in 2016, Thielen placed fifth in receiving yards last season with a total of 1,276. He added 91 catches and four touchdowns to his 2017 stat-line, making him the ninth-highest scoring receiver in fantasy (PPR). Thielen's performance has been consistent over the past two years, averaging exactly 14 YPC each season with two different quarterbacks throwing him the ball. If he's able to produce the same YPC in 2018, the 27 year-old would be able to catch nineteen less passes than he did a season ago and still eclipse 1,000 yards receiving. Thielen is yet to miss a game over his four seasons on the active roster, something that can't be said about teammate Stefon Diggs, who has never played a complete season in his career. What's more exciting than Thielen's floor is his ceiling, with the offseason addition of quarterback Kirk Cousins. While Thielen has managed to average 1,121.5 receiving yards over the past two seasons with his starting quarterbacks throwing for just 3,712 yards per year, Cousins has averaged 4,392 passing yards over his last three seasons, and is expected to raise the level of Minnesota's passing game. New Vikings Offensive Coordinator, John DeFilippo, also joins the team after raising Carson Wentz's and Nick Foles' games to MVP levels as Philadelphia's quarterback coach. Minnesota's offense is primed to explode and Thielen figures to be a major contributor.
Check out the running back edition of this article.