The overall fantasy fortunes of the Titans obviously depend upon Marcus Mariota. Thankfully, after rotting in "Exotic Smashmouth" for two seasons, Mariota has, by far, his best chance at truly realizing his ceiling with new OC Matt LaFleur. Here's why:
Comfort Level = 100
For one, LaFleur is prioritizing their relationship, and ensuring Mariota isn't bashful in explaining what he enjoys and feels comfortable running. As the new OC stated:
"Our communication is going to be absolutely critical to all of our success here," said LaFleur. "I reiterated with him the importance of -- if there's something you don't feel comfortable doing, I want you tell me. I know it's kind of against his nature because he's such a good person. I just don't want him to hold back on anything."
McVay, who's been with LaFleur his entire coaching career, similarly expects a relationship-centric approach:
"When I see Marcus from afar, (he has) kind of an even-keel demeanor, which I think serves you well as a quarterback, and Matt is very similar. They'll be on the same page, but I think the best thing about Matt is, he's going to figure out what Marcus feels most comfortable with, and do that.
"He is not going to put him in situations he doesn't feel comfortable with, and that is what good coaches do. Matt is an excellent coach, and he's excited about the opportunity he has to lead that offense."
The Perfect Scheme
Even more promising, what LaFleur is likely to dial up aligns perfectly with Mariota's strengths.
As explained in our Breakdown of LaFleur's Philosophy, the coach's man goal is "marrying the run and pass games." We saw this work wonders for the 2017 Rams and 2016 Falcons, both who led the league in scoring the past two seasons.
Primarily, this marriage will come from the play-action game. As mentioned, LaFleur's Rams ranked among the highest in the league in play action percentage (just under 30%). Moreover, he rode play-action passing to facilitate RGIII's Rookie of the Year 2012 campaign (42% play-action), as well as Matt Ryan's 2016 MVP Season (30%, highest in league). Meanwhile, Mariota's 122.8 QB Rating and 11.2 yards per attempt on play-action throws ranked first in the NFL, and 9 of his (paltry) 13 TDs came off of play-action throws -- even though the Titans ranked 19th in play-action throws, despite Mariota's obvious success. This will change considering LaFleur's promise to tailor the offense to Mariota's strengths, plus his established love for play-action.
Beyond the play-action, Mariota will likely execute a bevy of screen options -- the Rams rode this to massive success in 2018, leading the league in YAC by a long stretch. Meanwhile, Mariota was successful in executing screens, going 17-of-21 screen passes for 185 yards and three touchdowns. The team simply didn't dial them up nearly enough.
Additionally working in Mariota's favor is the deep-ball. LaFleur vowed to be aggressive, noting "It's extremely difficult to dink and dunk all the way down the field. Defenses are just too good. Statistically, the teams are getting the chunk plays -- the explosives -- are the teams that are going produce more yards and more points." Though not often deployed, Mariota's deep-ball has progressed tremendously since he joined the league: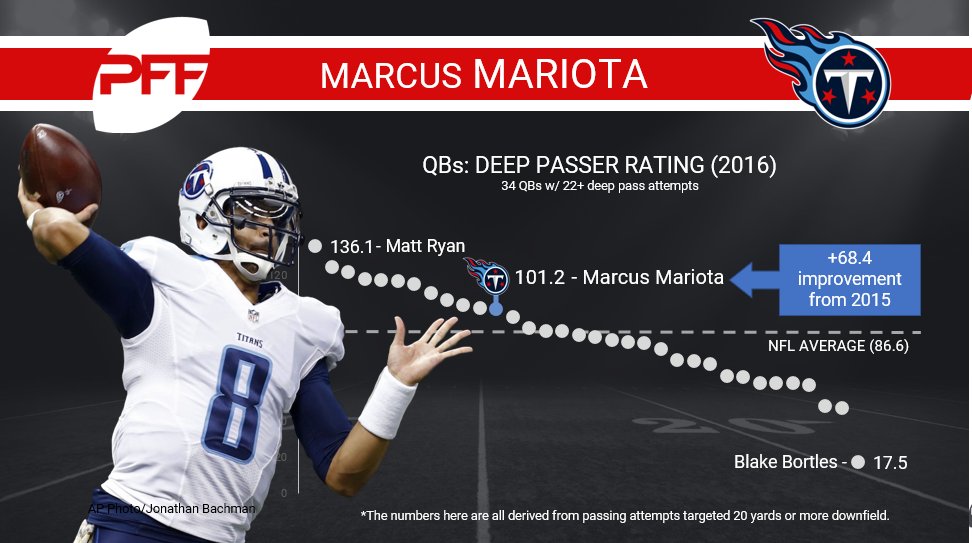 In fact, according to the Brick Wall Blitz -- a project dedicated to analyzing deep-ball statistics: "Mariota was 2nd in overall deep-ball accuracy, 2nd in accuracy under pressure, 5th in accuracy on throws to tight windows, and 3rd in open window accuracy. Despite playing in a Mike Mularkey coached Tennessee Titans offense that produced the 5th most accurate incompletions, Mariota had zero inaccurate completions."
LaFleur has also noticed Mariota's calmness under pressure, stating, "You can see the talent that he possesses. There are three prerequisites to playing the [QB] position: You have to be a natural thrower, you better be fearless in the pocket, be able to stand in there. He has all three."
Capitalizing on the Mobility
All of this addresses Mariota's arm-talent only. We can't forget Mariota's freakish athleticism, as the signal-caller led his class in every single running and jumping category in the 2015 Combine. Given his sterling track record with read-options and RPOs at Oregon, Mariota has thrived when asked to make plays on the run or utilize his legs. LaFleur has obviously noticed, and plans to capitalize:
"The hardest thing is you don't ever want to take that element, that creativity, his ability to create off schedule," LaFleur said. "You never want to take that away from a quarterback that has the athleticism that Marcus has."
Considering the passing game will be tailor-made to Mariota's strengths, while his athleticism will be maximized, Mariota drips in QB1 appeal for 2018. His 130 overall, QB17 ranking emphasizes just how deep QB will be in 2018, and why waiting is essential. Spend 11th, 12th, and 13th round picks on Mahomes, Mariota, and Trubisky or Tyrod Taylor, and you'll land at least one breakout QB1 (if not multiple)
In 2018, Todd Gurley added 881 yards and 13 TDs to his 2017 total.
The Rams also went from dead last in scoring to 1st in the league, more than doubling their points (14.0 to 29.87).
Did the line and WR upgrades help? Of course.
But the most important addition wasn't one with a helmet, but rather the guy with the headset:
Sean McVay.
Coaching Scheme plays a huge role in fantasy success, but is so often overlooked.
Don't miss out on 2018's version of McVay. Your FREE Coaching Carousel awaits here.