The Move
Frank Reich has agreed to a five-year deal with the Indianapolis Colts, replacing Chuck Pagano while providing a nice cushion after the team was left at the altar by Josh McDaniels.  Reich is fresh off a dominant postseason run that saw his offense drop 79 points over their final two weeks, though his influence versus Doug Pederson's is certainly debatable. Despite rarely calling his own plays, Reich has worked with some incredibly talented QBs and has his fingerprints on some explosive passing offenses, and is a "best case" scenario fantasy-wise, considering the slim pickings this late in the offseason. With health from Andrew Luck, the Colts passing attack could regain serious explosiveness under Reich, making this a must-know move for fantasy football owners.
General Background / Philosophy
Coaching History – Constantly Explosive… and Overshadowed
Reich's NFL experience began not as a coach, but as a quarterback for the Buffalo Bills. Similar to his coaching career, Reich often lingered in the background as a player, serving as the legendary Jim Kelly's backup. Yet, as he certainly hopes to in his first head coaching gig, Reich would often prove his worth when given the chance, most impressively engineering the largest comeback in NFL postseason history — a 41-38 overtime winner following a 35-3 deficit in the third quarter.
He entered the coaching ranks in 2006 as an "Intern" for the Colts staff. Here, he proceeded to serve as an offensive assistant and wide receivers coach for five years, notable for one reason alone: his work with Peyton Manning. The future Hall-of-Famer raved about Reich's work ethic and ingenuity as a player, gushing:
Here is what Peyton Manning said about Frank Reich before Super Bowl XLIV pic.twitter.com/6ZmuIcv9cn

— Zak Keefer (@zkeefer) February 11, 2018
Reich spent 2012 with the Cardinals before a move to San Diego, where he'd spend a year as the QBs coach before being promoted to offensive coordinator. Rivers topped 4200 yards and 29 TDs in every season that had Reich's fingerprints on it, and the team ranked top 13 in passing yards and TDs in all of Reich's San Diego years. Here, Reich gained valuable insight from offensive gurus Ken Whisenhunt and Mike McCoy, but a horrendous defense and a knack for late game collapses left the Chargers crumbling.
Thus, Pederson scooped up Reich amidst the Chargers dumpster fire. The Eagles produced mediocre initial results with a raw, rookie-year Carson Wentz, but obviously his sophomore campaign was one for the ages; Wentz was on pace for over 4000 yards and 40 TDs before his devastating knee injury, while Foles manufactured a late postseason run for the storybooks, scoring 38 points against the vaunted Vikings defense in the NFC Championship before dropping 41 points versus the Patriots the following week.
Indeed, Reich's exact impact is difficult to measure given he mostly ceded playcalling duties to his offensive-minded head coaches. Nonetheless, he's gained incredible experience under innovative minds while clearly leaving important passing-game fingerprints everywhere he's gone.
Scheme / System: Up-Tempo West Coast
Again, Reich has never called his own plays, so predicting his exact scheme and style are near impossible to project. Still, Reich has offered some insight in his early pressers, and he also has been groomed under similarly styled Ken Whisenhunt and Doug Pederson.
Most likely, a West Coast approach will be the spine of Reich's attack, as both Pederson and Whisenhunt featured more horizontally-stretching routes. As a refresher, this scheme revolves around quick-strike passing that features plenty of slants, drags, and flat patterns. The goal is to minimize the risk, get the ball in your playmakers hands, and let them do their thing.
Still, both Pederson and Whisenhunt implement more vertical concepts than your typical West Coast scheme. In particular, Pederson loved sprinkling in more aggressive, downfield plays, especially on third downs and in unpredictable circumstances.
Reich similarly seems to be more aggressive, both in his route schemes and, more importantly, tempo. While typical West Coast schemes are predicated on timing, rhythm, and grinding out the time of possession, Reich has promised a higher-paced attack with more variance:
"We will be a multiple, attack, up-tempo offense," Reich said, per FOX 59. "We will be aggressive. We'll change things up. What I mean by multiple is we'll use multiple personnel groups and multiple formations. We'll change the tempo. There will be a strong element of the no-huddle offense. We'll build the players around that kind of scheme."
Colts coach Frank Reich says offense will have: "a strong element of no huddle … we want to impose our will on the opponent."

— Albert Breer (@AlbertBreer) February 13, 2018
This "imposing our will on the opponent" is interesting. While the Eagles were only 17th in the league in pace-of-play, they became the 7th fastest when leading by seven or more. The punished opponents while they were down, burying them into submission. Reich hopes to do the same in Indianapolis, though a swiss cheese defense likely means more shootouts and comebacks than game-capping situations.
Regardless, expect a rapid-fire, quick strike attack that largely moves through the quarterbacks arm and playmakers generating YAC.
Passing Game Impact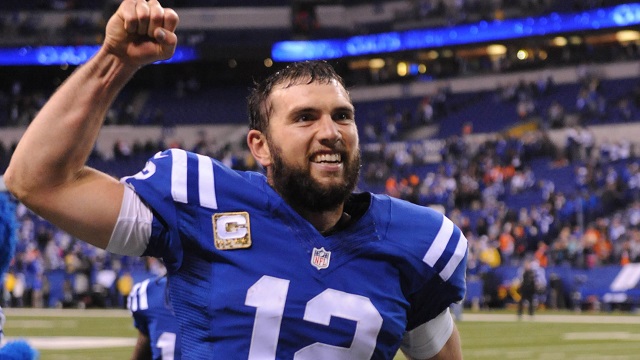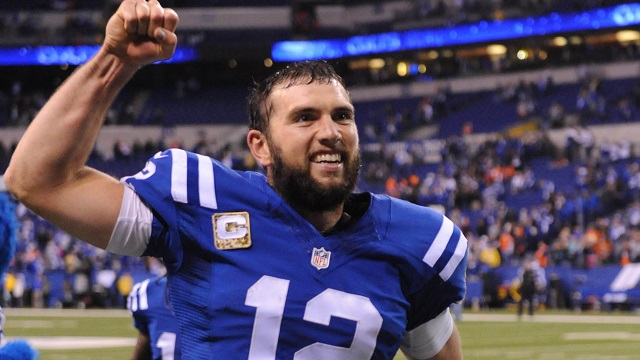 Quarterbacks
2014 – Philip Rivers: 379/570 (66.5%), 4286 yards, 21 TDs, 18 INTs
2015 – Philip Rivers: 437/661 (66.1%), 4792, 29 TDs, 13 INTs
2016 – Carson Wentz: 379/607 (62.4%), 3782 yards, 16 TDs, 14 INTs
2017 – Carson Wentz (13 GP): 265/440 (60.2%), 3296, 33 TDs, 7 INTs (4056 yard, 40 TD pace)
Summary: QBs have thrived with high completion percentages and yardage totals under Reich's tutelage. Outside of Wentz's "adjustment" year, Rivers and Wentz have been flatout dominant. As long as the signal caller delivers the rock and has playmakers at his disposal, he'll be worthwhile.
2018 Outlook – Andrew Luck an immediate QB1… if healthy
Reich should be considered nothing short of the jackpot for Luck… if he's healthy. Behind his swiss-cheese line, Luck will benefit greatly from getting the ball out quicker as compared to Rob Chudzinski's longer-developing, vertical based attack, both from a health and accuracy standpoint. Luck is known as highly cerebral, so a no-huddle, up tempo attack could be downright deadly with him at the reins. Luck should have no problem returning to the 4200+ yard, 28+ TD range under Reich.
Of course, Luck's shoulder has been recovering at a cryptically slow pace. As we've seen, this offense is borderline useless without their young leader under center. As of now, Luck reportedly won't require any new surgery and is expected to be ready for OTAs. This has definitely become a "believe when seen" type of situation, though.
WR1s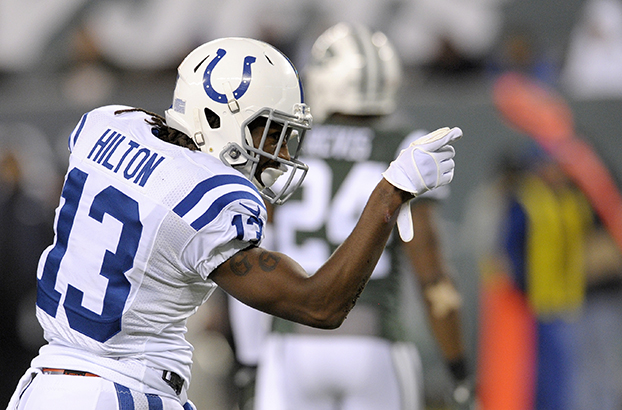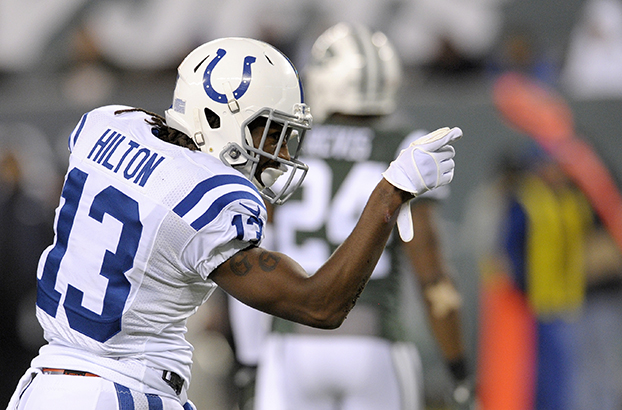 2014 – Malcolm Floyd: 92 tgts, 52 rec, 856 yds, 6 TDs; Keenan Allen: 121 tgts, 77 rec, 783 yards, 4 TDs
2015 – Keenan Allen (8 GP): 89 tgts, 67 rec, 725 yds, 4 TDs (178 tgt, 134 rec, 1450 yd, 8 TD pace)
2016 – Jordan Matthews (13 GP): 117 tgts, 73 rec, 804 yds, 3 TDs
2017 – Alshon Jeffery: 120 tgts, 57 rec, 789 yds, 9 TDs + Nelson Agholor: 95 tgts, 62 rec, 768 yds, 8 TDs
Summary: Reich's offenses have generally spread the ball amidst pass-catchers, with one exception: 2015's dominant Keenan Allen stretch. Allen was on pace for a whopping 178 targets, 134 receptions, and 1450 yards. Otherwise, no one target has truly dominated under Reich, as the scheme specializes on finding the mismatches and then repeatedly exploiting them.
2018 Summary – Will TY fit? Moncrief returning?
As currently composed and at first glance, the Colts WR corps appears ill-fitting to a West Coast scheme. Speedster and four-time pro bowler Ty Hilton appears more built for a vertical, "Air Coryell" type of attack. Moreover, Donte Moncrief is a free agent, and also more of a vertical jump ball artist than a possession based route runner.
Yet, I have a feeling Hilton could absolutely dominate. His route running has improved drastically over his career, and he's afforded tons of space at the line and underneath due to his deep speed.  Alongside maybe Odell Beckham and Tyreek Hill, Hilton's the type of weapon who can rip a simple five yard slant down the entire field for a 90 yard touchdown. His long speed and open field vision are incredibly dangerous, even if Hilton is not the shiftiest guy in traffic. He's also improved drastically in this regard, however, logging 24% of his snaps out of the slot last season. Hilton has topped 1300 yards in his last two seasons with a healthy Luck, and he has a real chance to surpass those totals again as a current target-hog Alpha who'll rack up YAC… with a healthy Luck.
Ultimately, the team still needs a position guy who can dominate the shallow routes. Perhaps Jarvis Landry will be given a long look in free agency?
TEs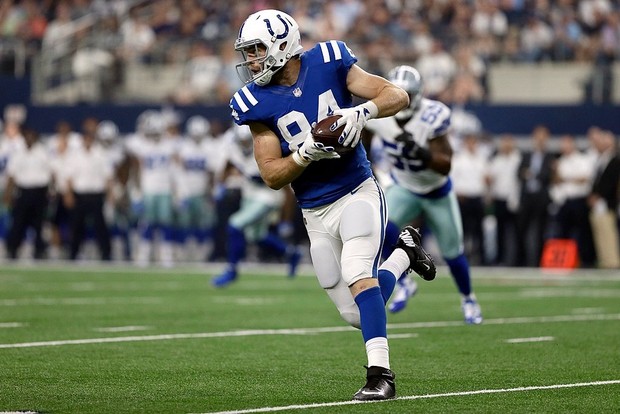 2014 – Antonio Gates (14 GP): 98 tgts, 69 rec, 821 yds, 12 TDs
2015 – Antonio Gates (11 GP): 85 tgts, 56 rec, 630 yds, 5 TDs (916 yd, 7 TD pace)
2016 – Zach Ertz (14 GP): 106 tgts, 78 rec, 816 yds, 4 TDs
2017 – Zach Ertz (13 GP):  110 tgts, 74 rec, 824 yds, 8 TDs (1014, 10 TD pace)
Summary: Though he's undoubtedly benefited by having elite talents in Gates and Ertz, Reich has never been afraid to aggressively target his tight ends. His offense clicks with a seam stretcher who can break tackles and generate YAC opportunities, and Reich has always leaned on tight ends inside the 20.
2018 Outlook – Jack "Bean Stalk" Doyle to continue rising?
Amidst some monster 2018 tight end seasons, how long would it take you to guess Jack Doyle ranked second at the position in receptions (80)?
The Bean Stalk was absolutely peppered with targets, and the showers should continue under Reich. The Colts lack a reliable intermediate threat, and Doyle is a real threat to again lead this team in catches. Luck has long loved targeting tight ends in the red area, and this will be the first season Doyle has as the lone threat alongside Luck. He's not exceptionally dangerous after the catch, but Doyle's hands are incredibly reliable, and he uses his massive frame well in contested situations. Reich will use him similar to Ertz and Gates, meaning another 100ish targets and 75-80 receptions are likely. With the team ideally around the red area more with Luck returning, Doyle's four TDs could at least double. Doyle truly could be 2018's Ertz.
Running Game Impact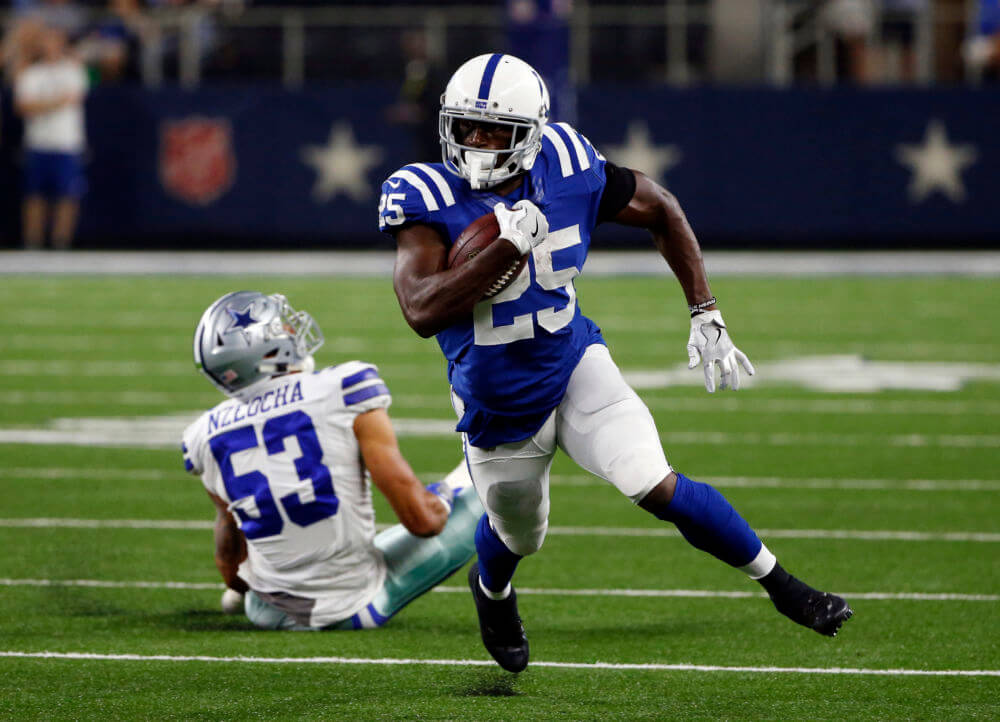 Running Backs:
2014 – Committee / Injuries – Branden Oliver: 853 total yards, 4 TDs, 36 rec (45 tgts; Ryan Mathews (6 GP): 399 total yards, 3 TDs
2015 – Committee – Melvin Gordon (13 GP): 833 total yards, 0 TDs, 33 rec (37 tgts), 184 carries; Danny Woodhead**: 1091 total yards, 9 TDs, 80 rec. (106 tgts), 98 carries
2016 – Committee– Ryan Matthews (13 GP): 766 total yards, 9 TDs, 13 rec (14 tgts); Darren Sproles: 865 total yards, 4 TDs, 52 rec (71 tgts)
2017 – Committee – LeGarrette Blount: 816 total yards, 3 TDs, 8 receptions; Corey Clement: 444 total yards, 6 TDs, 10 rec (15 tgts); Jay Ajayi (7 GP): 499 total yds, 1 TD, 10 rec.
Summary: The trend is clear under Reich: four years, four committees.
Indeed, he hasn't had any other-worldly talents to feature, and has also dealt with his fair share of injuries.
Still, guys like Gordon, Mathews, and Blount have all had massive RB1 seasons and been capable of shouldering the loads, and none ever have found success under Reich. The "lead" ball carrier isn't likely to be a true horse.
Still, there's hope. The Colts will likely be pass centric, limiting the appeal of this run game (bar Saquon Barkley joining the squad). Still, any type of third down back is intriguing here — just look at Woodhead's 106 target, 80 reception, 1091 total yard and 9 TD monster season; Sproles similarly saw frequent usage despite his extensive age and mileage.
2018 Outlook – Marlon Mack drips in reception upside 
Frank Gore might be playing at age 63 and still look solid. Still, even his "blue chip" fantasy appeal is starting to wane. Reich's committee plagued history only lessens Gore's already limited appeal (bad line, injury risk).
Marlon Mack, however, comes with some monster upside. If the team is truly going to go "no huddle" and "up tempo," Mack will likely see a heavy snap count. He's incredibly dangerous in space, and could receive the "Woodhead" third down treatment. A 50+ reception season is entirely possible, and Mack has the athleticism and underrated power to do real damage with that workload. He's now a Penny Stock of enormous interest.
.
Summary:
Though Reich has never called his own plays, he's helped craft some explosive passing attacks and prompted some fantastic QB development. Time spent with offensive gurus like Pederson and Whisenhunt certainly doesn't hurt, and neither does extensive work with Rivers or Wentz. Expect the Colts to regain some passing game mojo, with Reich promising a "no huddle" attack that "enforces our will" on opponents.
A resurgence is entirely dependent on Andrew Luck. Assuming health, he sees a major stock up arrow in a quicker-strike, faster pace system that can cover up this brutal line and allow speedster TY Hilton to rack up massive amounts of YAC. Jack Doyle should again eat receptions, and another 80+ catches with more scores is entirely possible.
Whereas passing games have flourished under Reich, running backs have suffered. He's ridden a committee in all four of his coordinating gigs, and that includes a season with now workhorse Melvin Gordon. 
Still, pass-catching backs have often flourished under Reich — unsurprising in a West Coast attack that predicates high-percantage throws and YAC. This creates some real upside for Marlon Mack, who's a natural receiver and incredibly dangerous in space. If he sees 50+ receptions, Mack could be one of this year's best Penny Stocks.
After being left at the altar by Josh McDaneils, the Colts have done very well in landing Reich. While he lacks playcalling experience, so did Pederson entering Philadelphia and McVay before the Rams. A bright mind is a bright mind, and Reich has flashed ingenuity, especially in passing games, in every one of his stops.