Player Stock Ticker
Kenyan Drake to Build Upon Late Season Surge With Minimal RB Competition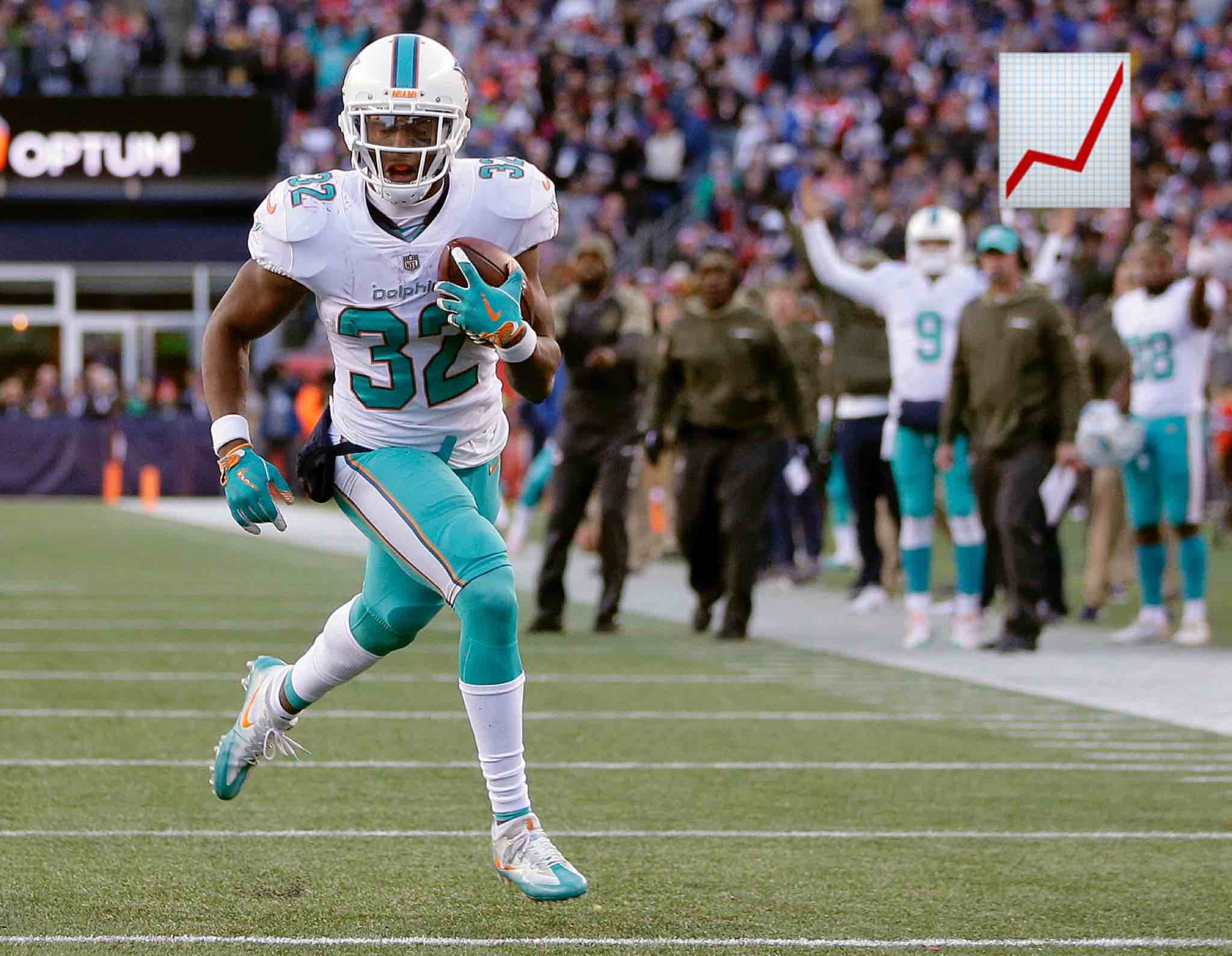 Kenyan Drake appears set to build upon his massive 2017 fantasy finish after the Dolphins added minimal threatening competition for 2018 Volume. The ageless Frank Gore + fourth round rookie Kalen Ballage will steal some volume, but Drake should be the main weapon here, a role in which he thrived to close out last season.
Drake has rarely received heavy volume in his college or pro career, failing to eclipse 100 carries in a single season until last year. Yet, whenever afforded the opportunities, he's flourished. Drake looked flat out elite for stretches of his late season surge, which included PFF's highest-graded RB game during Week 13 versus the Broncos. The advanced analytics support this, as Drake posted the most yards after contact per attempt (4.29) ever recorded by PFF.
Now, he appears primed for the most Volume, by far, in his career. While Adam Gase may have claimed the the team doesn't want a single back getting 25 carries a game at this year's Combine, his history suggests otherwise: from 2013-2016, Gase facilitated four straight RB1 campaigns: Knowshon Moreno finished as the 2013 RB4 with 1586 Yards from Scrimmage (YFS) to pair with 13 total TDs; CJ Anderson racked up nearly 1200 yards and 10 total TDs in only seven 2014 starts; Matt Forte tallied 1287 YFS and 7 TDs in just 13 games in 2015, while Jay Ajayi hit 1423 YFS and 8  TDs in 12 2016 starts.
Clearly, Gase has consistently ridden workhorses and has cited an affinity for every-down backs to avoid substitutions and keep defenses imbalanced.  Moreover, in that same Combine quote, Gase noted how impressed he was with Drake's ability to shoulder heavy workloads, stating: "Kenyan has done a better job of taking care of his body…A couple of those games where he had 20-plus carries. He's walking in and acting like he didn't play a game the night before. So I think youth plays a part in that a little bit. He's put together well."
Not only has Drake proven himself plenty capable to be Gase's next horse, he'll face minimal competition to secure this invaluable role. The Dolphins' only backfield additions have been a 35-year old Frank Gore and a fourth-round pick in Kalen Ballage.  Admittedly, the ageless Gore and his hard-nosed, workman approach do worry me a bit; Gase could fall in love with his veteran presence and unexpectedly feed him instead. Still, Gore has already embraced a mentoring role for Drake, and might only help the speedy back reach new heights.
No one rushed for more yards than Drake over 2017's final five weeks. Gase's workhorse history and the current state of the Dolphins will give him every opportunity to build upon this for a massive 2018.