With the NFL Draft kicking off on April 26th, it gives every team a chance to improve themselves with young talent. Although only a few players at each position will make a real fantasy football impact as rookies, there are still many who are worth keeping on your radar. These positional rankings are based on their 2018 fantasy football potential, followed by stashability in dynasty leagues — especially at the quarterback position.
Positional Rankings:  Running Back Rankings, Wide Receiver Rankings, Tight End Rankings
1. Josh Rosen – Teams are starting to overthink Rosen at this point, as it seems like he's sliding down draft boards. He has leadership question marks (thanks to his idiotic, now unemployed head coach at UCLA), but he's the most NFL-ready of the bunch. He's a day-one starter and has the best chance to start Week 1.
2. Baker Mayfield – The reigning Heisman Trophy winner is the definition of electric and he'll definitely find a way to win a job right away or at some point during the season. His tools (elite accuracy) and intangibles will not allow him to be shackled to a bench as a rookie.
3. Sam Darnold – The USC prospect has the most upside in this quarterback class, but from a fantasy perspective, it's unlikely that he'll make much of a year-one impact — especially if he goes No. 1 overall to Cleveland.
4. Lamar Jackson – Jackson's athleticism is off-the-charts, but he definitely carries accuracy concerns. If he's put into a creative offense that will let him shine (ala Texans with Deshaun Watson), then he'll succeed. If the wrong team drafts him and sticks him into an archaic offense, then he'll stink. Let's hope it's the former.
5. Josh Allen – If this was a big board based on talent, Allen would be near the bottom. But it's based on 2018 fantasy football potential. He's never been accurate at ANY level and there's no reason to think that he'll suddenly complete 60-percent or higher in the NFL. The only reason I have him up at 5 is because he's unfortunately going to go in the top-10 and will likely see the field before the rest of this list.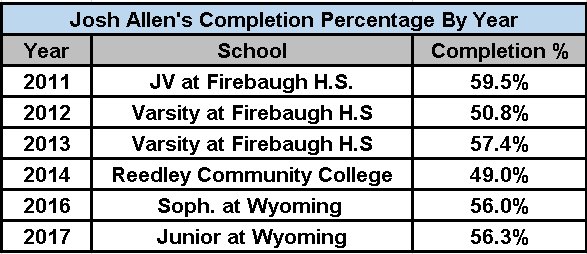 6. Mason Rudolph – Rudolph comes from a pass-happy system at Oklahoma State and most of these quarterbacks struggle in the league. But Rudolph is more than just a beneficiary to Mike Gundy's Air-Raid offense. He's extremely accurate downfield and makes smart decisions. He likely won't play as a rookie, but has a chance to sneak into the back-end of the first round and be a quality starter down the line.
7. Kyle Lauletta – The Richmond product is often compared to Jimmy Garoppolo and it's tough to argue with that assessment. He may not be able to sling the ball 70 yards downfield like Josh Allen, but he possesses accuracy and anticipation on his throws. It also doesn't hurt that he's athletic in the pocket and has the ability to extend plays. If you're in a deep dynasty league, take a flier on Lauletta and stash him. He'll be a starter in this league and will hopefully be Tom Brady's successor.
8. Luke Falk – Like Rudolph, Luke Falk comes from an Air-Raid offense. If you take a look at the quarterbacks whom Mike Leach has sent to the NFL, none of them have panned out. Falk could change that though. He has the size (6-foot-4, 225 lbs), the arm strength and above-average accuracy to stick in the league. Will he be Case Keenum? Or will he be Graham Harrell or Kliff Kingsbury? Only time will tell.
9. Mike White – Playing behind a pathetic offensive line in Western Kentucky's spread offense, Mike White had an up-and-down collegiate career. He showed flashes of brilliance as a junior, but was knocked down a peg as a senior. He has the arm, but his lack of mobility and his decision making will need to improve for him to start in the NFL.
10. Logan Woodside – The Toledo product certainly benefited from the quick-read passing offense that he played in, but he has the chance to shine as a game manager in the NFL. Woodside is accurate and can make quick decisions, which will allow him to stick in the league. If he gets drafted into a West Coast system, he could be a starter down the road.
Check back throughout the week for the rest of our 2018 NFL Draft positional rankings.