The rumors of TE Jimmy Graham rejoining the Saints this offseason have been put to rest as the Packers signed the All-Pro tight end to a three year deal. Graham's yardage and reception numbers dipped in 2017, but he did find the end zone 10 times as a dominant red zone force. Graham will help fill the void left behind once the Packers released Jordy Nelson to free up cap space. Graham is a physical specimen, and pairing him with a healthy Aaron Rodgers can be extremely deadly.
The only pause here is that tight ends haven't always been the most productive while in Green Bay. Last season, Martellus Bennett had a stat line of 24-233-0. Granted we learned later on that he was injured most of the season, but he's a guy who very well should have been able to put up nice numbers. It also didn't help that Rodgers went down midway through the season with a broken collarbone, who was then replaced by the incompetent Brett Hundley. The year before that, Jared Cook was the Packers tight end and finished with a 30-377-1 line — another underwhelming total.
While the past numbers of tight ends are extremely underwhelming, Graham is a whole different beast. He can be a mismatch nightmare in the red zone, and can exploit smaller corners when split out wide, or slower linebackers/safeties when lined in the slot. Kind of like a poor man's Rob Gronkowski. Only now, Aaron Rodgers is throwing to him. If you take out Nelson's 2017 season with Hundley playing most of the season, Nelson racked up 13 touchdowns in 2014, then 14 touchdowns in 2016. So the red zone targets will be there for Graham.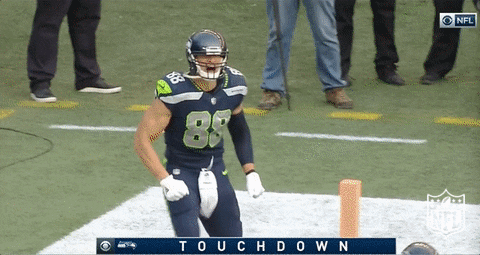 We like what Graham has the potential to do in Green Bay's offense, but just remember to temper your expectations as you're more likely to see the Jimmy Graham that we saw in Seattle, rather than the Graham we saw with Drew Brees in New Orleans.
Free Agency is firing along at a record pace.  Be sure to follow us on Twitter or Instagram for news as it breaks, and don't miss our debut episode of the Roto Street Rundown: Free Agency Edition. 
Other Free Agency Fallouts: