"If Gordon keeps his head on straight, there's a real chance Haley squeezes the best out of him too. He'll be peppered with targets, run routes at all levels of the field, and be moved all over the formation. Moreover, Haley will preach the little details and intricacies like footwork and route sells to further develop and refine Gordon's immense natural gifts… The combination of Gordon's own physical gifts and Haley's track record of peppering and developing his WR1s lays the path for a dominant 2018."
– The Wolf, via Todd Haley: Fantasy Football Impact on the Cleveland Browns
Catch up on the Browns' offseason with The Athletic's Zac Jackson, who joined The Fantasy Fullback Dive.
When the Browns hired Todd Haley as their offensive coordinator, we told you how that move should impact Cleveland's offense. Bottom line, despite uncertainties at QB, the Browns could trot out a hell of an offense this year. With Josh Gordon set for his first full season since 2012 and two picks out of the top 4 in next month's draft, we may finally be seeing the start of that rebuild they've been on the brink of for, oh, 20 years?
Personally, I think the Browns still have a ways to go before they're ready to leave the basement of the AFC. For starters:
Draft Saquon Barkley #1 overall
Acquire Teddy Bridgewater
Cut ties with Hue Jackson
A core on offense of Bridgewater, Barkley, and Gordon is a phenomenal start, and since Bridgewater has reportedly been searching for short contracts in free agency, you don't have to commit a ton of years and money to anyone, especially a QB coming off a gruesome leg injury. But honestly, I could sit here for hours and explain what's wrong with the Browns and what they should do. Everyone on the planet has done that, including The Athletic's Zac Jackson, who joined The Fantasy Fullback Dive. Jackson thought the Browns should draft Sam Darnold No. 1, then develop him behind AJ McCarron.
Anyways, I'm absolutely thrilled that Josh Gordon is finally coming back for a full season. There was a while there when it was starting to look like it'd never happen, and that'd be a damn shame. As a card-carrying member of both the #FreePeteRose train and Johnny Manziel's #ComebackSzn I'm clearly a guy who's willing to give second chances where they're due, and Gordon's case fits the bill. He was really candid on Medium last year about his struggles with addiction, and he's clearly clean and ready to ball out, so I've got massive hopes for him in 2018.
Whenever a guy misses as much time as Gordon did, it's easy to forget how dominant they really were. He's played just 10 games over the past 3 seasons, split apart by a lengthy substance-abuse suspension and reinstatement process, but in just 14 games in 2013 he set career-highs in receptions (87), touchdowns (9), and a league-leading 1,646 yards. He was a Pro Bowler and a First Team All-Pro, and he did it all in 2 less games than everyone else. And catching passes from the likes of Jason Campbell, Brandon Weeden, and Brian Hoyer. And hammered most of the time. Sheeeeesh.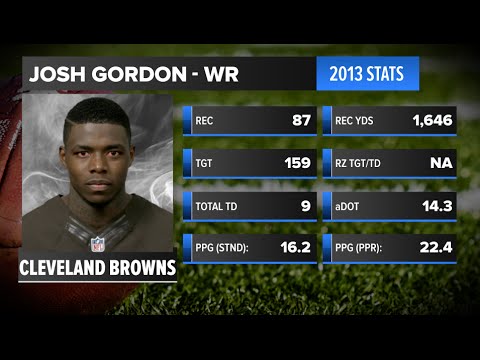 Another thing to remember about Gordon is that he turns 27 in April, making him younger than Antonio Brown, Julio Jones, Adam Thielen, A.J. Green, and many of the league's other top wideouts. This isn't a guy who may be over the hill and is trying to make a comeback; he's still in his prime athletically, and now he's got a clear head and a clean bloodstream. That's scary.
So what makes Cleveland's hire of Todd Haley so smart? First, Haley's great at developing WR talent. This is a guy who made Steve Breaston and Dwayne Bowe 1,000 yard receivers. He's also credited with a great deal of Antonio Brown's development, although Brown was already a 1,000-yard guy before Haley was hired. Regardless, especially as a former wide receivers coach, he knows how to feed his #1 targets, and Gordon is clearly that guy in Cleveland.
And as far as quarterbacks go, while the Browns aren't drowning in dependable options, it may not matter. Josh Gordon had an All-Pro year with career backups who, collectively, won 54 games in 22 NFL seasons. And Todd Haley got a 1,000 yard season out of Bowe with Matt Cassell at quarterback. Haley's been lucky enough to work with some great QBs like Kurt Warner and Ben Roethlisberger, and obviously Deshone Kizer is a major step down in that department, but the Browns also may not be set in stone at the QB position.
Report: AJ McCarron is Hue Jackson's preference at QB https://t.co/QwVjVH4JtF

— ProFootballTalk (@ProFootballTalk) March 5, 2018
Cleveland is linked to every possible QB option every offseason, and this year has been no different: from signing A.J. McCarron or Kirk Cousins to using the #1 overall pick on Josh Rosen or Sam Darnold, they've got a ton of options. I've said I like Bridgewater for this situation, even considering Haley's past which indicates he's had success mostly with pure pocket passers. But Bridgewater's duel threat game, complimented by a strong rushing attack and an insanely talented deep threat, could be the exact jumpstart this sad franchise needs. But in the end, I think Haley will benefit regardless, getting away from a quarterback who clearly hated his guts.
It's gonna take a lot of turnaround to get the Browns anywhere near where they want to be. Haley and Hue Jackson will need to develop a great system around whoever ends up under center for them. They'll need to develop a strong rushing attack, shore up the offensive line, and develop some talent around Gordon among the receivers. And their 31st ranked scoring defense obviously needs some work, too. But from a fantasy perspective, especially with an ADP currently sitting in the high 30s, Josh Gordon could be an absolute steal in 2018, and a guy you ultimately credit your fantasy championship to.
Got other ideas for the Browns? Hit me up on Twitter with your opinion, and keep checking out the Roto Street Journal as the offseason rolls on for more Stock Watches, Draft Coverage, and Fantasy Football Preparation