Earlier this week, I released my yearly Super Bowl prop bet breakdown, giving you all my picks on the hottest props for this year's game. But you know I couldn't stop there, and here we are just a few days before kickoff with my official Super Bowl prediction as I try to salvage a strong ending to what's been a pretty abysmal postseason on my part.
It started in the Wild Card round, when I picked just one underdog (Tennessee +9) and took the favorites in the other 3 matchups. And as I'm sure you know by now, underdogs went 4-0 ATS (2-2 SU) that weekend, and it resulted in a 1-3 week for me. I followed that up with a 2-2 showing in the Divisional Round, just barely squeaking by on a technicality in the NO/MIN game, and entered the Conference Championships needing a perfect 2-0 weekend to get the opportunity to pull out a positive record in the postseason. Confidently, I went with New England -8 and Minnesota -3.5.
And then I went 0-2.
The Pats edged out Jacksonville by 4, while the Vikings were pummeled on the road in Philly, and it sent me down a dark path to a depressing 3-7 postseason record. Now, this was really a new feeling for me. I make terrible, ill-advised bets on my own all the time, sure, but usually when it comes to the ones I'm pimping out for the Roto Street Journal I can get my shit together. Last year I gave my picks from Week 14 through the postseason and hit on about 65%, including a 7-4 postseason record. And I know that successful gambler is still down deep inside somewhere, so here's my attempt at making him talk.
Philadelphia Eagles @ New England Patriots (-4.5); Over/Under 48
*Full disclosure – I put $100 on the Patriots at +300 over the summer, so you know where my loyalty's gonna be at. I show my work, though.*
I'm pretty goddamn excited for this game. Not only because of what it could mean for the Pats and also my bank account, but because this matchup is one any fan of good football should be pumped for. Never mind all the David and Goliath or Underdog nonsense that ESPN has to make up to get people to watch SportsCenter again; it's a great offense with an All-World QB against a great defense and an unexperienced QB. I heard an argument on TV last week about who has more pressure on them, Tom Brady or Nick Foles? And honestly, you could go either way; Brady's essentially expected to win, while most of the country isn't really expecting anything out of Foles. But Brady has proved himself and then some in his previous 5 championships, and Foles has just about everything to prove. Both teams have dealt with season-altering injuries, moving past them to win their conference. The Patriots have former Eagles like Dion Lewis, while LeGarrette Blount and Chris Long are going for their 2nd straight championships, doing it for Philly this time. It's a really, really good matchup, no matter what the Max Kellermans of the world say.
Philly and their fans can rock those dog masks all they want, but they're the clear underdog in this matchup. Anytime you're facing the most successful franchise in professional sports in the biggest game of the year, you're gonna get overlooked a bit. Tom Brady is the likely league MVP, Rob Gronkowski is a beast even though he doesn't know where he is, and rooting against Belichick in the Super Bowl is like rooting against the Harlem Globetrotters. The Patriots D is drastically improved from their ugly early form, and they matchup well with Philly even with the number of weapons they have. We'll likely see Stephon Gilmore matchup primarily with Alshon Jeffery, Malcolm Butler on Nelson Agholor, and Patrick Chung attempting to slow down Zach Ertz, all with Devin McCourty ready to provide over-the-top help when needed. Philly's got a strong offensive line, but Matt Patricia has been working tirelessly over the past 2 weeks to develop blitz packages they've never seen before. This defense has needed guys to step up while Dont'a Hightower has been out, and they've gotten a ton of production from what's-his-names like Kyle Van Noy and Ricky Jean Francois. Alan Branch is a force up front, and we've already seen what Trey Flowers can do on this stage. Bottom line, there's a reason this team's been to 3 out of the last 4 Super Bowls. They're deep, they're talented, and they're experienced. Keep the dog masks and shirts, we'll stick with these.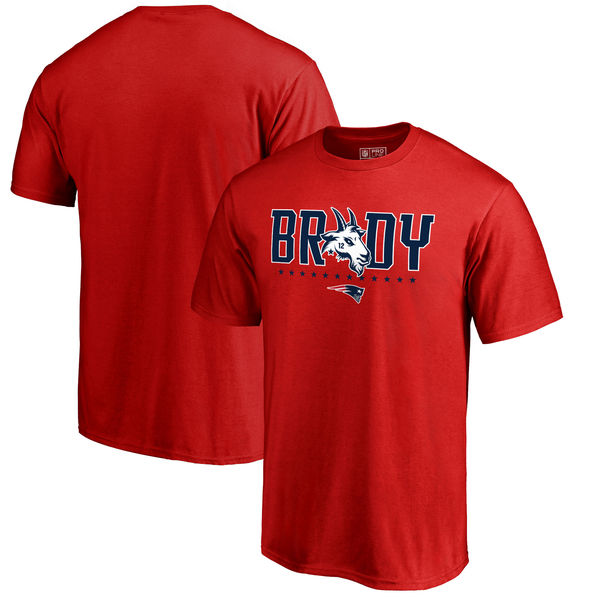 Anyway, I've said enough about the Pats. Actually, I didn't even mention Chris Hogan, Danny Amendola, James White, Brandin Cooks… ok it doesn't matter. I want to get to Philly for a bit. Because I really don't want to give the impression that they're a pushover team and they'll go down without a whimper; that couldn't be further from the truth. For starters, they've brainwashed their boozebag fans into rocking dog masks in the stands, which is ridiculous but I'd be lying if it wasn't downright intimidating. It's a cool thing for a fan base to have, kind of like Bama fans with "Roll Tide": I think it's pretty dumb, but at the same time, I would love to be part of a fan base with something like it. So there's that, but on the field, Philly's got legitimate threats. I've talked about their guys on offense surrounding Foles — Alshon, Agholor, Ertz (my sleeper MVP pick due to how connected he and Foles are) — but there's even more to that offense. You've got a great RB rotation with the bruiser LeGarrette Blount, the quick-footed Corey Clement, and former Pro-Bowler Jay Ajayi, who's kind of a little of both. They run behind a really strong offensive line anchored by Jason Kelce, Travis' brother and arguably the best center in the league. In fact, both teams are pretty well-stocked at the center position.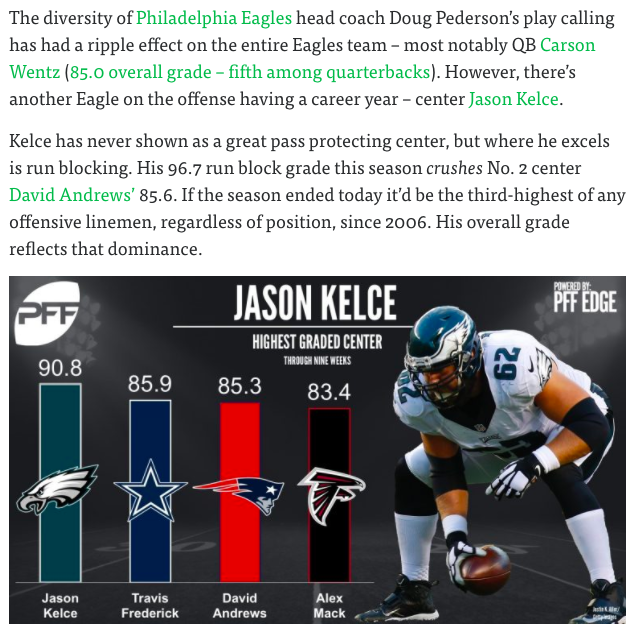 So offensively, the Eagles present a whole lot to handle. Yeah, Foles isn't their regular guy, but you don't give your backup QB $11 million if you don't believe in him, and the Eagles have a ton of faith in Foles. And while his numbers are skewed a bit from his absurd and unrepeatable 2013 season, this from 247sports is an interesting breakdown of both QBs' first 24 starts.
Here are the stats for the two quarterbacks over their first 24 career games:

Foles (2012 to 2014): 15-9 record, 42 TD, 16 INT, 6,288 yards.

Wentz (2016 to Week 8 of 2017): 14-10 record, 35 TD, 19 INT, 5,845 yards.
Now, just like Wentz isn't the QB he was last year, Foles isn't the QB he was in 2013 — although, he's gone the other direction a bit. He's not a gunslinger by any means, but he's accurate, he makes good decisions, and he's about as mobile as they need him to be. With the weapons on that unit, you don't need much more than that.
And defensively, Philly brings the heat, too. CB Ronald Darby allowed a passer rating of just 34.5 when lined up outside press coverage in the regular season, the 3rd best mark in the league. Fellow corner Patrick Robinson allowed a passer rating of 59.1 in the slot this season, which was also 3rd in the league for his category. And staying in the secondary, Jalen Mills has allowed just 0.21 yards per coverage snap in the playoffs, which would go down as the 3rd-best mark for 1 postseason with a minimum of 5 targets. But regardless of how incredibly talented Philly's secondary is, it means nothing if TB12 has all day to throw. The narrative on Brady has always been that you beat him by putting pressure on him, and while that isn't always true, when it comes to Super Bowls it's a good indicator. Check this stat from PFF:
Brady has been to four Super Bowls in the PFF era. In his two victories (Super Bowl XLVIII and Super Bowl LI), Brady faced pressure on less than 32 percent of his dropbacks. In his two losses, he faced pressure on more than 40 percent of his dropbacks. Entering Super Bowl LII, the Eagles' defense are producing pressure on 41.3 percent of their passing snaps.
So while Brady's been the best in football this season by a wide margin when pressured, historically that doesn't continue in the Super Bowl. So who does Philly have that can provide that pressure? There's DE Brandon Graham, whose pass-rush productivity of 11 was 9th out of 68 eligible 4-3 DEs according to PFF. There's Brady's former teammate Chris Long, whose 51 pressures this season were the 7th most among 4-3 DEs. And there's Vinny Curry, whose pass-rushing productivity of 15.3 (11 pressures on 54 pass-rushing snaps) in the postseason is 2nd only to Long's 16.9. You can also factor in that as a team, the Eagles have produced 311 pressures on 753 passing plays (41.3%, including playoffs), while also hitting the RB in the backfield on a league-leading 38.6% of run-defense snaps in the regular season. Despite all this, the Eagles don't blitz all that often — they just have the athleticism to get into their opponents' backfield early and often. If they're able to get constant and consistent pressure on Brady and stifle any Patriots rushing attack, they may just be able to pull this one out. But let's be honest — that's a pretty significant "if".
Ultimately, I can't go against the Patriots here. I just can't do it. They've shown us time and time again that no matter what you throw at them, they'll weather the storm until halftime, make the necessary adjustments on the fly, and stomp out your will to live over the 3rd and 4th quarters. If Philly keeps it close it'll be because the D-line is not only getting pressure on Brady but actually getting him on the turf and forcing him into mistakes, and Nick Foles will be having the game of his life. I just don't see it as a smart bet to hope for both of those things to occur on the same night, and with the spread at under a touchdown, New England is just the safe pick. Brady does what he needs to do, the defense steps up big with a few turnovers, Foles makes guy-playing-in-his-first-Super-Bowl mistakes, and the Pats take it. I was struggling with a score prediction and the over/under, but since I tweeted this in November and needed to get it on the record at some point, this is what I'll stick with.
The Eagles are great and super fun to watch and I can't wait for the Pats to beat them 38-17 in the Super Bowl

— Sean Keegan (@seankeegs16) November 20, 2017
Pats and the over. Good luck everybody.
Pick: New England -4.5, Over 48