Player Stock Ticker
DraftKings Super Bowl Big Game Millionaire Picks and Strategy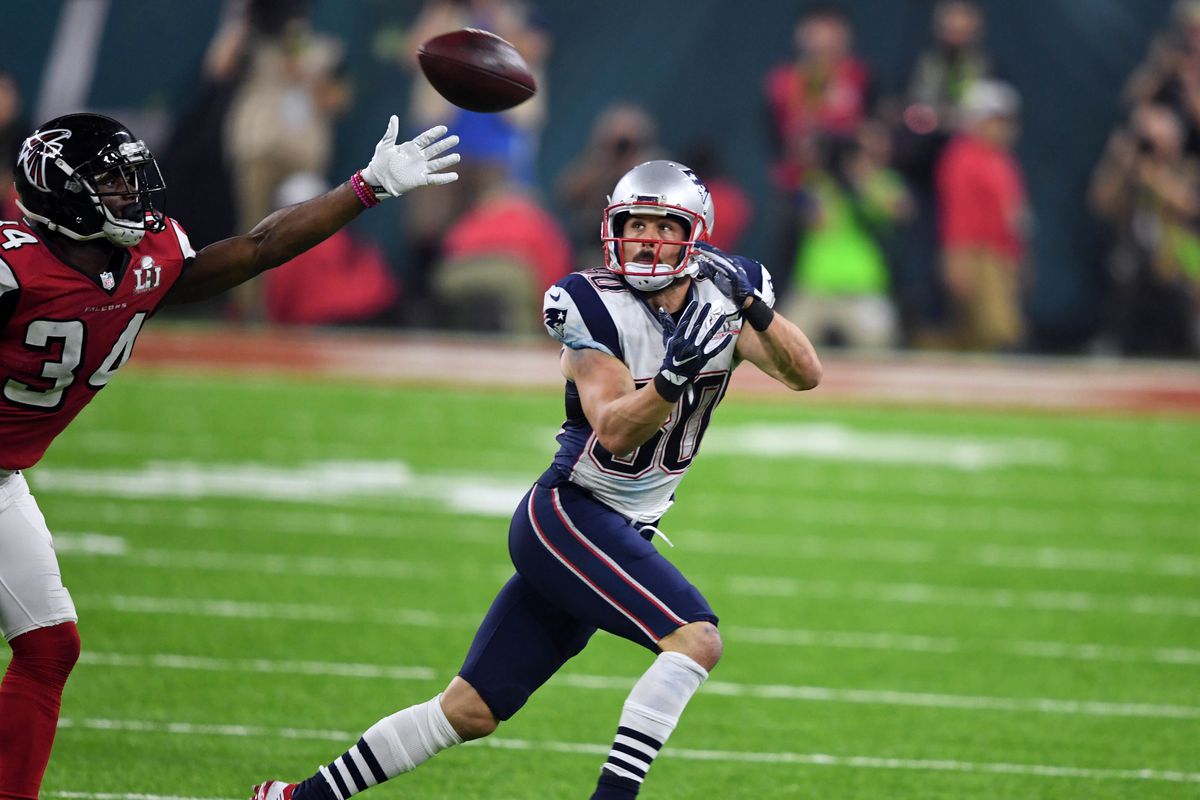 Just when you think you're finally out, DraftKings pulls you right back in for a special Super Bowl Millionaire contest. You might be thinking to yourself, "But there's only two teams. How could they possibly set this up?" Well after looking for myself, it's a pretty clever and interesting slate setup where you choose FOUR offensive players and TWO defensive players. The $50k salary remains the same, but the offensive players have been given quite the salary boost as lineup construction becomes even harder this last time.
The point scoring for the offense remains the same, but now we have to factor in defensive points. They are as follows:
Solo Tackle – 1 point
Assisted tackle – 0.5 points
8+ tackles – 3 point bonus
Interception – 6 points
Forced Fumble – 3 points
Fumble Recovery – 3 points
Sack – 5 points
Pass defended – 1.5 points
Safety – 10 points
Any return score – 6 points
Blocked Kick – 10 points
Offense:
Tom Brady ($15,500) – If there's one guy to build around in a Super Bowl, it starts with Tom Brady. A CRAZY high price that I've never seen before, but completely warranted based on all his postseason success. The Patriots don't win Super Bowls with their rushing attack; it's done through the air and with Brady's arm. Lock in Tom and start building around him.
Danny Amendola ($9,500) – Amendola has been a force in the playoffs, seemingly filling in for the role Julian Edelman left behind. He's been the guy picking up key conversions and making great grabs in the end zone. He should perform well once again.
Zach Ertz ($9,300) – In the Eagles' two playoff games, Ertz has seen the most targets of any pass catcher. Jeffery is the sexier blow up play, but Ertz for less gives you the assured high volume of looks he's going to get for a guy who is basically Nick Foles' #1 option.
Dion Lewis ($8,900) – Lewis made the cut here because his usage in the playoffs is still sky high. 24 carries in the two playoff games, to go with 18 targets and 16 receptions. Tom is looking his way a lot and is looking like James White from last year's Super Bowl against Atlanta. Lewis was normally priced in the high 7k, low 8k range normally in DK so with these offensive salary boosts it's surprising to see his worth remain relatively the same.
Nelson Agholor ($7,400) – He's been quiet in the post season, but Agholor has the skill to put a hurting on New England's secondary. With majority of the attention likely going to Jeffery and Ertz, Agholor can take advantage of his matchup which is likely to be either Malcolm Butler or Eric Rowe.
Torrey Smith ($5,900) – Smith provides great value for Eagles receivers down in his range, as he's seen healthy four and eight targets in the team's two playoff games. He's the big play threat of the offense and can pay off handsomely with a score in the game.
LeGarrette Blount ($5,500) – Blount seems like he's destined to score a bruising goal line touchdown against his former team. He's their top option when down within the ten yard line, as New England effectively shut down long Jacksonville plays only to allow Fournette to score twice from close range.
Defense:
Ronald Darby ($4,900) – Darby has been all over the field in the two playoff games averaging 9.6 DK points, above his 8.6 season average. The Eagles made acquiring him a priority and it's certainly showing with how well he's producing. He's expensive on the defensive end, but you're getting your money's worth with this Eagles DB.
Trey Flowers ($4,600) – Flowers was a stud in last year's Super Bowl and has put up back to back 8 point games in the Patriots playoff run. He's the playmaker on the team's defensive line and is usually good for a key sack when needed or given the opportunity.
Fletcher Cox ($4,500) – On the flip side, Cox is the Eagles defensive lineman keeping me up at night. Fantasy Fullback Dive host Nat "The Truth" Jones labeled him as his pick for MVP in the Super Bowl with good reason as the one likely to get pressure on Brady which would result in an Eagles victory. A Grady Jerrett like performance from Cox would do wonders those who pick him this weekend.
Mychal Kendricks ($4,300) – Kendricks was the Eagles second leading tackler in the 2017 season, and had a big 8 tackle day against the Vikings in the NFC Finals. He's been pretty consistent throughout the playoffs and sports a nice price tag for the LB position. His 17 tackle performance against the Panthers earlier in the year really sticks out when looking at his game log.
Patrick Chung ($3,900) – Chung has been a tackling machine for New England and was brought up to play the middle of the field to take away crossing routes against the Jaguars. He's a great run stopper and can very well get in there to break up a pass if needed. His high tackling numbers make him a great value play.
Patrick Robinson ($3,500) – Robinson lead the Eagles this year in passes defended and interceptions, so with New England likely to throw the ball a lot this game he should have his chances to put up some points. Robinson had the 50 yard pick-six of Case Keenum against the Vikings and would provide huge value if he were to return another one against Brady.
Corey Graham ($2,800) – The Eagles safety had a big game against the Vikings with 5 solo tackles along with an interception. He's got decent tackle numbers throughout the year, of which the second half was stronger than his first. Plus, opposite of the speedster Cooks, there's a solid chance he's back there trying to break up a long ball sent his way.
Eric Rowe ($2,300) – Rowe missed a chunk of the season with injuries, but when playing he's made his presence felt. Five tackles against the Titans and four against the Jaguars along with a pass breakup sports real good numbers for a defensive player just above the minimum price tag. Granted, he kept giving up receptions over the middle leading to those tackles, but beggars can't be choosers here. A few tackles and a pass break up would do wonders for someone only 2.3k.
Need some lineup help? Hit me up on Twitter.