It's no secret that the Super Bowl as we know it has become much, much more than just a football game pinning the AFC and NFC champions against each other. Between the 2 weeks of pregame build-up, National Anthem, halftime show, and the ever-popular but increasingly disappointing commercials (talking to you, Doritos — get it together this year), it's a staple of American culture rivaled only by presidential elections and whatever the hell the Kardashians did this week. And like I've always said, wherever there's something fun going on, there will be degenerates eager to gamble on it.
In my opinion, prop bets may be the most fun part of the Super Bowl. You've got the regulars — what color will the gatorade poured on the winning coach be, over/under of the Anthem, etc. — but the best ones are the ones that change year-to-year. Last year my personal favorite was how many times the broadcast would mention that Chris Hogan played lacrosse; this year, a popular option is the number of times we'll be subject to hearing "Dilly Dilly" over the course of the program. Whatever the prop, it's sure to generate a ton of interest in the betting community — as well as make Vegas a whole bunch of money.
Last year, I came at you with my picks for 19 props for the Big Game and finished a respectable 8-9-2. Among my hits were the under on the Anthem (thanks, LB), a score in the final 2 minutes of the 1st half, and Devonta Freeman outrushing LeGarrette Blount, while I lost on stunners like Lady GaGa rocking blonde hair for the halftime show and whether or not there'd be a special teams/defensive TD. This year, the props are abound, and I'm gunning for a positive record. Let's see what Vegas has in store for us for Super Bowl 52 Prop Bets.

Listen to The Wolf, The Truth, CJay, JimboSlice and myself breakdown a bunch of prop bets on The Fantasy Fullback Dive!
National Anthem Props
Over/Under 2 Minutes
Over -155
Under +115
Like I mentioned, I took the under for Luke Bryan's anthem last year with the over/under set at 2:07. He cut it close, holding the final brave for about 12 excruciating seconds before wrapping up a few seconds under the mark, sealing a W. My reasoning for my pick then was simple — only 1 of the previous 11 Super Bowl anthems had gone over that mark, and it was noted diva Alicia Keys at Super Bowl 47. This year, we're stuck with Pink for the national anthem, and the mark is set at 2 minutes even. It seems low to me, and I'm hammering this over. Pink isn't typically one for brevity, and something tells me she'll want to drag this performance out as long as possible before people inevitably discover that she isn't talented. If country boy LB went over the 2 minute mark last year, there's no doubt in my mind we'll cross that mark again this year.
Pick: Over -150
Pink's Hair Color
White/Blonde -200
Pink/Red +400
Green +400
Blue/Purple +700
Brown/Black +900
As we did with Lady Gaga last year, we've got a ton of options for Pink's hair color for the anthem. In doing my necessary research for this one I've found out that Pink seems to be a bit of an Eagles fan, and for that reason I'm absolutely shocked that Green is such an underdog here, even with the line shifting a bit in recent days, putting it ahead of Blue/Purple and Black/Brown. There are props on whether or not she'll shout out the Eagles before or after her performance, or whether or not she'll wear any Eagles gear during it, yet Philly's far and away primary color is dead last here. Maybe it's because green's a pretty tough hair color to pull off, but it hasn't stopped other performers in the past.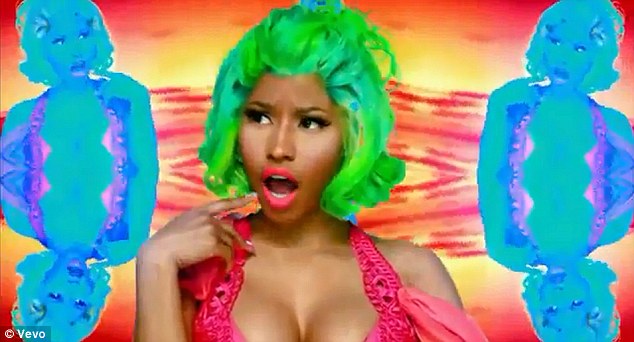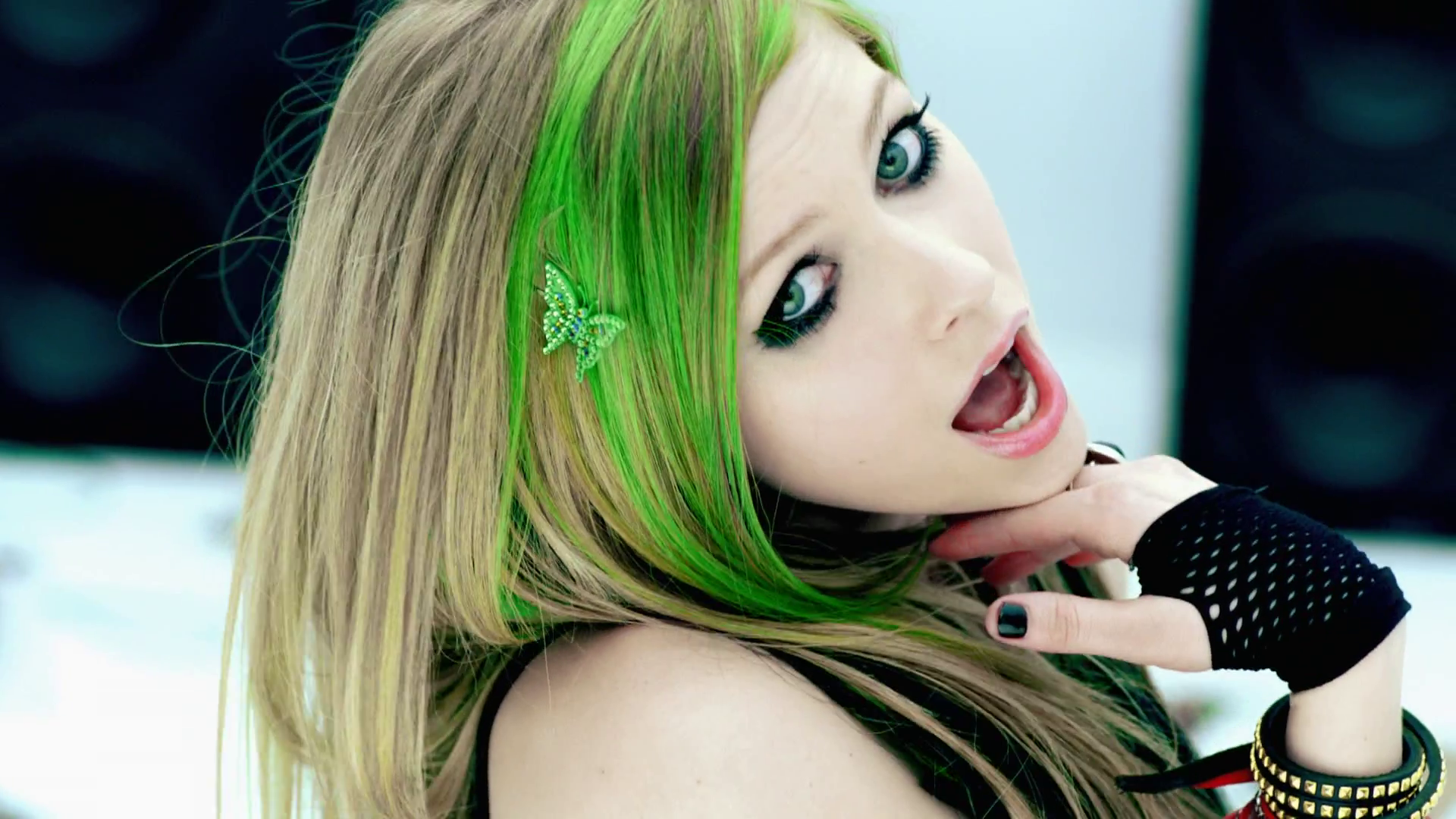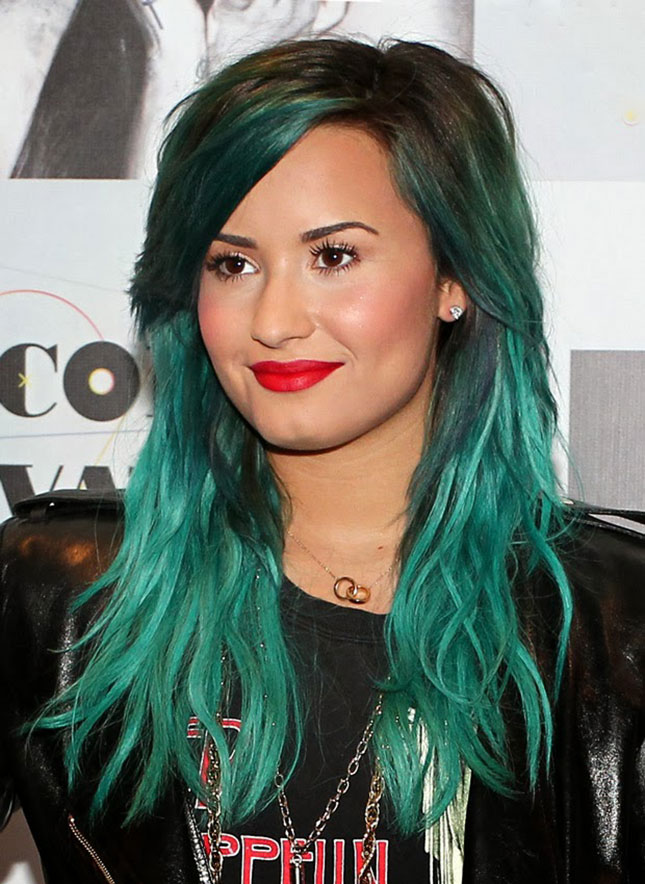 Now, I know what you're thinking: "Good point Keegs, but Demi Lovato's hair is really more of an aquamarine there, don't ya think?" I'll give you teal, but that's the farthest I'll go. Anyway, I love a good underdog story, and I'm thinking Pink will want an interesting way to sport her Eagles fandom while also getting a "Yaaaaaas gurl slaaaaaay" from all the basics on Twitter. So, green it is.
Pick: Green +400
Coin Toss Prop
Heads -105
Tails -105
This one's pretty self-explanatory, so I won't bother to. Both options here — "heads" and "tails", if you aren't familiar — sit at -105. Looking back at the history, the previous 4 Super Bowl tosses have all been tails (aside from the "heads" that started OT last year, but we won't count that), and before that we had a streak of 5 straight heads flips dating back to Super Bowl 43. I've been firmly in the "tails never fails" camp ever since it got me an extra slice of pizza in 2nd grade, so I'll keep my loyalty and stick with what I know.
Pick: Tails -105
Broadcast Props
How many times will "Wardrobe Malfunction" be said during the broadcast? Over/Under 1.5?
Over +300
Under -500
If you weren't aware, the NFL has invited Justin Timberlake back for this year's halftime show. It was 14 years ago now that he "accidentally" tore apart Janet Jackson's shirt, which resulted in a pissed off FCC, an apologetic CBS, and a 10-second delay on live broadcasts that will ruin any chance of a repeat of the incident ever again. Sad. As huge of a story as the original "Nipplegate" was, it was a point of embarrassment both for the network and the NFL. Because of this, I highly doubt we'll hear much about it, never mind the actual phrase "Wardrobe Malfunction", on the broadcast. The over/under is 1.5, and while I think there's a decent chance old Al Michaels slips the phrase in there once just for shits and giggles, I have serious doubts it goes beyond that. With the "over" at +300, I'm playing it safe with the under here.
Pick: Under 1.5 -500
How many clips from Super Bowl 39 will be shown in the broadcast?
Over +150
Under -200
This one's interesting, not just because it's a unique situation that we have a rematch of the Super Bowl from 13 years ago, but because the over/under is set at 2.5. Of course the game will be mentioned, but 3 times? Seems a little steep. Lines have shifted making the under a heavy favorite here, and if I'm wagering money here I'm going safe with the under. I think the game will be mentioned several times, and some clips will be shown, but I'm under the assumption that it'll be one long cutaway showing several plays from that game. If we're talking how many times the broadcast actually cuts away from the current game to show SB39, I'm leaning towards 1, maaayyybe 2, but that's it.
Pick: Under 2.5 -200
How many times will Tom Brady's age be mentioned in the broadcast?
Over -280
Under +185
The over/under for this one is set at 1.5. So… HAMMER THE OVER!!! You kidding me? With Tom vs. Time dropping this past week (great watch btw, check it out if you haven't) and Brady set to become the oldest QB to play in a Super Bowl, beating out himself, Peyton Manning, and John Elway for the mark, his age will be of utmost importance to the guys in the booth. Al Michaels will mention it a whole bunch regardless, but especially if the Pats trail early, that beady little fuck Cris Collinsworth will mention it as often as he possibly can. The over is the favorite here, and for good reason.
Pick: Over 1.5 -280
How many times will Giselle Bundchen be shown on the broadcast?
Over -120
Under -120
In case you aren't aware, Giselle Bundchen is Tom Brady's wife and a certified smokeshow. She's like if Brad Pitt and Carrie Underwood had a baby and injected it with the DNA of whoever the hot Jenner sister is these days (I hear one of them's pregnant, so the other one). Clearly people are gonna wanna see her, and especially if it's a close game (which I'm assuming it will be; this is the Patriots, after all) her reaction to each and every play will be front and center. With equal odds on both, I like the over here.
Pick: Over 1.5 -120
Game Props
Will Nick Foles have a higher QB Rating than Tom Brady?
Yes +150
No -200
This one's kinda tricky because of ESPN's relatively new QBR statistic. While QB Rating is technically called "Passer Rating", QB Rating has become the normalized term for it. It's a semi-confusing system with no real "perfect score" and a pretty complicated algorithm for coming up with the final figure, but ESPN's QBR is much more complicated. It makes no sense, really. Remember last year's Super Bowl? The one where Brady threw for over 450 yards, set every Super Bowl passing record imaginable, and won Super Bowl MVP? Yeah, his QBR that day was a 75.3 out of 100. Huh? QBR factors in things like sacks taken and rushing yards to tell the "whole story" of a QB's performance, but really it just makes great games seem like good ones and good games seem shitty. So if that were our metric here, it'd be a toss-up. But assuming we're sticking with the traditional passer rating here, don't overthink this — it'll be Brady, and probably by a decent margin.
Pick: No -200
Will there be a flea flicker attempt in the game?
Yes +200
No -300
If you needed any more indication that this year's conference championships weren't exactly run of the mill, you can point to the fact that 3 out of 4 teams ran a flea flicker during the 2 games, with Minnesota being the stick in the mud to ruin the perfect 4-for-4 day. I love the flea flicker; not as much as the HB Pass or Fumblerooski, but it's a fun play that adds a fun little dynamic to an otherwise very structured sport. Maybe I'm just spoiled by the fact that the Patriots seem to run at least 1 or 2 flea flickers every season, more often than not to virtual perfection. But since we saw so many last week, and both teams in this game have already exposed that page of their playbook, I don't see a snowball's chance in hell either OC breaks it out this time around. Hard no from me here.
Pick: No -300
Team to Score First in the Game
Patriots -140
Eagles +110
The Patriots are the favorite here at -140, and for the life of me I don't know why. The Patriots seem to thrive off early deficits, and they've found themselves down 7-0 early in both of their playoff victories this season. In fact, throughout their entire dynasty, the Patriots have literally never scored in the 1st quarter of a Super Bowl. I don't see that changing in this matchup, and I'm going with Philly to score first in this one.
Pick: Eagles +110
First score of the game — Exact outcome
Patriots TD +160
Eagles TD +230
Patriots FG +325
Eagles FG +350
Patriots safety +3300
Eagles safety +3300
We've got 6 options for this one: Eagles/Pats TD, Eagles/Pats FG, or Eagles/Pats safety. The favorite is a Patriots touchdown at +155, but I've already told you that I'm going with Philly to score first, so that rules that out as well as Pats FG at +225. Ruling out safeties for obvious reasons (unless you wanna go for it, be my guest), that leaves us with Eagles TD at +225 and Eagles TD at +350. The Falcons started last year's game off with a rushing TD, but they had a much more dynamic offense than Philly's this time around. I'm thinking the Eagles put a decent drive together but stall before the red zone, and Jake Elliot nails one from a decent ways away to take an early 3-0 lead.
Pick: Eagles FG +350
Will there be a score in the final 2 minutes of the 1st half
Yes -300
No +240
Someday, I hope to find a woman who loves me as much as Bill Belichick loves his patented 'Double Score.' Sometime in the last decade or so, that mumbling genius figured out that deferring to the 2nd half, scoring just before halftime, and driving down the field for a score to start the 2nd half is the football equivalent of asking a guy "is it in yet?" Absolutely demoralizing to any opponent. The rest of the football world is starting to catch on to this discovery, which has made late 1st half scores increasingly more common in the modern NFL. And who am I to go against the recent trends? It hit for me last year, and I'm going with a yes here again.
Pick: Yes -300
Total Number of Penalties by both teams (Over/Under 11.5)
Over EVEN
Under -130
With 4 for the Eagles and 1 for New England, these teams combined for just 5 penalties in their respective conference championships. Claim any league-sponsored ref-perpetrated bias all you want, but the bottom line is you don't make it this far if your team isn't disciplined. The over/under for this one is set at 11.5, and personally I think that's pretty high. These are two talented and well-coached teams, and I'm not expecting too many stupid mistakes from either side. I like the under.
Pick: Under 11.5 -130
Super Bowl MVP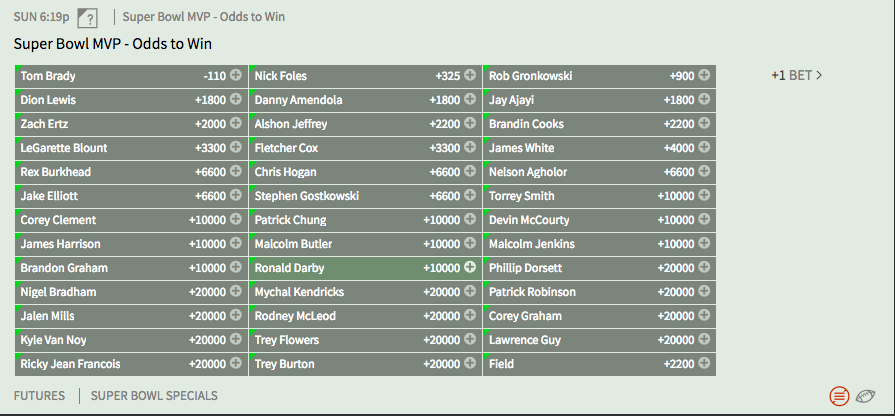 It's not often you see any minus signs in the odds for a prop like this, but that's exactly what we're seeing with Tom Brady coming in at -125. And if we're being honest, it makes sense — the winning team's QB has won Super Bowl MVP honors 7 out of the last 10 times, with 2 LBs and a WR rounding out the other 3. And with the Patriots as the betting favorite, it makes sense that Brady is the MVP favorite. He's the safe pick, sure, but where else can we look? Well, obviously Foles is a safe bet if the Eagles win, but I'm gonna throw out some non-QB picks here, just for the hell of it. For an Eagles win? I like Zach Ertz at +2000. Along with coming off a career year, Ertz has quickly become Foles' go-to guy in the passing game. Most recently he hauled in all 8 of his targets for 93 yards against Minnesota, and he possesses a rare combination of size, quickness, and hands that could make life hell for the Patriots D in this one. He's my money pick if Philly wins. And for the Patriots? Look no further than Danny "Playoff" Amendola at +1800. The man just makes plays when it matters — whether it's last year's Super Bowl (8 for 78 and a TD + a 2-point conversion) or the AFC Championship against Jacksonville (7 for 84 and 2 TDs, including the game-winner), he's got ice in his veins and — perhaps more importantly — Tom Brady's trust. With dynamic guys like Rob Gronkowski and Brandin Cooks to worry about, Philly probably won't be able to give Amendola as much attention as they should, and he could have a huge game in this one. Officially my pick is Brady because I want to be right, but if you want a low-risk, high-reward play for this one, Ertz and DA are my guys.
Pick: Tom Brady -125
Postgame Props
What color liquid will be poured on the winning coach?
Lime/Green/Yellow +225
Orange +300
Red +400
Clear/Water +400
Blue +400
Purple +1000
This prop was a push last year due to the nature of the winning TD not exactly leaving time for a Gatorade pour. Lime/Green/Yellow is the favorite this year at +225, while Orange, which is tied with clear for the most hits all-time on this prop with 4 apiece, comes in right behind at +300. If you're feeling a Philly victory I'd lean toward orange, the go-to flavor historically for NFC victors, but if you're pulling for the Pats and want a longshot I'll suggest blue. It's happened just once in Super Bowl history, but that one time was on New England's sideline after Super Bowl 49. Orange or Yellow are probably safer, but if you wanna get a little risky with this one, I like blue.
Pick: Blue +400
Who will the MVP mention first?
Teammates +200
God +300
City +700
Coach +700
Owner +1000
Family +1600
This is always an interesting one to follow, because it not only depends on who wins but the nature of the game. Teammates is the favorite at +200, which makes sense especially with Tom Brady as the MVP favorite, but what if someone else wins in a dominant performance? Do they go coach? God? Family? I'm sticking with teammates here, with family as a close 2nd and a good value pick at +1600, but you can go any number of ways with this one.
Pick: Teammates +200
****************
And 2,600 words later, here we are. 16 props, ranging from pop star hair to coaches soaked in electrolytes, and even some actual football snuck in there. My official Super Bowl prediction will be dropping later this week, so keep an eye out for that as I look to bounce back from an ATROCIOUS 0-2 showing in the conference championships. Also, I'll be making my much-anticipated podcast debut this week, hopping on the critically acclaimed Fantasy Fullback Dive (presented by the Roto Street Journal) for a roundtable prop bet discussion with The Wolf, The Truth, and Cjay. Should be a great listen, and hopefully I can teach our good little boys a thing or two about the degenerate life. Hope everyone has a great Super Bowl week and, as always, happy betting my friends. If you have any prop bet questions, hit me up on Twitter @Seankeegs16.