Player Stock Ticker
2018 NFL Conference Championship Picks and Predictions
Ok guys…
I've never been an excuse guy, but I gotta give myself something on a technicality here. If you read up on my divisional weekend picks and saw those spreads and checked last weekend's scores, I ended up with another embarrassing 1-3 showing. What you also may have seen, however, is that the NO/MIN line shifted between my writing (which is usually wrapped up Thursday night to be published Friday) and kickoff Sunday afternoon. I had the line at NO +4, which I took, and it closed at NO +5.5. Either way it was looking like NO would cover with a 1-point victory and I'd escape with a 2-2 week. And then as we all know…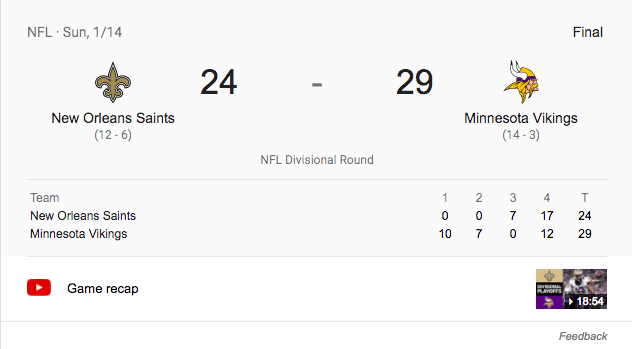 After the pointless extra point fiasco, the Saints ended up covering… for everyone except me. Now, I made the pick on the +4, and I probably shouldn't do this, but I'm taking the W on this one. #SorryNotSorry. So with that, ya boy went 2-2!
Can't remember a crazier betting finish. On Keenum's touchdown:

1. UNDER lost, OVER cashed
2. Saints + the points lost, Vikings cashed (most places)
3. Vikings -5.5 could have cashed w/ the EP, but didn't.
4. Saints ML +190 tickets get burnt.

— Spread Investor (@spreadinvestor) January 15, 2018
I'm definitely not thrilled to be celebrating a .500 week, but after a long layoff and an atrocious Wild Card Weekend, I'll take it. I'm now sitting at 3-4 for the postseason, which means just 1 thing: a perfect championship weekend and a correct Super Bowl pick and I'm back in the green. But now, we're onto the big stuff. Conference Championships. 4 teams remain. 4 QBs remain, combining for 5 Super Bowl rings, 4 Super Bowl MVPs, and 1 Pro Bowl MVP between them. Jags/Patriots, and Vikings/Eagles. The lines are in, the bets are pouring in, and I'm ready to get in on the action. Let's ride.
Jacksonville Jaguars @ New England Patriots (-8); Over/Under 46.5
This #BOATvsGOAT matchup is getting a ton of attention heading into the weekend, and for good reason. The Patriots may be the consensus best team in the AFC and have an All-World QB and TE along with a deep receiving core and backfield, but the Jags have shut down plenty of talented offenses this season with their athletic and well-designed defensive unit. Just ask Pittsburgh, who not only lost to Jacksonville a week ago but also took a 30-9 beating from the Jaguars in Week 5, as the Jags forced 5 INTs and returned 2 for TDs. Sure, we all know Blake Bortles isn't exactly an All-Pro, but that's why this team invested their 1st round pick in Leonard Fournette and invested over $127,000,000 in guys like A.J. Bouye and Calais Campbell to establish one of the most feared defenses we've seen in a decade. They run the ball down your throat, they only pass when the situation absolutely requires it, and they take away everything your offense wants to do. Well, that's what they've done to this point — that being said, this is the Pats at home in January we're talking about here.
As far as this spread goes, I think it's fair. Anywhere from 7-10 I think is reasonable for this matchup. If you think this game is a given for a blowout, you just don't know postseason football. It's going to be a battle for every yard, especially for New England. The Jags have felt ignored and slighted all season long, and especially after Jalen Ramsey's ballsy guarantee earlier this week, that defense is going to come out firing. Regardless, I can't go against the Patriots here.
Anyone who follows me on this I wanna say this first: don't freak out if it's 7-0 Jags early. This is how the Patriots operate: they come out conservative on offense early, not giving anything away and learning what the other defense is going to throw at them. They figure it out a bit more in the 2nd quarter, make adjustments at half, and blow teams away when it matters late. Ramsey is locking up Brandin Cooks? Get ready for some bombs to Chris Hogan. Rob Gronkowski is having trouble getting separation and shaking double teams? Here comes Rex Burkhead and James White catching passes out of the backfield. It may not be instant, and it may not be pretty, but they'll figure it out.
However I won't say the recent news about Tom Brady's hand doesn't concern me at least a little bit. The report on Wednesday was that his hand was run into in practice and an X-Ray showed no structural damage, but the issue led to him wearing a glove over his throwing hand on Thursday — something he rarely does — and being a virtual non-participant in practice. There's actually been a running theory within some people close to the team that Brady's hand ailment could date back as far as the team's Week 5 win over Tampa Bay, and if that's truly the case, it obviously hasn't impacted him too much over the last 3 months. Even with a less than 100% throwing hand Brady is still Brady, the league MVP who doesn't need to be hurling the ball 60 yards downfield to be effective. New England's offense is built around low-risk, high percentage throws that Brady can make in his sleep — he can make them with a banged-up hand, too.
The Jags are a worthy opponent, and not a team that anyone should be looking past in this matchup. But at home, in January, with plenty of time to prepare for anything this young, inexperienced team can throw at them, the Pats will be ready. They'll come out on top to head to Minnesota, and they'll do it by at least 8 points.
And although I don't normally do this, since there's only 2 games this weekend I'll be giving you guys my over/under picks as well. And at 46.5 here, I actually like the over. Consider this: since 2009, the Patriots are 12-6 in the postseason. They're 12-0 when scoring more than 21 points, and 0-6 when scoring 21 or fewer. Defense wins championships, sure, but in New England, offense wins playoff games. Additionally, I really think Fournette is going to have some success moving the chains, especially early. I'm leaning towards something like a 35-17 finish, which would give us our over and then some.
Pick: NE -8; Over 46.5
Minnesota Vikings (-3.5) @ Philadelphia Eagles; Over/Under 39
After last week's win over Atlanta, a game which the Eagles entered as 3-point underdogs at home, Chris Long was seen wearing this mask after the game.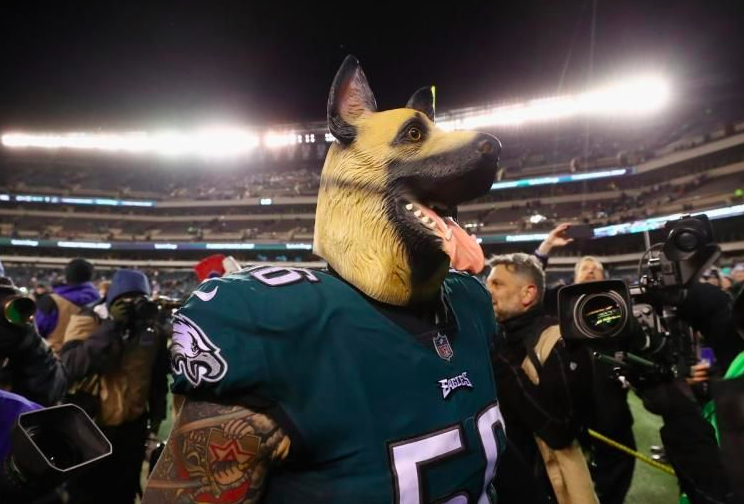 Hilarious and playful, sure, but it also sent a message — this Philly team was listening to the doubters, and they were determined to prove them wrong. They were successful in doing so, and now head into the NFC Title Game with virtually the same spread in front of them. Their response has been to double down, inspiring thousands of Eagles fans to purchase similar 'underdog' masks which they'll undoubtedly be sporting in the stands of the Linc this Sunday. But let's call a spade a spade here — the Eagles are the underdogs, and they very much should be.
I said last week that I think I have more faith in Nick Foles than the average fan, and I meant that. He didn't exactly light up the stat sheet in Philly's win over the Falcons, but he commanded the offense and made throws when he had to. Philadelphia's defense responded and played phenomenally, conceding under 300 yards of total offense and a measly 10 points. But that'll be much more difficult this week against a Vikings offense that has made incredible strides this season and presents some legitimate starpower that most people — myself included — could've never seen coming just a mere 5 months ago.
We'll start at the top: Case Keenum is legit. It felt weird to even say that sentence, but it becomes more and more true with each passing week. Like Foles, Keenum didn't have the game of his life in the divisional round, but with the defense he's got on his side, 25-40 for 318 yards and a TD is plenty. And Keenum's play as the season has progressed has helped fuel huge seasons from Stefon Diggs and Adam Thielen, who both provide difficult matchups for Philly's secondary in very different ways. Diggs has the size and breakaway speed to break off a huge play in a hurry (see: the video above), while Thielen can dink and dunk all the way down the field in an elusive and efficient manner that would give Bill Belichick a half chub any day of the week. Factor in a strong rushing attack with Latavius Murray and Jerrick McKinnon, who combined for 84 yards on 27 carries (3.1 YPC) and 2 TDs against New Orleans, and this offense is about as balanced as they come. Philly won't make anything easy for them, but the Vikes should be able to have some success offensively in this one.
Ultimately I'm expecting a defensive battle in this one, which is why I'm taking the under despite it's current position at just 39. Foles and Keenum will both predictably make mistakes as young, inexperienced QBs in the biggest game of their lives, and points will certainly be at a premium. But the Vikings defense is just too strong, too athletic, and too downright talented for me to think Philly puts up more than maybe a TD or two. It'll be a close one, but 3.5 shouldn't be a problem for the soon-to-be Super Bowl hosts.
Pick: MIN -3.5, Under 39
And there you have it, folks. Pats vs. Vikings in Minnesota for Super Bowl 52. They've seemingly been on a crash course for this matchup since the postseason began, and that's the way I see it shaping out this weekend. As always, hit me up on Twitter if you wanna chat, and while you're at it follow me because I've been sitting between 690 and 699 followers for months now without hitting 700 and it's starting to piss me off. And finally, enjoy this weekend, because it's the last one until September that we'll have multiple meaningful football games on the same day. I know, I just teared up a bit writing that. Don't take it for granted, folks.