Player Stock Ticker
2018 NFL Divisional Round Picks and Predictions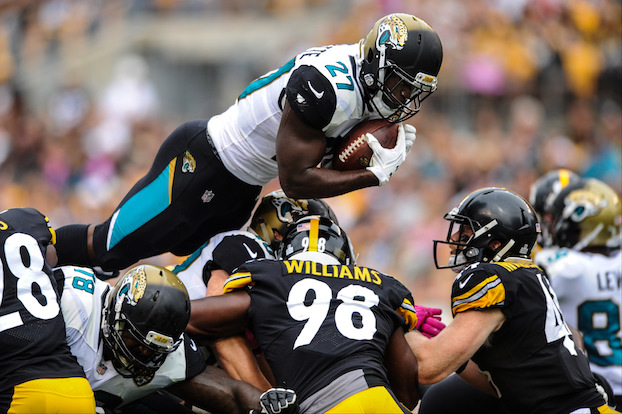 Ok, so about last week…
Let's first address the fact that last weekend, favorites were 0-4 against the spread. Just shows how all over the place the NFL is this year. Lower seeds won outright in both games on Saturday, and were in one score games on Sunday. I went pretty heavy on the favorites, and it resulted in a 1-3 weekend for me. Definitely a little rust on my end, but this week's my chance at redemption. 4 more games, and trips to a conference title game on the line. Let's do it.
Atlanta Falcons (-3) @ Philadelphia Eagles; Over/Under 41.5
It's not very often you see a 6 seed go on the road to face the 1 seed and enter as the favorites, but with Carson Wentz out and Atlanta coming off a huge win over the Rams, that's exactly what we got. I said last week that the Falcons may be the best 6 seed we've ever seen in the NFL playoffs, and they showed that with a 26-13 win in LA. Atlanta was clearly starting to figure themselves out as a team toward the end of the year, winning 3 of 4 to close out the season, and they carried that momentum into Wild Card Weekend. But now, they have to go to Philly and take on an Eagles team that, even without Wentz, could make a run at the NFC title.
Though their young QB was at the base of their success this season, Philly is a complete team capable of winning in the playoffs. Their defense finished 4th overall in yardage allowed and were the best in the league against the run, allowing less than 80 rushing yards per game. Both Devonta Freeman and Tevin Coleman had some success against the Rams, combining for over 100 rushing yards and a TD in the win, but they may have less luck against Philly's stout front 7. Mychal Kendricks had the highest run-stop percentage among Eagles LBs this year at 8.7%, so he'll primarily be called upon to slow down the talented Atlanta backfield. But even when the Falcons struggle on the ground, they have last year's MVP Matt Ryan. Ryan saw a bit of a drop off in his performance this year compared to last, but delivered with a great game against LA, completing 21 of 30 passes for 218 yards and a TD, amassing a passer rating of just over 100. He targeted Julio Jones 10 times, connecting 9 of them for 94 yards and a touchdown, and racked up another 75 yards on 4 receptions by Mohamed Sanu.
Although I think I have more faith in Nick Foles than most people, I think he's the victim of a tough matchup here. If Philly could've opened up at home against a less experienced team like the Rams it could be a different story, but against a talented Atlanta team that's peaking at the right time, I can't put my faith in Foles or Philly.
Pick: ATL -3
Tennessee Titans @ New England Patriots (-14); Over/Under 48
The Titans were able to squeak out a great victory last week, a come from behind win on the road against the Chiefs. Marcus Mariota did it all for 4 quarters and their D came up with a huge stop when it mattered most. They also represented my only correct pick of the weekend, so you know I was real happy for them. And now, their prize is a trip to Foxboro to take on the AFC's #1 overall seed, to whom they're opening up at 2 touchdown underdogs. Hahahahahahahahahaha.
Look, even I, arguably the biggest New England homer on the planet, can agree that a 14-point spread for this game may be a little off base. After all, the Patriots haven't exactly looked incredible in their past few games, and obviously a lot has transpired off the field since they wrapped up the 2017 regular season. But then I look back at last year's divisional round game against Houston, when the Pats entered at 17-point favorites, which many people thought was way too much, and won by 18. They then went to the AFC Championship as 6-point favorites and won by 19, and covered a 3-point Super Bowl spread with a 6-point OT win (I'm sure you heard about it). In fact, I picked the Patriots to cover every single week from Week 14 on last year, and they didn't do me wrong once. So should I be basing this week's pick off of what the team did for me last year? Of course not; but I'm gonna.
Don't get me wrong, a lot more goes into this pick than just that the Pats cover for me all the time. Tom Brady has had 2 full weeks now to rest up and prepare, and especially with ESPN's little hit piece coming out last week he'll have all the motivation he needs to hang a crooked number up early. Chris Hogan is finally off the injury report and expected to make a full return this week, and joins Brandin Cooks, Danny Amendola, and Rob Gronkowski to form an extremely deep group of weapons for Brady. In fact, this week is the healthiest the Patriots have been in some time, and I think they'll show how deep of a team they are when the whole roster is available.
It's a tall task to cover a 14-point spread in the playoffs, but if I'm trusting anybody to do it, it's these boys.
Pick: NE -14
Jacksonville Jaguars @ Pittsburgh Steelers (-7.5); Over/Under 41
I spent a lot of the Jaguars/Bills preview last week talking about how great the Jags D is and how even though their offense isn't great, it won't need to be. Well, even though Jacksonville didn't cover, I still couldn't have been more right. Jacksonville held Buffalo QBs to under an 50% completion rate and 2 INTs, allowing just a field goal on the day in a 10-3 win. But obviously, with the Jags hitting the road now to face the Steelers in Pittsburgh, things will be much different.
Instead of facing Tyrod Taylor (and a little bit of Nathan Peterman), Jacksonville now gets Ben Roethlisberger after 2 weeks of rest. And instead of a banged-up LeSean McCoy, the Jags now have to stop Le'Veon Bell, one of the most gifted runners of this generation. And after facing a Bills team whose leading receiver in their first playoff game since 1999 was their starting RB, they now find themselves up against a receiving core with weapons everywhere you look. Not only is Antonio Brown back from his partially torn calf, but Martavis Bryant and JuJu Smith-Schuster got some great action in his absence and will be ready to make a huge impact on this game if forgotten about. In this one, Jacksonville can't just rely on getting a ton of defensive stops; Pittsburgh is too talented, and they'll end up with a solid amount of points no matter what. If they're going to pull off the upset here, the Jags will have to match Pittsburgh's offensive production — and I just don't think that's going to happen.
Although Blake Bortles had what amounted to a decent statistical regular season, his performance against Buffalo left something to be desired. He completed just 12 passes for 87 yards, actually finishing with more yards on the ground (88) than through the air. Basically, Bortles played like Henry Rowengartner at the end of Rookie of the Year. He realized his arm sucked and wasn't gonna get his team the win, so he improvised, and it worked. But his inability to move the ball down the field could've easily come back to bite the Jags, and he was lucky it didn't. He delivered the only TD of the day, a 1-yard 4th down completion to the backup TE, but all in all it was not a pretty performance. If he plays that poorly again we'll have a blowout on our hands and, unfortunately for Jags fans, that seems like the most likely scenario.
Jacksonville's been a great story this year, but with little going for them offensively and a rested, juggernaut offense on the other sideline, this story seems to be in its final chapter.
Pick: PIT -7.5
New Orleans Saints @ Minnesota Vikings (-4); Over/Under 46.5
If you recall, last week I said the Saints were the team I'd choose from the NFC to make the Super Bowl heading into the playoffs. I still feel that way, but if there's one team I think I'd put right up there with them, it's the Vikings. So that being said, this Sunday matchup in Minnesota should be a phenomenal game, pinning of the league's top offenses against one of its top defenses.
I was obviously frustrated that NO couldn't cover a week ago, but in my opinion the result of that game was never really in doubt. The Saints had the offensive intensity from the start, obviously all starting with Drew Brees, and it felt like they always had the upper hand. Alvin Kamara and Mark Ingram had much less success than just about everybody predicted, combining for just 45 yards on 19 carries, but Brees was able to pick up the slack. He threw for 376 yards and 2 TDs, recording a passer rating above 115 and completing passes to 8 different receivers in the process. Brees turned back the clock a bit to all these year in NO that he didn't have the best rushing attack in football, and he paced the Saints offense throughout the contest. Michael Thomas caught 8 of 9 balls for 131 yards, getting the Saints out of some back-to-the-wall type situations, and Ted Ginn put up 115 yards and a huge touchdown that set the tone early for the remainder of the game. All this came against a Panthers defense that was 7th in terms of yardage this year, but just 18th against the pass — now, versus Minnesota's 2nd-ranked pass defense, it could be a much different story.
If you've got Michael Thomas on your playoff fantasy team, bad news: Xavier Rhodes is going to make your life hell. The 2017 All-Pro has been an expert this year in shutting down teams' top options, and Thomas will likely see a similar fate on Sunday. This will leave a lot more responsibility on guys like Ginn and Brandon Coleman to make plays and stretch the field to allow Ingram and Kamara to work their magic. Minnesota is also notoriously stingy against the run, but after last week's disappointing performance on the ground, I have to think establishing their star RBs early will be high on New Orleans' game plan.
Minnesota's offense has been a bit of an afterthought because of their incredible D, but Case Keenum simply hasn't gotten enough credit for leading this team to a #2 seed and a first-round bye. His backfield was a revolving door all year, with Latavius Murray and Jerrick McKinnon both mixing in great and rough weeks throughout the year, but Keenum performed all year long and paced the #10 scoring offense in football. Both Stefon Diggs and Adam Thielen also owe career years to Keenum, especially Thielen, who finished the year 8th in receptions and 5th in receiving yards. NO's defense isn't a pushover like they've been in the past, however, so the Vikes will need to be in top form to punch their ticket to the NFC Championship.
Ultimately, this game's a really tough one to call. I like New Orleans just a bit more, and even if the Vikings get the win at home, I think it'll be a really close one. Either way, we're looking at the game of the weekend for sure.
Pick: NO +4
Well there you have it, folks. Again just 1 underdog going for me this week, but I'm hoping for a better showing than last weekend. Hit me up on Twitter with any comments/questions/concerns/suggestions/pie recipes, and go kick some ass out there.