Player Stock Ticker
2018 NFL Wild Card Weekend Picks and Predictions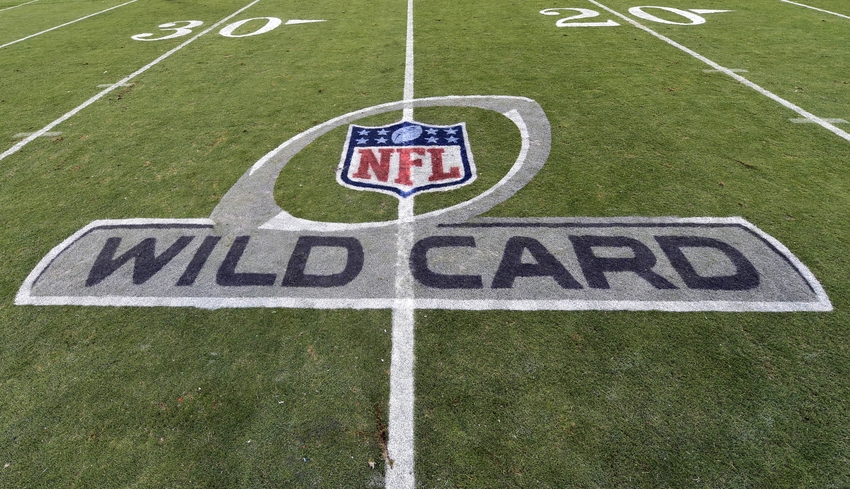 Mmmm, you smell that? Smells like the playoffs, baby.
That's right, the regular season — and fantasy season — is over. I know, I'm bummed too. But you know what? There's still plenty to look forward to. First and foremost, you can still play fantasy football throughout the postseason — with our help, of course. Let's also not forget that we still have over a month of football left, and with the league more wide open than any year in recent memory, this could be a postseason for the ages. But finally, there's one more thing still to look forward to before the NFL season wraps up in Minnesota this February: money!
Yes, it's Keegs and I'm back with my picks against the spread for the playoffs. If you followed along last year you know that I gave my picks from my inaugural week with the RSJ (Week 14) through the Super Bowl, and I finished at about a 65% clip for the year, and hopefully filled the pockets of a handful of loyal readers. This season, I've switched up my tactics a bit, using Vegas spreads to determine which players to start week in and week out. You can look forward to a variation of that coming next season, with more extensive looks at player over/unders and their fantasy implications. But for now, we're getting back to basics.
If you're like me, I'm sure Jimbo's Draftkings selections made you at least a few bucks this season. Well, time to take that money out and make it multiply this postseason. Starting this weekend we're gonna have 10 playoff matchups before the best of the best duke it out in U.S. Bank Stadium. That's 10 chances to get back that money you blew on a Christmas present your mom secretly hated. 10 chances to get back what you spent buying 7 drinks for that girl on New Year's Eve before she went home with your buddy's cousin. 10 chances to make one of the happiest times of the year just a little bit happier. Let's get to it.
Tennessee Titans @ Kansas City Chiefs (-9); Over/Under 44.5
For disclosure purposes I'll say now that I don't remember sending this Tweet, but this was my opinion at 10:30 Sunday night and it hasn't changed:
Chargers deserved to make the playoffs and the Titans very much didn't. I'm upset

— Sean Kenneth Keegan (@seankeegs16) January 1, 2018
I'm really not a Titans hater at all, I had Delanie Walker on a few of my teams this year, and I was looking forward to seeing Marcus Mariota continue to grow as a quarterback this year. But this is a team that lost 3 of 4 to finish the season and may well have been completely out of the playoff picture if they didn't get to play Indianapolis twice. The Chargers were a much more fun team to watch (whether that's because of their talent or because it's fun to watch Phillip Rivers implode I'm not sure) and I was rooting for them to get in. But this is the matchup we've got, and it's the Titans against the AFC West Champion Chiefs.
Things were looking great for the Chiefs early in the year, starting with knocking off the Patriots in Foxboro Week 1. After a scorching 5-0 start in which Alex Smith and Kareem Hunt both looked like MVP candidates, KC dropped off significantly. They went on a 1-6 skid which featured 4 losses to non-playoff teams that finished a combined 23-41 on the year. They managed to rattle off 4 straight W's to finish the year, but not one came against a playoff team and none were particularly convincing wins. So as much as I think there's little chance the Titans pull off this upset, a 9-point spread makes this one very interesting.
The Titans were a pretty average football team across the board, but one area where they stood out was their run defense, which finished 4th in the league in terms of yardage allowed. Kareem Hunt had some strong games to close out the year, but his lackluster middle of the season showed us he's prone to off games, especially when he's not getting a ton of touches. So against a tough unit, I think Hunt could struggle a bit, forcing Alex Smith and his pass catchers to make some plays. With stars like Tyreek Hill and Travis Kelce on the roster that won't be a problem, but if Smith doesn't bring his A game come Saturday afternoon, KC could be in for some trouble. I'm expecting a Chiefs win nonetheless, but I think it could be a bit closer than people think.
Pick: TEN +9
Atlanta Falcons @ Los Angeles Rams (-6); Over/Under 48.5
In my opinion, the AFC and NFC are polar opposites this year. From the AFC, I'd bet my life savings that either the Patriots or Steelers will be in the Super Bowl. Jacksonville's fun and all but they're not beating either of those teams at their place, and neither are the Chiefs, Bills, or Titans. But in the NFC, I could legitimately see all 6 teams making a push for a conference title. Seriously. And that's shown by the fact that the Falcons may be the best postseason 6 seed we've seen. This is a team that's a year removed from an NFC Championship, and a QB that's a year removed from an MVP while leading the top scoring offense in football. Sure they may not have had the same prolific season in 2017, but who's to say this team can't steal a few on the road and make it back to the Super Bowl? Not me, that's for damn sure.
On Atlanta's offense, the most noticeable drop-off in 2017 has been Matt Ryan. Of course some regression from an MVP season is to be expected, but nevertheless we've seen a different Matty Ice this season, despite having virtually the same offensive unit around him. Last season he finished 3rd in football in completion percentage, 2nd in passing yards, 2nd in TDs, and 1st in passer rating at over 117. This year, however, he's 8th in completion percentage, 6th in yards, 17th in TDs, and 15th in passer rating. And while his receivers didn't necessarily falter due to all this — Julio Jones finished 2nd in receiving yards for the 2nd year in a row, while Mohamed Sanu set a career high in receptions — the offense as a whole lacked their explosiveness from a season ago. And that offense faces no easy task in the LA Rams D.
The Rams offense has seemingly gotten all the hype this year, with guys like Jared Goff and Todd Gurley putting behind unimpressive 2016 campaigns to fuel LA's NFC West title. But the Rams defense has been one of the best units in football this season, and it starts with Aaron Donald, who's widely regarded as one of the most talented defensive players in football. He didn't explode off the stat sheet this year with just 8 sacks in 14 games, but his presence alone is enough to send fear through opposing QBs and linemen. ATL's line has done a good job keeping Matt Ryan off the turf this year, allowing just 24 sacks on the year, but they'll have their hands full with the likes of Donald, Alec Ogletree, and Mark Barron.
For this game in particular, Todd Gurley will need to continue making an MVP-style impact, especially through the air. He's been the best receiving RB in football this season, and to find his top performance you don't have to go back too far — Week 16 against the Titans he caught 10 balls for 158 yards and 2 TDs, which he tacked onto another 118 rushing yards to win a lottttt of people their fantasy leagues. Atlanta has athletic linebackers like Deion Jones who can line up against Gurley in man coverage and give him a tough time, but if Gurley can continue being a nuisance in the pass game and draw attention away from LA's other weapons, Goff could feast on the Falcons secondary. I don't expect a blowout by any means, but LA should take care of business.
Pick: LAR -6
Buffalo Bills @ Jacksonville Jaguars (-9); Over/Under 39
For the first time since 1999, the Buffalo Bills find themselves in the postseason. And their fans are… excited.
Honestly, I'm happy for Buffalo. Those fat alcoholics have broken too many tables and suffered too many subsequent concussions to be left out of postseason play year after year. Those fan reactions were so genuine and happy that for a second, you forget that the Bills are a 9-7 team with the 22nd ranked scoring offense in the league going up against one of the best defenses in football.
It feels weird to say, but we've had weeks to come to terms with it — the Jags are legit. Blake Bortles may not be a Pro Bowler just yet, but he had a great 2017, setting a career-high in completion percentage (60.2) and a career-low in INTs (13). Leonard Fournette had himself a great rookie year as well, finishing 2nd to Kareem Hunt among rookies in attempts and yards and leading all rookies with 9 rushing TDs. And while Jacksonville's receiving corps has been missing Allen Robinson all season and has been a revolving door of sorts, guys like Keelan Cole and Dede Westbrook have stepped up big and were a huge part of the reason Jacksonville beat out Tennessee for the AFC South title. But enough is enough — I can sit here and talk about these guys all day, but when it comes to the Jags, it starts on D.
After using a ton of money this offseason to lock up guys like Calais Campbell and A.J. Bouye, the Jags have been a force on D all season long. They led the league in sacks for the majority of the season, with Pittsburgh actually beating them out late to finish 1 ahead, but 55 sacks on the year is still outrageous and both Campbell (14.5) and Yannick Ngakoue (12) are in the top 10 in the league in sacks. The Jags also picked off 21 passes this year, 1 behind Baltimore for tops in the league, and led the league with 8 defensive TDs. Put simply, this defense will suffocate you if you're not firing on all cylinders offensively. And for a Buffalo team with a league-average QB, banged-up star RB, and a lack of explosiveness from most of its pass-catchers, it ain't easy to get all of their cylinders up and running.
I don't necessarily think the Bills are doomed in this matchup, and for the record I think a 9-point spread is a little steep, but there's no way I'm going against the Jags here. Buffalo will be lucky to put 14 points on the board, and I think Bortles and Fournette will do just enough to not only punch a ticket to Pittsburgh, but cover the spread as well.
Pick: JAX -9
Carolina Panthers @ New Orleans Saints (-7); Over/Under 48.5
This Panthers team isn't your parents' 5-seed. This is a team that was a Week 17 win away from clinching the NFC South, and a win + Vikings loss away from clinching the 2-seed and avoiding Wild Card Weekend altogether. They're a well-coached team with a franchise QB, a strong running game, and one of the league's best defenses. And for all that, their prize is… a road matchup against the Saints. Yikes.
Honestly, right now if I were to pick one NFC team to win the conference, I think it'd be New Orleans. Drew Brees has the most postseason experience out of any NFC QB, which we know goes a long way, and he finally has a solid defense. Oh yeah, and the most potent rushing attack in the league. Carolina has been great against the run, but it's a whole other story when you have to stop both Mark Ingram and Alvin Kamara. In the last matchup between these teams in early December, the pair combined for 248 total yards (145 on the ground) and 3 rushing TDs, and that wasn't even their best performance of the year. The Panthers certainly have their work cut out for them.
Now, Carolina's obviously no slouch on offense either. Christian McCaffrey and Jonathan Stewart have been a great backfield duo this season, both bringing separate but important skills to the table. McCaffrey caught more balls than any RB not named Kamara or Le'Veon Bell, and Stewart was able to turn back the clock a bit and put up solid totals of 680 yards and 6 TDs on the ground. Cam Newton had another strong year despite losing his top receiver mid-season, as Devin Funchess was able to step up and carry the burden. Funchess will have a tough matchup with Marshon Lattimore, however, and that'll definitely put a ceiling on his production in this matchup.
Ultimately, there are just too many things going right for New Orleans in this one. They've got the advantage at QB as well as all across the offense, and they boast one of the best home-field advantages in football. It could be a relatively close one, but I think Saints by a TD is a safe bet.
Pick: NO -7
So there we have it: Saints, Jags, Rams, and Titans. Regardless of the outcomes, it's gonna be a great weekend of football, and a great postseason for sure. Hit me up on Twitter if you have any input on my picks, or just wanna chat — I get lonely sometimes. Good luck out there!