Looking for a way to extend the Fantasy Football fun? Of course you are, addict.  Truck through these cold, hollow times by setting up a 2018 NFL Playoffs Fantasy Football League.
While the NFL Playoffs are already among the four best weeks in sports, an added fantasy element can increase the stakes and excitement even more. And who doesn't love more chances to prove your superiority and talk trash among friends? Plus, with sites like MyFantasyLeague offering league hosting; live scoring, organizing and running a Playoffs Fantasy League is easier than ever.
Your pals at the Roto Street Journal have, of course, tried all types of Playoffs Leagues and formats. Below, we outline our favorite set up.
In a nutshell…
Just like regular fantasy football, you draft actual NFL players and score points based on their performance.
Unlike regular fantasy football, you are NOT matched up with a weekly opponent, and instead your goal is to to score the "most total points" over the entire course of the postseason.
As we'll cover in greater depth later, this makes the quality of the team equally, if not more, important than that of the actual player when you're drafting: the more games played, the more chances to rack up points. Thus, the top picks are the highest point-producers with the most games played.
Step One – Find Five Other Addicts 
Six is the ideal league size for the fantasy playoffs.  With only 12 NFL teams to select talent from, playoff fantasy rosters can thin out very fast with more than six owners.
Fewer teams is acceptable, but, just like 12 versus 10 team leagues in regular fantasy, this doesn't require as much skill and carries a JV Stigma.  Plus, the more opponents, the higher payouts and more trash-talking opportunities.  Your regular fantasy league should contain at least five other degenerates to chose from.
Aim for six.
Step Two – Finalize Scoring and Rosters 
In the countless types of NFL Playoff Fantasy Leagues I've played in, the following scoring formats & roster composition is by far my favorite:
Playoff Scoring – We recommend staying consistent your regular season scoring system — 1/2 PPR, 4 Passing TD is my personal favorite.
Rosters –  As alluded to, a talent pool of only 12 NFL teams keeps you starting options very limited.  As such, we recommend the following roster settings:
2 QBs
2 RBs
2 WRs
1 TE
1 Flex (WR / RB)
Note – on MyFantasyLeague, they go step-by-step to help make this "League Set Up" process smooth and easy. I had our Roto Street Journal League set up, the draft time set, and the other owners joined within 15-20 minutes. Here's some screen shots in case this helps:
How to Set Up the League (bottom of League Home Page)

Setting the Rosters to the above format: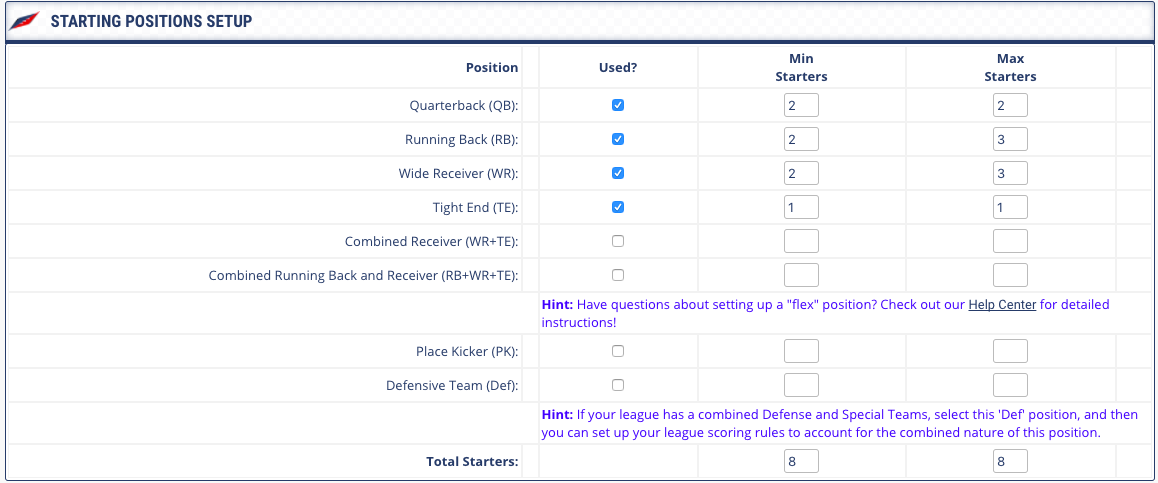 Setting the Customized Scoring:

Note – please reach out if you are having any trouble navigating MyFantasyLeague or want any help at all. We will take care of any issues just to spread the joy of NFL Playoffs Fantasy even further.
***Step Three – Map Out The Playoffs for Games Played***
As we mentioned at the top, your players can score for as many games as their team's last.  Thus, it's crucial to project the amount of "Games Played" and draft accordingly.
For example, I might like Julio Jones as an individual, game-by-game talent over, say, Robert Woods. However, if I think the Rams are going on a 4-game run to the Super Bowl and the Falcons are one-and-done, I'll rank Woods higher because his production in four games should be worth far more than one from Julio.
It's important to actually map out the action round-by-round to maximize these potential games-played, too, to avoid loading up on early-opponents. Even if Carolina and New Orleans both have the upside to go on four game runs, I'm not going to take any Panthers if I've selected Drew Brees and committed to the Saints. Similarly, if draft flow lands me Cam Newton (even though I'd prefer the Saints), I'll now avoid Michael Thomas, Alvin Kamara, etc. to maximize this particular team's ceiling.
Here, I breakdown my "Team Rankings" and projections more in-depth, but here's a quick snapshot of how I think the playoffs will unfold: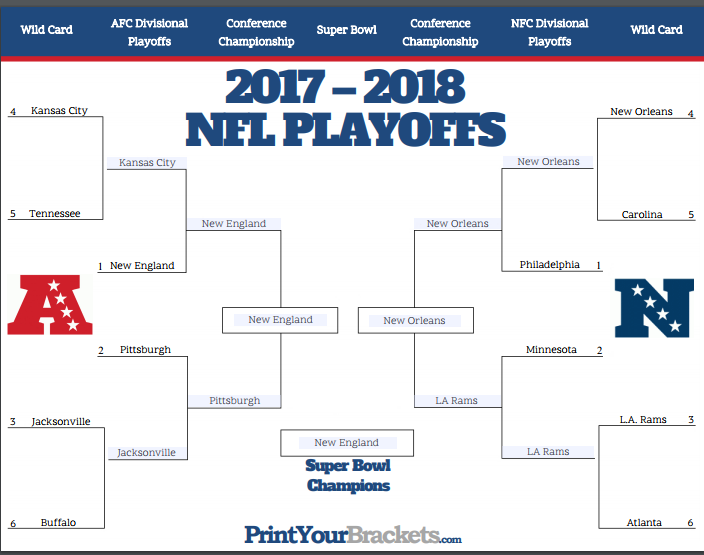 In this scenario, I think the Patriots are the safest bet of any team for three games. Meanwhile, the highest upside options to me are the Rams and Saints, who have explosive talent and genuine four game ceilings.
Step Four – Rank Your Players Accordingly
Now that you have potential games played at the forefront of your mind, it's time to make your Player Rankings. I recommend doing each positional set first, before combining them into one Big Board — this way you can see where the drop offs happen and adjust accordingly.
Historically, QBs that lead Super Bowl runs have been the anchors of NFL Playoffs Fantasy championship squads, especially in 2 – QB Leagues (our recommendation). This seems obvious — QBs typically score the most points, so getting multiple games of this position is obviously invaluable.
This year, however, features so many high upside skill players on teams that could go on Super Bowl runs, and your ranking process will need to adjust accordingly: For example, oint factories like Todd Gurley and Alvin Kamara could provide massive edges if their teams achieve 3-4 game runs.
In short, with a powder keg of explosive fantasy talent, 2017's rankings will be both far more exciting and difficult to sort through. Here's my first draft of rankings (with player notes being added throughout the day).
Step Five – Draft
Snake format. You don't need an explanation. We'll have an RSJ Experts Draft for your viewing pleasure, but two quick rules.
Rule 1: Pick an AFC and NFC horse and draft accordingly**
Once you draft your foundation players in Round 1 and 2, you'll want to build a team that complements these anchors. This means drafting from teams that don't project as immediate or near-future opponents.
You might, for example, pick sixth and your top three QB options are taken.  If you're now forced into Cam Newton, don't suddenly draft Michael Thomas in Round Two, as your going to lose one automatically in the Wildcard Round.
**Note – while I almost always go with a team from each conference, I could see targeting both Rams and Saints as a viable strategy, since they wouldn't see each other until the NFC Championship and you'd get 3 games of each plus a fourth if this ends up being the matchup.
Rule 2: Trust your gut 
As is true in any regular draft, follow your immediate instincts. If you feel the Chiefs could go on a historic run and knock off the Patriots at home again, Alex Smith, Kareem Hunt, and Tyreek Hill would be heroes for NFL Playoffs Fantasy Owners.
Step Six – Track Your Scoring & Have Fun
Again, we recommend using MyFantasyLeague to host your leagues. They'll do all the book-keeping and offer Live Scoring, as if you were on your regular-season league. We can help make spreadsheets and/or offer scoring recaps for those more old school folks.
But most importantly, have fun. Make a side bet or two. Talk aggressive, soul-shredding trash. You've only got four weeks of football left. Mine as well squeeze every last fantasy drop out.
Check out The Wolf's Big Board and positional rankings and the Team Rankings to help you draft.