Player Stock Ticker
Fantasy Football Week 16: Sneaky Saturday Stashes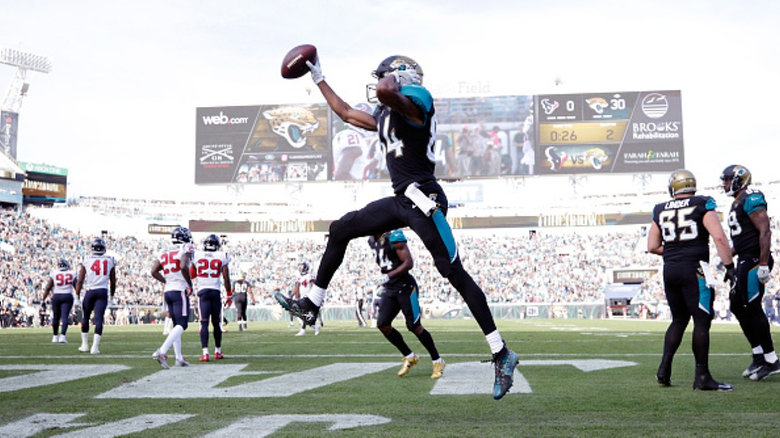 They grow up so fast, don't they? I remember when Sneaky Saturday Stashes was in its infancy. It was just a young, inexperienced article trying to figure out its place in the fantasy world. Gradually maturing week by week, wanting nothing more than to inform the people of the wonderful stashes that were to be had if only they administer a bit of sneakiness. Now I sit down on a Friday evening to detail the final stashes of the 2017 fantasy season. What a trip.
As I've mentioned the past couple of weeks, the stashes are hard to come by this time of year. By this point in the season the majority of the league's cream has risen to the top. There are very few remaining secrets and most untapped potential has been put to use. But fear not weary fantasy owners. I have sifted through the rubbish to find a handful of useful prospects.
Whether you are honing in on a championship title or trying to avoid the excruciating torment of a last place finish, week seventeen should be treated with as much diligence as any other. Rather than gambling your fortune on the waiver wire, stash valuable assets away at the end of your bench today.
Availability percentages are based on ESPN.com. This article excludes players who are available in less than 40% of leagues.
Tyrod Taylor – QB – Bills
Availability – 58.8% of Leagues
If you are one to stream your QB's, or just aren't a fan of your normal starter's matchup next week, consider Taylor. The veteran is coming off his second-best performance of the year, throwing for 224 yards and a touchdown, while adding another 42 yards and a score with his legs against Miami. Taylor will face that same Dolphin defense again next week in South Beach. This could be a rare instance where playing on the road could actually benefit a player, as we all saw how damning Buffalo's conditions can be for an offense this time of year.
Keelan Cole – WR – Jaguars
Availability – 70.9% of Leagues
Get to know Keelan Cole. The undrafted rookie out of Kentucky Wesleyan has racked up 334 yards in the past three games while scoring a touchdown in each. Also, his birthday falls on 4/20 but that is far less useful information. The 24 year-old has been thrust into extensive playing time due to a plague of injuries to Jaguar receivers. Though Jacksonville still has a first-round bye to play for next week, Marqise Lee is likely to rest his injured ankle, leaving the door open for Cole's hot streak to continue. Next week the Jags face Tennessee, who has given up the eleventh (standard) and ninth (PPR) most fantasy points to opposing receivers.
Kansas City Chiefs – Available in 41.3% of Leagues
Despite Trevor Siemian's pathetic performance this year, neither Brock Osweiler nor Paxton Lynch was able to unseat the former seventh-rounder. However, with Siemian now on IR, one of those two underachievers will get the start next week against the Chiefs. Kansas City's defense seems to be coming together at the right time, as the unit has allowed just 28 points while forcing seven takeaways over the past two games.
Washington – Available in 63.3% of Leagues
Jay Gruden's squad got to the quarterback five times last week, limiting Arizona to just fifteen points. While tomorrow's matchup with the recently mentioned Broncos is enticing, next week's trip to New York is promising as well. The Giants have scored the third-fewest points (16.3 PPG) in the league and have accumulated the ninth-fewest yards (311 YPG).