Player Stock Ticker
The Case for Dak Prescott in Week 16 and Matt Kelley's other major mistake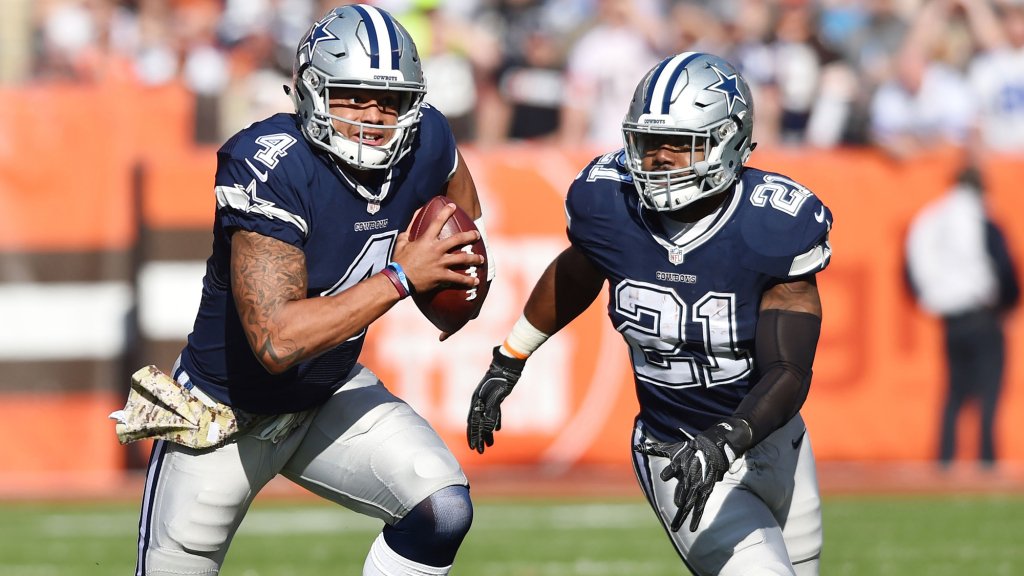 I'll preface this mini-rant by saying I have no personal ties to Dak Prescott in either of my Week 16 Championship Matches. As of Thursday, he was my lowly QB14 — ideally, not even a starter.
However, questions began pouring in — "Do I start Dak over Foles (or Goff, or Smith, or Winston) with Zeke now in the lineup?!" My initial replies were almost always negative. No! He's sucked for five weeks straight! An RB, even with Zeke's talent, isn't that important!
But, as Dak continued emerging as the Burning Question of Week 16, the matter deserved analysis beyond my (ample) gut.  Thus, I dug. Just how much better was Dak with Zeke in the lineup?
The numbers were far higher than I expected:
#Cowboys' Dak Prescott's splits w/ and w/o Zeke:

Wks 1-9 (Bye 8): 172.2 FPs (4th), 21.5 PPG (T3), Top-12 QB in 6/8 Wks, under 17 FPs just once

Wks 10-15 (no Zeke): 70.4 FPs (22nd), 11.7 PPG (35), QB20 or lower in 4/6 weeks, above QB15 just once

Seem Different?#FantasyFootball

— Wolf of Roto Street (@RotoStreetWolf) December 21, 2017
Appropriately, many replies pointed out LT Tyron Smith's injury and the major role this played — a crucial factor, no doubt (we'll dive in deeper later). Yet, one particular troll (with an underlying purpose of promoting his pod), really wanted to lay down the gauntlet: Roto Underworld's Matt Kelley.
Below is our exchange thus far. The overflowing, prick-ridden gasoline to my previously non existent Dak Prescott fire. The sole reason for this impromptu post: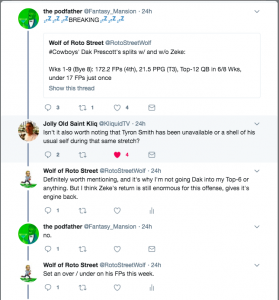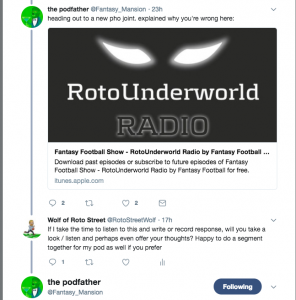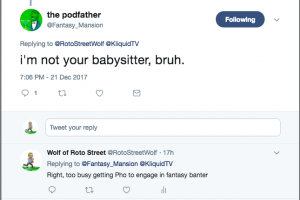 Well, "Podfather" (cool, unique title man!), I've taken the bait. Someone this douchey had to be proven wrong. Thus, I listened to the 30 minutes spew from your twerpy mouth.
Surprisingly, I agreed with around 80% of your theory and philosophy.
Kelley's main point: Loose, oversimplified, and unjustified "cause and effect" connections, aka "Correlation Traps," can make for the worst kind of fantasy analysis. They don't consider the holistic situation, and can lead owners down a path of deception where many important fantasy stones are left unturned.
No disagreement here.
In fact, I developed the "Fantasy Stock Formula" as a way of considering ALL relevant fantasy angles for talent evaluation: Talent, Opportunity, Surrounding Talent, Coaching Scheme (yes, it definitely matters), and Risk.
Still, even if Kelley's foundation was properly laid, many of the points he built from here were incorrect and misleading. Let's dive into the two most crucial ones:
Wrong Take #1: "RBs of Zeke's Talent Still Don't Matter for QBs"
I'm sure Kelley can whip out a million + 1 advanced analytics and historical anecdotes about why RBs don't matter. For about 85% of cases, I'd likely agree — I'm a Pats fan and, from Jonas Gray to Benjarvus Green-Ellis to now Dion Lewis, it's been a revolving door with one common theme: success. Generally, the RB position is one where late or undrafted talent can come in and succeed at far higher rates than others.
Still, Zeke is a completely different beast. History and pure numbers don't apply here. This is a generational talent, and his impact is far greater than just "success." It's game-changing.
I don't care if "stacked box percentages with left shoelace untied" suggests Zeke didn't "change" the way defenses approached the Cowboys. Coordinators and players 100% scheme for and defend Dallas completely differently with Zeke behind Dak. Anyone who mediocrely understands game-planning and talent can recognize the innumerable ways Zeke stresses a defense.
His steadiness, and constant "chunk gains" are an engine through which this team runs — it's not a coincidence they averaged 28.25 points and 370.5 total yards per game with Zeke, compared to 18.33 points and 294 yards without. Far more favorable 3rd down distances and sustained drives. Opened up vertical passing game opportunities. Give me the "advanced stats" all you want, but anyone with eyeballs can see that this offense's complexion is completely different with 21 back there.
Again, Zeke = engine.
He is this offense's top weapon, Dak included. Can any offense and its pieces sustain the same fantasy success when the top chain-moving factor is removed? Rarely.
Yes, Tyron Smith's late injury and minimized effectiveness undoubtedly factored into these splits here, as did many others. The left tackle is ABSURDLY important for an offense, no doubt. I'm by no means suggesting Zeke is the lone "cause and effect" factor here.
But nearly 10 points and 100 yards more of production is no coincidence. Zeke 1000% changes the way this offense moves, scores, and the way defenses play them. All of that significantly increases Dak's fantasy ceiling, and there's no coincidence he was a QB1 (top-12) in 75% of his 8 games with his star tailback, versus just 17% (1/6) in his six without. That sample size is convincing enough.
Certain players warrant looking past historical trends and wholesale stat application. Ezekiel Elliott is undoubtedly one of those talents.
Wrong Take #2: "Talent + Opportunity are all that's needed"
Beyond dismissing Zeke as a true difference-maker and gamer changer, Kelley vastly underestimates the importance of "outside factors" on fantasy success. Chiefly, Coaching Scheme and (Zeke-wise) Surrounding Talent. (Granted, this portion has less to do with the Dak debate, and more why I can't subscribe to Kelley and his overarching thesis in general).
In his eyes, Talent and Opportunity remain the lone drivers of fantasy success. Yes, he acknowledges offensive line play as important, but still consistently drives home "the individual player and his opportunity" theory.
Yet, if this is the case, why was Todd Gurley so horrendous in 2016? Surely, the talent was still there. And his 278 carries ranked 5th in the league. Why then was he only 17th in rushing and among the most disastrous top-5 fantasy investments in recent memory?
Because play calling does matter. The Surrounding talent is crucial. Both for how much opportunity a player receives, and the effectiveness of said volume.
Sean McVay is on the sideline with a clipboard and headset! He's not influencing fantasy production! Coaches have minimal impact and this type of analysis is blasphemy!"
Awful. This insultingly minimizes the major role a coach can play in fantasy success. Some play callers ride three-down horses out of the backfield, others prefer committees. Many will funnel looks to the top target, whereas others run unpredictable schemes.
Of course, different personnel dictate different usages. Even still, beyond usage tendencies and trends, some coaches are clearly more creative and cutting edge than others, and are far better at exploiting defenses and creating mismatches. How is this "ancillary?"
Simply put, discounting a coach's impact for fantasy success is ludicrous.
Consider McVay, the coach Kelley chooses to breakdown. "The Podfather" goes as far as saying McVay's impact is negligible, and that Jeff Fisher is underrated and doesn't deserve his criticism.
Rather, the Rams' historic offensive turnaround, he claims, was because they stabilized the line and added WR talent (funny, acknowledging the importance of Surrounding Talent in statistical success after completely dismissing Zeke as a difference maker…)
Of course the added pieces played a major role. But how about the fact that McVay has completely revolutionized how the team uses audibles, rushing his team to the line to maximize his 15 seconds of communication:
The Rams are getting to the line quickly so Sean McVay can tell Jared Goff which audibles to call https://t.co/9igbhUkkkC

— ProFootballTalk (@ProFootballTalk) November 27, 2017
No, Goff would've done just as well reading defenses and achieved the same exact statistical success with Fisher at the helm. McVay has minimal to do with this, and surely if we asked Goff, he'd say there's been no difference here.
Moving away from the passing game, McVay clearly has had NO impact on Gurley's turnaround from megabust to current No.1 RB in fantasy. None at all – this was bound to happen with Fisher so long as Andrew Whitworth was added at LT.
Right. Under Fisher, Gurley TOTALLY would have been on pace for more Year 3 receptions than his previous two seasons combined. McVay's philosophical mission of "marrying the running and receiving game"  played NO factor whatsoever, right? It was Cooper Kupp and Robert Woods' addition, surely!
Please.
For someone babbling about "Correlation Traps" and taking a holistic view to fantasy success, Kelley seems pretty hypocritical, short-sighted, and flat out incorrect, in dismissing the coaching factor.
Granted, none of this is leading to an in-depth breakdown of Scott Linehan and the Cowboys' scheme (though hell have a far greater playbook at his disposal with Zeke involved). It's more to question Kelley's validity at even providing the "holistic views" he claims we are all ignoring.
Conclusion
No, Zeke's removal was not the sole reason for Dak's latest nightmarish stretch in fantasy. Nor will the RB's reinsertion be a sudden "Restore Top-4 Value Remedy" either.
Still, you'd have to be blind to not recognize how impactful Elliott is when on a football field. Apparently, overanalysis has rendered Matt Kelley sightless. His inability to recognize the importance of a coach — and attempting to illustrate this blasphemous point with Sean McVay of all people — highlights his lunacy.
Thus, I am confident Dak will regain Top-10 status with his stud back's return. The Seahawks have been crumbling since losing Richard Sherman and Kam Chancellor, and the methodical Cowboys run game will wear them down even further. I expect Dez Bryant to shake free from this suddenly vulnerable secondary (6th most FPs to WRs), while this Cowboys visits the red zone far more often than their past five. Even with a hampered Tyron Smith (or none at all), Dak will be rejuvenated alongside this entire attack. The real life stakes are high, and I expect a back-and-forth scorefest between these two attacks, with Dak topping 20 FPs in the process.