All the countless pre-draft hours researching. Every claw and scratch on the Waiver Wire. Each jackpot-hitting stream and devastating blown Sit / Start.  Each Blowout of the Week delivered or received. Every time you scored the second most points and lost, or put up a dud and narrowly squeaked by. Yes, the highest highs and lowest lows that come with dancing with this cruel but oh-so-sexy mistress named Fantasy Football?
They all come to a head here: Week 16, Championship Week (Note: if you go through 17, your eyes are not welcome here).
Regardless of where your record, FAAB $$, Waiver Priority, and/or total points sit, you're a true Wolf if you've made it this far. Now, you should have only two objectives:
Rolling out the best damn possible lineup
Preventing your opponent from doing the same
By Week 16, nothing else matters. Not your handcuff. Not your lottery ticket that never hit. Your 10 Starters and those of your opponent are all that matter now.
Though not much exists on the Waiver Wire at this stage of the game, a few players linger that could actually swing fantasy fortunes this week. Even if you're just blocking the enemy (scout his roster for any holes he might be filling this week), check that these five names are rostered heading into your championship week:
Top Seven Week 16 Waiver Wire Pickups
First Check: Blake Bortles (QB – JAX, 54%); Martavis Bryant (WR – PIT, 56%), Randall Cobb (WR – GB, 53%)* if Aaron Rodgers plays.
1. Mike Wallace (WR – BAL, 40%)
Stat Line: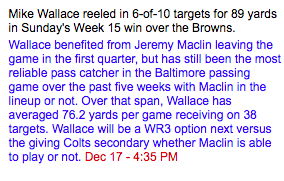 Week 16 Matchup = vs. IND (7th Most FPs)
Breakdown:
Though many will rightfully turn to Jacksonville for their WR or Flex needs, I'm listing Wallace atop my Week 16 Waiver Wire options. Whereas the true top Jags wideout may be tough to discern, Wallace has notched a team-high 34 targets in his past 5 while leading the team in receiving yardage in each of those contests.
Plus, along with this steady floor comes an equally high ceiling against a hapless Indianapolis secondary who's especially susceptible deep. Wallace's ceiling is similar as well. This is especially true with Jeremy Maclin expected to sit out, creating 10+ target upside for Wallace in a very juicy spot. If I'm an underdog and need an explosion, I'd likely go harder at Jacksonville, but the ceiling / floor combination of Wallace appeals to me more in most situations during this must-win contest.
2. Dede Westbrook (WR – JAX, 44%) and 3. Keelan Cole (WR – JAX, 5%) 
Stat Line: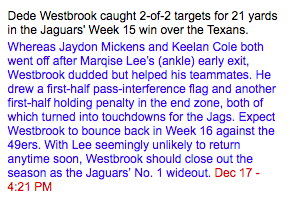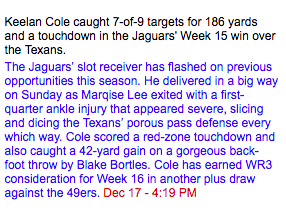 Week 16 Matchup = @ SF (14th Most FPs) 
Breakdown:
In a sentence I never foresaw myself typing (when not in London, at least), all fantasy ships rise on the arm of Blake Bortles.
In all seriousness, the strong armed signal caller has been slinging it all over the place, especially as of late with 22, 25, 18, and 25 FPs in his last four contests (326 yards and 3 TDs last Sunday).  Meanwhile, Marquise Lee's sprained ankle may not shelve him long, but he's not expected to play in Week 15, opening up a significant target share in this exploding aerial attack.
How that work will be distributed, however, remains the major question mark. After leading the team in targets and yardage over the past 3 weeks, Dede Westbrook entered Sunday as the seemingly clear No.1. Yet, he was out targeted and outperformed by both the rapidly ascending Keelan Cole  (7-186-TD) and, in an inspiring story, a guy who literally went from sleeping in his car to scoring 2 TDs in Jaydon Mickens (4 – 61 – 2 TDs).
The initial guess would be Westbrook makes the top play here, and he should be viewed as the highest floor option. Yet, if I'm needing upside, Cole has now scored in three straight weeks, notching 12, 17, and 28 over his last three. Working in his favor, Cole has played primarily in the slot, an area SF has been horrendous against all season.
Regardless, I'd like to own both guys, if for no other reason than to block my opponent from a potential huge upside flex play.
4. Nick Foles (QB – PHI, 27%)
Stat Line: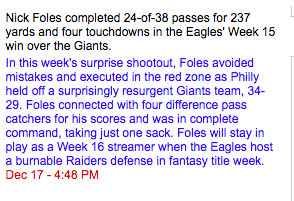 Week 16 Matchup = vs. OAK (9th Most FPs)
Breakdown: 
Talk about a prediction going near perfect:  The Eggplant proved we were indeed correct in calling him the second best QB stream of the week (behind Blake Bortles), doing so in the exact expected manner: not a ton of yards (237), but oodles of scoring (4 TDs).
Indeed, Foles has proven he's a more-than-competent QB when not ramshackled by a Jeff Fisher offense. Just like Case Keenum and Jared Goff have shined in new schemes, Foles has performed well whenever outside of the Rams' Torture Chamber (260 yds, 1.75 TDs to go with a 17-9 record as a starter).
With a beastly line and fantastic weapons cabinet, Foles finds himself in arguably the best surrounding situation for serious stats. The matchup versus the 9th most generous Oakland secondary certainly is far from alarming, meaning the Marilyn Manson clone should be set for another strong steam in Week 16.
5. Kerwynn Williams (RB – ARI, 35%) 
Stat Line: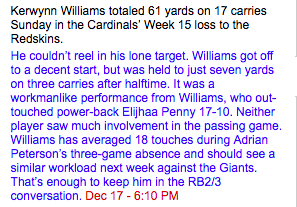 Week 16 Matchup = vs. NYG (3rd Most FPs)
Breakdown:
Let's get the obvious negative out of the way: Williams' has a serious case of "The Plods."
Even still, heavy volume + a soft matchup = the antidote to talentless woes. Williams has both coming in spades. Since AP went down, Williams has averaged 18 touches per contest. Meanwhile, the Giants don't field an NFL defense and have surrendered the 3rd most FPs to RBs on the season. 15+ touches against this pathetic front-7 is a near guarantee for double digit FPs.
The only concern here is Williams' health. He left Week 15 early with a quad injury, and could be at risk for a limited role, if not a complete absence. Ideally, we'll know more by the time waivers lock, but Williams makes for a strong stash, at minimum, given his current situation.
6. Peyton Barber (RB – TB, 33%) 
Stat Line: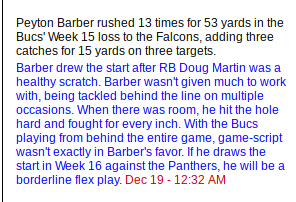 Week 16 Matchup = vs. CAR (28th Most FPs)
Breakdown:
Barber might not bring much flash, but he's a hard-nosed grinder who seems to be constantly moving forward. Despite a costly red zone turnover, Barber was not pulled in this contest, showing the team's faith in him. The team appears set on at least seeing what Barber can bring down the stretch here, and Doug Martin's healthy scratch only cements Barber's path to volume. The matchup isn't great versus Carolina, but Barber could stumble his way into the end zone here.
7. Chicago Defense (25%) vs. CLE 
Breakdown: 
This one shouldn't require much of an explanation. The Browns are among the worst team's in NFL history. They enjoy completing more passes to the opposing defense than their own WRs, and seem to gift wrap a D/ST score nearly every week. The local Nursing Home's Second String defense would make a fantastic stream here.
So of course Chicago is the stream of the week. For one, they've played fairly well on defense as of late, and are significantly better at home. They also offer TD upside with Tarik Cohen's explosive special teams skillset. No one would be surprised to see him bust off a kick off or punt return here. Whether you start them or not, the Bears offer 20+ FP upside this week, and cannot be left for the plucking.
Shocker Special
Mike Gillislee (RB – NE, 27%)
How Gillislee is even 27% owned blows my mind after he's been a healthy scratch for six straight weeks. Yet, everything in my gut screams this guy will score multiple times. Granted, there's no guarantee he's even activated, and relying on him is probably impossible to stomach with the championship on the line, but hear me out.
1) It's the most Patriots thing ever to have their nobody back explode out of nowhere to end a season. We saw Jonas Gray and, before he was a mainstay, a traded-for LeGarrette Blount do so in recent years. Gillislee will keep the time-honored tradition of a late season masterpiece alive. Mostly because it's a…
2) REVENGE GAME – The Patriots LOVE dialing up plays for their acquired players to stick it to their former teams. Hell, even just last year Chris Hogan demolished the Bills. Gillislee squares off with his former opponent, and you have to imagine Bill will be dialing up some goalline chances for his big back to plod in.
Nevermind the fact that the Bills are surrendering the most FPs to RBs this season. Expect at least 2 TDs out of Gillislee, and those with the balls heavy enough to start him should be going home happy.
Others to Consider: 
Aaron Jones (RB – GB, 26%) vs MIN (31st most FPs) – On sheer talent and upside, Jones offers as much as anyone listed here. He racked up 53 yards on only 4 touches last Sunday, and was rifling down the field as the seeming fastest player out there. Yet, despite outgaining Jamaal Williams by 17 on 7 fewer totes, Jones was kept sidelined for the majority of the contest. Still, Jones' stats trended in the right direction, rising from 8 to 26 (37%). If Aaron Rodgers does play, Jones carries far more upside, especially if the usage continues to rise.
Eric Ebron (TE – DET, 43%) vs. CINCY (17th most FPs) – Ebron has strung together back-to-back double digit games, but I'm certainly not falling head over heels here. He's been so inconsistent all season, and Cincy is getting plowed over by the RBs.
Tion Green (RB – DET, 3%) vs. CINCY (7th most FPs) – Would rise far higher if Theo Riddick ends up getting ruled out. Cincy has been getting completely rolled on the ground lately, and the powerful Tion Green makes a decent TD bet already.
Don't miss out on Waiver Wire WIlly on The Wolf's SnapChat   Also, have questions about the Waiver Wire? Drop Player X for Player Y? How much of XX FAAB Budget? Did he miss anybody?
Sound off below or hit The Wolf up on Twitter.