Jordy's Revival
The biggest news in football is week is that Aaron Rodgers is making his return. So many big names in the NFL have tragically gone down to injury this year, it feels really nice to be getting one back. Not only is this huge news for Green Bay fans and the Packers' organization, but also to Jordy Nelson fantasy owners. Since Brett Hundley took A-Rod's place, Nelson has fallen off the map and been completely irrelevant, so I'm afraid some of you may not remember how productive he was in the beginning of the season.
Rodgers played five full games. Of those five games, Nelson played four full games. In those four games, Nelson's fantasy outputs were: 20.9, 23.2, 23.5, and 10.4. He scored at least one touchdown in every game with Rodgers for a total of six touchdowns in four games. Those six touchdowns are still better than the current TD count of: Julio Jones, Michael Thomas, Brandin Cooks, Mike Evans, and Keenan Allen — to name a few. And it looks like Rodgers wants to get him the ball.
Aaron Rodgers on Jordy Nelson: "I know there's a lot of juice left in 87. I'd like to fill that up this week."

— Zach Kruse (@zachkruse2) December 14, 2017
Nelson also has an extremely favorable matchup against panthers cornerback James Bradberry. He lines up all over the field, but 38% of the time he's on the right side, which is where Bradberry lines up on 76% of his coverage snaps. With Rodgers back and an exploitable matchup, this could be a huge day for Nelson. Kudos to you if you managed to make it this far and still have him on your roster.
Players aligned across from Panthers CB James Bradberry have produced 864 receiving yards this season. That's 104 yards more than any other corner.

— Mike Clay (@MikeClayNFL) December 12, 2017
What to do with DeAndre Hopkins
The top graded CBs through Week 14 pic.twitter.com/weTTqlGycA

— PFF (@PFF) December 14, 2017
What happens when an unstoppable force meets an immovable object? This season, that unstoppable force has been DeAndre Hopkins, the immovable object is the Jacksonville defense. Corny? Perhaps, but i don't think we have fully appreciated how good Nuk has been this season. He's second in targets, second in receptions, second in receiving yards, and first in receiving touchdowns. If Antonio Brown (a top five receiver all time IMO) didn't exist, Nuk would be first in all major receiving categories, and much more focus would be put on the epic season he is having. The problem is just that AB makes everyone else look mundane. Nuk even expressed this directly to AB.
@AB84 slow down, I'm trying to catch up sheesh!

— Deandre Hopkins (@DeAndreHopkins) December 11, 2017
I write here about the Jaguars secondary all the time. So you already know that they give up the fewest fantasy points to wide receivers, the fewest passing yards per game (by far), Jalen Ramsey and A.J. Bouye are both top 10 corners according to Pro Football Focus, and that quarterbacks have the lowest QBR against them at 66.4. The last time Nuk went up against a premiere cornerback — Patrick Peterson — he managed to burn him for three catches, 65 yards and a touchdown. The Jaguars, however, have a much stronger unit than the Cardinals minus Peterson, and I think this will be a much tougher task for Nuk. Especially with T.J. Yates, a backup's backup, under center. When you have a weapon like DeAndre Hopkins, you try to get him the ball, so it should be very exciting to watch how those matchups play out.
Chargers secondary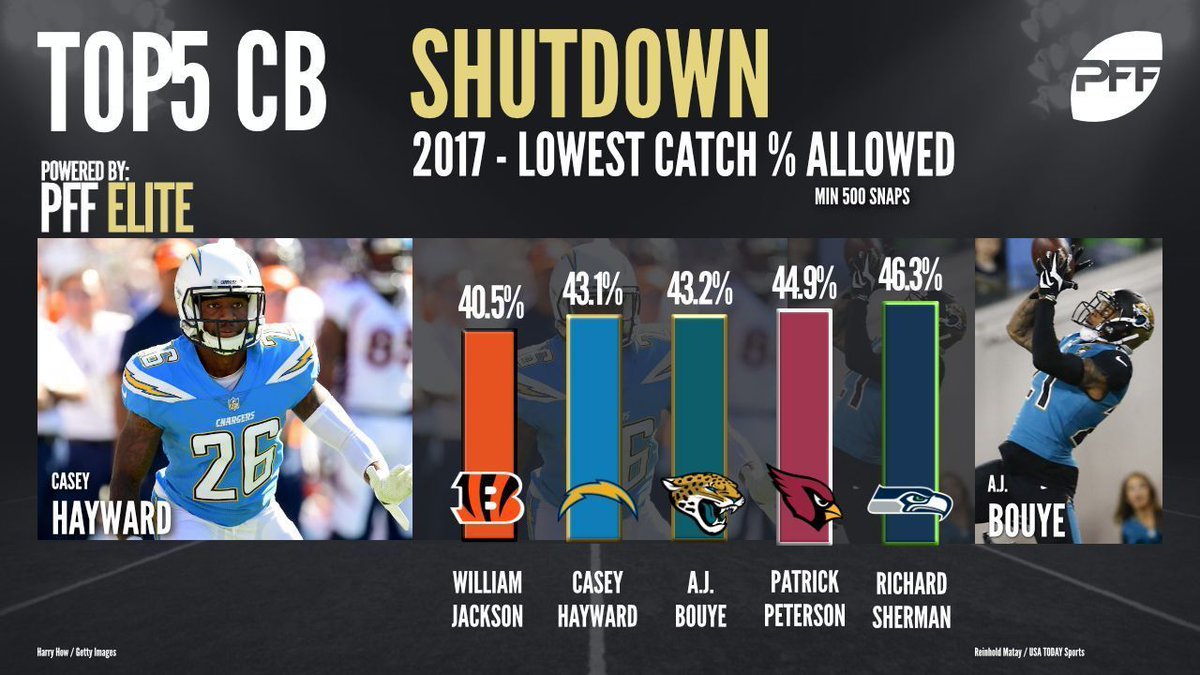 The Chargers secondary doesn't seemed to be talked about quite as much as the Jaguars', but they are not far behind, if behind at all. The Jaguars have both Jalen Ramsey and A.J. Bouye in the top 10 of the Pro Football Focus grading system, but the Chargers have Casey Hayward at 97 (1st), Trevor Williams at 89.5 (7th), AND slot corner Desmond King at 87.8 (10th). This secondary has not given up a 100+ yard receiver all season, they let up the third fewest passing yards per game, and they give up the third and seventh fewest fantasy points to quarterbacks and wide receivers respectively.
This week, their main challenge will be Tyreek Hill. Hill is incredibly explosive and can beat just about anyone on speed alone. He's on of the best big play guys in the league. The Chargers, however, are one of the best teams at preventing big plays through the air. They rank third in pass plays over 20 yards given up and have only given up two plays of over 40 passing yards this entire season. If Hill can't get behind this defense or benefit from a missed coverage assignment, he could be easily wrapped up. Two weeks ago he burned the Jets for 185 yards on two touchdowns (largely on two deep ball plays). In his last three games excluding the Jets game though, he put up only 184 yards on 18 catches, averaging just over 10 yards per catch. Not terrible but not incredibly efficient.
Falcons Frenzy
Julio Jones and the Atlanta Falcons get the gift of the Tampa Bay secondary this Hanukkah. The Bucs give up the most passing yards in the league and the most fantasy points per game to wide receivers. After his 12 catch, 253 yard, two touchdown outburst, Jones has been held to 7 catches for 122 yards over his last two games by the Vikings and the Saints. Here is another shot for him to explode. He'll be covered primarily by the Bucs' "best" cornerback in Brent Grimes, but Pro Football Focus still gives Jones a 66% matchup advantage. While Julio has been targeted 43 more times than the next Falcon receiver (Mohamed Sanu), the attention he draws frees up everyone else and there should be plenty of passing yards to go around Sunday.
A.J. Green vs Xavier Rhodes
It's always fun to watch the best go at it, and while the Bengals might not be playing for much anymore, the one-on-one matchup between A.J. Green and Xavier Rhodes is sure to be exciting. Rhodes has shadowed a wide receiver in four out of his last five games and three games in a row. After being embarrassed by Marvin Jones Jr. three weeks ago he's held Julio Jones and Devin Funchess to a combined three receptions for 48 yards on nine targets. A.J. Green had two touchdowns two weeks ago against Pittsburgh but then had a costly drop and coughed up a fumble last week against Chicago in a lackluster performance. Green's talent and explosiveness is undeniable, hopefully he can use this tough matchup as fuel to get himself back on track.