Quarterbacks
Top Shelf

Tom Brady ($7,500) – Despite struggling last game and now without his top weapon in Rob Gronkowski, Brady torched Miami in their last contest and will likely do so again. He's dialed in this season.

Retail Price

Alex Smith ($6,500) – Smith and the Chiefs were sluggish in their last few contests but exploded against the Jets on the road. The team's last game against Oakland was a shootout, and the Raiders haven't improved much on the defensive end. Kansas City needs this game and its offense to keep going.
Matthew Stafford ($6,300) – Rough performance in Baltimore dropped Stafford's price, but he now gets a plus matchup facing the Bucs soft secondary.

Bang For Your Buck

Jameis Winston ($5,900) – Winston returned and played decent by fantasy and daily-fantasy standards against a plus matchup with the Packers. Now coming back home to face Detroit, a discounted Jameis ain't looking so bad.
Dak Prescott ($5,700) – Alfred Morris did most of the damage last week, but Dak and the Cowboys look like they're coming back against a piss poor Giants team now. Again, you won't see Dak this low for quite some time going forward.
Jimmy Garoppolo ($5,500) – A slow start to his 49ers debut came against a good Bears defense so we should get a much better performance from Jimmy G this week against Houston.
Deshone Kizer ($4,900) – Kizer finds himself in a potential winnable game here at home against a Packers defense that can be scored on. His legs add a boost to his scoring ability and now he's got the ultra weapon in Josh Gordon to use.
Blaine Gabbert ($4,800) – At home against the Titans secondary is a good matchup for Gabbert here. I'd expect him to pepper Fitzgerald with targets and exploit this beatable defense.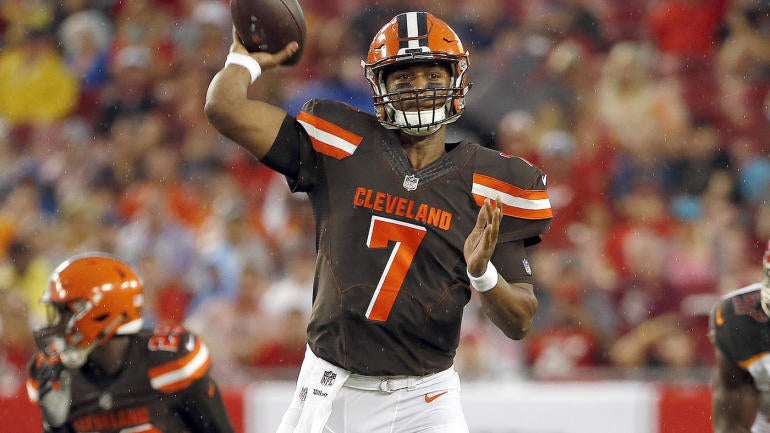 Running Backs
Top Shelf

Le'Veon Bell ($9,100) – Bell will always be in play. Even more so when taking on a defense that has been good at shutting down the pass.
LeSean McCoy ($7,200) – McCoy and the Bills were stifled by the Patriots, and with Tyrod Taylor hurt and likely out we'll be getting Nathan Peterman again. McCoy should shoulder a lot of work against a bad run defense in the Colts.

Retail Price

Carlos Hyde ($6,000) – Hyde was quiet last week, but his work in the passing game helps elevate his potential while facing off with a weaker defense in Houston.
Rex Burkhead ($5,900) – Burkhead has been the guy finding the end zone for New England with multiple scores in back to back games. New England will be down a big playmaker, leaving more opportunity to Rex and others.
Kenyan Drake ($5,400) – Drake took full advantage of Damien Williams' injury and full workload against Denver. Williams is unlikely to suit up again this week, so Drake will have the backfield to himself once again.

Bang For Your Buck

Peyton Barber ($4,500) – Barber made the absolute most of his starting role scoring 21 points while Doug Martin sat for the week. With 20+ carries for over 100 yards and 4 receptions, Barber was a huge part of the offense and should be again versus Detroit.
Theo Riddick ($4,500) – If Abdullah is out again, Riddick should thrive in his absence. Taking over majority of the reps in the backfield is a good sign especially against Tampa Bay.
Frank Gore ($3,900) – We know Buffalo struggles against the run, and old man Gore just refuses to go away. Real value here if you need it.
Mike Davis ($3,700) – The real value RB is here however with Mike Davis. He's become the guy in Seattle and has handled a large share of the teams carries now. Desperate for a RB for long enough, Seattle will welcome and use Davis heavily going forward. Especially against Jacksonville's stout pass defense.
Giovanni Bernard ($3,100) – It looks like the Benglas will be without Joe Mixon this game and Bernard ran well in his absence. It helps that Jeremy Hill is already on IR and Bernard had previously been used in the passing game primarily. The backfield should belong entirely to him. You won't find better value than Bernard in Week 14.
Wide Receivers
Top Shelf

DeAndre Hopkins ($8,500) – Hopkins has proven that he can produce with anyone under center, and now taking on a lackluster 49ers defense should continue his string of success.
AJ Green ($7,300) – Green went HAM on MNF even with a phantom holding call erasing an additional 50+ yard touchdown from his already impressive day. The Bears secondary can be exploited the this impressive receiver.
Tyreek Hill ($7,100) – TyFreak also went off against the Jets, only improving on his already solid road splits. Now in an important division game against the bad Raiders defense, Hill looks ready for yet another big time game.

Retail Price

Marvin Jones ($6,800) / Golden Tate ($6,400) – Both Lions receivers are in good spots against the Tampa Bay defense. Both performed well last week and provide near equal projections for Week 14.
Larry Fitzgerald ($6,500) – One of my favorite plays this week, Fitz has been great for Blaine Gabbert and should have no problem torching the Titans bad defense at home. He's been playing extremely well minus the Jaguars game as expected.
Dez Bryant ($5,900) – We saw the dominant Dez Bryant last week, and with Janoris Jenkins out this week (he previously locked down Dez), there's nobody left to stop this beast.
Josh Gordon ($5,500) – I was super skeptical about Gordon's return but he was a huge part of the offense and left plenty more points on the board as he converted only four of eleven targets. Now against the Packers, Gordon should find a lot more success.
Marquise Goodwin ($5,100) – Goodwin looks to be the biggest beneficiary of Garoppolo being thrust into the starting lineup. Jimmy G opens up the passing game and Goodwin led the team with 8 targets, catching all of those. The Texans can be thrown on for sure.

Bang For Your Buck

Dede Westbrook ($4,200) – Slowly working more and more into the offense, Dede has scored double digit points in back to back games. The Seattle game will be a tough one, and the Jags will need their best playmakers to step up. He could play a large role being so dynamic.
Dontrelle Inman ($4,000) – Double digits in three of his last four games, Inman has been a nice presence in Chicago's passing game. For this low a price, you can get plenty of value from a team's #1 WR.
Tight Ends
Top Shelf

Travis Kelce ($7,400) – Solid call last week having Kelce of the big three tight ends with two TDs. He's in the best spot again amongst top tight ends against a struggling Raiders defense in a must win game for Kansas City.
Jimmy Graham ($5,000) – Graham is becoming a touchdown machine. With the Jaguars elite pass defense likely to shut down the outside receiving options, Graham could be a big factor for Wilson and Seattle.

Retail Price

Jason Witten ($4,700) – In the chart we still trust. Witten caught a touchdown last week and now faces the Giants who have been just terrible versus tight ends.
Austin Seferian-Jenkins ($3,600) – Despite the moniker that Denver's secondary has been elite, the have given up the most receiving touchdowns in 2017. Seferian-Jenkins is their best red zone threat and has seen his price drop after some quiet games.
Stephen Anderson ($3,200) – With CJ Fiedorowicz and Bruce Ellington on season-ending IR, and Will Fuller still out with cracked ribs, Tom Savage can't strictly target DeAndre Hopkins on every throw, right?
Charles Clay ($3,100) – Kelvin Benjamin has been hurt, Jordan Matthews went on IR, leaving Clay as one of the limited receiving options for Buffalo. With Peterman likely to start, Clay could be a serious security blanket.
Defenses
Top Shelf

Los Angeles Chargers ($3,600) – Solid defense at home fighting for a playoff spot against the turnover prone Kirk Cousins. Washington's offensive line is so banged up which could spell trouble for the leagues best pass rush.
New England Patriots ($3,300) – The Patriots defense has been so good lately and now gets to play Jay Cutler. New England hasn't allowed more than 17 points since Week 4.
Buffalo Bills ($3,100) – The Bills at home against Indianapolis who have struggled to protect young QB Jacoby Brissett. Plenty of points for sacks up for grabs here in Buffalo.

Retail Price

Dallas Cowboys ($2,900)  – Eli Manning back under center means plenty of turnovers up for grabs in Dallas as they fight for a playoff spot in the NFC. The Cowboys looked real good against Washington and got the spark back they really needed.
Minnesota Vikings ($2,700) – This is an elite defense that went into Atlanta and shut down their high powered offense. Carolina should be a step down from that and Cam Newton is much more turnover prone.