Player Stock Ticker
Fantasy Football Week 14 Waiver Wire: The Ultimate Playoff Prep Package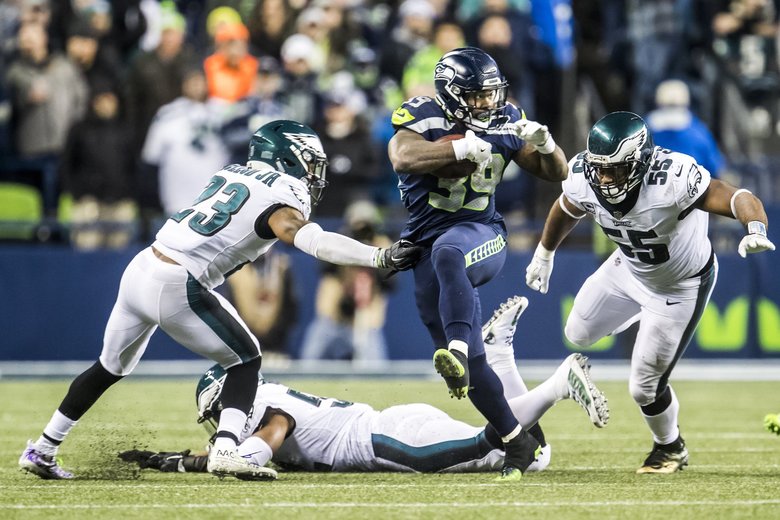 Congratulations. If you're still seeking Waiver Wire advice, you've either made the fantasy football playoffs, or your actively screwing over your league mates. Both deserve salutes.
From here on out, wins are truly all that matter. At this stage of the game, your starting rosters should be fairly secure, outside maybe a D/ST, Flex, WR3, or even an RB2 dilemma. Bench spots become far less about "Bye Week Depth" and much more about "Insurance Policies" and "Upside."
Thus, we'll make sure you're maximizing every single roster spot by going through:
Newly emerging / widely available guys with the potential to be stretch-run difference makers
Upside Stashes & Must-Own Handcuffs
Gronk Replacement Plans
Defensive Streams – Week 14 and also Weeks 15 & 16
A reminder: even if you're team is set, keeping these players out of your opponents hands is crucial fantasy defense. Thus, let's get you ready for a historic postseason run that ends with a 2017 title:
Week 14 Waiver Wire: Fantasy Playoff Prep
Part I: Immediate Potential Difference Makers
Whether you have that one missing gap to fill, or want to prevent your league mates from rostering this week's gems, here are the Must Add names who've emerged:
*Tuesday Morning Update* Joe Mixon is looking very questionable for Week 14 after suffering a scary concussion and shoulder injury that had him out cold during MNF. This will likely thrust Giovani Bernard, who totaled 96 yards on 15 touches (2 catches) as a reliever, into a Week 14 workhorse role, and thus your fantasy waiver plans. Depending on your needs, Bernard does offer a genuine quality RB2 rental for this coming week versus Chicago, but I prefer the extended upside of a Mike Davis, Peyton Barber, Marquise Goodwin, and Dede Westbrook.  Bernard is perhaps a surer bet then any of them to produce, so if a one week floor is your main aim (for many, it will and should be), look his way.  Otherwise, turn elsewhere with the big bucks. (He ranks 5th on my below Waiver Wire Big Board for perspective).
Tier 1:
1) Mike Davis (RB – SEA, 9%)
FAAB: All of it.
Usability: Ideally a Week 15 & 16 stash, but usable immediately
Stat Line: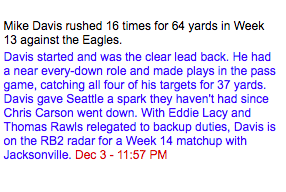 Schedule:

Breakdown:
Since Chris Carson's injury (remember him), this backfield has been an experiment in Chinese Waterboarding all season. Let's watch Eddie Lacy's 280 lb, crab-rangoon & cottage cheese ass lug his way to 1.9 YPC! Let's watch Thomas Rawls continue to look sapped of any previous explosiveness! This is the week JD McKissic will save us all!
Ew.
Thankfully, not all heroes wear capes, and Mike "Ankle-Breaking" Davis seems to have taken this backfield by the reins. Finally, some late season juice might be squeezed out of this dreadful situation after all!
Despite running behind this porous line, Davis actually looked fairly beastly. He plowed through rushers up the gut, while shaking defenders in the open field. From a strict volume standpoint, Davis was a true three-down workhorse, logging 45-of-62 potential snaps (73%), and touching the ball 20 times compared to 2 for the next-closest McKissic. He was on the field for all downs and distances, and making plays in every scenario.
Most encouragingly, the schedule aligns for continued damage. Jacksonville's run defense has really stepped up since acquiring Marcell Dareus, but they still give up plays especially to pass-catching backs. In Weeks 15 and 16 particularly, Davis receives a heaping serving of funfetti cake. Getting destroyed weekly by RBs, the Rams just got plowed by the legless Kerwynn Williams, and Dallas presents nothing frightening up front.
Acquiring a workhorse in an explosive offense is almost impossible this late in the season. Davis has every factor in his favor to be a stretch run hero, and the bank needs to be unloaded to acquire him.
2) Peyton Barber (RB – TB, 2%)
FAAB: Missed on Davis? Too bad, spend it all here instead.
Usability: Largely dependent on Doug Martin's health or role, but could be a stretch run hero, Week 14 stream, or none of the above. Upside is worth the No.2 spot though.
Stat Line: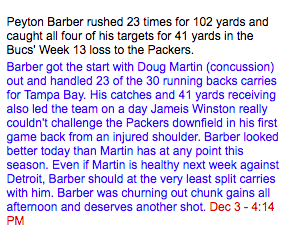 Schedule:

Breakdown:
As soon as news broke that Peyton Barber was a starter, we immediately recommended him as a stream during our Week 13 Sit / Start Show (clearly missing out if you haven't tuned in!) The thinking was fairly easy: he was already the TD guy, and now, as a starter, should be the lead committee, 15ish touch kind of guy.
We were right to stream him. But oh so wrong in our projecting… and for the better.
27 touches, 143 total yards, and nearly 70% of the snaps later, Barber was a flat out beast. He was falling forward with every touch, consistently generating positive yards and chunk plays for a backfield that seemed to get routinely stuffed previously. This alone makes him a true candidate to finish the year as the lead horse.
This, unfortunately, is no guarantee. If it were, Barber would likely rank ahead of the highly appealing Davis. Still, Barber needs to be on rosters, as there's a real solid shot this scenario does play out.
At least for Week 14, Barber's monstrous effort should earn him another crack at featured work. He gets a juicy date with a Lions defense surrendering the 6th most FPs to opposing RBs. Even ahead of Davis, Barber would be my No.1 guy for a one-week rental.
3) Marquise Goodwin (WR – SF, 32%)
FAAB: $20
Usability;: Excellent WR3 and Flex Play for Weeks 14 & 15
Stat Line: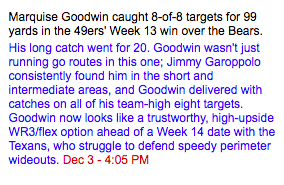 Schedule:

Breakdown: 
Goodwin is officially the San Francisco passing game, topping 60 yards in four straight and 5 of his last 6. Even more encouraging, new signal caller Jimmy Garoppolo looked Goodwin's way early and often during his first start, with Goodwin hauling in all 8 of his team high looks for 99 yards. Most impressive and unlike recent weeks where he depended on big plays for his yardage, Goodwin was used all over the short and intermediate game here, with his longest reception going for only 20 yards.
Which sets up the narrative for an absolute explosion in Week 14. Houston is surrendering the third most FPs to WRs, and have been particularly susceptible against speed demons and big play artists. This is especially true for QBs who can extend plays in and outside the pocket, and Garoppolo definitely possesses the athleticism to do so. The stars are aligning for Goodwin to be a potential Week 14 Winner and a playoff hero.
4) Dede Westbrook (WR – JAX, 28%)
Usability: Ideally a Week 15 stash, but can be thrown in immediately
FAAB: $20
Stat Line: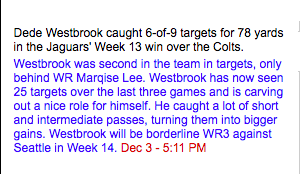 Schedule:

Breakdown:
If you've been following the RSJ for any amount of time, you know we're Westbrook truthers to our core. He's been on the Waiver Wire list as a stash since two weeks before leaving the IR, and hasn't been off since.
Coming off his most productive game as a professional and still at only 28% owned, Westbrook is of course a Playoff Push focal point. He's now seen 25 targets over his three first professional games, and has high floor. We have yet to see what makes Wesbrook truly sexy, however: that ceiling.
Blake Bortles is throwing the best ball we've seen in two years, and Westbrook's been a mere short-to- intermediate threat thus far. Indeed, his run-after-the-catch abilities have been on full display, but Westbrook's deep speed and ball tracking skills were always his specialty. If and when the team decides to start uncorking the rock, Wesbtrook's set to explode. He's not a horrendous play this week versus a banged up Seahawks defense, yet is the IDEAL Week 15 play against a Houston secondary getting roasted routinely by deep threats of his mold. Whether blocking an opponent from his upside or milking it yourself, Westbrook shouldn't be on wires any longer.
5) Matt Forte (RB – NYJ, 37%)
FAAB: $19
Stat Line: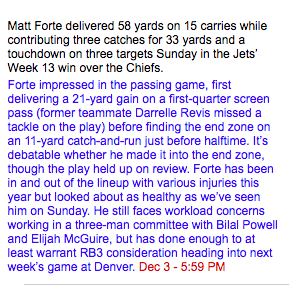 Schedule:

Breakdown:
Forte has played in 8 full games this season. He's topped 10 in 5 of those 8, and dipped below 8 only twice (half ppr). He's also topped 16 in two of his last three, and now gets a decent schedule to continue racking up stats. Denver is reeling on defense, having just got demolished by Kenyan Drake.  The Saints are also highly susceptible to versatile backs — something Forte's defined his legacy on. By Week 16, Forte will be squaring off with a soft Chargers run defense surrendering the 5th most FPs to backs. There's little sex appeal to Forte, but as an RB2 or Flex fill-in, the floor and volume are higher than he's given credit for.
Others: Josh McCown (QB – NYJ, 40% – we've been through this, he's a QB1); Mike Wallace (WR – BAL, 35%); Dontrelle Inman (WR – CHI, 17%)
Part II: Stashes & Handcuffs
1) Aaron Jones (RB – GB, 35%)
Stat Line: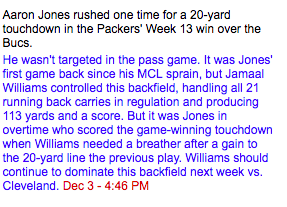 Schedule:

Breakdown:
With 20, 18, 21, and 21 carries over his past four weeks, Jamaal Williams has indeed taken those role as his own. Still, Aaron Jones was the original starter when Ty Montgomery first went down. He looked plenty healthy on his lone touch, patiently waiting for space to open up and then bursting down the field for a game-clinching 20 yard score.
Moreover, with Aaron Rodgers  potentially returning in Week 15, this offense could return to their pass-centric roots. If this is indeed the case, Jones might stand to benefit, as he emerged from college as the more pure pass-catcher of their RB options. Carolina and Minnesota are both difficult matchups for ground games, which could actually work in Jones' favor — the tema might just chuck it 30+ times each contest, and he could indeed be the main third down guy. At minimum, it's worth a stash to see how everything unfolds if/when Rodgers returns.
2) Tion Green (RB – DET, 0%)
Stat Line: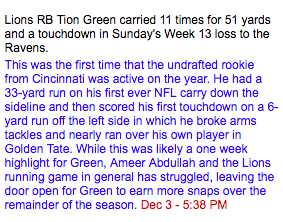 Schedule:

Breakdown:
The sample size is minimal with Green, with Sunday marking Green's first game on an NFL field. Even then, his work was impressive. This offense has been among the more consistent in the league, and Green provided the first spark this run game has seen in weeks. Meanwhile, Ameer Abdullah could remain sidelined, which opens up more opportunity for Green to continue impressing. He's a long shot, but Green could seize this gig with a second straight quality outing.
Stashes / Handcuffs
Tier 1 – Low End RB1 Upside
1) James Conner (RB – PIT, 4% owned)
2) Austin Ekeler (RB – LAC, 37%)
3) Charcandrick West (RB – KC, 3%)
Tier 2 – Quality RB2 Upside
4) Matt Breida (RB – SF, 6%)
5) Marlon Mack (RB – IND, 27%)
6) Chris Ivory (RB – JAX, 14%)
Tier 3 – Flex Status:
7) DeAndre Washington (RB – OAK, 8%)
8) Lance Dunbar (RB – LAR, 1%)
*WR Stash Special – Tyrell Williams (LAC, 36%) & Travis Benjamin (LAC, 14%)
Part III: Gronk Replacement Plans
With Gronk suspended for Week 14, owners are scrambling everywhere. Indeed, there's no true "replacement" for Gronk, especially on the Waiver Wire. Still, here's your best bandaids.
First Check: Cameron Brate (TE – TB, 55%) vs DET (6th Easiest), Austin Seferian Jenkins (TE – NYJ, 57%) vs DEN (2nd Easiest)
1) Ricky Seals-Jones (RSJ) (TE – ARI, 28%)
Breakdown: 
Though not quite as explosive as his first two contests, our namesake (RSJ) continued making plays in Week 13, hauling in 44 yards on his two catches. The Rams are among the stingiest in the league versus tight ends, so RSJ should find easier sledding versus a Titans defense that surrendered 365 passing yards to Tom 'ucking Savage (and a 5 catch, 79 yard, TD effort for no-name TE Stephen Anderson). Plus, while you're not starting RSJ with a healthy Gronk, the Cardinal does have WAS (4th easiest) and NYG (1st Easiest) in Weeks 15 & 16, so you'd be, at minimum, robbing opponents of a potential season-winning streamer.
2) Charles Clay (TE – BUF, 35%)
Breakdown:
With pedigree and a matchup versus the ever-soft Indianapolis Colts in his favor, Clay has to be the first replacement option you look for — unless Tyrod Taylor remains banged up. Nathan Peterman has already proven he doesn't belong within 100 miles of an NFL field, so Clay's appeal would take a serious hit into "unusable" territory in this case. But Taylor is considered "day to day" after avoiding ligament damage, which gives Clay some serious potential.
3) OJ Howard (TE – TB, 24%)
Breakdown:
By now, you know what Howard is: all or nothing. If you need a stopgap Week 14 option, why not roll the dice and go for the explosion? Detroit surrenders the 6th most FPs to TEs, and in particular they are prone to aggressive angles and getting to a side of the field too fast. This opens up the Howard "reverse field, wide open for 50 yard TD" bread and butter up significantly. Maybe the highest upside of any TE right now.
4) David Njoku (TE – CLE, 5%)
Breakdown: 
An athletic freak who's coming off a 4 catch, 74 yard, 1 TD effort. Josh Gordon's added vertical dimension will open up ground for everyone to roam, including Njoku down the seams. His Week 14 matchup is as stifling as it gets, as GB surrenders the fewest FPs to TEs in the league. Still, they aren't impenetrable, as the oafish Cameron Brate dropped 2 scores on them last week. He's the most widely available source of upside at the position.
5) Stephen Anderson (TE – HOU, 0%)
Breakdown:
Anderson came to life versus the Titans, especially once CJ Fiedorowicz left. Anderson was one of Tom Savage's go-to guys in crunch time during the two-minute drill, and the two could carry this chemistry over against a porous SF defense.
6) Dwayne Allen (TE – NE, 1%)
Breakdown:
There's nothing much to analyze other than Allen is essentially a "Gronk Handcuff" with minimal upside. Miami is surrendering the 5th most FPs to TEs, and it'd be unsurprising to see a cheap score out of Allen. He's been making waves as a blocker as of late, so perhaps the team rewards him with a few designed screens and red zone targets.
Part IV: Defensive Streamers
Week 14:
Green Bay @ CLE (33%): They are facing the Browns. What else needs to be said? Josh Gordon's return does make the offense a bit more explosive, but Deshone Kizer is so turnover prone that a defensive TD is always possible here. The Packers are still fighting for the Playoffs, and won't leave anything on the field here. Ride it to fantasy glory.
Cincinnati vs. CHI (34%): Mitch Trubisky reached 120 yards this week, and John Fox called it one of his best games yet. That tells you all you need to know about the state of Chicago's offense.
Buffalo vs. IND (16%): This defense has struggled to contain opposing run games, but thankfully that's not Indy's strength. In fact, nothing outside turnovers is, so Buffalo's D is suddenly usable again. Even better, they face a sputtering Jay Cutler and Miami offense in Week 15, so they could ideally catch some late season fire here.
Weeks 15 & 16 
There's not a whole ton available in terms of stashing. New Orleans is only 40% owned, and they've been lightning in a bottle at times. They have back-to-back home matchups agains the Jets (Wk 15) and Falcons (Wk 16), who both field competent offenses, but could falter at any point. There's particular upside if the Jets decide to give a young QB a try in a lost season.
Chicago D/ST comes with the Tarik Cohen upside, but unfortunately they can't stay off the field. Detroit in Week 15 isn't overly appetizing, unless they've been knocked out and Matthew Stafford needs to sit due to his hand. Afterwards, in Week 16, the Bears get Cleveland, which is always a delight.
Week 14 Waiver Wire Big Board
Tier 1:
1. Mike Davis (RB – SEA, 9%)
2. Peyton Barber (RB – TB, 2%)
3. Marquise Goodwin (WR – SF, 32%) *Favorite Week 14 Streamer*
4. Dede Westbrook (WR – JAX, 28%) *Favorite Week 15 Streamer*
5. Giovani Bernard (RB – CIN, 12%) *Highest Week 14 Floor on here*
6. Matt Forte (RB – NYJ, 36%)
Tier 2:
7. Aaron Jones (RB – GB, 34%)
8. Ricky Seals-Jones (TE – ARI, 28%)
9. James Conner (RB – PIT, 3%)
10. Austin Ekeler (RB – LAC, 37%)
11. Tion Green (RB – DET, 0%)
12. Mike Wallace (WR – BAL, 35%)
Tier 3
13. Charles Clay (TE – BUF, 35%)
14. Charcandrick West (RB – KC, 3%)
15. OJ Howard (TE – TB, 24%)
Don't miss out on Waiver Wire WIlly on The Wolf's SnapChat   Also, have questions about the Waiver Wire? Drop Player X for Player Y? How much of XX FAAB Budget? Did he miss anybody?
Sound off below or hit The Wolf up on Twitter.