Julio Jones vs. Xavier Rhodes
Vikings CB Xavier Rhodes has shadowed 6 times this season. The results, via Labs trends tool: https://t.co/2eXKQyOlgk pic.twitter.com/y9XdTVPF8n

— Adam Levitan (@adamlevitan) November 30, 2017
Everyone is going to be on a Julio Jones high this week after he finally had a monster game for the first time this season (it's about time in Week 12). I want to pump the breaks on the excitement just a bit and take a look at what he's done in the past after putting up a game like this.
Julio is a streaky receiver. In 2015 he started off the season with games of 141, 135, and 164 yards and then in Week 4 he went for 38. It took until Week 8 for him to put up another 100+ yard game. In 2016, his two highest yardage outputs were 300 and 174. He followed both of those games up with 29 yard performances. Before last week, his highest yardage output was 118 and the 253 yard outburst was only his third 100+ yard game of the season.
He'll also be going up against Xavier Rhodes this week. Rhodes has shadowed a receiver in half of the Vinkins' games this season so it's reasonable to assume he'll receive the Julio assignment. Before last week, Rhodes had only given up 250 in coverage and zero touchdowns; then he got demolished by Marvin Jones Jr. Jones Jr. caught six of nine targets for 109 yards and two touchdowns when being covered by Rhodes. So Julio should be able to do the same, right?
There's a lot in play here. Can Julio deliver two big games in a row? Will he be shadowed by Rhodes? Will Rhodes be shaken after his worst game of the season or will he bounce back with a vengeance?
Steelers WRs vs Bengals DBs
Let's first talk about what Antonio Brown has done over the last two games – 20 catches for 313 yards and 5 touchdowns. He's playing out of his mind. In my dynasty league he and Big Ben have combined to get me 138 points over the past two weeks. He's a top 5 receiver of all time in my book. In every year since 2013 he's been either first or second in the league in receptions. He's currently first in receptions this season, and if he finishes 2017 still on top of that list, he'll be the first wide receiver since the 1960s to finish first or second for five straight years.
Last time we had this matchup I warned everyone that it could be a dud for fantasy value, and while the score was 29-14, A.J. Green was held to three catches for 41 yards and Brown's touchdown catch saved his otherwise weak (for Antonio Brown) four catch, 65 yard day.
This may be the case again. The Bengals have given up the 3rd fewest fantasy points to WRs but the 5th most rushing yards per game. This could translate to a heavy dose of Le'Veon Bell. The Steelers give up the 7th fewest fantasy points to WRs, but Artie Burns and the rest of the Pittsburgh secondary was carved up by Brett Hundley last week. The Steelers give up the 6th fewest rush yards per game and the Cincy O-Line only generates 1.5 yards before contact (4th fewest in the league), so I imagine they will be trying to force the passing game. However, over the last three weeks, Brandon LaFell only has two fewer targets than A.J. Green.
Sammy Watkins vs. Patrick Peterson (Act II)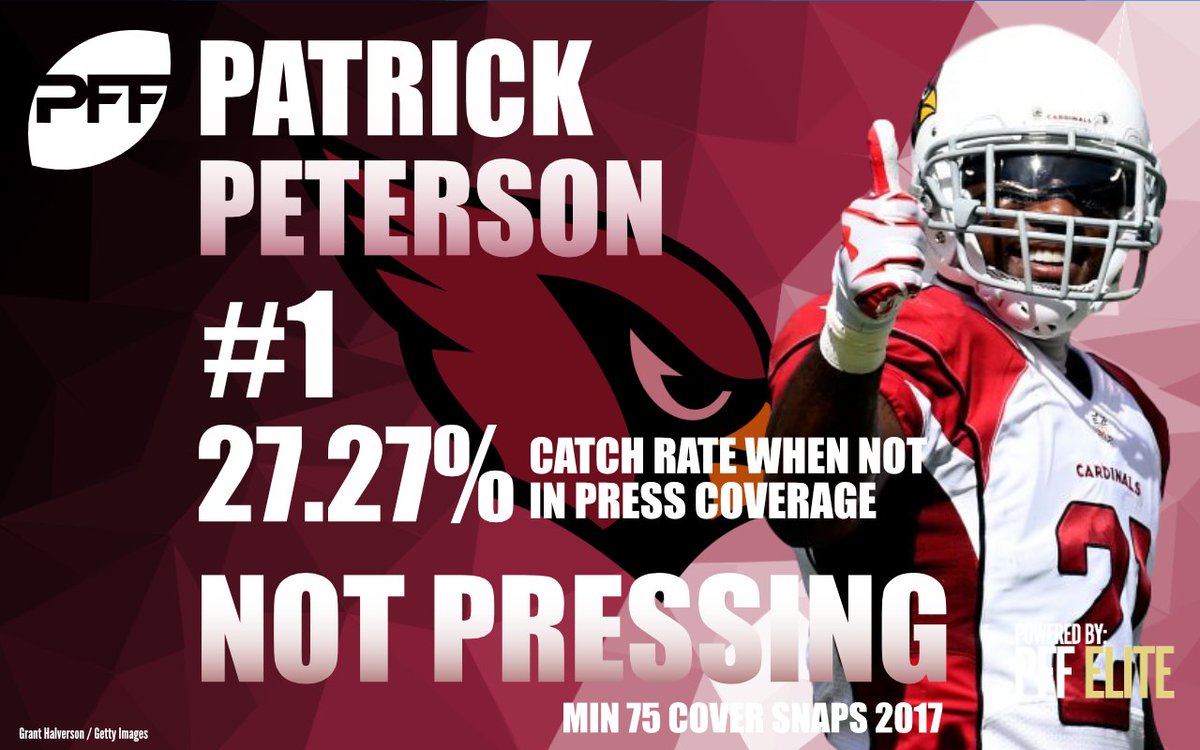 With the Injury to Robert Woods, Sammy Watkins appears to have finally hit his stride (a sentence I never thought I would write). From Weeks 1-7 Watkins was the WR 44, and from Weeks 9-12 he's been right on the edge of WR 1 territory as the WR 12. He's scored a touchdown in three of his last four games and eclipsed 12 PPR points in each of those three games as well. Just as things were starting to look positive for Watkins, he has to go up against Patrick Peterson.
Last time these two faced off, Peterson covered Watkins on 50% of his routes, and on those routes he received zero catches on one target. He did manage to scoop up 42 yards on three catches against the rest of the Cardinals secondary. With Woods out, Jared Goff has definitely turned his focus to Watkins' direction, but this may also mean more attention from Peterson. One thing the Cardinals may try and do to free up Watkins is put him in the slot. He lines up there on 28% of his snaps already, and Peterson does not generally follow receivers there. He lines up across from the slot on only 11% of his snaps.
Peterson got beat two weeks ago by DeAndre Hopkins for 65 yards and a score, and then last week he followed Marqise Lee around on 88.9% of his snaps, on which Lee received a big fat ZERO targets. Peterson can absolutely take a wide receiver out of a game plan. It will be interesting to see if Goff throws at him or if they try and line Watkins up away from PP21.
The return of Josh Gordon
LAC has PFF's No. 1 pass rusher (Joey Bosa), No. 2 pass rusher (Melvin Ingram), No. 1 CB (Casey Hayward) & No. 12 CB (Trevor Williams).

— Adam Levitan (@adamlevitan) November 30, 2017
Everyone is excited about Josh Gordon's return, but what will he really be able to accomplish in his first game back after a four year absence against two of the best cornerbacks in the league? Casey Hayward and Trevor Williams have quietly put together impressive seasons so far. Both cornerbacks are in the top 10 of cover snaps per reception, only giving up a catch every 16+ snaps in coverage. The Chargers give up the 7th fewest passing yards per game and the Browns generate the 8th fewest passing yards per game. This will be a nice welcome back for Josh Gordon. The one thing I like about Gordon's return is that, at least for a little while, he'll be taking away focus from Corey Coleman. If Gordon is anything like what he was in 2014, the Browns have a bright future at wide receiver, they just need to find someone who can accurately throw them the ball.
Mike Evans
I've written about Mike Evans here quite a bit, and most of the time I've been wrong, but this has GOT to be a positive regression game for Evans. He hasn't scored a touchdown since Week 7, but with Jameis Winston back at full health, that connection needs to be on automatic. None of the Packers' cornerbacks have Pro Football Focus grades higher than 50, and PFF gives Evans a 42% advantage over Kevin King. He should have a field day against a defense that gives up the 4th most fantasy points to wide receivers. Did you see what Antonio Brown did to them last week?