Player Stock Ticker
FanDuel NFL Week 12 Picks, Sleepers and Strategies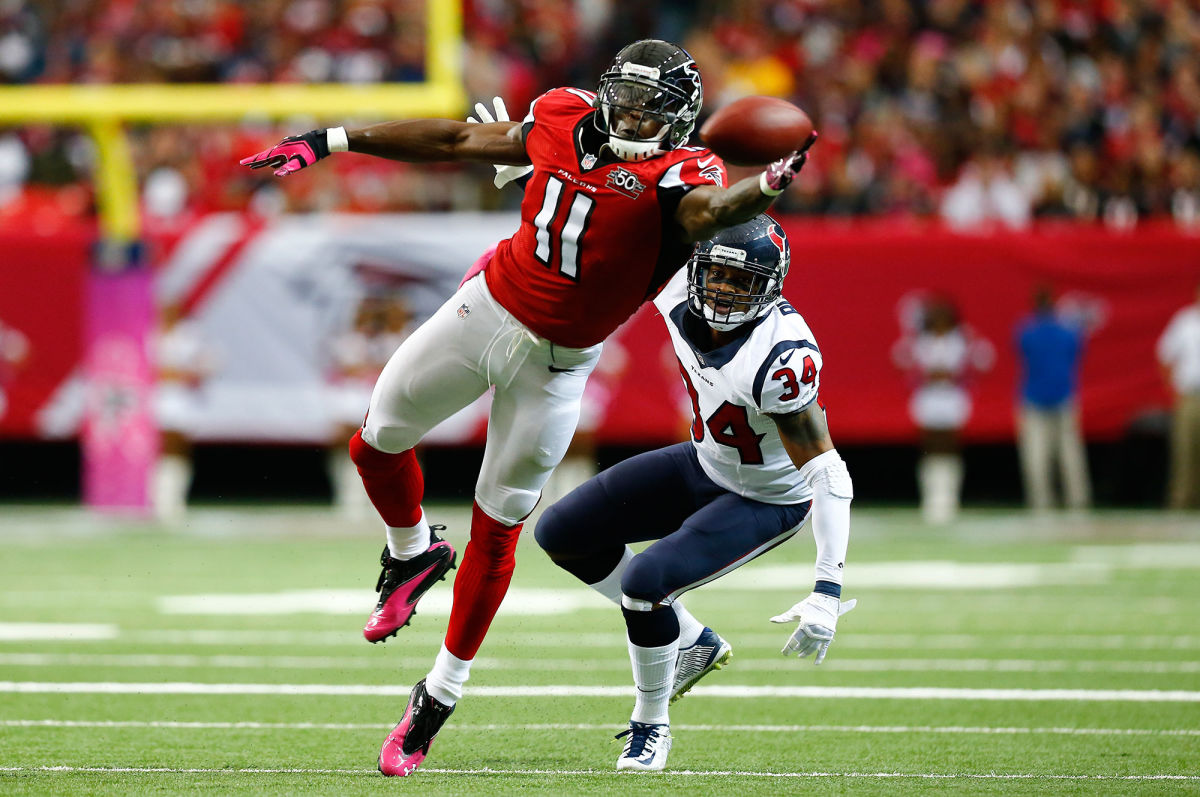 Welcome back to Fanduel Picks Week 12, your one-stop-shop for the best FanDuel player picks. Sometimes the obvious play can lead you to victory, so I hope you all followed my advice in Week 11, starting Tom Brady and any and all other associated Patriots. Even if you didn't, key suggestions like LeSean McCoy (25.1 FanDuel points) and the Baltimore Ravens DST (a whopping 26 fantasy points) brought you home great returns, as well copious amounts of cash. We have a shorter slate this Week 12 given the three-game Thanksgiving slate, so it will be more difficult than usual to differentiate your lineups. Research will prove the difference Week 12, so let's get right to it. As a note, these picks are based on Sunday only leagues, so players on Thursday and Monday night will be ignored, as well as London games.
Quarterbacks
The Locks
This really looks like a week where you want a top end quarterback. I believe there is one sleeper listed far below his potential, but most of the high-price QBs have great matchups Week 12 and will provide high floors with the potential for big returns.
Tom Brady, QB, New England Patriots ($9,100) – Another week, another Tom Brady selection. Over the past two weeks, Joe Montana and Dan Marino…er…I mean Cam Newton and Ryan Fitzpatrick have thrown for 529 yards with 6 touchdowns to 0 interceptions against the Miami pass defense. Brady is coming off his best game since Week 3 as he threw for 337 yards and 3 touchdown passes with just seven incompletions. Talk about efficiency. Pay up as the Pats have the highest implied team total Week 12 at 31.75.
Russell Wilson, QB, Seattle Seahawks ($8,600) – Seahawks running backs average 66.6 rushing yards per game and a 3.28 yards per carry average this season. That just ain't good. So Pete Carroll is left to rely on the arm and legs of weekly QB1 Russell Wilson. And Wilson has yet to disappoint. Profiling as one of the worst passing defenses in the league, the Niners have allowed the 4th most fantasy points to opposing quarterbacks this year. Averaging 27.87 points over his past five weeks, Wilson is locked in as a top 2 player at quarterback this week.
Marcus Mariota, QB, Tennessee Titans ($7,800) – Those above options are great, but you can find a cheaper, high-end option a few dollah billz down with Marcus Mariota. Sure, he has not lit the world on fire in any game this year, but did you know besides Week 7 against Cleveland Mariota's lowest point total is a more than respectable 14 FanDuel points? And he has not dipped below 16.3 FanDuel points over the past three weeks. The Colts allow the third most passing yards per game and the Titans run offense  appears to be in shambles, so look for Mariota to lead the charge Week 12.
Sleeper
Andy Dalton, QB, Cincinnati Bengals ($7,200) – I love those options above, but Andy Dalton could be a great, cheap breakout candidate. The Browns have allowed multiple touchdown passes in 7 of 10 games this year and Dalton has thrown for at least two scores in 4 of his past 5 games, including three last week against the Broncos in Denver. Not an easy task. With the Browns stellar run defense, look for Cincinnati to gash Cleveland with chunk yardage through the air.
Running Backs
The Locks
Mark Ingram, RB, New Orleans Saints ($8,200) – Mark Ingram scored below 14.9 FanDuel points just once in his past six outings, and that came in a 20 point, blowout win against Tampa Bay where he rushed for 77 yards and averaged almost 5 yards per carry. This week will be no cake walk for the Saints though, as they currently project as an underdog in the highest total game Week 12 (53.5 points). With a shootout looming, look for the Saints to involve their star running back throughout the day against a Rams team allowing the 5th most rushing yards per game, 4th most fantasy points to opposing running backs, and 3rd most rushing touchdowns.
Kareem Hunt, RB, Kansas City Chiefs ($7,700) – If Kareem Hunt cannot do it this week, I think I am out. And I don't even blame him, I blame the Kool-Aid Man Andy Reid. Create a good gameplan for me one time Andy, my lord. In a game against the Giants Week 11 where you are projected as a double digit favorite you run the ball with your stud running back FOUR times in the first half!?!?! Four!?!!? That was four more than me on Sunday. But I digress. The Bills have allowed 7 rushing touchdowns over the past two weeks, a stat Reid assuredly does not know. Hopefully he reads these articles and gets a clue.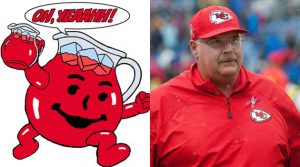 Sleeper
J.D. McKissic, RB, Seattle Seahawks ($5,500) – I could not be higher on J.D. McKissic if I tried.  The Seahawks have no running game. Eddie Lacy is horrendous. Thomas Rawls cannot even play in a game when healthy, he sucks that bad. And any running back they call up gets injured immediately (sorry, Mike Davis, Happy Thanksgiving though!). So I expect Wilson to throw often Week 12 and McKissic is their only pass catching option in the backfield. In Week 11, he caught 5 of 6 balls, proving he and Wilson have a  good rapport. And in the event McKissic (once again) leads all Seattle runners in carries and yards in what should be a blowout against the Niners, San Fran happens to allow the most fantasy points to opposing running backs. This could be the steal of the weekend.
Duke Johnson, RB, Cleveland Browns ($5,500) – We do not yet know if Duke Johnson can play through his shoulder injury in Week 12, but if he can he finds himself in a juicy situation. Scoring double digit FanDuel points in three of his last four games, and six of his last eight, Duke faces a Bengals defense that has struggled mightily against pass catching running backs. And wouldn't you know, in their first meeting in Week 4 Duke scored 16.5 FanDuel points, powered by his 9 catches on 10 targets for 47 yards. If he cannot go, take a close look at Tarik Cohen ($5,300) against a Philly team that can be beat by pass catching RBs.
Wide Receivers
The Locks
Antonio Brown, WR, Pittsburgh Steelers ($9,600) – We saw what happens when you fail to include Antonio Brown in your FanDuel lineups last week (a decent 37.4 FanDuel points). Do not make that mistake again. The Packers have struggled with talented, top-tier wideouts all year (Julio Jones 5/108, A.J. Green 10/111/1 touchdown, Dez Bryant 5/52/1 touchdown, Adam Thielen 9/96, Michael Thomas 7/82, Golden Tate 7/113, Marvin Jones 7/102/2 touchdowns). Brown is better than all of them.
Julio Jones, WR, Atlanta Falcons ($7,800) – I do not think I have ever seen Julio Jones' pricing this low. And my friends, you probably will not for the rest of the season after his massacre of the Bucs in Week 12. Tampa Bay allows the second most fantasy points to opposing wide receivers and Jones has averaged nearly 10 targets per week over his past five weeks, a still slightly lower than usual yet respectable number for a person of Jones' talent. Devonta Freeman could miss Week 12, which could provide an extra uptick, but that should not matter. Expect Jones' volume and usage to be at elite levels this upcoming week in an obvious talent mismatch.
Sleeper
Cooper Kupp, WR, Los Angeles Rams ($5,400) – With Robert Woods (team leader in targets, receptions, yards and receiving touchdowns) on the shelf for a few weeks, the Rams need someone to step up and take over the lead wideout position. And while some may quickly defer to Sammy Watkins, I will go with the most consistent Cooper Kupp. Kupp ranks second behind Woods in every receiving category, except touchdowns (he ranks third, with 3) and his usage has been more consistent and plentiful than Watkins (Kupp has seven games with more than 5 targets as opposed to Watkins one).
Corey Davis, WR, Tennessee Titans ($5,400) – While not consistently converting his opportunities, Mariota has targeted Corey Davis 22 times over three games since rejoining the Titans. With his volume and usage high, expect better results against a Colts team allowing the 7th most points to opposing wideouts.
Zay Jones, WR, Buffalo Bills ($5,100) – Although Head Coach Sean McDermott refuses to officially rule Kelvin Benjamin out for Week 12, I think that is a given given his recurring knee problems. In need of an outside wide receiver, expect Zay Jones  to fill that role against a Chiefs defense allowing the most fantasy points to opposing wide receivers.
Tight End
The Locks
Rob Gronkowski, TE, New England Patriots ($7,700) – Allowing the fifth most fantasy points to opposing tight ends and at least one touchdown or 100+ yards to opposing tight ends in each of the past five weeks, the Miami Dolphins will surely have issues covering all-world tight end Rob Gronkowski. In Week 11, Gronkowski disappointed in a soft matchup against the Raiders, but I believe Bill saw an exploitable matchup against Oakland's horrendous cornerbacks, hence the big game for Brandin Cooks. Don't expect Gronk to be held in check again.
Jimmy Graham, TE, Seattle Seahawks ($7,000) – With 7 touchdowns over his past 6 games, Jimmy Graham is finally becoming the steady, consistent, high-floor tight end we were all accustomed to in New Orleans and expected in Seattle. And while the Niners typically hold tight ends to low yardage total, the TE position has scored a touchdown against San Fran in each of the past four weeks. It is a match made in FanDuel heaven.
Sleeper
Jared Cook, TE, Oakland Raiders ($5,500) – Another week, another touchdown for a tight end against the Broncos defense. This week, the Broncos face Jared Cook, who is coming off his worst game since Week 6. Denver's obvious strength is their secondary, so you would hope "Head Coach" Jack of the River would play away from their corners and feed his tight end.
Kicker
The Locks
Greg Zuerlein, K, Los Angeles Rams ($5,100) – Dome kicker in the highest scoring game of the week in a tightly contested affair. Oh, and Greg Zuerlein holsters one of the biggest boots in the game. Connecting on 28 of 29 field goals this year (96.6% conversion percentage, not bad), Zuerlein has scored double digit FanDuel points in 7 of 10 games this year, and 9+ in 8/10. He is as consistent as it comes.
Sleeper
Adam Vinatieri, K, Indianapolis Colts ($4,700) – The Tennessee Titans field one of the few defenses the Colts can move the ball on, so Adam Vinatieri should get his fair share of opportunities Week 12. We know that Brissett won't consistently punch it in the end zone, so just get Mr. Automatic on the other side of the 50 and watch him work his magic.
Defense
The Locks
Pittsburgh Steelers DST ($4,800) – When I suggested the Raven defense last week, it had less to do with their actual defense and more to do with their opponent. The Ravens scored 26 FanDuel points. The Pittsburgh Steelers DST gets that same opponent. Since taking over for Aaron Rodgers in relief Week 6, Brett Hundley has throw two touchdown passes and been the cause of eight turnovers. He has been sacked at least three times in 4 of his 5 appearances and this week he gets a ravenous Steelers defense ranking second in the league in sacks. Talk about a long day.
Sleeper
Arizona Cardinals DST ($4,500) – In a game with the lowest projected point total of the week, I am going contrarian on everyone and rocking the Arizona Cardinals DST. Sure Leonard Fournette is a man (although apparently he cannot stand the cold, grow up), but the rest of that team…kinda sucks. Blake Bortles still instills no fear in opposing defenses and they lack true skill players. The Jaguars run-based offense plays right into the hands of the Cardinals top eight run defense, so Bortles may have to (gasp) throw the ball to win. That means points for Arizona's defense.
And that's a wrap for Fanduel Week 12 analysis. Remember to always look at the matchups and Vegas totals, which are always telling, and do not be afraid to admit they know more than you, because they usually do. Until next time, good luck and don't forget to tip me 10% of your earnings. Thanks in advance.
To contact me with any questions or general fantasy football discussion, please email me at redsocker45@gmail.com or tweet me ‪@AJGamballer‪.